Emilia Clarke, the iconic Mother of Dragons, Daenerys Targaryen, from the blockbuster series Game of Thrones, graced the red carpet at the 2023 Deauville American Film Festival in France, and she did so with unparalleled elegance and style.
On Sunday, September 3, the 36-year-old British actress not only dazzled with her fashion-forward choice but also received the coveted New Hollywood Award, an honor recognizing American cinema luminaries.
Emilia Clarke receiving the coveted New Hollywood Award during the 49th Deauville American Film Festival in Deauville, France on September 3, 2023 (Credit: Abaca Press / INSTARimages)
The not-so-star-studded evening was even more special as it marked the premiere of her latest cinematic masterpiece, The Pod Generation.
For the occasion, Emilia's attire choice was a testament to her timeless style and penchant for sophistication as she attended the festival in a head-to-toe Chanel ensemble.
She adorned herself in a black sequined gown that beautifully highlighted her slender silhouette and featured a daring plunging neckline, adding an irresistible touch of allure.
Emilia Clarke stepping out in an all-black ensemble from Chanel at The Pod Generation screening during the 49th Deauville American Film Festival (Credit: Abaca Press / INSTARimages)
The gown, a creation from the French luxury fashion house's Resort 2024 collection, exemplified the brand's commitment to minimalism while achieving a dramatic and flattering effect.
Emilia's natural beauty shone through as she gracefully tucked her rich brunette locks behind her ears. Her makeup was a testament to understated elegance, except for the bold, sultry red lip that added a captivating burst of color to her outfit.
To complete her chic attire, the Terminator Genisys star slipped into simple yet striking black Chanel T-bar pumps, adding a touch of height to her already statuesque presence.
Emilia Clarke wearing a pair of black T-bar pumps from Chanel for a stylish boost to her frame (Credit: Abaca Press / INSTARimages)
Her choice of accessories was impeccable, with dangling pearl earrings and a matching ring from Chanel Fine Jewelry for an exquisite touch to her overall look.
During the ceremony, Emilia Clarke's joy knew no bounds as she accepted the prestigious Nouvel Hollywood Award from the distinguished French director Alexandre Aja, a member of the Jury of Revelations.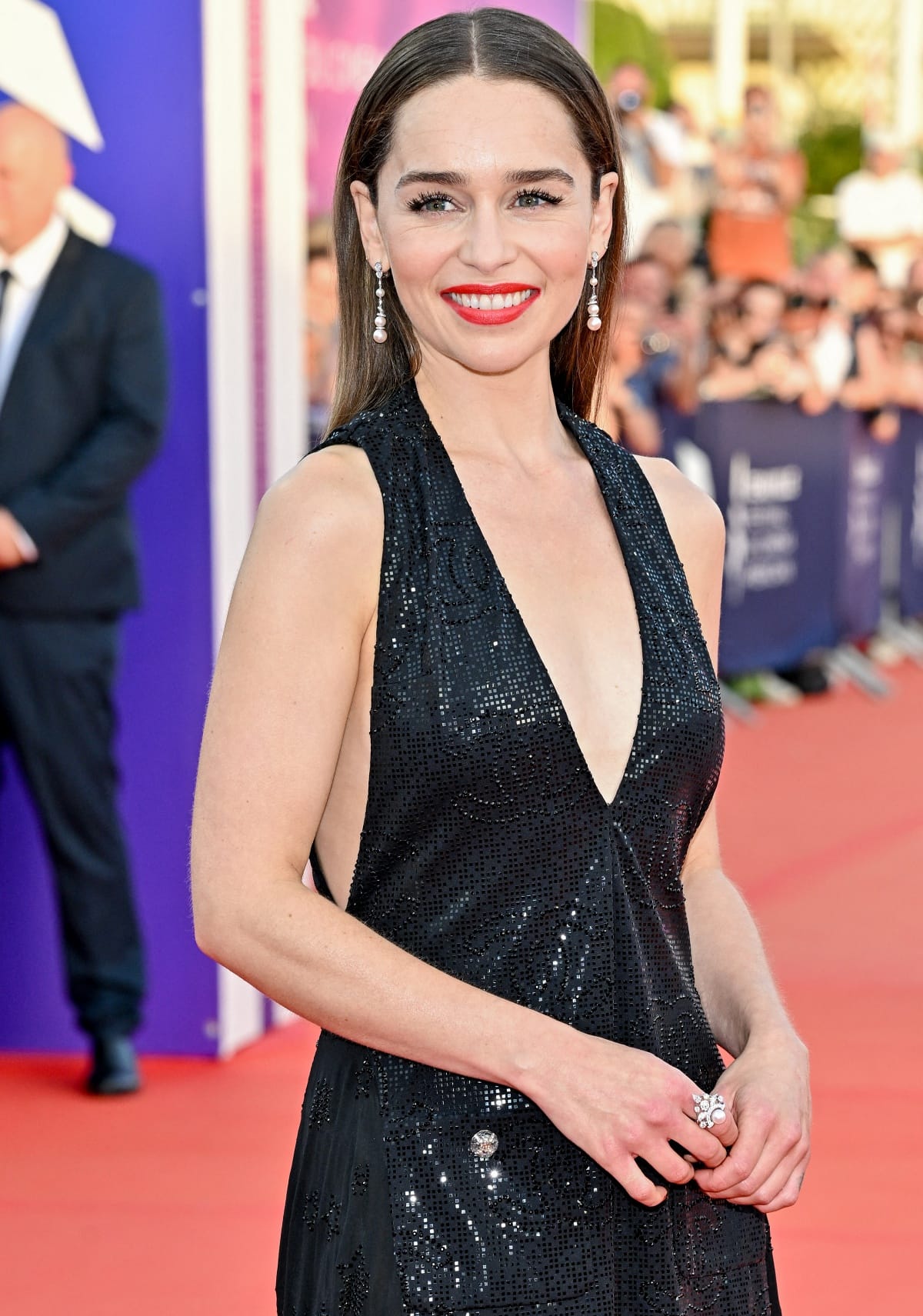 Emilia Clarke's beauty look consisted of sleek, straight hair and bright red lips, as well as pieces from Chanel Fine Jewelry including dangling pearl earrings and a matching ring (Credit: Abaca Press / INSTARimages)
In an exclusive interview with Vogue France, she expressed gratitude, saying, "It means the world to me! It has long been my dream to be able to work alongside filmmakers that I admire and minds I want to learn from, so for such a prestigious festival as Deauville to recognize me for my work makes my imposter syndrome take a momentary back seat!"
Emilia also shared her inspiring vision of the New Hollywood, one filled with "action, change, representation, equality in both pay and leadership roles and of true fierce, unapologetic creativity."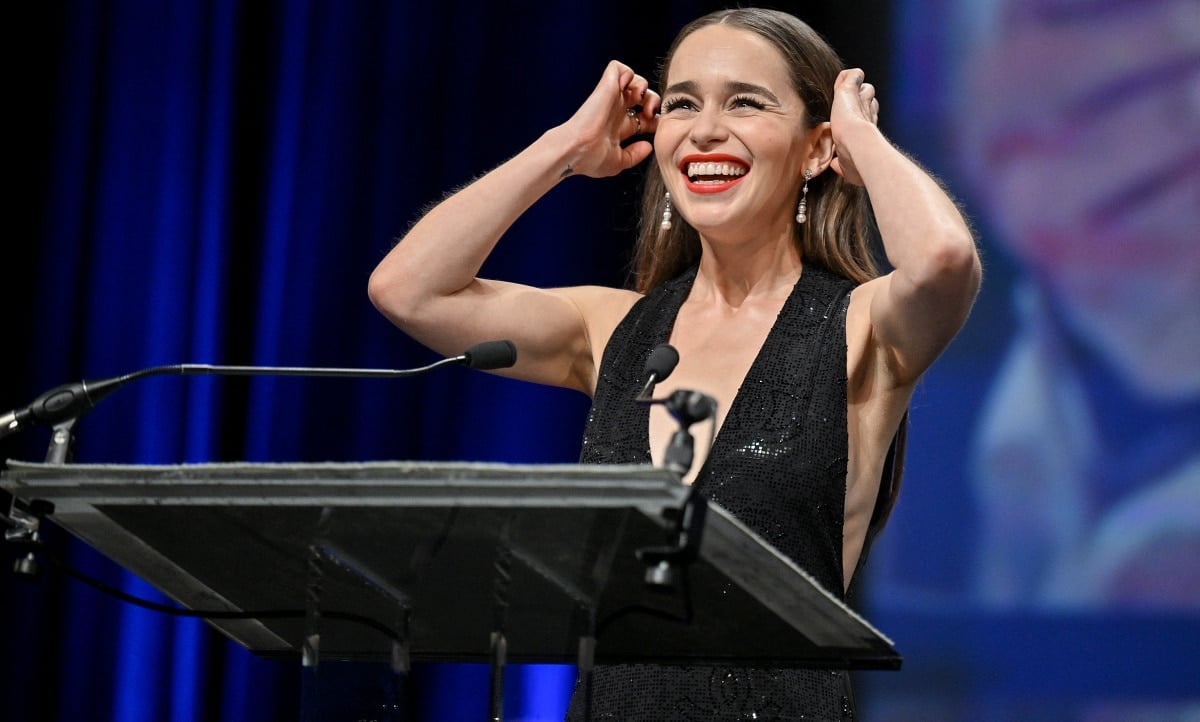 Emilia Clarke was all smiles as she accepted the coveted New Hollywood Award, which recognizes her work and inspiring vision (Credit: Abaca Press / INSTARimages)
The Me Before You actress added, "I want to be in lock step with my peers making work that challenges and changes the status quo, that asks questions of our society and of the ways in which we can encourage people to see the humanity within us, and the environment around us as things of importance. The new generation of Hollywood continues to inspire and push me, both creatively and professionally, the future's bright!"
Following the award ceremony, the audience was treated to a screening of The Pod Generation, a captivating film in the competition, written and directed by Sophie Barthes.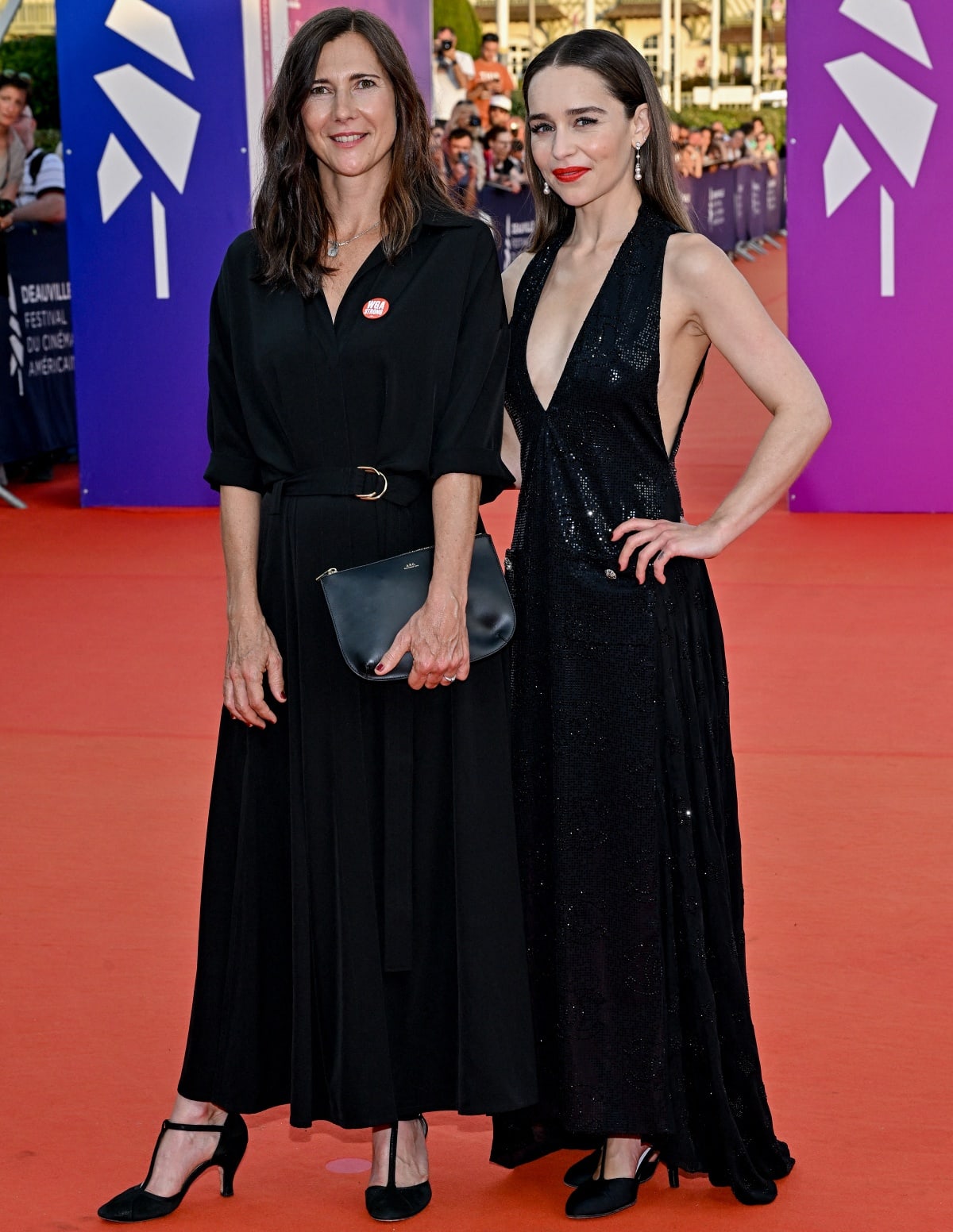 Emilia Clarke posing on the red carpet with The Pod Generation's writer and director, Sophie Barthes (Credit: Abaca Press / INSTARimages)
Emilia stars alongside Chiwetel Ejiofor in this thought-provoking science-fiction romantic comedy that explores the concept of shared pregnancies.
Set in a not-so-distant future, the film takes us on a journey into parenthood with the intriguing twist of artificial intelligence and detachable artificial wombs or pods.