Her high-profile romantic relationships have always been a hot topic among many tabloids.
Throughout her career, Katie Holmes has dated several famous faces in Hollywood. She had a real-life relationship with her on-screen partner Joshua Jackson, whom she dated for about a year until around 1999.
Katie Holmes' Dating History
After her brief romance with the Dawson's Creek star, Katie dated actor Chris Klein in 2000. They got engaged three years later but split in 2005 after five years of dating.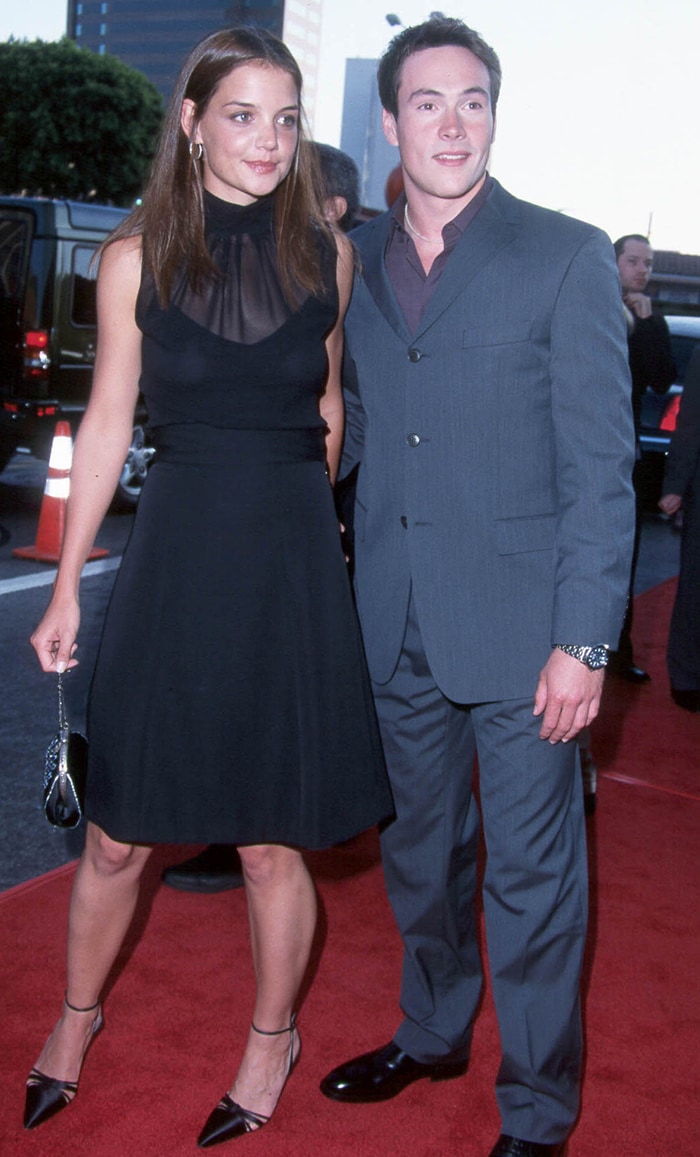 Katie Holmes and Chris Klein pictured in 2001 at the premiere of American Pie 2
Not long after, she was in a relationship with Tom Cruise in April 2005. Their engagement happened after just seven weeks of whirlwind dating. Katie then gave birth to their daughter, Suri, in April 2006. They married in 2006 but split in 2012.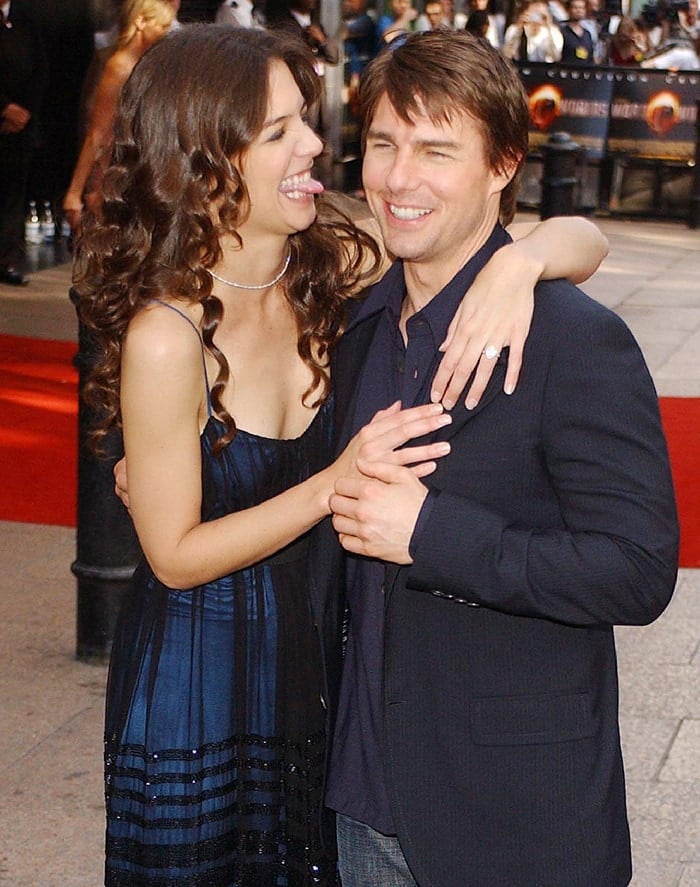 Katie Holmes showing off her engagement ring a few days after announcing her engagement to Tom Cruise in June 2005
Following her highly publicized divorce from the Mission: Impossible star, Katie had a very secretive relationship with Jamie Foxx from 2013 to 2019.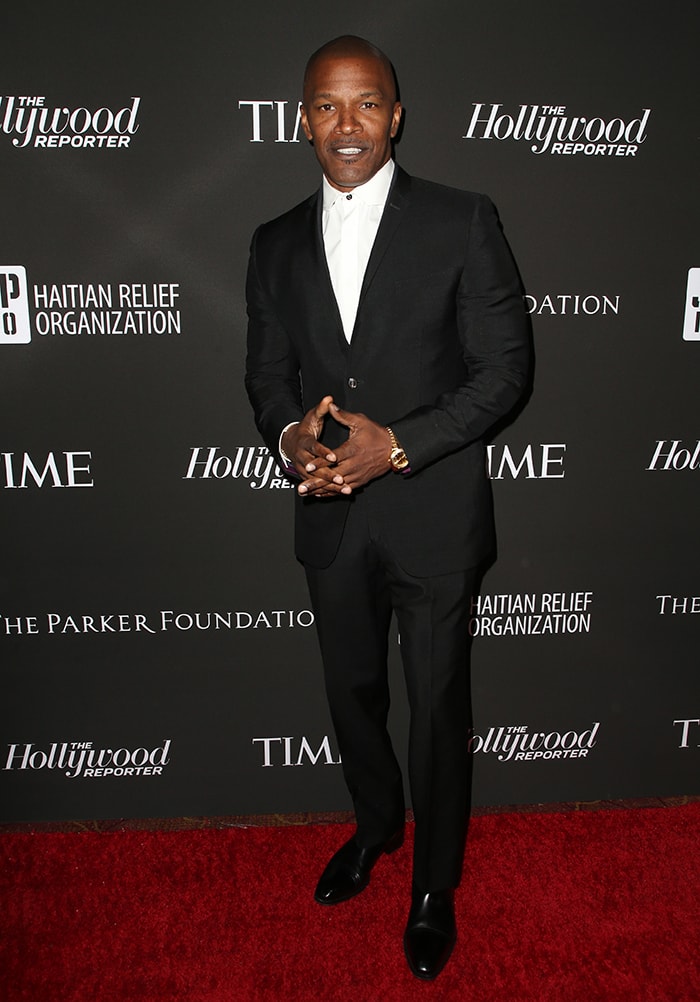 Katie Holmes' ex-boyfriend Jamie Foxx at Sean Penn's Core Gala on June 6, 2019
Is Katie Holmes Dating Again?
After her split from the Ray actor, Katie has been linked to several other popular men in the business, including Bradley Cooper, but none of the rumors were true.
Early this month, however, Katie appeared to have completely moved on with a new man.
The 41-year-old actress was spotted having dinner with Emilio Vitolo Jr., a 33-year-old New York-based chef, at Antique Garage in SoHo on September 1.
TMZ captured the new pair sharing laughs over a couple of glasses of wine. On Sunday night, the two stepped out again to grab dinner at Peasant Restaurant in Manhattan.
In the photos obtained exclusively by Daily Mail, Katie was seen kissing her new man while seated on his lap.
On Friday last week, however, Katie spent time alone and ran errands in New York City without her new boyfriend.
Katie Holmes runs errands sans her rumored new boyfriend in New York City on September 4, 2020
Embracing her style icon status, the mom-of-one wore a white strapless bustier top with a pair of denim jeans. Her figure-hugging ribbed top, which you can buy for $780 at Mytheresa, is from contemporary fashion label, Khaite.
Katie Holmes embraces style icon status in a white strapless bustier top and a pair of jeans
Drawing further attention to her cleavage, Katie accessorized with multiple layers of pendant necklaces.
She also amped up the summer vibe of her look with a pair of Prada sunglasses and a white knit bag with long braided straps.
Wearing her tresses down, Katie stayed safe with a black face mask.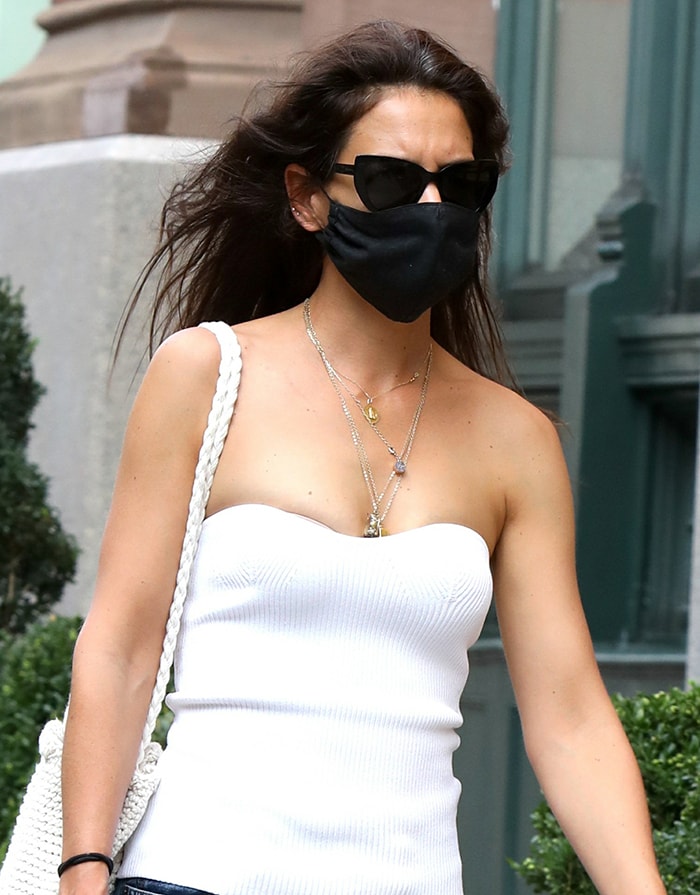 Katie Holmes draws attention to her cleavage with layered necklaces
For her feet, Katie slipped into a pair of Common Projects "Achilles" leather sneakers. This classic favorite has a clean, low-top silhouette with gilded serial code stamped on the lateral sides.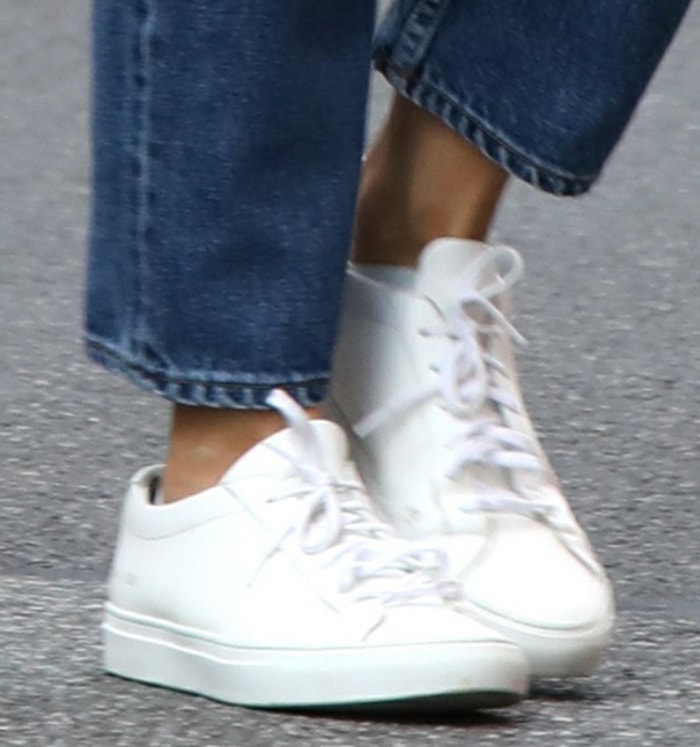 Katie Holmes completes her errand look with Common Projects sneakers
Common Projects 'Achilles' Sneakers, $415 – $425 at Net-A-Porter, Nordstrom, and Farfetch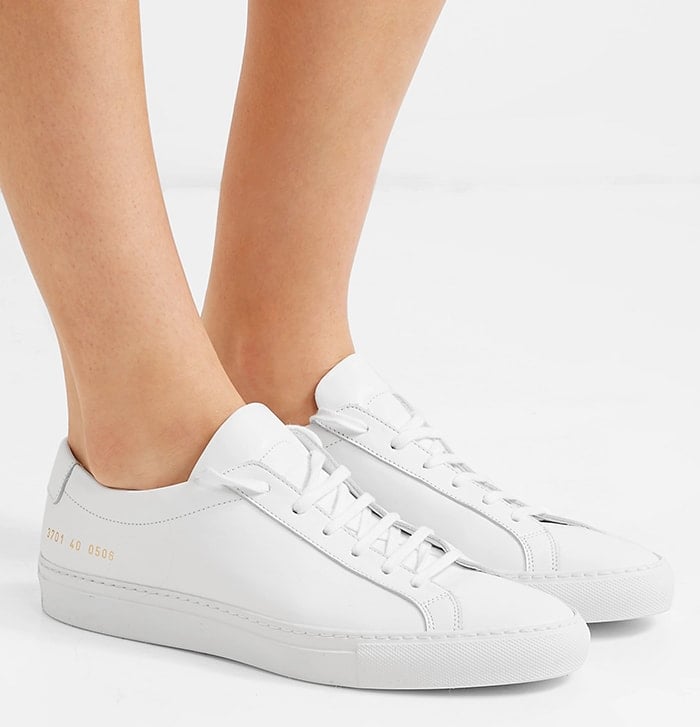 Minimal white Achilles canvas sneakers go with nearly every outfit
Who Is Emilio Vitolo Jr.?
1. He is a chef in New York City
Emilio belongs to a family of restauranteurs. In fact, he's a chef at his father's restaurant, Emilio's Ballato, in SoHo.
His dad, Emilio Vitolo Sr., opened the Italian restaurant in the early 1990's. Both his parents as well as his two brothers also work at the said restaurant.
https://www.instagram.com/p/Bp5m0oCB9Ki/?utm_source=ig_web_copy_link
Considered a celebrity hotspot, the restaurant's regular customers include Whoopi Goldberg, Justin Bieber, Rihanna, Bradley Cooper, Joe Jonas, and even former President Barack Obama.
https://www.instagram.com/p/BQ4OQJYhXm0/?utm_source=ig_web_copy_link
2. He is an actor
Aside from his career as a chef, Emilio has also worked as an actor. He has appeared in several TV shows, series, and movies, including in six episodes of Royal Pains, where he played a bartender role, in 2013 and a guest appearance on Inside Amy Schumer in 2015.
https://www.instagram.com/p/uijFD1i4Xp/?utm_source=ig_web_copy_link
According to his IMDB page, Emilio is set to star in the short film Addi and in the mob crime drama film The Birthday Cake alongside Shiloh Fernandez, Val Kilmer, and Ewan McGregor. Both films are currently in post-production.
3. He has celebrity friends
Emilio is friends with high-profile celebrities from Omar Epps, Lenny Kravitz, and Cuba Gooding to Joe Jonas and Sophie Turner.
https://www.instagram.com/p/BR4qIdSjvDh/?utm_source=ig_web_copy_link
In 2018, Emilio celebrated New Year's Eve with Joe Jonas, Sophie Turner, and Danielle Jonas.
https://www.instagram.com/p/BdbMeQAAv0S/?utm_source=ig_web_copy_link
For the singer's 29th birthday, he posted a photo of Joe on his Instagram, referring to him as his "brotha from anotha motha."
https://www.instagram.com/p/Bmgd5pCg-fD/?utm_source=ig_web_copy_link
Emilio also worked with Bella Hadid in 2015. He even posted a photo with Bella on the set of her then-boyfriend The Weeknd's Into The Night music video.
https://www.instagram.com/p/_ZuCzGC4SN/?utm_source=ig_web_copy_link
4. He is a fur parent
Emilio is a proud fur dad to a Rottweiler, Lil Franky. He even made him his own Instagram account, Lil Franky Vitolo, with a bio that says "Nolita's Finest Rottie."
https://www.instagram.com/p/B0kMG_FnIMk/?utm_source=ig_web_copy_link
5. He is of Italian and Peruvian descent
Emilio is of Italian descent on his father's side, while his Peruvian heritage is from his mother's side.
https://www.instagram.com/p/BTCduwnjrab/?utm_source=ig_web_copy_link
6. He had a fiancée
Emilio was apparently engaged to 24-year-old designer Rachel Emmons just weeks before his steamy photos with Katie surfaced early this month, People reported.
Rachel is the owner of Anna Rachel Studio, which specializes in "curated vintage, custom, and hand-made fashion and art objects."
https://www.instagram.com/p/Bx06syilGSa/?utm_source=ig_web_copy_link
The magazine's source revealed that Emilio ended their engagement when Katie showed him interest.
"In mid-August, Emilio and Rachel were still engaged and living together. He broke off the engagement abruptly the second Katie showed some interest. Rachel is shocked. They were planning a wedding and their future together. It's like she never knew Emilio. They haven't had any contact since he broke up with her"
According to Daily Mail, Emilio dumped his fiancée via text message after pictures of him getting flirty with Katie Holmes were posted.
A friend of Rachel told the tabloid: "Up to this press coming out Rachel had no idea what was going on. He is a cheater, and this isn't a 'happy ending' story."
Another friend of the designer told The Sun that Rachel and Emilio got together in February 2019 and were engaged a few months later. "It was a whirlwind romance but they were very much in love."
In February of this year, Rachel posted a photo of her and Emilio showing off her engagement ring. She captioned the now-deleted picture: "My number one. Future husband and love of my life."
The said friend also told the outlet: "Katie and Emilio were working on an indie movie together about a month ago, and Rachel knew that. He's trying to get into acting, but nobody really knew who he was until this happened."
"They were close while filming together, but she never saw this coming," the friend added.
Credit: FayesVision / Instar / WENN