Casting directors haven't been too secretive about their choice of actors for the musical "La La Land."
As it turns out, the roles that ended up going to Emma Stone and Ryan Gosling weren't theirs originally.
While we were a little shocked that the Ryan-Emma pairing wasn't the original choice, we were also equally intrigued as to who the first choice was.
As it turns out, Emma Stone's character was originally slated for a different Emma: Emma Watson.
Actress Emma Stone carries a black tote on the set of "La La Land" in Los Angeles on August 28, 2015
Why did Emma Watson turn down La La Land?
In an interview with SiriusXM's Town Hall in March 2017, Emma Watson explained that she was too busy to take the role in La La Land as she had already accepted the lead role as Belle in Disney's live-action Beauty and the Beast.
"It's one of these frustrating things where names get attached to projects very early on as a way to kind of build anticipation or excitement for something that's coming before anything is really actually agreed or set in stone," she said. When her supposed casting in La La Land was announced, she'd already committed to playing Belle in Disney's live-action Beauty and the Beast.
Regardless, the role is Emma Stone's now, and we're excited to see what she does with it.
The actress was spotted filming a scene where she carries out a box full of music and office supplies from the trunk of a car.
Additionally, Ryan Gosling's role was originally intended for Miles Teller of "Whiplash" fame. However, Miles had to turn the role down due to a full schedule.
Emma Stone keeps things business casual as she approaches a box of props on the set of "La La Land"
Would Emma Watson and Miles Teller have made a better musical pair? It doesn't matter now.
All that matters is that we have the Stone-Gosling pairing to look forward to.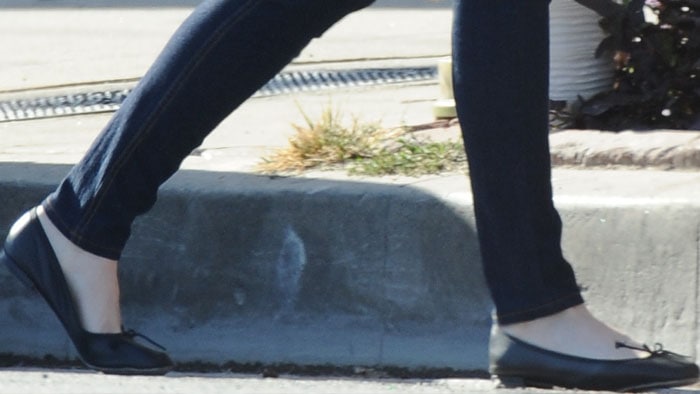 Emma Stone goes for a casual stroll in a pair of black Repetto flats
Emma wore her black Repetto flats again for this scene. To get Emma's versatile black ballet flats from Repetto, head on over to Zappos or Farfetch.
This time, she paired them with jeans, a button-down shirt, and a black tote.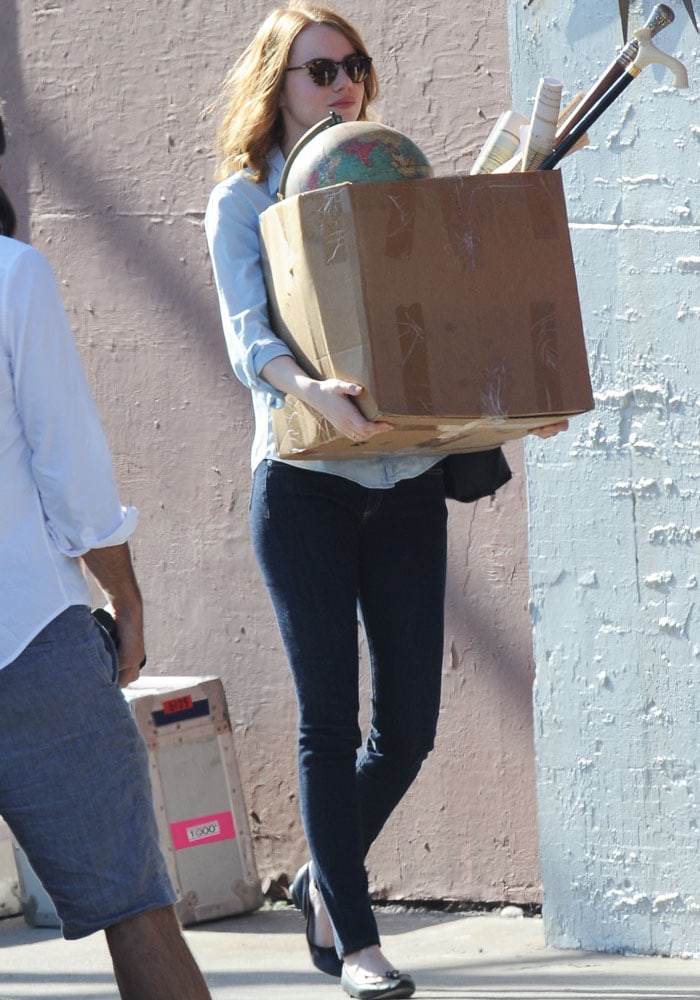 Emma Stone wears sunglasses and carries a box of props on the set of "La La Land"
Repetto Cendrillon Leather Ballet Flats, $295 at Zappos and Farfetch
Credit: Cousart / JFXimages / WENN