Emma Watson has been killing it on the red carpet lately. She's scoring one perfect-10 look after another without fail. At the premiere of her latest movie, 'The Bling Ring', the 'Harry Potter' star was drop-dead fabulous in a beautiful Chanel number paired with perfectly appointed extras.
To say she took our breaths away would probably be an understatement because she was simply stunning. The exquisitely constructed tweed dress was perfect on her. Even more gorgeous were the heels she wore — glittery sky-high ankle-strap sandals that made her gams look extra long.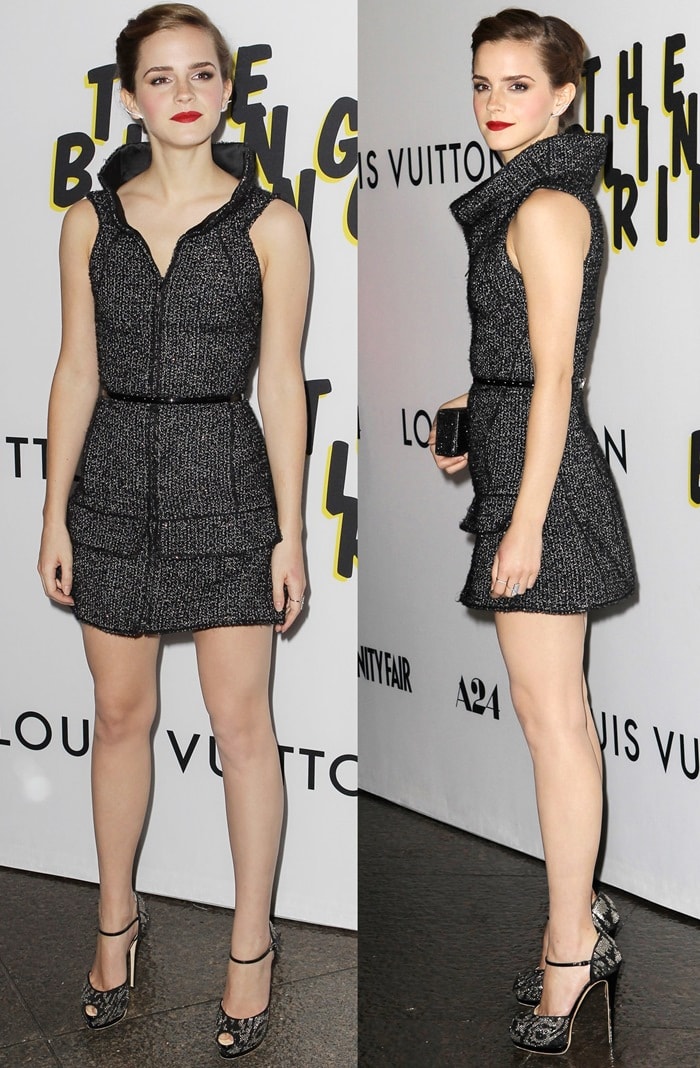 Emma Watson wearing glittery sandals to the premiere of The Bling Ring at the Directors Guild of America Theater in Los Angeles on June 4, 2013
Wow. She definitely looked like Hollywood royalty, didn't she? And those shoes! Oh, those shoes are simply divine!
Yes, it is a pair of Giuseppe Zanotti sandals. We couldn't find them online, but below is a taupe-colored T-strap variant from Neiman Marcus. They feature a slightly similar silhouette and also contain glittery crystals all over, so they're perfect for evening looks.
These strassed sandals come with 7-inch heels (yep, a whopping 7 inches!) and platforms that are just 1.5 inches thick, so besides the fact that wearing them will really elongate your stems, they're also very steep to walk in. In fact, you will be teetering in these, so to speak. Do you think you can handle that?
Giuseppe Zanotti Strass T-Strap Platform Sandals, $1,625
Credit: FayesVision / WENN