Emma Watson made no secret about her sweet childhood crush on co-star Tom Felton, who played Draco Malfoy in the Harry Potter film franchise.
She shared the moment she "fell in love" with Tom Felton on the Harry Potter 20th Anniversary: Return to Hogwarts special, which aired on January 1, 2022.
Emma Watson and Tom Felton in the 2022 television special Harry Potter 20th Anniversary: Return to Hogwarts (Credit: Warner Bros. Television Distribution)
"I walked into the room where we were having tutoring," Emma recalled. "The assignment that had been given was to draw what you thought God looked like, and Tom had drawn a girl with a backward cap on a skateboard. And I just don't know how to say it – I just fell in love with him."
It sounds like Tom Felton was a boy after young Emma Watson's feminist heart.
Secret Admirer
"I used to come in every day and look for his number on the call sheet – it was number seven – and if his name was on the call sheet, it was an extra exciting day," Emma fondly remembered.
"He was three years above me and so for him he was like, 'You're like my little sister.'"
Emma Watson was 11 years old when Harry Potter and the Philosopher's Stone was released in November 2001 (Credit: Warner Bros. Pictures)
Tom Felton admitted that he was aware of young Emma Watson's crush on him because he was told about it while getting ready "in the hair and make-up chair."
"I became very protective over her," he said. "Yeah, I've always had a soft spot for her and that continues to this day. There's always been something that's like, I don't know, a kinship."
And that kinship is what led to a friendship that stayed strong over the years.
The Ship That Never Sailed
Fans have been shipping Emma Watson and Tom Felton ever since, hoping for something more to happen between the two. But they've finally laid the rumors to rest in Tom Felton's new memoir, Beyond the Wand: The Magic and Mayhem of Growing Up a Wizard, which you can purchase on Amazon.
Before the release of the book, an Emma Watson fan account shared the four-page foreword written by the actress on Instagram. Grand Central Publishing confirmed to Glamour that the leaked pages were indeed part of Tom Felton's memoir.
View this post on Instagram
Emma Watson penned the foreword earlier this year in London. She began by writing, "You know that person in your life who makes you feel seen? That person who is somehow a witness to all that unfolds? That person who knows – really knows – what is happening to you and what you're going through, without anything having to be said?"
She then proudly declared that for her, "that person is Tom Felton."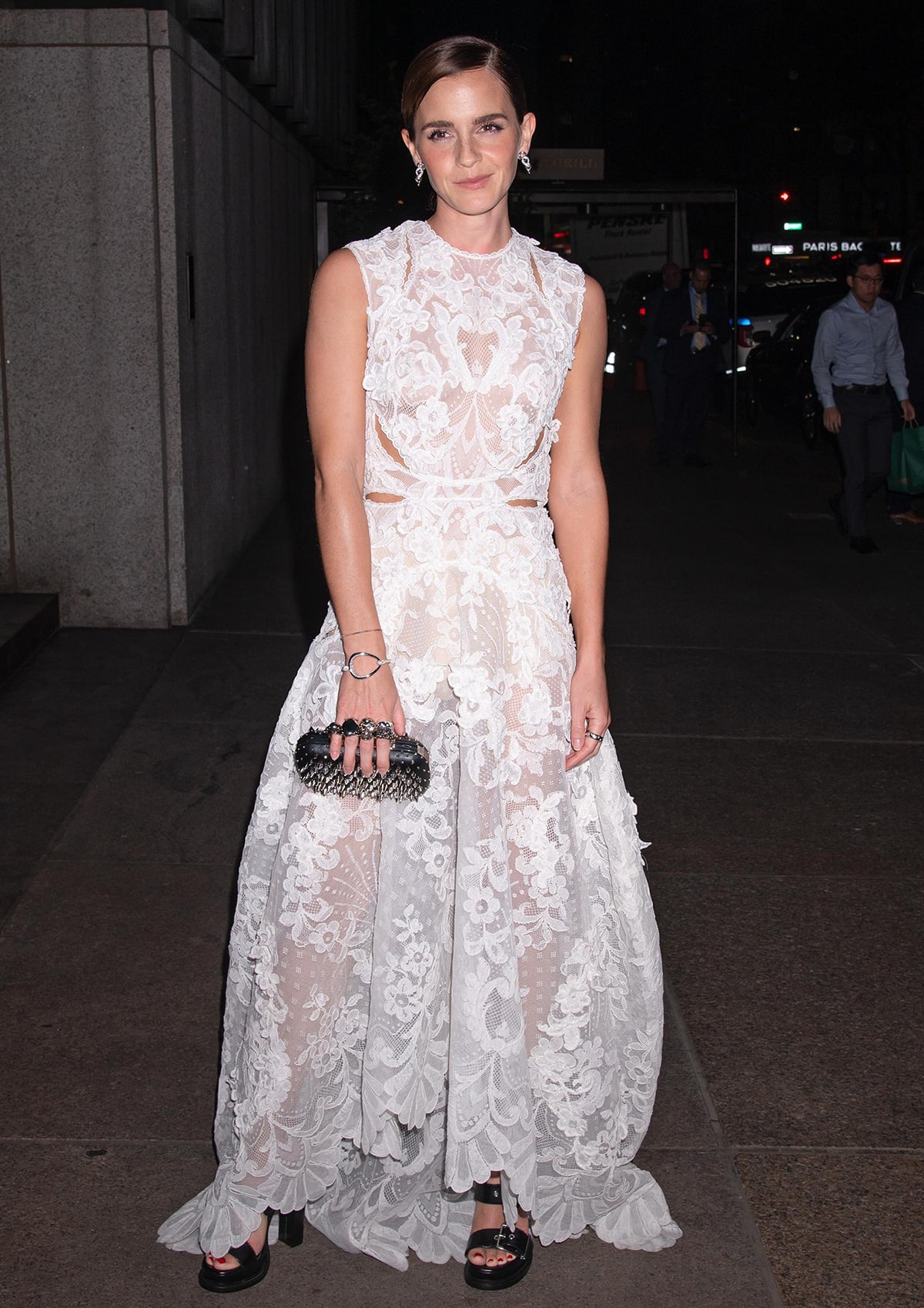 At 32 years old, Emma Watson considers Tom Felton's friendship as "one of the great gifts of her life" (Credit: Janet Mayer / Startraksphoto / Cover Images)
While recalling the first time she and Tom met, Emma referred to herself as a "moony and probably rather annoying nine-year-old girl who followed him around like a puppy, desperate for his attention."
Over the years, they've developed a friendship that's so rare and cherished by the two, which resulted in speculations of the nature of their relationship. But both of them have been adamant that their strong bond is strictly platonic.
Emma has also been on a string of relationships, and she's most recently been rumored to be dating Brandon Green, who was featured in Tatler's Top 10 Single Billionaires list in 2014.
"Kindred Spirits"
In the book, Tom opened up about his relationship with his friend and co-star. He wrote that he's "always had a secret love for Emma, though not perhaps in the way that people might want to hear."
He also mentioned that it didn't mean that there was no chemistry between the pair. In fact, he confirmed that there was a spark, "only at different times."
View this post on Instagram
"Rumours started to abound that there was more to our relationship than we were letting on," he wrote. "I denied that I liked her in that way, but the truth was different."
He said that his "girlfriend at the time knew straight away that there was something unspoken between us." Tom mentioned using the "familiar old line, 'I love her like a sister.' But there was more to it than that."
Tom Felton confessed that he doesn't think he was "ever in love with Emma" but that he "loved and admired her as a person in a way that [he] could never explain to anybody else."
"We were kindred spirits," he wrote.
Tom added that he knows "for certain that [he'll] always have Emma's back and she'll always have [his] too."
A Piece of Her Soul
Emma described Tom as a person with "a heart the size of a planet."
She also opened up in the foreword about how people perceived their relationship. "Like Tom, I always struggle to explain to people the nature of our connection and relationship. For more than twenty years now we've loved each other in a special way, and I've lost count of the times that people have said to me, 'You must have drunkenly made out, just once!' 'You must have kissed!' 'There must be something!'"
"But what we have is far deeper than that," Emma wrote. "It's one of the purest loves I can think of. We're soulmates, and we've always had each other's backs. I know we always will."
View this post on Instagram
The 32-year-old actress also wrote that it makes her "emotional to think about it." She lamented that sometimes "it feels hard to live in a world where people are so quick to judge, to doubt, to question intentions."
Emma was quick to add that "Tom doesn't do that." She believes that "even if I made a mistake, he'll understand that my intention was good. I know that he'll always believe me. Even when he doesn't have the whole picture, he'll never doubt that I'm coming from a good place and will have done my very best."
The Noah actress continued, "That's true friendship, and to be seen and loved like that is one of the great gifts of my life."
Towards the end of the foreword, Emma wrote a message to Tom saying that "The world is lucky to have you, but I'm even luckier to have you as my friend."
Emma Watson then ended the piece by writing, "Chapeau, little piece of my soul. And congratulations."