Most people are well aware of the infamous action star, model, director, producer, and Ukranian beauty Milla Jovovich, who is known for her roles in Return to the Blue Lagoon, Dazed and Confused, The Fifth Element, and the ever-popular Resident Evil movie series.
Few people were aware though of her young teenage daughter Ever Gabo Anderson, who is making quick strides to follow her mom's big footsteps.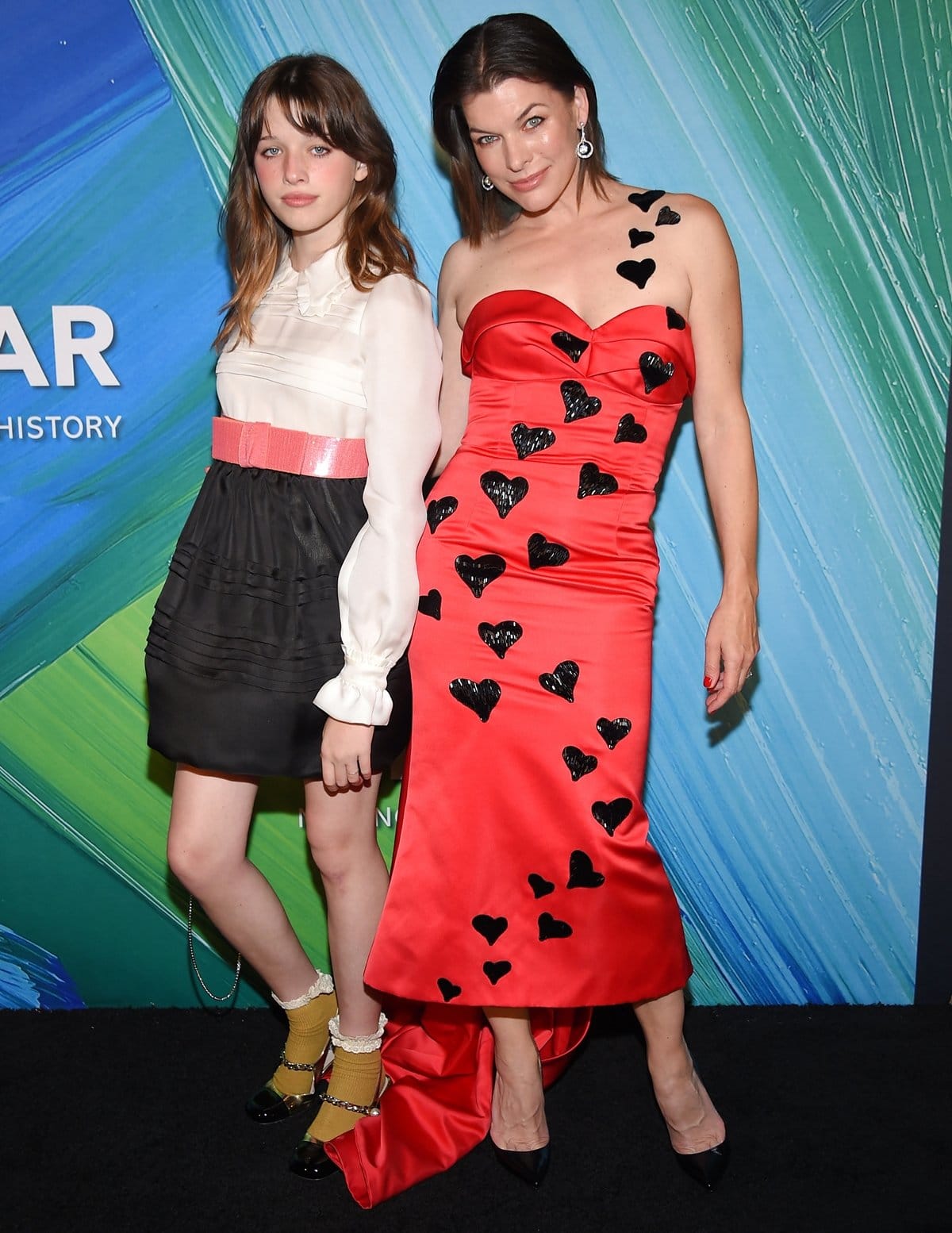 Milla Jovovich's daughter Ever Gabo Anderson is of Russian and Serbian descent through her mother and of English descent through her father, director Paul W. S. Anderson (Credit: MEGA / WENN)
Milla and Ever appeared together at the amFAR gala in West Hollywood. The 14-year-old teenager seems to be actively seeking similar roles to her mother, as she has an impressive list of action roles considering her young years.
Ever Gabo Anderson Facts
| Does Ever Gabo Anderson speak Russian? | Yes. In addition to English, she claims to speak French and Russian. |
| --- | --- |
| Full Name: | Ever Gabo Anderson |
| Born: | November 3, 2007, at Cedars-Sinai Medical Center, Los Angeles, California |
| Who are Ever Gabo Anderson's parents? | She's the daughter of actress Milla Jovovich and director Paul W. S. Anderson. |
| How old was Ever Gabo Anderson in Black Widow? | She was 13-years-old when portraying Black Widow as a child |
| Who are Dashiel Edan Jovovich-Anderson and Osian Lark Elliot Jovovich-Anderson? | They are Ever Gabo Anderson's younger sisters. |
Having played parts in Resident Evil alongside her mom, and then participating in Black Widow, the true time to shine for Ever is in her portrayal of Wendy in the upcoming 2022 rendition of Peter Pan called Peter Pan & Wendy.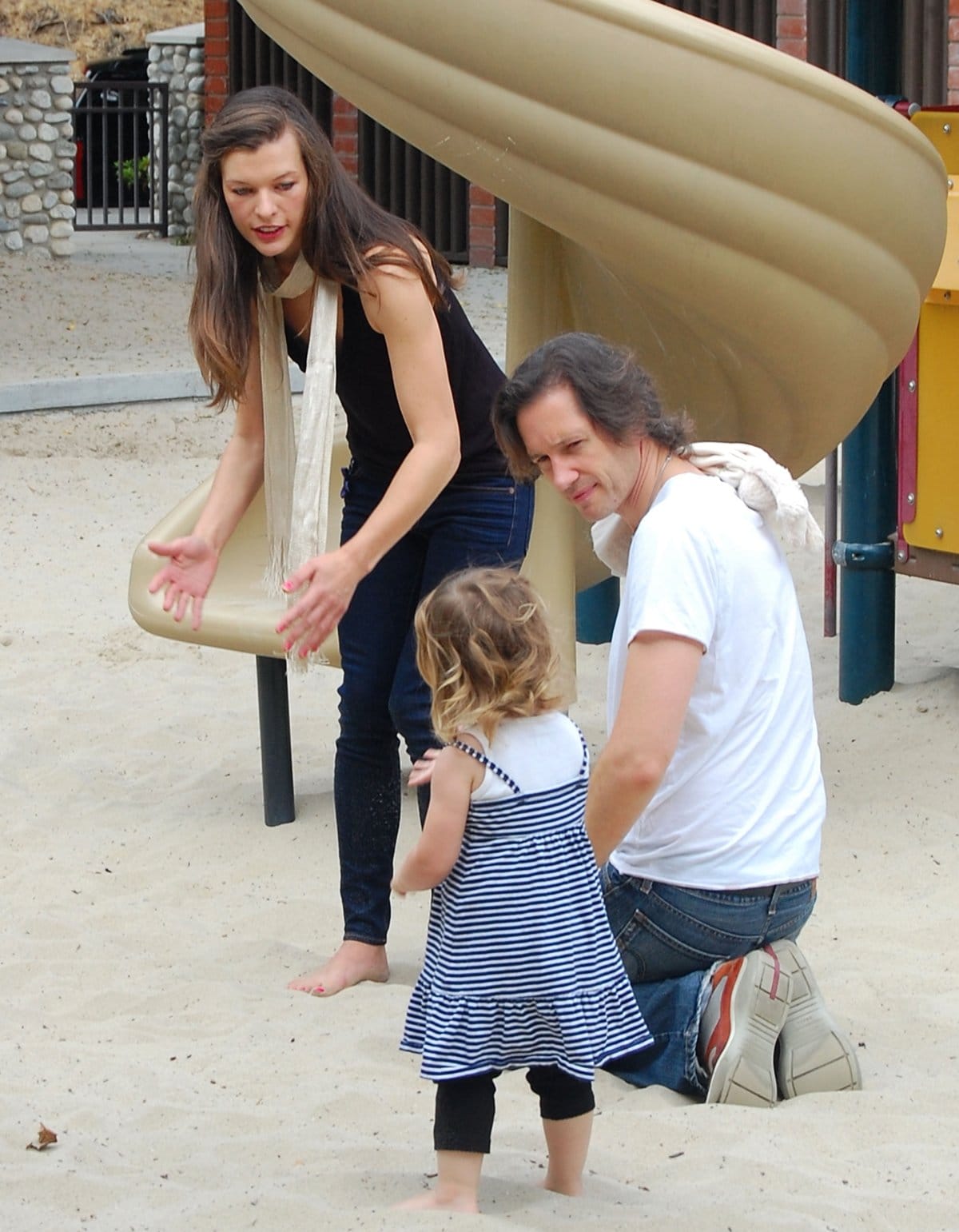 Milla Jovovich and Paul William Scott Anderson play with their daughter, Ever Gabo Anderson at Beverly Hills Park in Los Angeles on June 21, 2009 (Credit: KOKOPIX / WENN)
The live-action Peter Pan and Wendy movie is a big deal! The film will be featuring big names like Jude Law as Captain Hook and Yara Shahidi as Tinker Bell.
It will be released on Disney+, Disney's own streaming service, sometime during 2022. It's not difficult to imagine blue-eyed innocent-faced Ever embodying the gentle Wendy in the movie.
Interestingly enough, her parents were not supporters early on in the pursuit of her acting career and dreams.
Pictured pregnant with her mom Galina Aleksandrovna Loginova at the premiere of Resident Evil: Extinction in Las Vegas on September 20, 2007, Milica Bogdanovna Jovovich gave birth to her first child, Ever Gabo Anderson, at Cedars-Sinai Medical Center in Los Angeles on November 3, 2007 (Credit: Chris Connor / WENN)
The 45-year-old mom of Ever has publicly explained that she is terrified of Ever participating in the film industry, however, has now quickly become one of her biggest cheerleaders.
Milla has talked about how she fears that the industry is too tough for Ever, but that she is also excited for her daughter to have found something she is so passionate about so early on. Ever has been involved in the acting industry ever since the age of 5.
It seems like the acting career was inevitable, considering that Milla brought Ever on to sets when she was younger. Similar to Milla, Ever has already delved into the world of fashion as well.
Milla Jovovich and her daughter Ever Gabo Anderson attend the Chanel show during Paris Fashion Week Haute Couture Fall/Winter 2016-2017 on July 5, 2016, in Paris, France (Credit: WENN)
Having graced the covers of Vogue, Flaunt, Love, and ChaosSixtyNine magazines, as well as have had pictures taken by fashion icons like Karl Lagerfeld, Mikael Jansson, and Peter Lindbergh, it's only a matter of time before Ever becomes an easily recognizable face in the Hollywood crowd.
It's clear that the Anderson-Jovovich family is a close-knit one. Milla Jovovich is married to Paul W. S. Anderson, an English film director, producer and screenwriter, who was part of the Resident Evil project.
Ever Gabo Anderson played Young Alicia/Red Queen in the 2016 science fiction action film Resident Evil: The Final Chapter and was 9 years old when attending the premiere at Regal LA Live: A Barco Innovation Center on January 23, 2017, in Los Angeles, California (Credit: FayesVision / WENN)
The couple has three children together, Ever being the oldest. Ever was the one who broke the news of the newest addition to the family via Instagram.
That isn't the only showcase of affection between family members on the social media platform. Milla and Ever took to Instagram to demonstrate just how close and similar they really are.
Both impersonating each other and their habits, made for fun entertainment and more evidence of how much they have in common. The uncanny resemblance is undeniable.
Ever Gabo Anderson with her mom Milla Jovovich and her father Paul W. S. Anderson at the premiere of The Lego Movie 2: The Second Part at Regency Village Theatre on February 2, 2019, in Westwood, California (Credit: FayesVision / WENN)
Milla has often commented on how proud she is of Ever and her quick ascent in Hollywood.
Not only is she incredibly excited to see her daughter make her dreams a reality, but she called Ever a natural in front of the camera and possesses incredible talent.
A loving nickname she calls her daughter to her irreverent love for Marvel movies and paying homage to Ever's role in Black Widow is "Baby Widow."
Ever Anderson attends the Miu Miu Womenswear Spring/Summer 2022 show as part of Paris Fashion Week on October 5, 2021, in Paris, France (Credit: MEGA / WENN)
Fans of this mother-daughter duo were delighted when the pair modeled for the cover of Vogue Arabia last year. Not only have these two worked together (in more ways than one), but they also have protested together.
Last year in June Milla and Ever were both seen protesting on the Black Lives Matter movement, Milla expressed how important she found it that she emphasizes the ability to use your voice no matter how young or old you are.
Ever was born November 3, 2007, in Los Angeles California. Her younger siblings are both boys and named Osian Lark Elliot Jovovich-Anderson and Dashiel Edan Anderson.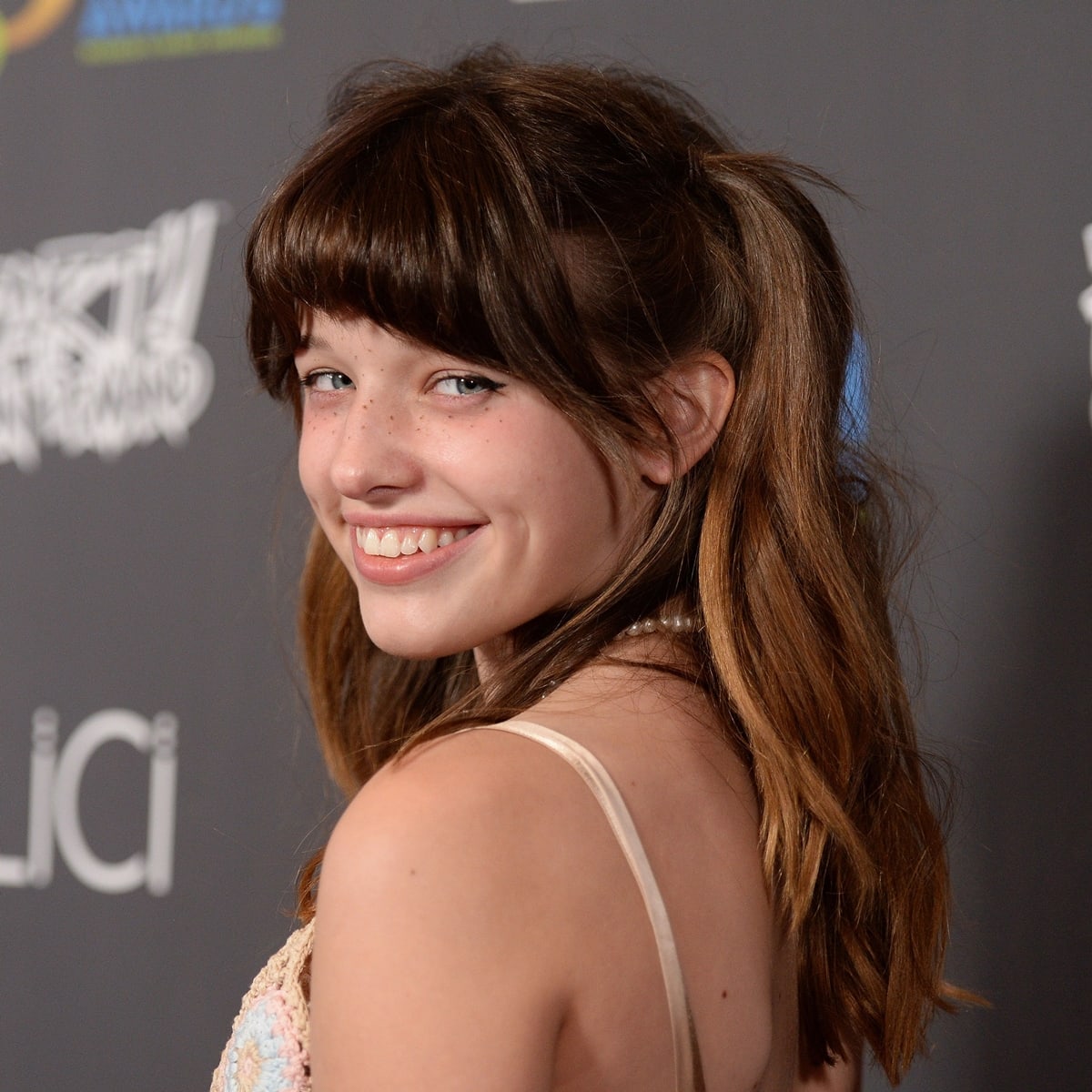 Ever Gabo Anderson shows off her infectious smile at the 2021 Women's Image Awards presented by The Women's Image Network held at Saban Theatre on October 14, 2021, in Beverly Hills, California (Credit: MEGA / WENN)
Ever has a new project she is currently working on, taking on the role of Harley in the upcoming film Helvellyn Edge.
We are eager to keep an eye out for the budding actress and model and look forward to watching her growing success and seeing if she will reach the same heights as her mom did.
Milica Bogdanovna Jovovich has taught her daughter Ever Gabo Anderson to speak Russian (Credit: MEGA / WENN)
Having such prominent figures as parents, it's hard to see why the Baby Widow shouldn't!