Scarlett Johansson has been scurrying here and there with her promotions for Avengers: Age of Ultron, but the actress looked anything but fazed as she arrived outside the David Letterman studio looking every bit put together.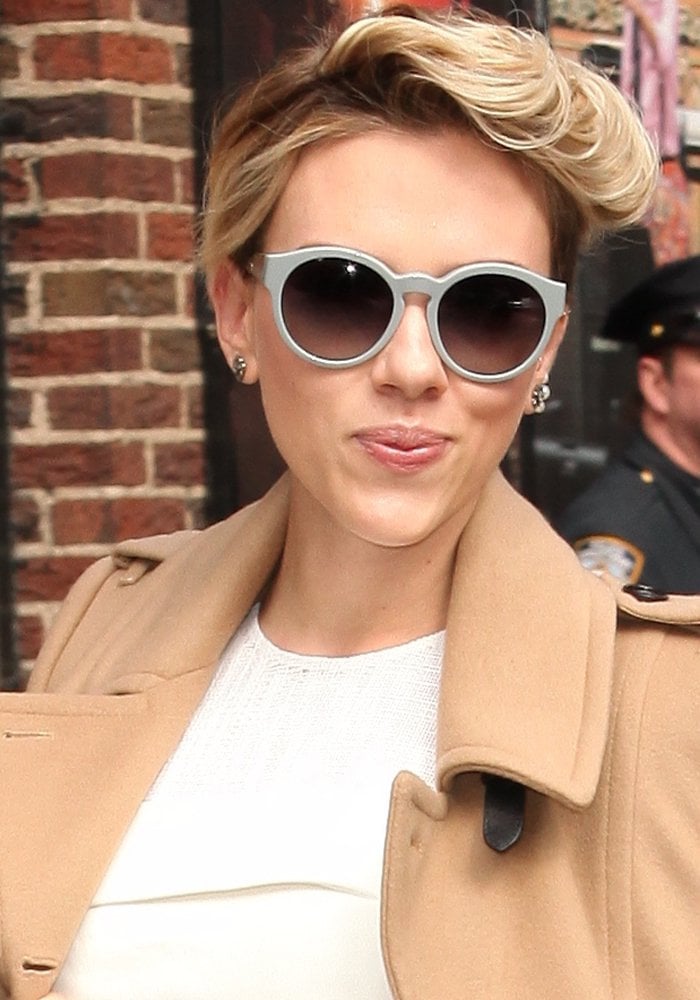 Scarlett Johansson's Miley Cyrus-inspired haircut
The 30-year-old wore the Abersley laser-cut hibiscus color block dress by Roland Mouret underneath a camel-colored trench coat, paired with Roger Vivier nude pumps, gray sunglasses, and her Miley Cyrus-inspired haircut.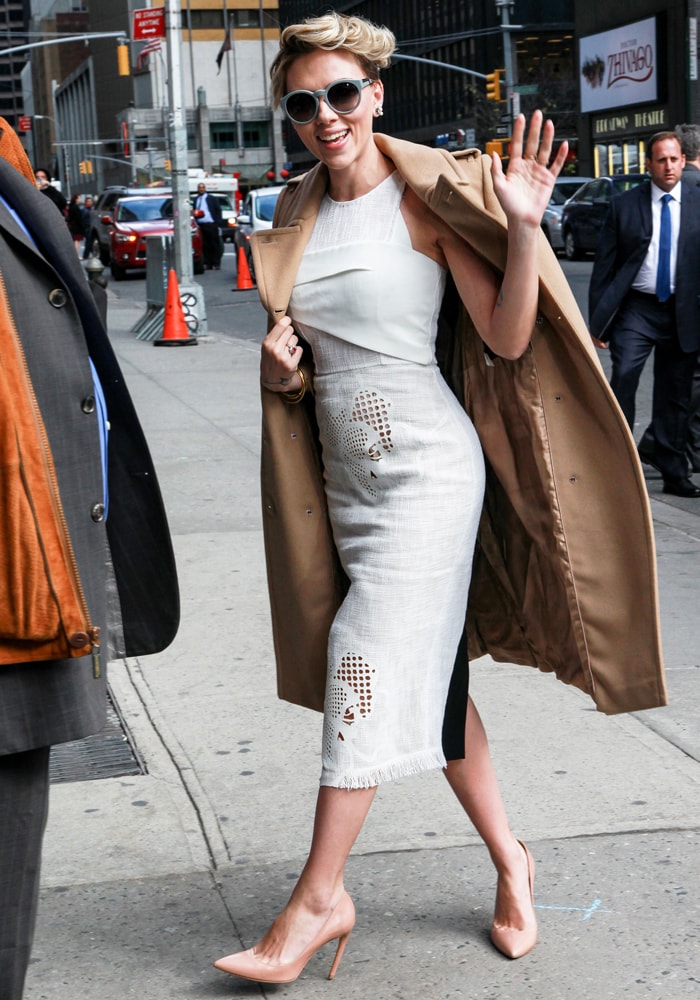 Scarlett Johansson arriving at the 'Late Show with David Letterman' in New York on April 27, 2015
No need for superpowers to keep this woman in tip-top paparazzi-ready shape (a team of super stylists, maybe?).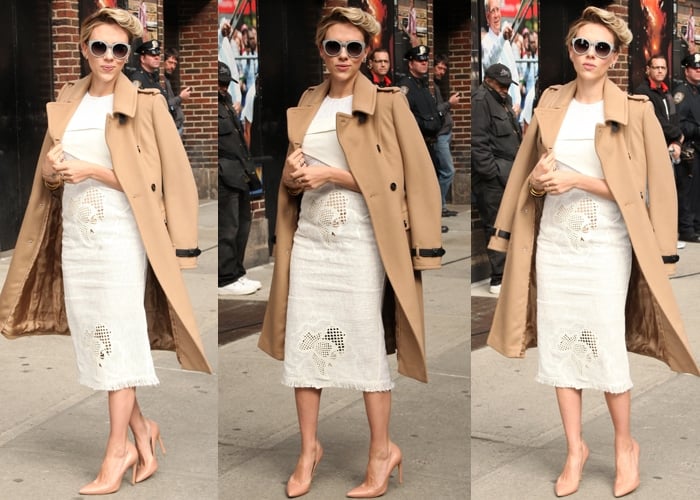 Scarlett Johansson and her family once relied on public food assistance
The actress, however, shows that she is indeed a real-life superhero as she recently teamed up with Avengers co-star Jeremy Renner to raise awareness about child hunger in America, teaming up with the country's hunger-relief organization Feeding America.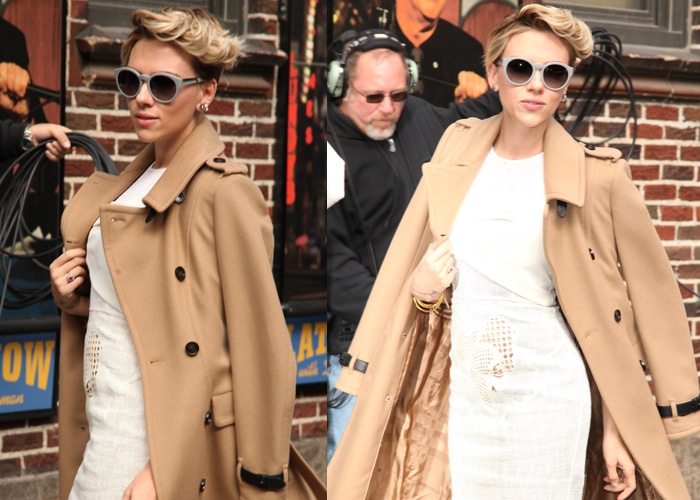 Scarlett Johansson wore an Abersley color block lightweight woven dress with contrast crossover and back inset
Scarlett even shared how her family used to rely on public assistance for their daily meals.
"My family grew up relying on public assistance to help provide meals for our family," Johansson says in a public service announcement.
"Child hunger in America is a real and often overlooked problem but one that together, we can fix. It is my hope that by joining with Feeding America, our awareness of this issue will lead to a solution."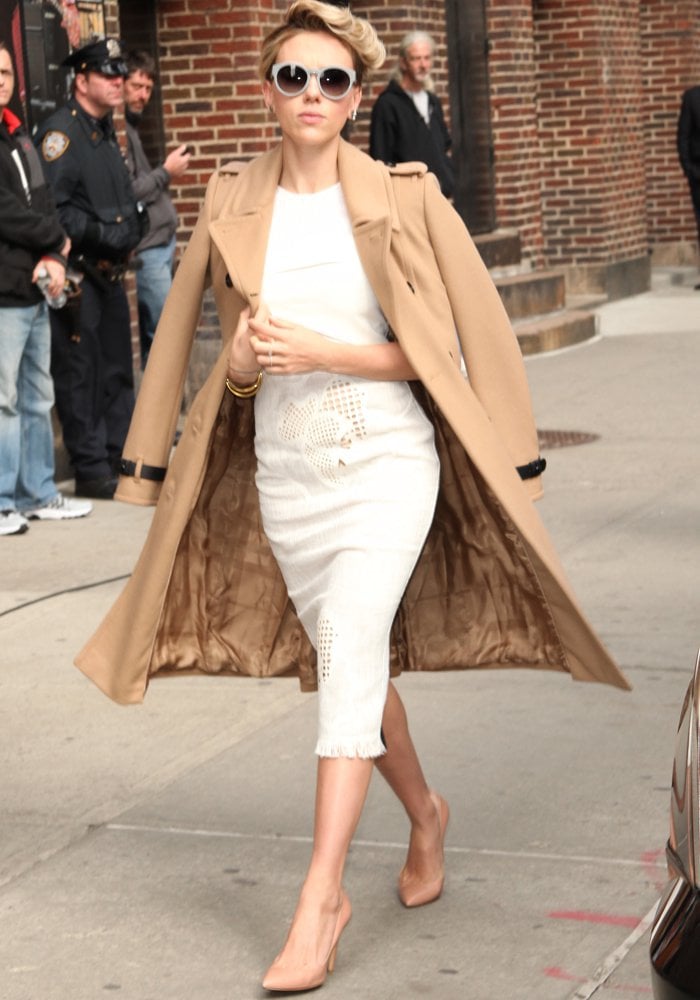 Scarlett Johansson kept warm in a camel-colored trench coat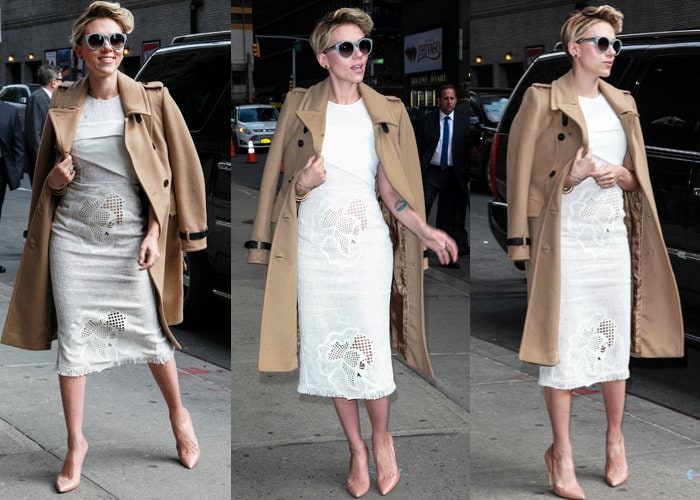 Scarlett Johansson supports hunger-relief organization Feeding America
Scarlett Johansson is busy promoting American superhero film Avengers: Age of Ultron
Scarlett reportedly wore a pair of Roger Vivier patent nude pointed toe heels, which is probably the tamest footwear that we've seen the designer come out with so far.
We couldn't locate the exact shoe, so we're leaving you three equally timeless pointed toe nude pumps to choose from.
Gianvito Rossi Patent-Leather Pumps, $660
Jimmy Choo Abel Patent Nude Pumps, $517
Credit: PNP / Kyle Blair / WENN