Fergie gave birth to her first son, Axl, just about 3 months ago. Recently, she has been flaunting her post-baby curves. While Fergie is not really wearing revealing outfits, it's easy to see that the American singer, songwriter, fashion designer, television host and actress is going to the gym regularly.
Being the new dedicated mom that she is, we were not surprised to learn that she partnered with Unilever on Universal Children's Day to launch the Unilever Project Sunlight. It is a marketing campaign that urges people to create a better future for children by adopting a more "sustainable" lifestyle.
Along with some Los Angeles children, Fergie was seen painting for the said project at Solar Studios in Glendale on November 20. And boy did she look amazing in her black-and-red plaid pants, black top, and black-and-white printed jacket.
That same day, Fergie was also spotted taping an appearance for 'Extra' in the exact same outfit.
Fergie on 'Extra' hosted by Mario Lopez at Universal Studios Hollywood on November 20, 2013 in Los Angeles, California

Running from one appearance to the next in heels is no small feat, but Fergie managed to work it in her metal-toed pumps. Called the "Podium," the pumps are actually from her very own collection and can be purchased at Amazon. They are made of black leather and feature metal toe caps and a decorative collar detail at the back. Yup, they aren't your usual black leather pumps!
Fergie wearing the Fergie "Podium" pumps
These pumps could be a great alternative to your good old black pumps! They still hold a classic style, but with a modern twist: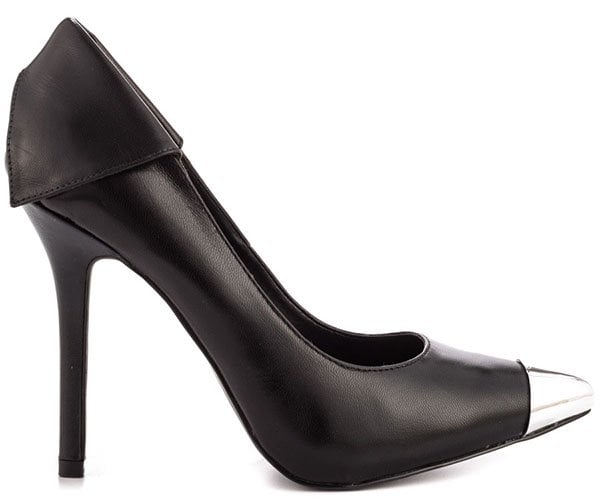 Fergie "Podium" Pumps, $49.99 at Amazon
Credit: revolutionpix/WENN