Established in 1983 by the visionary Franco Moschino, Moschino is a testament to fashion that merges luxury with a playful, often satirical twist.
Born in 1950 in Abbiategrasso, Italy, Franco Moschino cultivated his unique approach to fashion at Milan's prestigious European Institute of Design. His philosophy? Fashion should always maintain a sense of humor and self-awareness.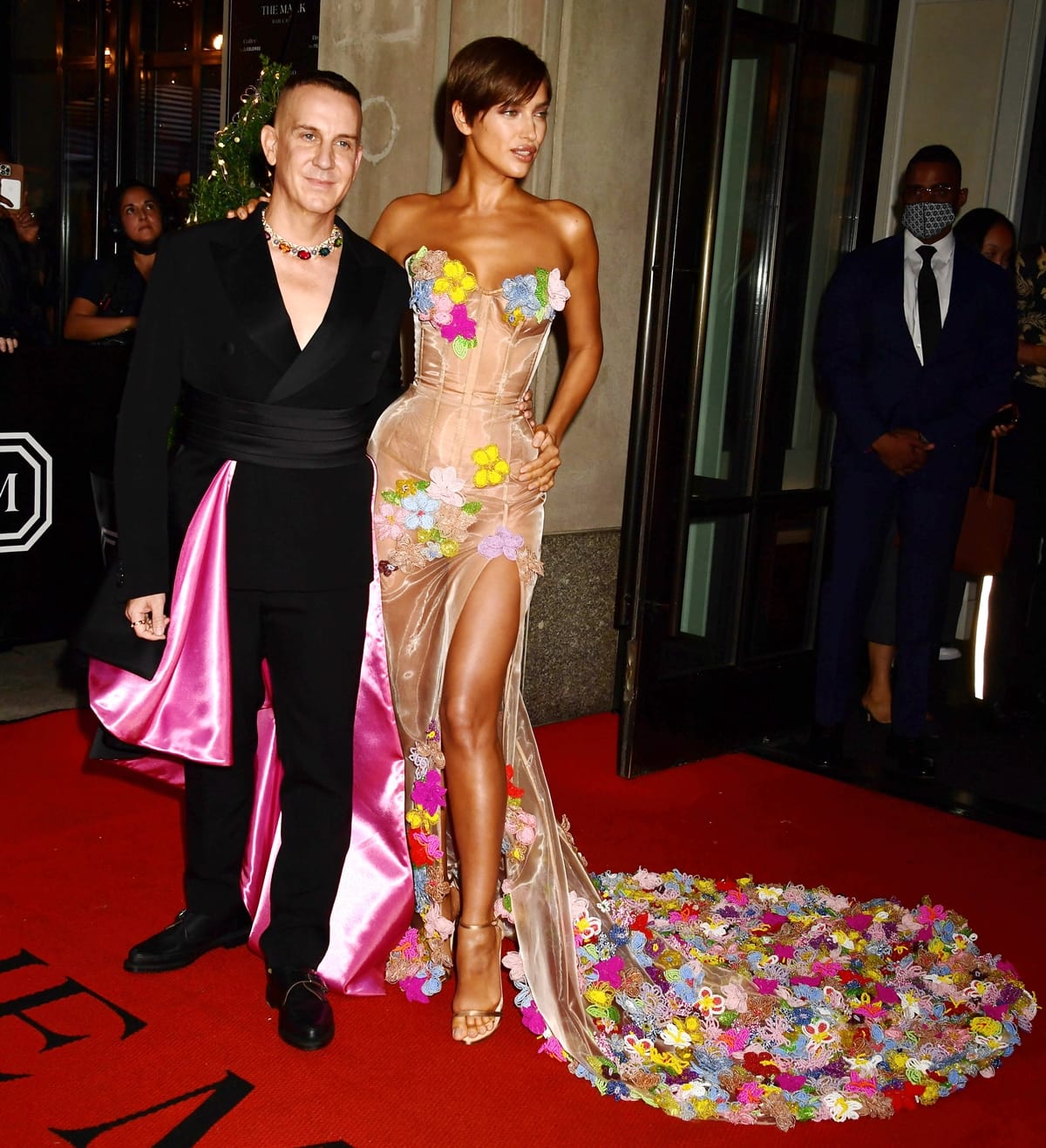 American fashion designer Jeremy Scott and supermodel Irina Shayk wearing Moschino during Met Gala departures from THE MARK Hotel in New York City, on September 13, 2021 (Credit: Avalon / WENN)
From Humble Beginnings to Global Fame
Moschino's journey from a freelance designer to the founder of a fashion empire is a story of creativity and daring. His brand, celebrated for its flamboyant, campy designs, quickly garnered a devoted following globally.
The label's portfolio extends beyond just apparel, encompassing shoes, bags, leather goods, and eclectic fashion accessories.
The Filipino actress Heart Evangelista attended Moschino's fashion show during Milan Fashion Week Women's Collection FW 2023/2024 in a unique nautical-themed, striped midi dress by Jeremy Scott featuring a whimsical waist piece resembling a floatie (Credit: IPA / INSTARimages
Moschino's collections were always a highlight of Milan Fashion Week, and he quickly became one of the most influential designers in the fashion industry. Under Franco Moschino's leadership, the fashion label became famous for its irreverent, surreal take on fashion.
The brand has expanded to include the younger Moschino Cheap & Chic line, the Love Moschino denim line, perfume, lingerie, and accessories.
American fashion designer Jeremy Scott was appointed creative director of Italian fashion brand Moschino in 2013 (Credit: Daniel Deme / WENN)
Legacy and Expansion
The tragic demise of Franco Moschino in 1994 due to cardiac arrest, a complication of an abdominal tumor, marked the end of an era.
Yet, his legacy continued to thrive under Rossella Jardini, his former assistant, who upheld the brand's quirky spirit as the new creative director.
Under her guidance, Moschino expanded its reach, introducing the youthful Moschino Cheap & Chic line, the denim-centric Love Moschino, and ventures into perfumes, lingerie, and accessories.
A New Chapter with Jeremy Scott
In a significant shift, 2013 saw LA-based designer Jeremy Scott, born in 1975 in Kansas City, Missouri, take the helm as creative director. His debut collection in the fall of 2014 perpetuated the brand's tradition of blending high fashion with provocative, playful elements.
Scott, with a net worth of $2 million as of 2023, continued to push the boundaries, keeping Moschino at the forefront of the fashion conversation.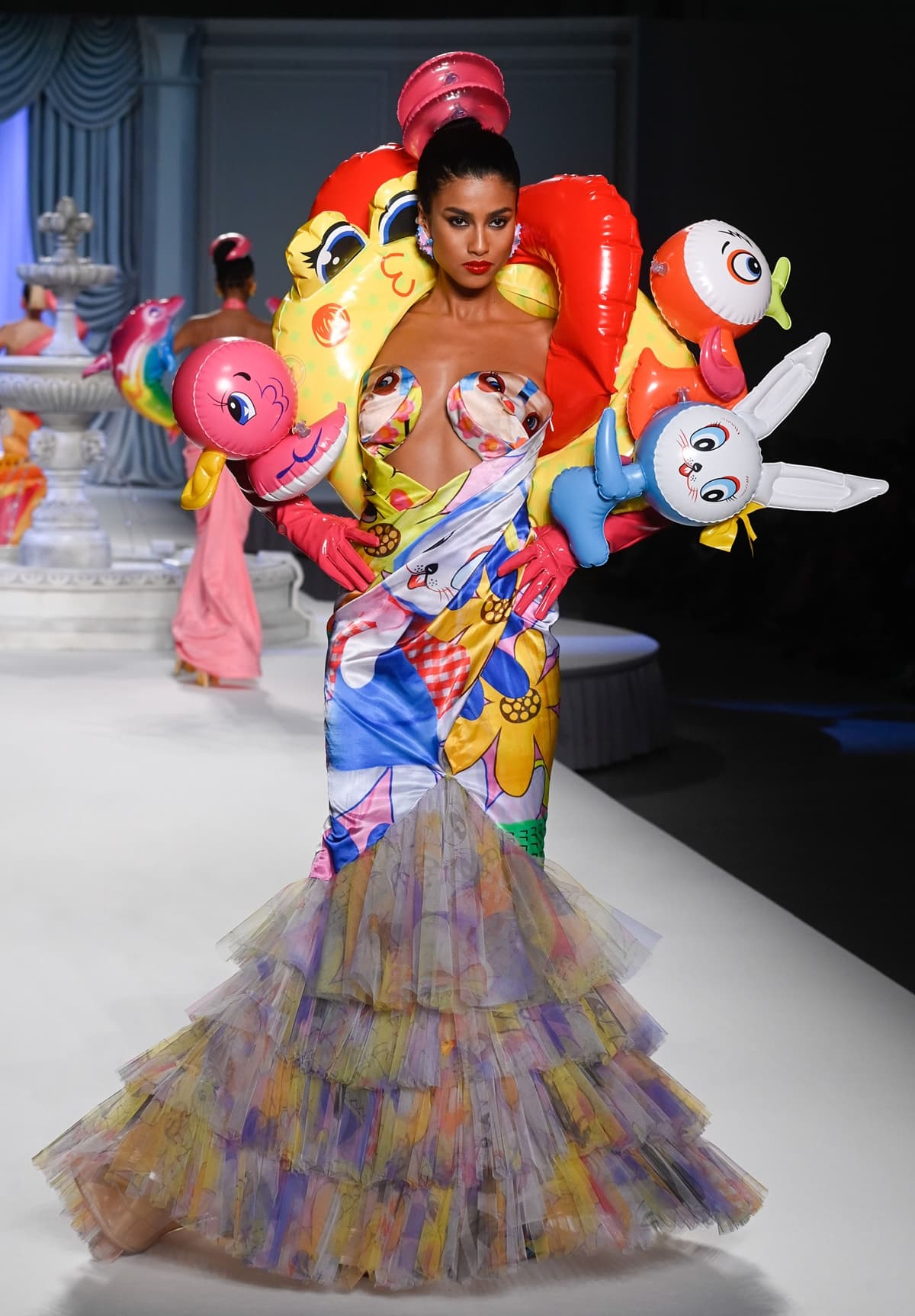 Moschino's Spring/Summer 2023 collection, "Inflation Chic," by Jeremy Scott, humorously addressed the global economic climate by incorporating inflatable pool toys and accessories into playful, joyous runway designs (Credit: Simona Chioccia / IPA / INSTARimages / Cover Images)
Jeremy Scott stepped down as Moschino's creative director in March 2023, and Davide Renne was appointed to the position in October 2023. However, Renne tragically died of a heart attack after a brief hospitalization just nine days after taking on the role.
"These past 10 years at Moschino have been a wonderful celebration of creativity and imagination. I am so proud of the legacy I am leaving behind," Scott said in a statement about leaving Moschino.
"I would like to thank Massimo Ferretti for the honor of leading this iconic house. I would also like to thank all my fans around the world who celebrated me, my collections, and my vision, for without you none of this would be possible."
The Moschino Pronunciation
The correct way to pronounce the iconic brand Moschino is "mos-key-no." The "sch" combination in Italian is pronounced, "ski".
So, the "sch" in Moschino should be pronounced, "ski". This gives us the pronunciation "mos-key-no." This is a nod to the brand's Italian roots, as the brand was founded by Franco Moschino in Milan, Italy, in 1983.
Katy Perry Goes Full-On Country in Jeremy Scott Ensemble at Academy of Country Music Awards
Katy Perry, widely recognized as one of our time's most prominent pop stars, demonstrated her remarkable versatility by seamlessly transitioning into country music when she graced the 51st Annual Academy of Country Music Awards in Las Vegas.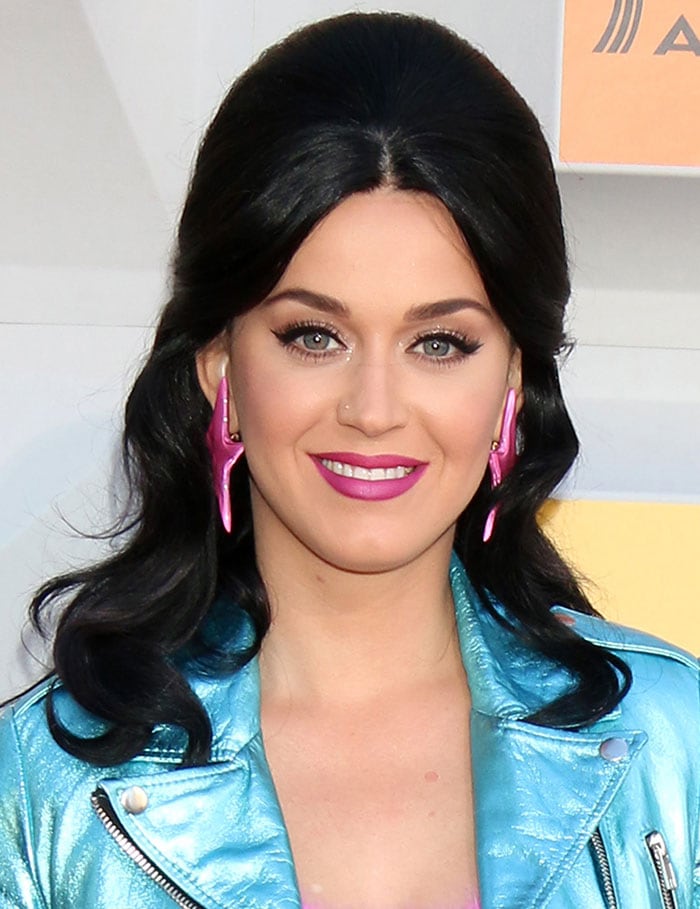 Katy Perry wears her hair in a retro updo at the 51st annual Academy of Country Music Awards on April 3, 2016, at the MGM Grand Garden Arena (Credit: Judy Eddy / Nicky Nelson / DJDM / WENN)
The "California Gurls" hitmaker, known for her bizarre outfit choices, went a bit overboard in a full country girl costume as she arrived at the MGM Grand Garden Arena.
Katy appeared to be channeling country music icon Dolly Parton, who was honored with the Tex Ritter Award for her TV Movie "Dolly Parton's Coat of Many Colors."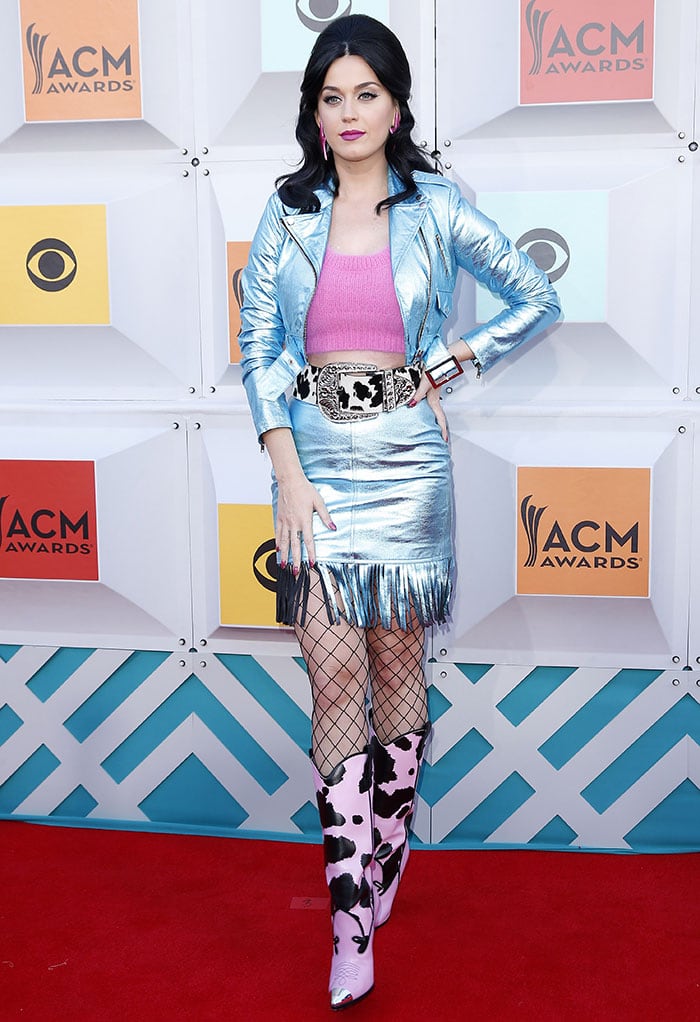 Katy Perry goes full-on country in a head-to-toe Jeremy Scott ensemble at the Academy of Music Country Awards (Credit: Judy Eddy / Nicky Nelson / DJDM / WENN)
The then-31-year-old singer wore head-to-toe Jeremy Scott.
She flashed a hint of abs in a pink knit crop top, which she teamed with a metallic blue leather jacket and a matching high-waisted fringed skirt.
Katy Perry wears a metallic blue jacket and fringed skirt with a pink crop top and pink cow-patterned cowboy boots (Credit: Judy Eddy / Nicky Nelson / DJDM / WENN)

She pulled the look together with pink cow-patterned cowboy boots, a matching belt, and a huge bedazzled buckle.
Orlando Bloom's new girlfriend upped the ante with black fishnets and a pair of oversized star-shaped earrings in pink.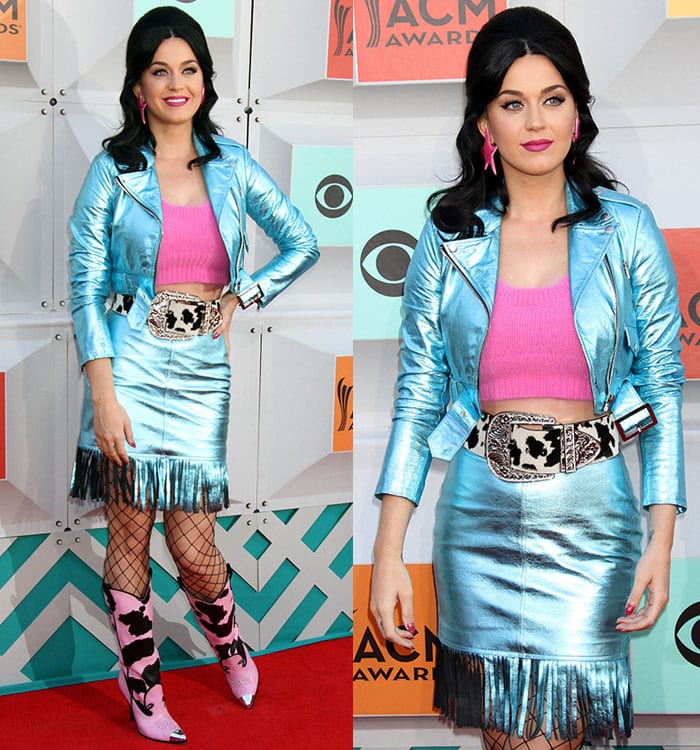 Katy Perry styles her metallic blue-and-pink country ensemble with giant star-shaped earrings and fishnet leggings (Credit: Judy Eddy / Nicky Nelson / DJDM / WENN)
She wore a voluminous beehive hairstyle to give a nod to the '60s and completed the look with fuchsia pink lipstick and her signature cat eye makeup.
Katy Perry wears a Jeremy Scott jacket and fringed skirt on the red carpet (Credit: Judy Eddy / Nicky Nelson / DJDM / WENN)
Katy Perry and Dolly Parton performed a medley of the Queen of Country's greatest hits, including "Coat of Many Colors," "Jolene," and "9 to 5."
Katy embraced the event's Western vibe by slipping into pink-and-black cowboy boots.
Katy Perry's feet in pink-and-black cow-printed Jeremy Scott cowboy boots (Credit: Judy Eddy / Nicky Nelson / DJDM / WENN)
The cow-printed boots featured side pull tabs, metal toe caps, Western stitching, and about 3.5-inch slender heels.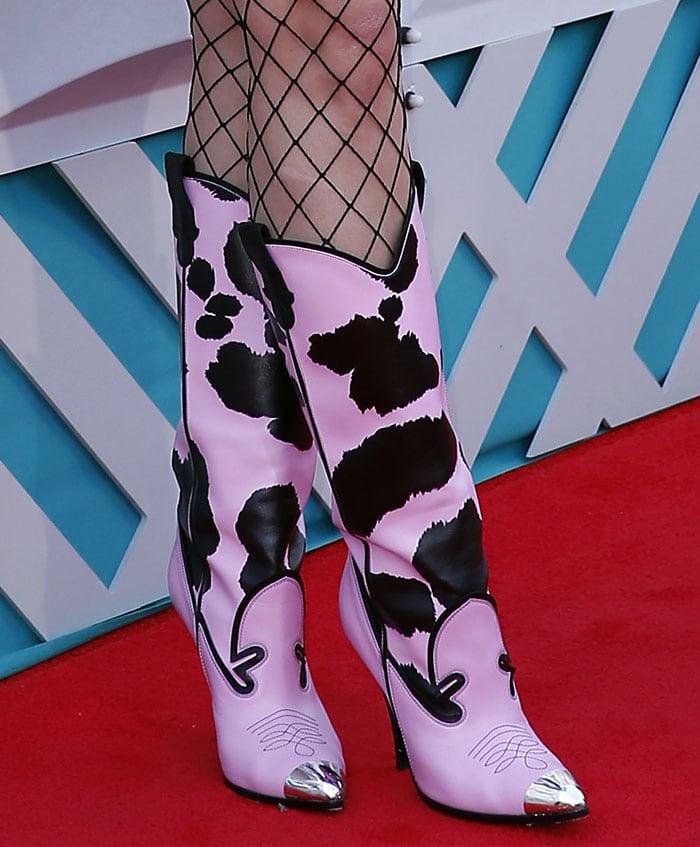 Katy Perry wears a pair of Jeremy Scott fall 2016 cowboy boots (Credit: Judy Eddy / Nicky Nelson / DJDM / WENN)