Is looking like you forgot to wear your pants considered fashionable these days?
That's exactly what it appears to be based on the outfits of Kylie Jenner and Zoe Kravitz last week. Take note that the two were actually wearing bottoms, although they made it a point to appear otherwise.
Kylie Jenner wearing a collared romper that looks like a man's shirt from a distance in West Hollywood on August 22, 2014
While out and about in West Hollywood on Friday, Kylie seemed to wear only a man's shirt from a good distance. She paired the piece with pointy ankle boots and gothic-level lip color.
Of course, the more we scrutinized the outfit, the more we realized she was actually in a collared romper.
On Thursday in New York, we spotted Zoe Kravitz hanging out with British "it" girl Cara Delevingne. The two were decked in skimpy outfits, but it was Zoe's attire that made us do a double take.
Zoe Kravitz wearing a long t-shirt over her short denim cutoffs in New York City on August 21, 2014
She appeared to have forgotten her pants because her long shirt hid her short denim bottoms. Zoe paired her outfit with chunky slingback sandals, some cool-girl eyewear, and a black hipster hat.
Zoe Kravitz shows off her sexy feet in New York
Zoe Kravitz rocks chunky slingback sandals
So, if looking like you're not wearing any pants with your shirt is what's trendy these days, will you try it out? How would you style it?
Kylie and Zoe styled their pants-less looks by wearing chic footwear. Kylie's pointy boots are from Barbara Bui. Crafted from a mix of mesh and leather, they feature towering 4.7-inch-tall heels.
Barbara Bui Mesh-and-Leather Pointy Ankle Boots, $496 at Farfetch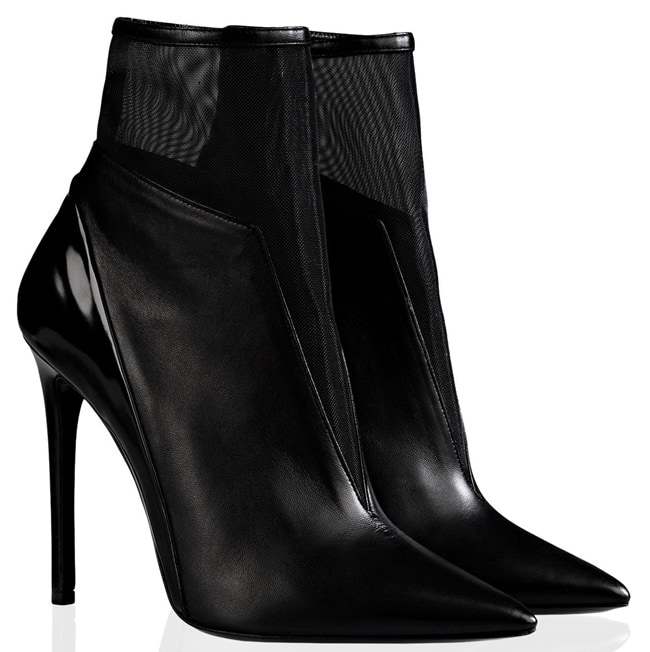 Zoe's black two-band Alexander Wang 'Sara' slingbacks feature wide leather straps at the vamps, as well as large buckles at the slingback straps. Their chunky heels are just 3.5 inches tall, so they're quite comfortable to wear.
Alexander Wang Sara Sandals, $318 at Amazon
Credit: Winston Burris / TNYF / WENN