"No Strings Attached" star Greta Gerwig was recently spotted outside the Ed Sullivan Theater for an appearance on Late Show with David Letterman. She is currently busy promoting Frances Ha, which she co-wrote with director Noah Baumbach.
She stars as Frances Halladay, a struggling would-be dancer whose life is upended when her best friend Sophie Levee (played by Brigitte Michael "Mickey" Sumner) tells her she plans to relocate from Brooklyn to Tribeca
Greta Gerwig gets ready to promote Frances Ha outside the Ed Sullivan Theater for the Late Show with David Letterman on June 17, 2013
The actress kept a simple color scheme for her entire outing. She opted for a black-and-white number when she arrived, and she also wore a monochrome dress during her interview where she talked about her new black and white comedy-drama film.
Frances Ha, which premiered at the Telluride Film Festival on September 1, 2012, has been met with critical acclaim.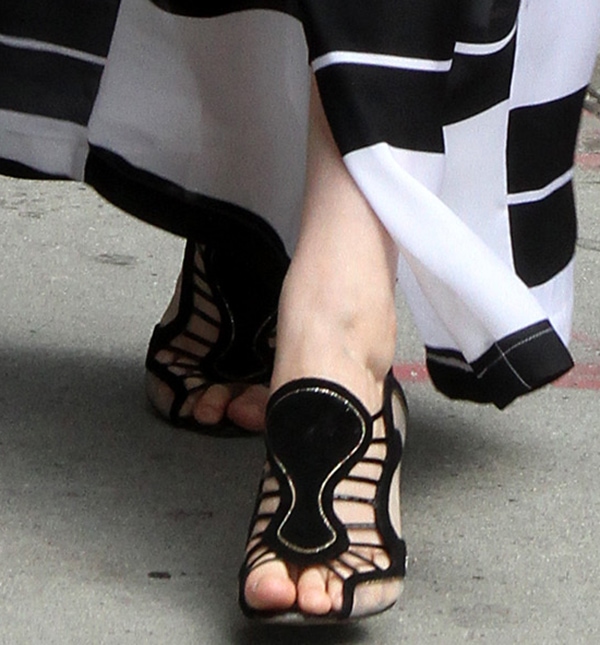 Greta Gerwig shows off her feet and the detailing on her Nicholas Kirkwood sandals
The actress and filmmaker styled the dress with a pair of black sandals by Nicholas Kirkwood.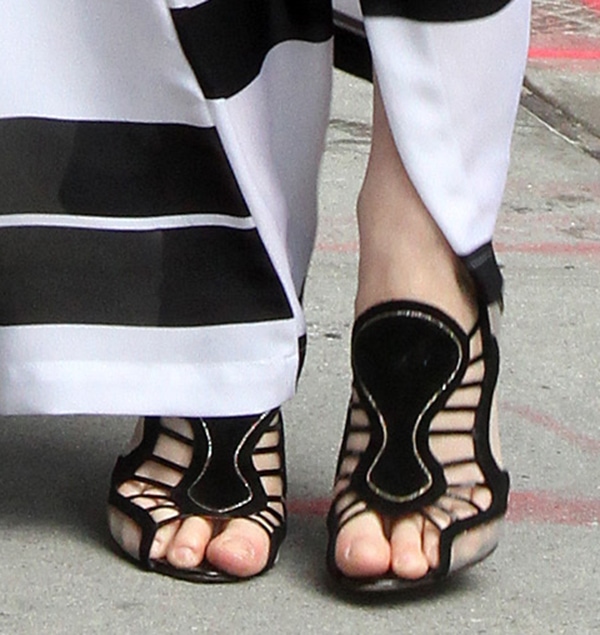 Greta Gerwig's unpolished toes peek out from beneath her Nicholas Kirkwood sandals
Love how she finished off her black-and-white look? We do too. Her contemporary-vintage sandals are so unique.
Greta's open-toed heels feature a combination of black suede, white mesh, and leather straps. The suede vamp has glittery trimming for luxe contrast. They also feature leather-covered stiletto heels that measure 4 1/4 inches.
Nicholas Kirkwood Black Sandals
We couldn't find this exact variant of the sandals online, but similar versions can be purchased at Saks Fifth Avenue, Farfetch, and Bergdorf Goodman.
Metallic Leather and Suede Slingback Sandals in Black/Sand, $1,395
Metallic Leather and Suede Slingback Sandals in Aqua, $1,395
Credit: HRC / WENN