39-year-old Gabourey Sidibe is well-known for her shapeshifting on the screen.
From her debut as the titular role in the 2009 American drama film Precious to her roles in The Big C and American Horror Story, Gabourey Sidibe is able to seamlessly meld into different roles as if she were a different woman.
Recently, Gabourey Sidibe stepped on the red carpet looking like a different woman entirely, revealing that the actress lost more than 150 pounds.
Before and after weight loss: Precious actress Gabourey Sidibe has dropped 150 pounds (Credit: Tinseltown / Eugene Powers / Shutterstock)
Her transformation is nothing short of shocking, but the actress allegedly felt she had to lose weight for her health.
Not only did Gabourey Sidibe struggle with anxiety, depression, and bulimia due to the stress of living under the spotlight, but was diagnosed with type 2 diabetes, which can be a life-threatening condition if not properly managed through diet.
"It was about me surviving the day. It was about controlling this emotion that was uncontrollable. I hated this emotion so much, I hated it," she said about her battle with bulimia on an episode of Taraji P. Henson's Facebook talk show Peace of Mind.
Pictured with Jussie Smollett in the background, Gabourey Sidibe told Taraji P. Henson about battling an eating disorder and depression (Credit: Jennifer Graylock / INFphoto)
"I found a button, and on top of that people were like 'You're looking good.' You know? So why would I stop? It's like, this was dope, in a way," the actress shared.
"It was like a self-defense mechanism, that's what bulimia was for me. It wasn't about losing weight, it wasn't about controlling my appetite, it truly was about how it stopped me from crying."
"I was not, I was getting worse," Gabourey added about not being able to control her emotions. "Being depressed is one thing, but if you add an eating disorder to that, that's a whole other monster that you have to fight."
Gabourey Sidibe got weight loss surgery
Once Gabourey Sidibe found out she had type 2 diabetes, she knew she wanted to make a change. Losing weight with only diet and exercise can take a long time, and Sidibe felt that it was better to get the jump on the disease.
Along with the help of her doctor, Dr. Bradley Schwack, Sidibe opted for bariatric surgery, reducing the capacity of her stomach by nearly 80%. This would prevent her from feeling hungry or overeating, allowing her to eat smaller, controlled portions.
Gabourey Sidibe says she was paid $30,000 for her acting debut in the 2009 film Precious (Credit: Lionsgate)
"My surgeon said they'd cut my stomach in half," Sidibe writes in her memoir, This is Just My Face: Try Not to Stare, which you can buy on Amazon.
"This would limit my hunger and capacity to eat. My brain chemistry would change and I'd want to eat healthier. I'll take it! My lifelong relationship with food had to change."
Though some people criticize weight loss surgery as "cheating," Sidibe didn't want to leave her health to chance.
"The surgery wasn't the easy way out," she writes. "I wasn't cheating by getting it done. I wouldn't have been able to lose as much as I've lost without it."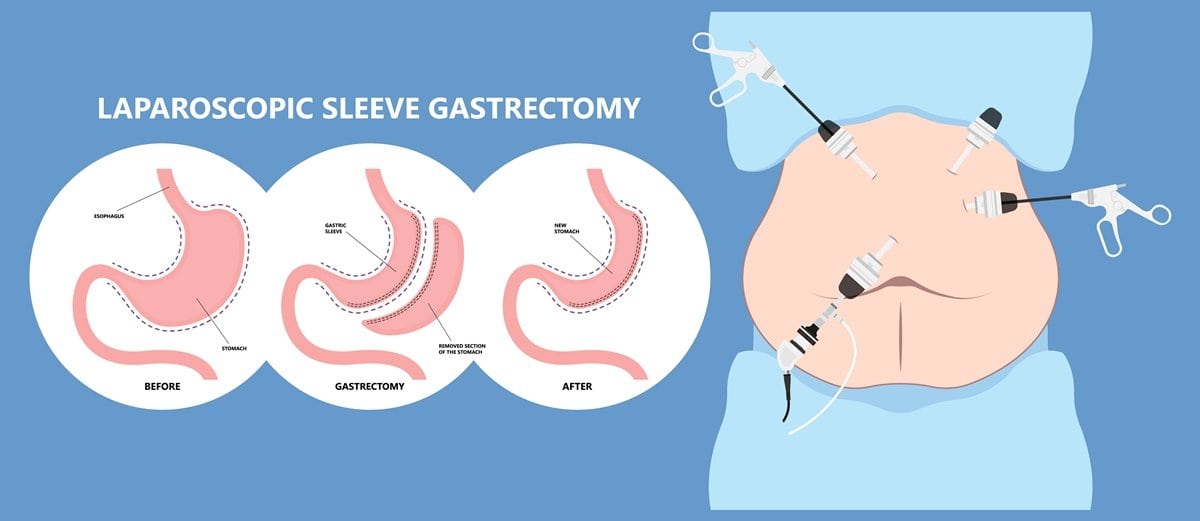 Gabourey Sidibe underwent laparoscopic bariatric surgery after she was diagnosed with Type 2 diabetes (Credit: Pepermpron / Shutterstock)
"I just didn't want to worry," the actress continues. "I truly didn't want to worry about all the effects that go along with diabetes. I genuinely [would] worry all the time about losing my toes."
However, weight loss surgery was just the start. In order to make a real, lasting change in her life, Gabourey Sidibe needed to make big lifestyle changes.
Gabourey Sidibe implements a strict diet and exercise plan to maintain a healthy weight
Though weight loss surgery has been a huge help to the actress, as it makes her feel full faster without overeating, it's impossible to maintain—much less continue losing—the weight she already lost.
According to the actress, Gabourey Sidibe has gone on a strict diet that is completely different than the one she grew up with.
To start, Sidibe has cut out sugary sodas and other types of junk food completely.
Growing up, the actress often turned to food for comfort and the things that were most easily available to her were the things you could pick up at a gas station or get at a fast food drive through. She specifically cites Oreos as one of her favorite guilty pleasures.
Gabourey Sidibe shows off the result of her weight loss at the 2018 Essence Black Women In Hollywood Oscars Luncheon at Regent Beverly Wilshire Hotel on March 1, 2018, in Beverly Hills, California (Credit: Faye Sadou / Media Punch / INSTARimages)
Though the cravings are still there, Sidibe has turned to healthier alternatives to try to sate her food urges. For example, she now drinks cold water with lemon slices instead of soda, as it gives her some of the same sweet flavor (though not as much) as a glass of pop.
She also has worked hard to keep portion sizes smaller. It can be difficult—especially in America, where portion sizes are huge—to gauge how much food is the proper amount.
Now that Sidibe has undergone bariatric surgery, she needs to carefully portion her food to accommodate her smaller stomach.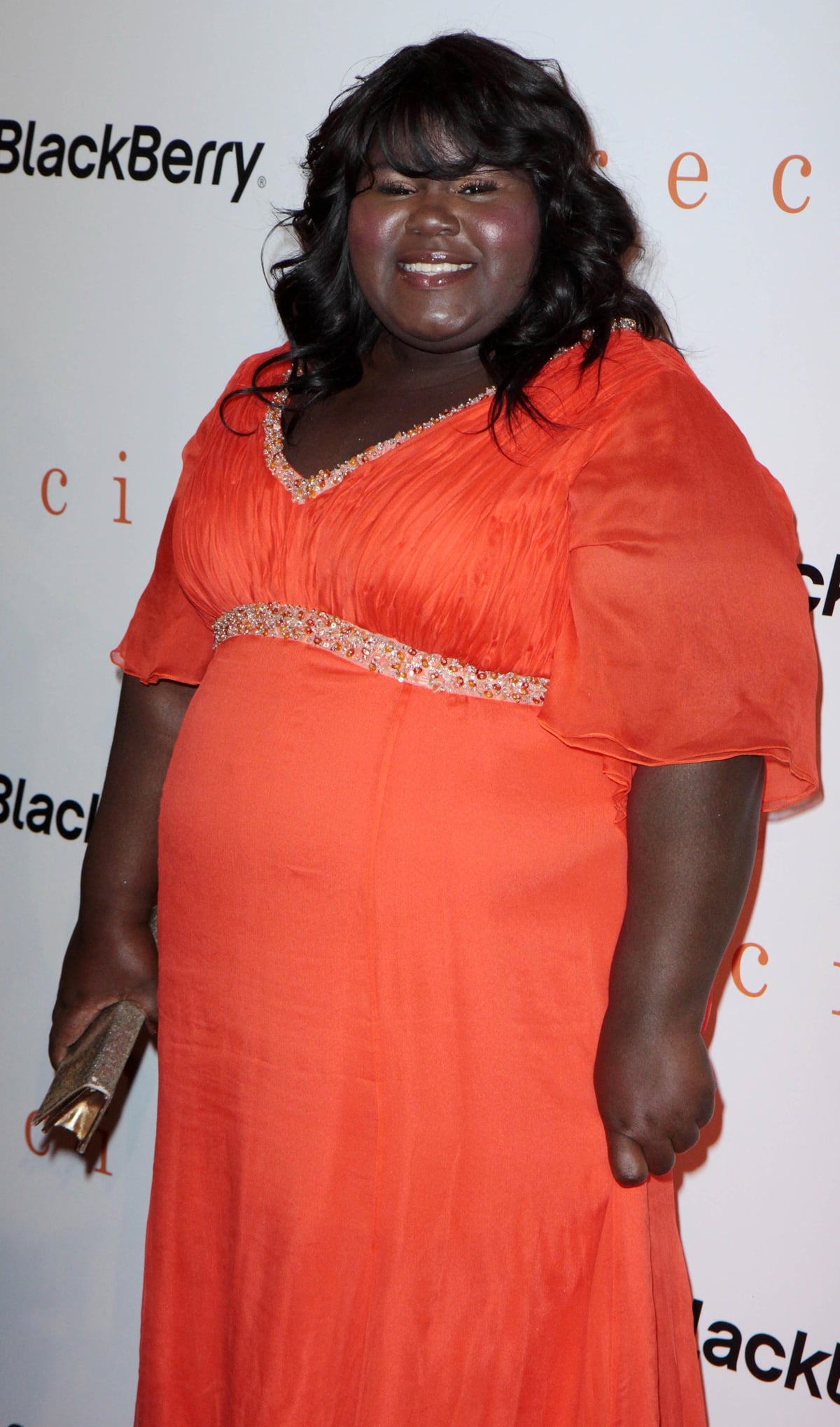 Actress Gabourey 'Gabby' Sidibe in an orange dress at the "Precious" Pre Gala Screening Cocktail Reception Hosted by Blackberry held at the Royal Ontario Museum during the 2009 Toronto International Film Festival on September 13, 2009, in Toronto, Canada (Credit: O'Neill / White / INFevents)
Now, Gabourey Sidibe eats smaller, more frequent meals throughout the day rather than a large breakfast, lunch, and dinner with unhealthy snacks in between.
Of course, these smaller portions are supplemented by the type of food the actress is eating. Since Sidibe has cut out junk food, most of her meals consist of lean proteins, like chicken and heart and calorie-conscious vegetables, fruits, and grains.
With the help of a nutritionist, Sidibe has been able to create a diet plan that is both filling and delicious, allowing her to eat tasty meals that don't leave her wanting for more.
Gabourey 'Gabby' Sidibe in a sparkling blue off-the-shoulder Marchesa dress at the 82nd Annual Academy Awards held at the Kodak Theatre on March 7, 2010, in Hollywood, California (Credit: Kyle Rover / Startraksphoto)
On the other hand, Gabourey Sidibe's exercise plan started slow. Exercising can be very difficult when you aren't used to it, and since the actress carried extra pounds at the beginning of her weight loss journey, she had to be careful not to push herself too hard.
Sidibe began with simple, low-impact exercises that could help her burn calories without placing undue stress on her joints. First, she started with long, endurance walks on the treadmill and stair climbers, aiming to keep her pace steady and her heart rate up.
Once Gabourey Sidibe began to shed the pounds, she noticed that she had far more energy and was able to take on more challenging exercises.
Gabourey Sidibe has been open about battling an eating disorder and depression (Credit: Milla Cochran / Startraksphoto)
She began to incorporate cardio with strength exercises, sharing videos of herself at the gym while she does squats, lunges, and more.
Sidibe even branched out into exciting types of exercise, like aerial silks! She can frequently be seen sharing her life and everyday diet and exercise on her Instagram page.
Gabourey Sidibe's weight loss is nothing short of remarkable, as she made the decision to take her health into her own hands. She seems happier than ever!