In Hollywood (and beyond, wherever the celebrities are nowadays), there is a constant barrage of "have they or haven't they?"—but we're not talking about hooking up. We're talking about plastic surgery.
Unfortunately, this question is almost always aimed at female celebrities (you almost never see anyone criticizing Brad Pitt for allegedly getting cosmetic surgeries), and the latest target is none other than songstress and actress Selena Gomez.
Steve Martin, Selena Gomez, and Martin Short attend the after party for "Only Murders In The Building" Season 2 at Sunset Towers on June 27, 2022, in Los Angeles, California (Credit: Faye's Vision / Cover Images / INSTARimages)
Though modern ideologies have shifted and plastic surgery is deemed far more normal and acceptable than it once was—see the bevy of Instagram models with lips swollen with filler—Selena Gomez has been relentlessly bullied for supposedly having plastic surgery.
"I don't know would I laugh or find it sad how [celebrities like] Selena Gomez are viewed as a beauty standard but they are so insecure they lie about plastic surgery they have and photoshop every single photo to the point it's not even them despite looking fine without it," one Twitter user wrote.
"I still can't get over Selena Gomez's plastic surgery. To each their own, I just think she looked soooo much better before," another tweeted.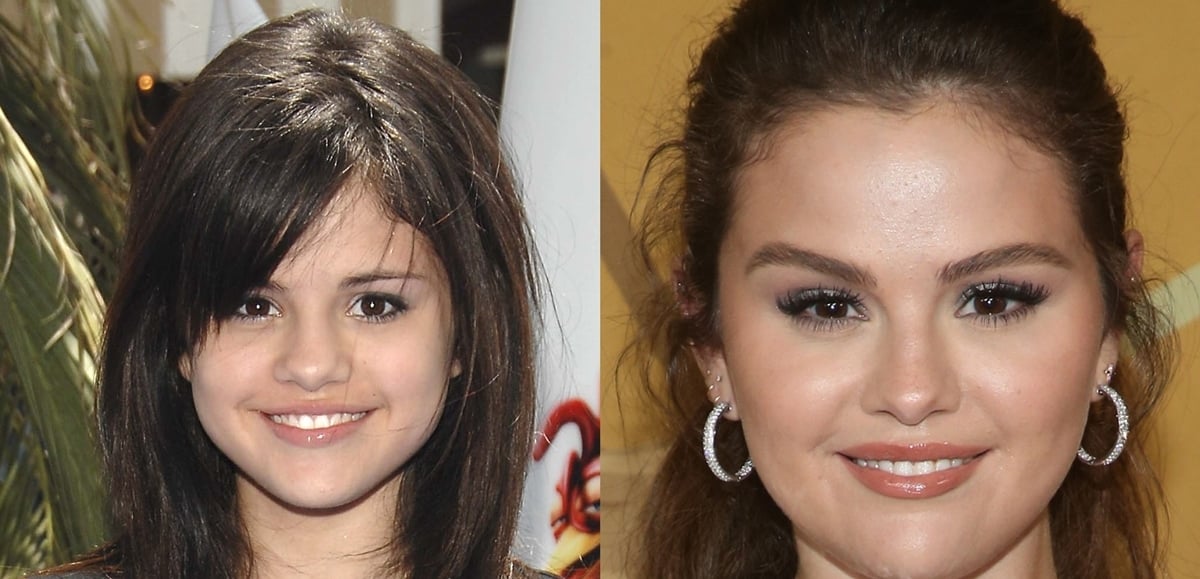 Before and after rumored plastic surgery: Selena Gomez's face in 2007 and 2022 (Credit: INFphoto / Faye's Vision / Cover Images / INSTARimages)
Fans and social media users seem to be shocked that Selena Gomez's appearance has changed over the years, speculating that she has undergone any number of surgeries.
Though the actress hasn't deigned to address these rumors, it's more likely that she hasn't. Besides, if Selena Gomez had a few nips and tucks done here and there, why should it matter?
Here's why we think rumors of Selena Gomez's plastic surgery continue circulating.
The world has watched Selena Gomez grow up
30-year-old Selena Gomez is a prime candidate for cosmetic surgery rumors for a number of reasons.
First, Selena Gomez has been in the public eye since she was a child. The actress began her career at a very young age, first being introduced to an audience with a recurring role on Barney & Friends alongside the loveable purple dinosaur.
Selena Marie Gomez portrayed Alex Russo in the Disney Channel series Wizards of Waverly Place and had a recurring role as Gianna in the PBS Kids series Barney & Friends (Credit: Carlos Diaz / INFPhoto)
Then Gomez found her way to the Disney Channel, where she spent her most formative adolescent and teenage years in front of the world on shows like The Suite Life of Zack & Cody and Wizards of Waverly Place.
Since Selena Gomez has been in the spotlight for so long, she has grown up in it. For some reason, fans and haters alike seem to forget that our appearances change drastically as we age, so many of these plastic surgery rumors—like E! News speculating that Gomez had breast augmentation surgery when she was just 22, though we all know breast sizes fluctuate a lot—can be chalked up to puberty and adulthood, not going under the knife.
Selena Gomez has undergone health procedures, like chemotherapy, which affect her appearance
Selena Gomez was diagnosed with lupus in 2014. Lupus is a chronic autoimmune disease that confuses the immune system, causing it to attack the body's organs and remaining tissue. It can affect every aspect of the body, causing extreme pain and sickness.
The songstress-turned-actress has been very open with her fans about her journey with the autoimmune disease, but not many know about the physical changes that someone with lupus can go through.
Singer Selena Gomez revealed in 2015 that she has lupus and underwent a kidney transplant at just 24 due to organ damage (Credit: BauerGriffin / INSTARimages / Shutterstock / VectorMine)
According to the Arthritis Foundation, lupus can drastically alter the physical appearance of the sufferer. Those with lupus can experience hair loss, rashes, and scarring. Meanwhile, the side effects of lupus medication can result in (additional) hair loss and weight gain, not to mention lethargy and depression.
Selena Gomez ultimately had to have a kidney transplant to combat the autoimmune disease, which was a traumatic event for the young star, who even went so far as to say goodbye to fans in case she did not survive the surgery.
Her kidney was donated by her friend, Francia Raisa, and while the kidney transplant seemed to lessen her condition for a while, Gomez's lupus was still an ongoing issue.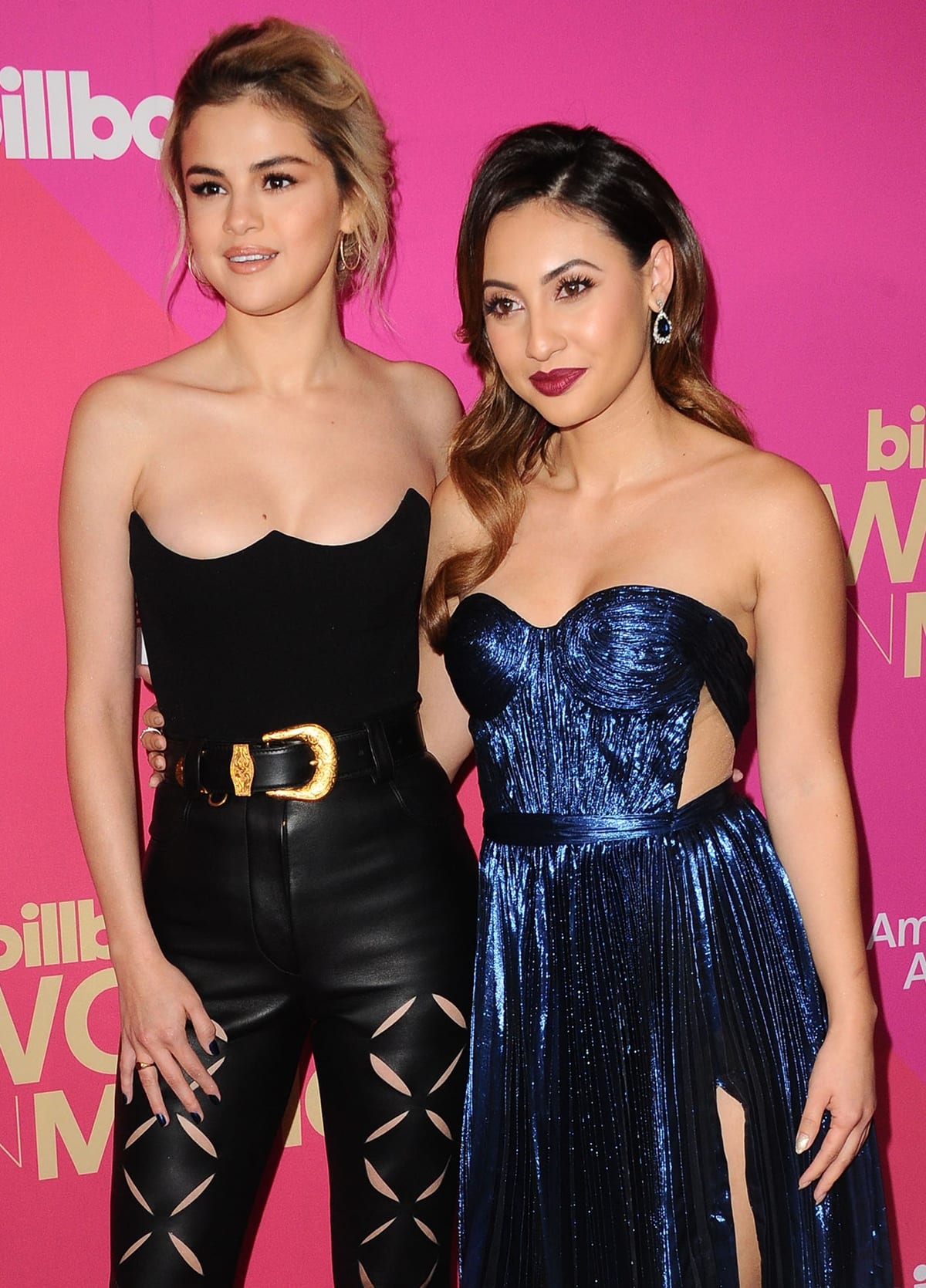 Friends since 2007, when they met during a visit to a children's hospital, Selena Gomez, Francia Raisa donated her kidney to Selena Gomez (Credit: Sara De Boer / Startraksphoto)
Selena Gomez later had to undergo chemotherapy in hopes of controlling lupus spreading through her body.
Chemotherapy is often used for cancer patients, as it kills the rapidly spreading cancer cells but ravages the rest of the body as a result, but is used for lupus patients in a similar fashion.
In addition to causing hair loss, chemotherapy can cause skin pigmentation, skin changes, and changes in weight—typically weight loss but the appearance of swelling in the face.
Many of Selena Gomez's changes due to so-called "plastic surgery" can be chalked up to the many medications and medical procedures—chemotherapy and otherwise—the young star has had to undergo.
All of the hate has caused Selena Gomez to quit social media for over four years
Despite being one of the most famous people on Instagram and in the world, Selena Gomez has taken a serious break from social media.
"I haven't been on the internet in four and a half years," Gomez admitted during an interview with Good Morning America. "I am happier, I am more present, [and] I connect with more people."
While rumored to have had nose jobs and other cosmetic alterations, Selena Gomez's changing appearance is likely a result of lupus treatment, not plastic surgery (Credit: Axelle Woussen / BauerGriffin / INSTARimages)
The superstar said that she initially chose to remove social media (and the internet trolls) from her life as a way to preserve her mental health and remain happy, rather than ruminating on the hateful things some "fans" say online. Luckily for Selena Gomez, this move seems to have helped her out exponentially.
"I woke up one morning and looked at Instagram, like every other person, and I was done," she said remorsefully. "I was tired of reading horrible things. I was tired of seeing other people's lives. After that decision, it was instant freedom."
"I can't believe that I'm where I'm at mentally," Gomez continued. "Just because of how I took the necessary steps in order to kind of remove myself from that [hateful rhetoric]."
Selena Gomez styled her Marni outfit with white Celine slingback pumps (Credit: Mario Mitsis / WENN / Will Alexander / Tony Oudot)
If you love a good midi skirt as much as we do, you've probably worn this staple multiple times and in multiple ways already. And while the high-waisted tea-length skirt look is still a big trend, it can get pretty tiring to wear.
If you're in need of a fresh take on the midi skirt trend, check out what Selena Gomez did to hers:
Selena Gomez wears a Marni poppy red sequined turtleneck sweater with a deep blue square split skirt (Credit: Mario Mitsis / WENN / Will Alexander / Tony Oudot)
The Come & Get It singer wore a Marni poppy red sequined turtleneck sweater over her Marni Spring 2016 deep blue square split skirt.
Selena Gomez leaving the BBC Radio 1 studios in London on March 11, 2016 (Credit: Mario Mitsis / WENN / Will Alexander / Tony Oudot)
Not tucked-in like how we usually wear the midi skirt trend but a loose and effortless silhouette that looks perfect for a lazy spring day.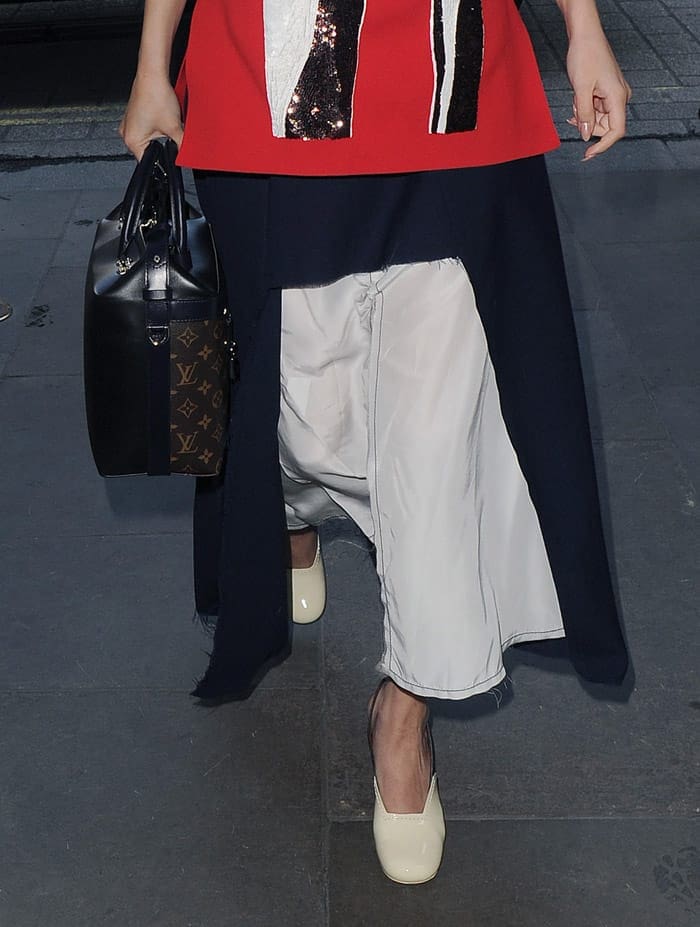 Selena Gomez shows off her feet in white Celine slingback pumps (Credit: Mario Mitsis / WENN / Will Alexander / Tony Oudot)
Selena styled her Marni ensemble with a pair of Celine slingbacks. The skirt is available at Farfetch if you want to give the look a try:
Marni Asymmetric Skirt, $1,410.00