Gal Gadot may have acquired supernatural powers on the big screen after landing the Wonder Woman role, but in real life, the gorgeous gal has the power to make Jimmy Kimmel blush with just one question.
Gal was spotted arriving at the ABC Studio for her guesting on "Jimmy Kimmel Live!"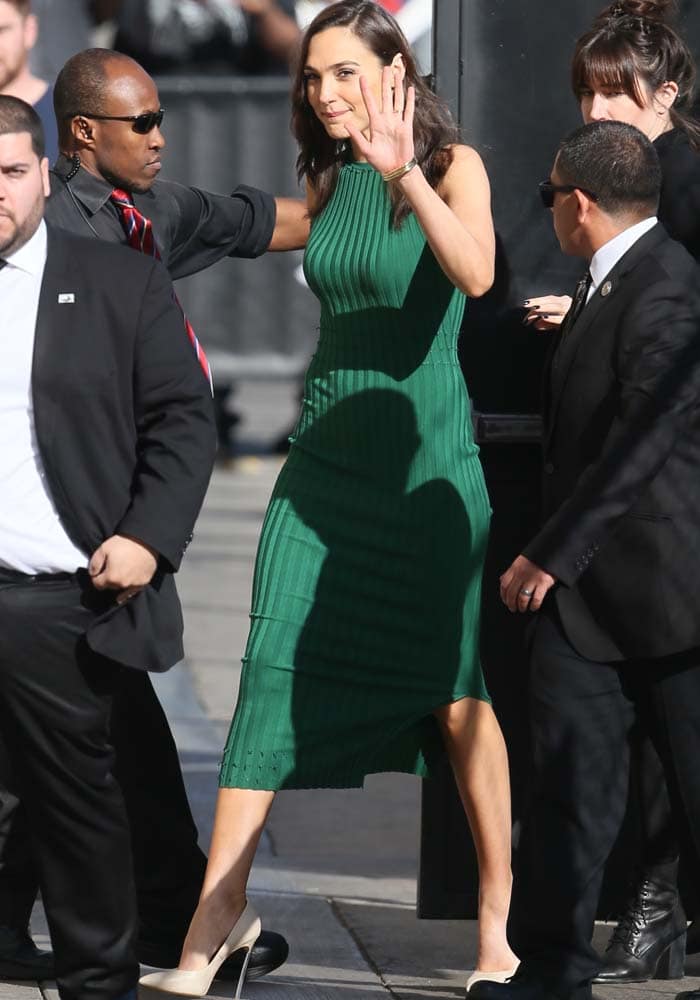 Gal Gadot arriving at the ABC Studios for "Jimmy Kimmel Live!" in Los Angeles on March 15, 2016
The statuesque beauty arrived in a green ribbed bodycon dress from Altuzarra, which she wore with a pair of Casadei 'Blade' pumps in nude.
Gal kept her jewelry to a minimum, choosing only light makeup and a casual short hairstyle.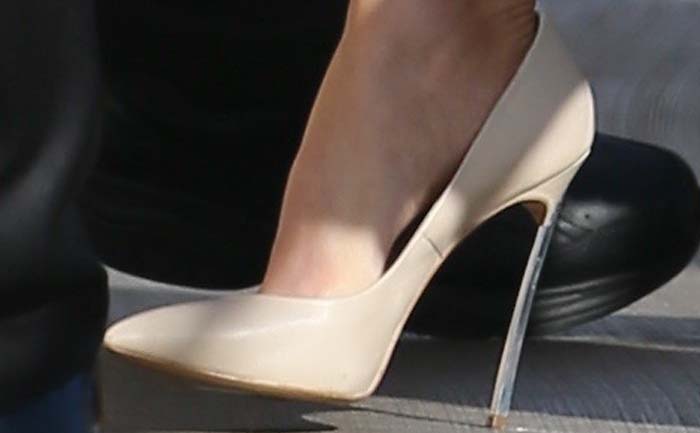 Gal Gadot arrives in a pair of Casadei "Blade" Pumps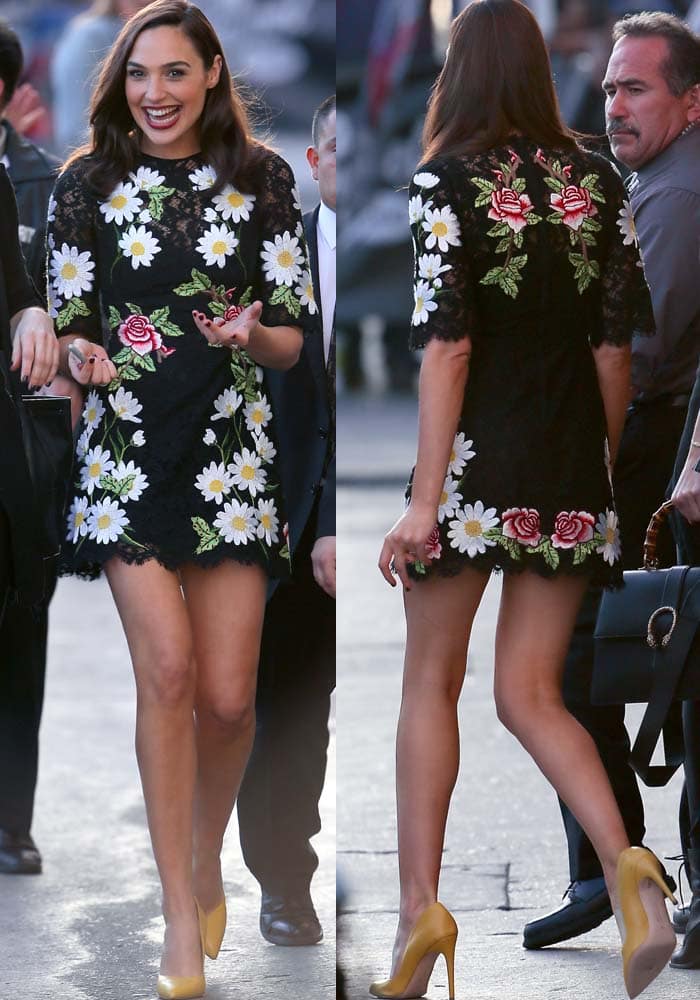 Gal Gadot switches another outfit as she leaves "Jimmy Kimmel Live!" at the ABC Studios in Los Angeles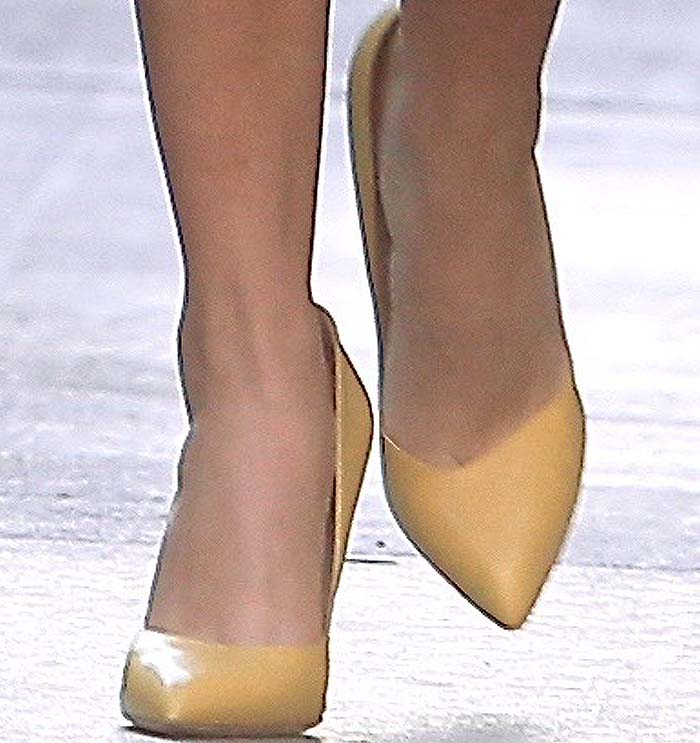 Not just another pump: Gal Gadot switches to the asymmetrical Rupert Sanderson "Yves" Pumps for the show
Gal switched into a different outfit for the show later on, zipping herself up into a floral-embroidered creation by Dolce & Gabbana. The laced hem of the dress emphasized the former Miss Israel's long legs, which tapered down to a pair of Rupert Sanderson "Yves" pumps.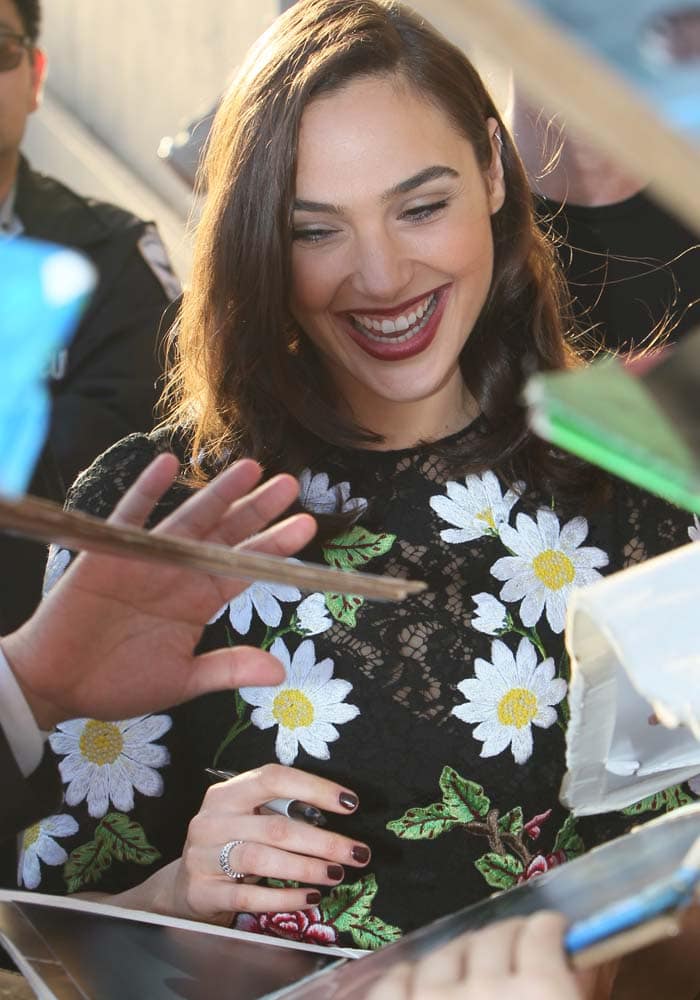 Gal Gadot signs autographs for waiting fans before she left the ABC Studios after recording for "Jimmy Kimmel Live!" 
It's pretty rare to catch Jimmy Kimmel off guard but Gal Gadot was able to do it with just one question: "What do you think of my breasts?"
The host was able to make light of the situation but not before wiping sweat from his forehead and admitting that the question made him blush.
Watch the hilarious clip below:
Here comes the battle of the two pumps: would you go for the metal heel or the asymmetrical cut? Both give a refreshing overhaul to the staple nude pumps, so we do understand your predicament.
Grab one (or both) at Stylebop, Farfetch and Saks Fifth Avenue.
Casadei Patent Leather "Blade" Heel Pumps, $514.79 – $750 at Farfetch and Saks Fifth Avenue
Rupert Sanderson Leather Pumps, $545 at Stylebop
Credit: Michael Wright / WENN