Chloë Grace Moretz, who grew up with four older brothers in Cartersville, Georgia, discussed her relationship with her siblings in Gay Times' September 2018 issue, which you can still buy at Amazon.
"The healthiest relationship that I've ever seen and grew up with was not that of my parents, it was that of my brother [Trevor] and his boyfriend [Nick] who have been together – still to this day – for 11 years. That has been my most healthy parental relationship that I've ever seen. It gave me faith and hope that you can find someone to be with for a long period of time who you truly love. But for me, it's interesting that it wasn't your typical nuclear family unit – it's my gay brother and his boyfriend."
Chloë Grace Moretz talked to Gay Times about her brothers and conversion therapy
"I grew up fighting on their behalf because it broke my heart to see that yes, they can stand up for themselves, but people wouldn't listen. So I took it upon myself with their blessing to go out there and talk about it, and to tell people, 'Hey, being gay is not a big deal at all. But be proud and be out there and raise the flag high. Be a part of the community, and be for the community.' So it was never a question to me whether or not I was ever going to be an advocate, and what that meant to my heart and how it shaped me."
Chloe Grace Moretz and her brother Trevor Duke-Moretz arrive at Charles de Gaulle Airport in Paris on June 30, 2018
The actress also stated her views on conversion therapy, a practice of trying to change an individual's sexual orientation from homosexual or bisexual to heterosexual using psychological or spiritual interventions.
"In the current state of America, if you don't have a message that you're pushing out, if it's not some sort of activism, then why are you doing it? I want this movie to be a platform. I want this movie to start a conversation and to help lobby against conversion therapy in America. I'm actually flying to DC to do a screening and to have an open conversation with a couple of politicians, and to talk about lobbying against gay conversion therapy in America."
In The Miseducation of Cameron Post, a 2018 British-American drama film based on the 2012 novel by Emily M. Danforth (available at Amazon), she plays a gay teenager who is sent to a treatment center called God's Promise.
In January 2012, I was inspired to write an entry about red heels after seeing a photo of Chloe Moretz attending the National Board of Review Awards Gala.
Chloë Grace Moretz's pearl-and-crystal headband
The red trench overcoat with peplum details from the Miu Miu Resort 2012 collection is cute, but it's her sandals that I am crazy about.
Chloë Grace Moretz rocked a red trench overcoat with peplum details
Those red glittered heels, also from Miu Miu, are simply gorgeous! And I know this may be out of the blue, but they kind of remind me of Dorothy's red shoes from The Wizard of Oz!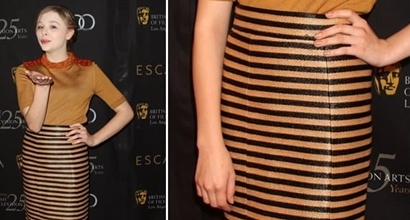 Chloe Moretz flaunts her legs the 2012 National Board of Review Awards Gala held at Cipriani 42nd Street in NYC on January 10, 2012
The then 14-year-old actress completed the outfit with a pearl-and-crystal headband, curly blonde locks, and a little belt.
Chloe Moretz shows off her pretty feet in red heels
Looking at those red heels got me thinking, with V-day (Valentine's Day) coming up, wearing red shoes is actually one good way to express your love and embrace the occasion without actually overdoing it. I personally hate wearing red clothes on Valentine's day, but I definitely wouldn't mind wearing a pair of red heels.
So how about it ladies? How about a pair of red hot red shoes for Valentine's Day instead of the usual red dress?
Credit: Joseph Marzullo / WENN / Flashpoint