Who wouldn't love scoring the coveted role of "Bond Girl?"
As it turns out, Gemma Arterton.
Gemma, who landed the role of Strawberry Fields in the 2008 film "James Bond: Quantum of Solace," later admitted that she came to regret the role that launched her into stardom.
A still of Daniel Craig as James Bond and Gemma Arterton as MI6 agent Strawberry Fields in the 2008 spy film "Quantum of Solace" (Credit: Metro-Goldwyn-Mayer Pictures / Columbia Pictures)
Years after the film's release, Gemma said she didn't realize how problematic the role of a "Bond Girl" was at the time.
"At the beginning of my career, I was a poor church mouse and I was just happy to work and earn a living," she said in an interview with The Sun. "I still get criticism for accepting Quantum of Solace, but I was 21, I had a student loan, and you know, it was a Bond film. But as I got older I realized there was so much wrong with Bond women. Strawberry should have just said no, really, and worn flat shoes."
Gemma Arterton wears a red one-shouldered Emilia Wickstead velvet dress paired with Aquazzura ruffled suede sandals at the BFI Luminous Fundraising Gala held on October 1, 2019, at The Roundhouse in London (Credit: Featureflash Photo Agency / Shutterstock)
Gemma was one of 1,500 candidates who auditioned for the role of Agent Strawberry Fields.
She found out that she got the role when her agent called her, post-audition, and began singing the James Bond theme song.
Gemma Arterton regrets taking the role of Agent Strawberry Fields in "Quantum of Solace" (Credit: Metro-Goldwyn-Mayer Pictures / Columbia Pictures)
Gemma's role in the film paid tribute to several "Bond girls" of the past. Her hairstyle was a nod to former Bond series characters Pussy Galore and Tracy di Vicenzo, and her character's death was similar to one in 1964's "Goldfinger."
Because movies aren't filmed in chronological order, Gemma's first day on the set of "Quantum of Solace" involved shooting her death scene.
The British actress spent her first day drenched from head-to-toe in black paint.
Gemma Arterton claims she starred in the James Bond series because she was young and needed the money (Credit: Featureflash Photo Agency / Shutterstock)
As Gemma's career grew and evolved, she began publicly reflecting on her experience as a "Bond girl."
In 2018, she wrote a short story called "Woke Bond Women," which examined what a new-age feminist "Bond girl" could look like if the character was written to break the typical stereotype.
"'No thank you,' I say. Maybe he is attractive, but he's at least 20 years older than me, we've only just met, he's a colleague," Gemma wrote. "Plus this man has a reputation. Don't women who go up to his hotel room and sleep with him usually die in some horrific yet iconic way? No, no. Not me."
While we're glad to see Gemma reflecting on her past roles, we're also glad to see that the British phenom hasn't quit acting due to one bad role.
Gemma Arterton shows off her cropped hairstyle at the 2016 Olivier Awards held on April 3, 2016, at the Royal Opera House in London (Credit: WENN)
In April 2016, Gemma Arterton made quite the entrance at the Laurence Olivier Awards, which recognize the excellence in London's professional theater scene.
The former Bond girl was up for Best Actress for her work in "Nell Gwynn," but lost to Denise Gough of "People, Places and Things."
She may not have won the award, but she sure won in the style stakes in a glittery purple gown from Jenny Packham's Fall 2016 collection.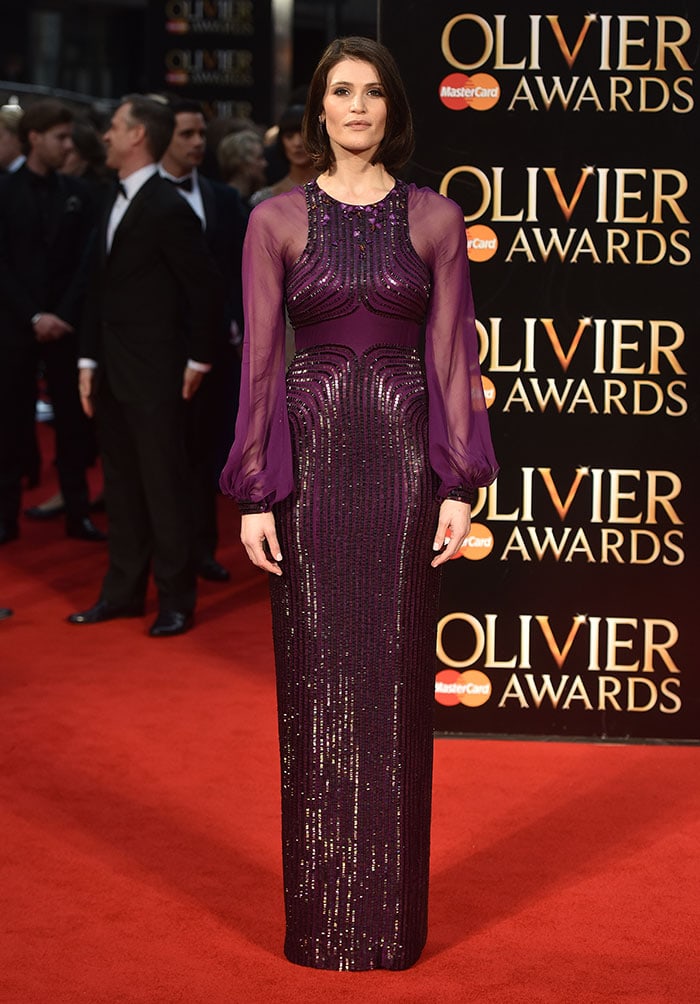 Gemma Arterton stuns on the red carpet in a glittering floor-length Jenny Packham dress (Credit: WENN)
The then 30-year-old actress looked every inch a royal in the purple floor-length gown that perfectly highlighted her curves.
It featured sequin and bead embellishments along the bust and down the skirt, a gem-detailed neckline, chiffon long sleeves, and a rear split that gave a glimpse of her strappy heels.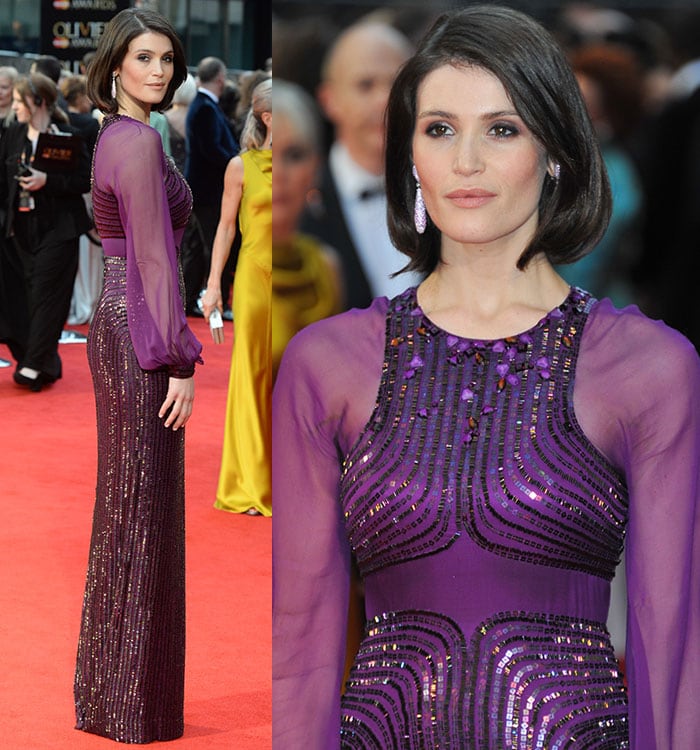 Gemma Arterton's purple Jenny Packham dress features sequin and bead embellishments (Credit: WENN)
The English actress kept things very regal with a pair of De Grisogono drop earrings.
She completed her look with a side-parted bob and neutral makeup composed of light smokey eyeshadow, dark mascara, and nude lipstick.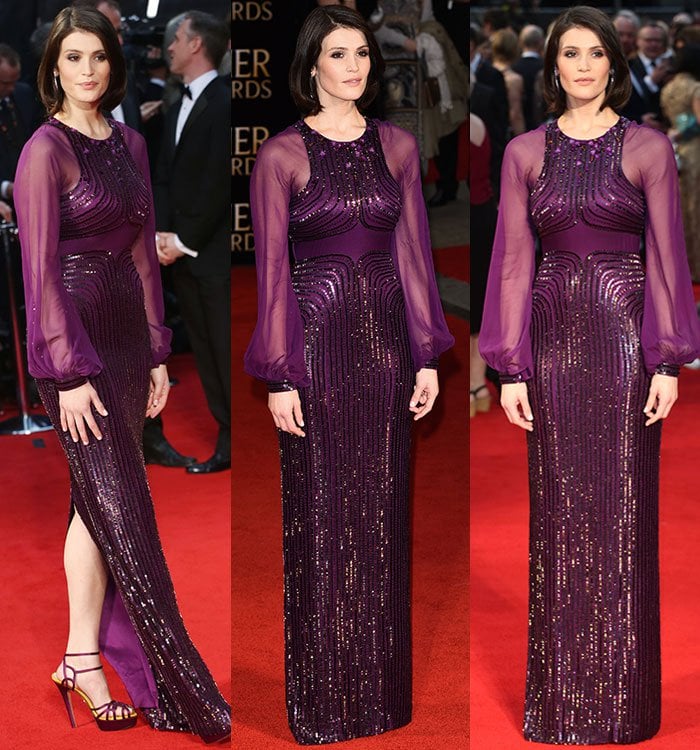 Gemma Arterton shows off her legs in a purple Jenny Packham dress (Credit: Lia Toby / Daniel Deme / WENN)
Gemma's Charlotte Olympia "Ursula" sandals are made of purple satin material with yellow-gold trim.
They feature cutouts, double adjustable ankle straps, peep toes, one-inch platforms, and towering six-inch heels.
Gemma Arterton's feet in platform Charlotte Olympia sandals (Credit: WENN)
The purple/yellow version of these Charlotte Olympia sandals is no longer available, but you can find them in classic black and blush colors at Amazon.
Charlotte Olympia Ursula Strappy Sandals, $1,095