Throughout the years, Kat Graham has graced our screens in multiple roles and displayed her talents as a singer, dancer, actress, and fashion icon throughout her career. From a young age, she knew that she wanted to be an actress.
She stated in a People Magazine interview in July 2021, "I didn't have a stage mom. I was somebody like, 'I'm going to be a successful actress, this is my path.' I had been auditioning and I started off on Disney and did little things here and there. [Then when] I was about 13, my mom and I were kind of on our own, and things got really difficult. We did not have a lot of money, and I had to work harder because I saw my mom, who's so brilliant, so fierce, struggle."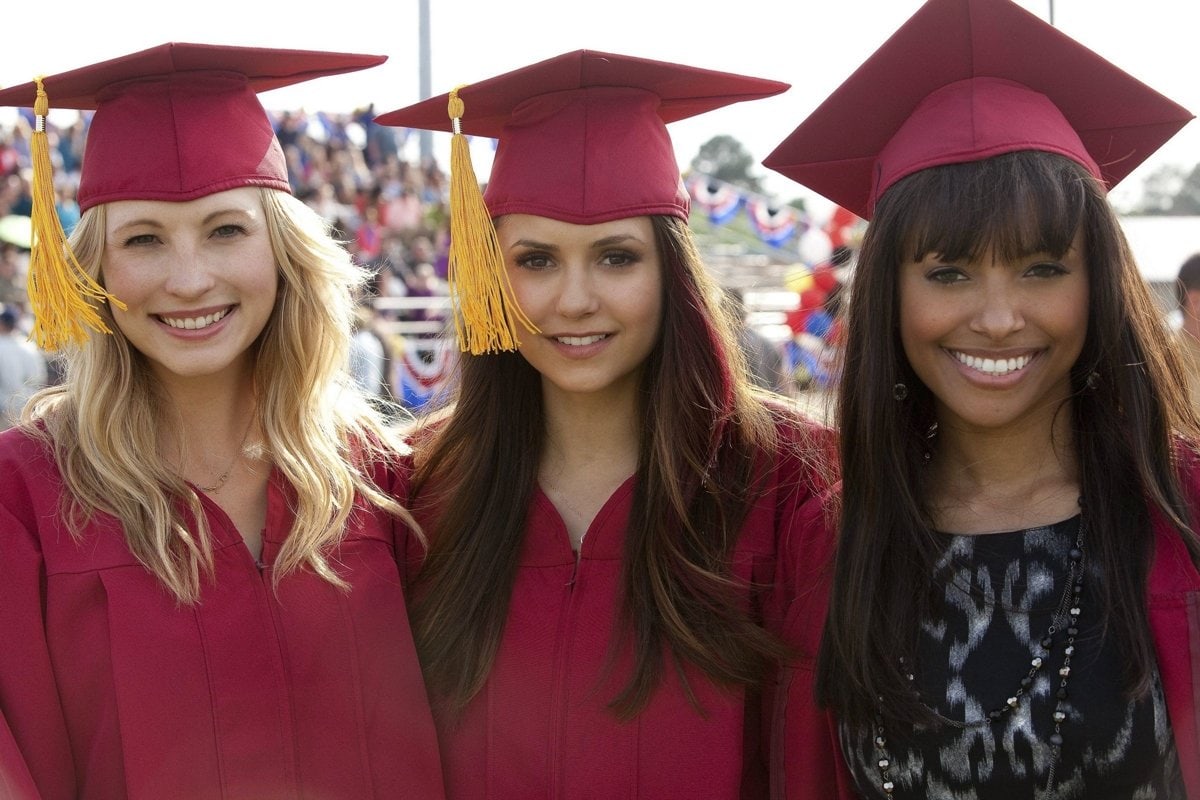 Kat Graham as Bonnie Bennett, Nina Dobrev as Elena Gilbert, and Candice King as Caroline Forbes in the American supernatural teen drama television series The Vampire Diaries (Credit: The CW Television Network)
Her first TV role was in the American comedy television series Lizzie McGuire, but she got her first taste of acting as a side character in The Parent Trap alongside Lindsey Lohan.
Although she has been acting since she was a child, her breakout role came when she was 20. Cast as Bonnie Bennett in The Vampire Diaries in 2009, her career has since skyrocketed.
A Breakthrough TV Role
The Vampire Diaries follows the story of Elena Gilbert and her two love interests, Stefan and Damon Salvatore. The setting of Mystic Falls is steeped in supernatural lore, and the cast captivated fans' attention for eight seasons.
In the show, Bonnie Bennet is one of Elena's best friends, who is a psychic turned powerful witch. Bonnie discovers that she is from a long line of powerful witches and is embroiled in the action of the story. The series won multiple awards and skyrocketed the cast from obscurity to fame.
Kat Graham's role as a young witch in the supernatural drama series The Vampire Diaries is considered her breakout performance (Credit: The CW Television Network)
Graham's role as Bonnie Bennett was not the first supernatural storyline she auditioned for. "My first audition, as a little girl, was Interview with the Vampire: The Vampire Chronicles (1994) for Kirsten Dunst's part."
"Back then, they were meeting all different kinds of girls, and I was one of them. There's got to be an audition tape somewhere on VHS. Who would have known that many years later I would be on a vampire show?" said Graham.
Auditioning for the Role
After touring with the Black Eyed Peas, she auditioned for the role of Bonnie Bennet in The Vampire Diaries.
Showrunner Julie Plec had this to say about Graham's audition for the role of Bonnie Bennet: "Katerina Graham who's just this like bubbly light a wonderful, beautiful energy came in, and she had that part right away."
Kat Graham in a black leather dress at The Paley Center For Media's PaleyFest 2012 Honoring "The Vampire Diaries" at the Saban Theatre on March 10, 2012, in Beverly Hills, California (Credit: Phil Stafford / Shutterstock)
The series is based on a bestselling book series of the same name with an enthusiastic fan base.
Producers for the show told Julie Plec: "Don't worry about stars, you don't need stars, you don't need name casting, you don't need stunt casting, you find who you want to bring those characters to life. Because you've got books, and you've got a genre that people are already into so we've got out hook."
American television producer Julie Plec is known for her work on The CW television series The Vampire Diaries (Credit: FlickDirect Inc / Shutterstock)
While Graham had been actively pursuing an acting career, she had only had minor roles until she landed the role of Bonnie Bennett.
She Is a Success
When she landed the role at 20, she was sleeping on her mom's floor with 86 cents to her name. She slept on an inflatable mattress for six months while filming, as she was not quite ready to believe that the success would last.
Her mom's persistence throughout their financial struggles growing up inspired her to be the person she is today.
The financial struggles didn't define her, and she stated: "It showed me that even if you have no money, even if everything is almost working against you, you can still believe that you're worth a good life. And we fought for [that]."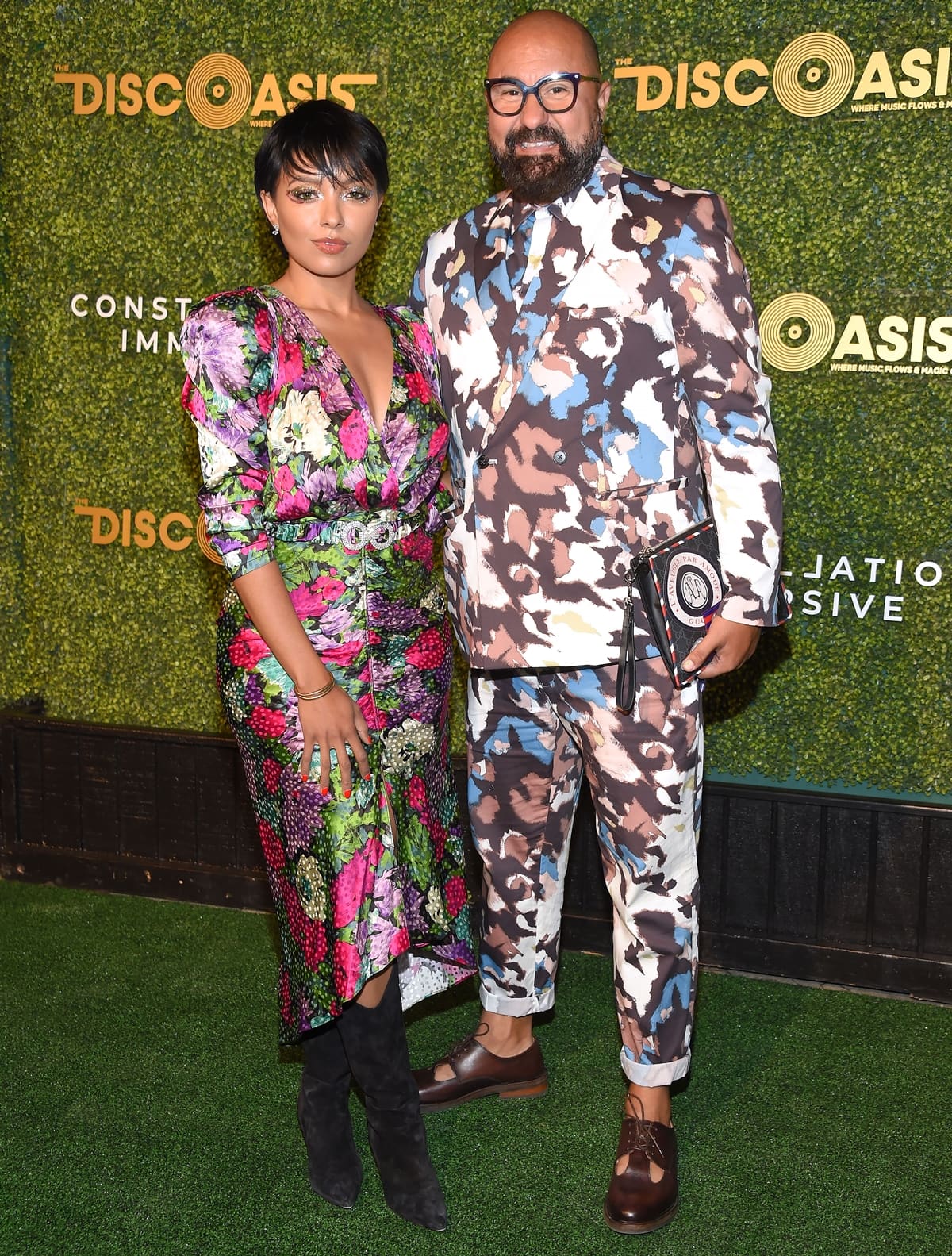 Kat Graham in a floral print Ronny Kobo dress and Magda Butrym boots with her hairstyle Robear Landeros at The DiscOasis VIP Night at South Coast Botanic Garden on July 21, 2021, in Palos Verdes Estates, California (Credit: DFree / Shutterstock)
Growing up, she would watch the L'Oréal commercial on TV, where the models looked directly into the camera and say, "Because you're worth it."
Those words stuck with her, and she continued to believe them. Now, she is a successful and influential actress and style icon who is a L'Oréal Paris League member. During the last season of The Vampire Diaries, she reportedly made $35,000 per episode.
Her Experience Filming The Vampire Diaries
Graham has talked about being the only person of color in a room, and she is one of few who made an appearance on The Vampire Diaries. Her mom is Jewish and raised in Israel, while her dad is Americo-Liberian.
The actress stated that she always felt she had someone to communicate her issues with while working on the series.
This included the higher-ups on The CW. Mark Pedowitz, the President of The CW, is Jewish and always offered a listening ear to Graham.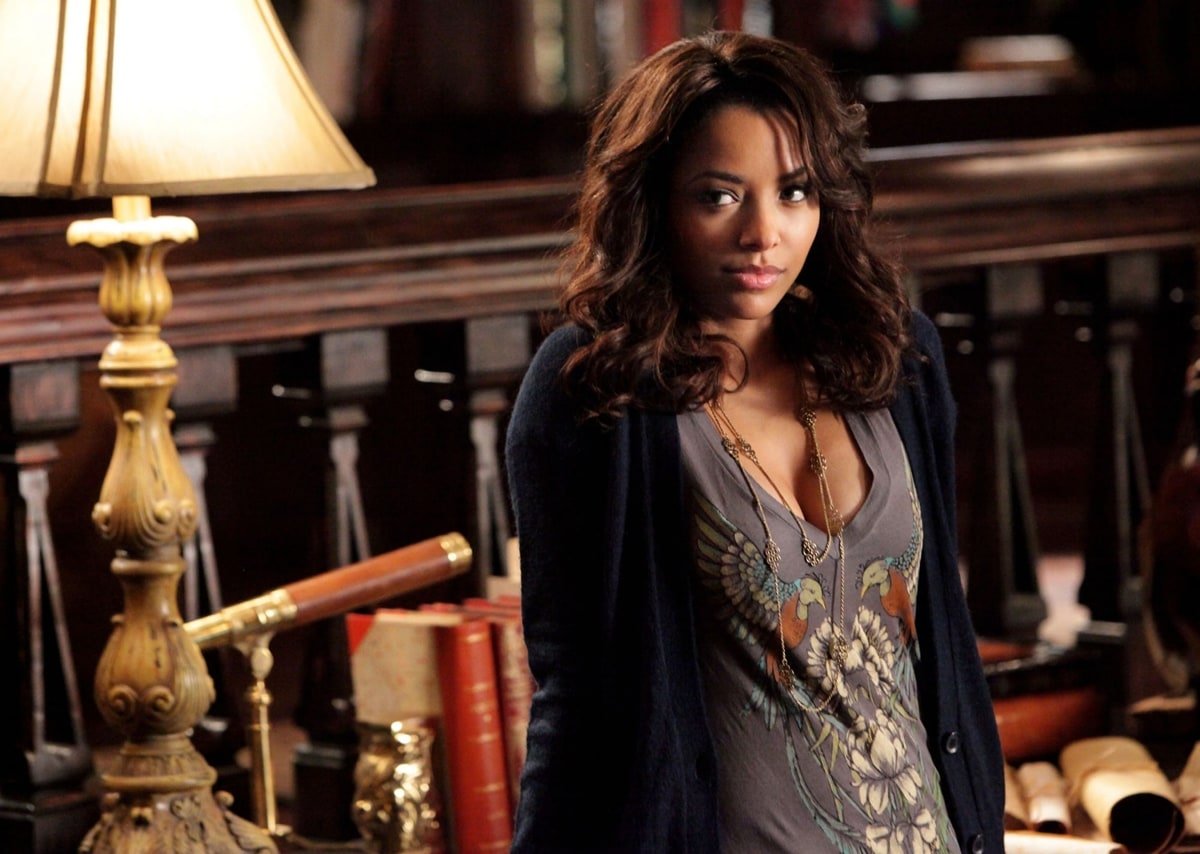 Kat Graham had just celebrated her 20th birthday when The Vampire Diaries premiered on The CW on September 10, 2009 (Credit: The CW Television Network)
She said in an interview with Seventeen: "I did have to educate myself and figure out what can I do to help elevate this for other women who might come after me."
Since The Vampire Diaries came to an end, Kat Graham eschewed the glamor of Hollywood for her home in Georgia and enjoys getting her hands dirty in her garden.
The down-to-earth actress has continued to work in the entertainment industry but has also taken a huge role in advocating for refugees. Her breakout role as Bonnie Bennet showed the world her talent, and she continues to be a favorite on and off-screen.
Kat Graham shows off her hair's highlights at the 27th annual GLAAD Media Awards held on April 2, 2016, in Los Angeles (Credit: WENN)
In April 2016, Kat Graham attended the star-studded 2016 GLAAD Media Awards held at the Beverly Hilton Hotel in Los Angeles.
The then 26-year-old actress was radiant in a bronze satin strapless Gucci jumpsuit, which featured a braided wraparound belt with tassel ends.
Kat Graham shows off her tanned skin in a bronze strapless Gucci jumpsuit (Credit: WENN)
The "The Vampire Diaries" star left her neck bare but added a bit of bling to the look with an H. Stern globe ring, a Maxior tassel bracelet and stone ring, and some Jude Frances bangles.
She styled her short hair in loose waves and applied neutral-toned makeup, complete with bronzed eyeshadow, dramatic false lashes, and nude lipstick.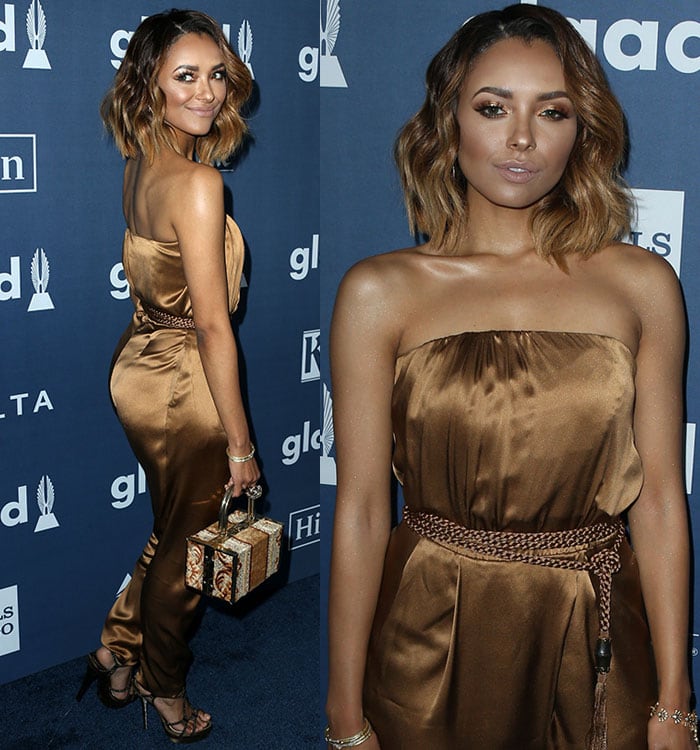 Kat Graham shows off her shoulders and back in a strapless Gucci jumpsuit (Credit: Brian To / FayesVision / WENN)
She carried a boxy purse and topped off the look with a pair of brown sandals by Rene Caovilla.
Kat Graham accessorizes with a boxy purse, a large H. Stern ring, and bracelets from Jude Frances and Maxior (Credit: WENN)
Kat completed her brown ensemble with a pair of strappy brown satin Rene Caovilla sandals.
These four-inch heels feature a caged silhouette with crystal-embellished straps, adjustable ankle straps, open toes, and about one-inch platforms.
Kat Graham's feet in strappy brown satin Rene Caovilla sandals (Credit: WENN)
You can buy these sandals (sans the platforms) in different color versions at Saks Fifth Avenue and Farfetch.
Rene Caovilla Strappy Crystal-Embellished Sandals, $739 – $1,091