It's been 20 years since Can't Get You Out Of My Head was first recorded, and Kylie Minogue's unforgettable song remains one of the most loved pop songs of all time.
The Australian singer originally recorded the song for her 2001 album, Fever. The song ranked on multiple Top 100 song lists of the 2000s and quickly gained momentum as part of the pop culture movement.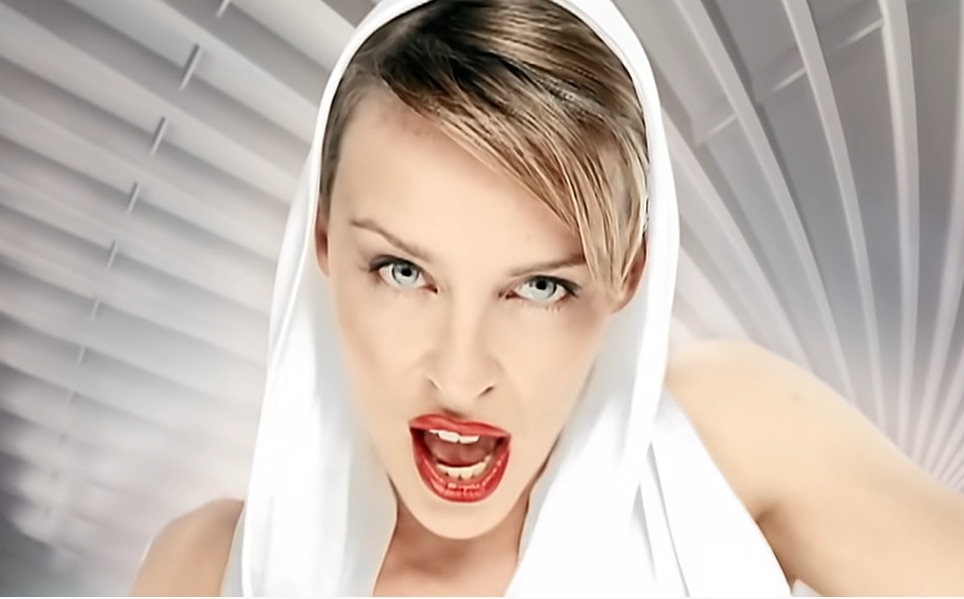 The song "Can't Get You Out of My Head" was recorded by Australian singer Kylie Minogue for her eighth studio album Fever (Credit: YouTube)
Shortly after its release, the slightly eerie song about obsession became a number one hit in 40 countries. Can't Get You Out Of My Head remains one of the Australian songstress's biggest hit songs, along with her other hit songs like Spinning Around (2000) and The Loco-Motion (1987).
Can't Get You Out Of My Head Writers
Can't Get You Out of My Head was written and produced by Cathy Dennis and Rob Davis. The song was their first collaboration as a songwriting duo, and Cathy Dennis would later co-write Britney Spears' techno-pop hit, Toxic.
Catherine Roseanne Dennis co-wrote Kylie Minogue's "Can't Get You Out of My Head", the Britney Spears song "Toxic", and Katy Perry's hit "I Kissed a Girl" (Credit: WENN)
Pitched initially to S-Club 7 and Sophie Ellis-Baxter, Minogue was the third artist offered the song. She was the right choice and wanted to record the song after listening to the first 20 seconds of the demo track.
The writing duo called the songwriting process "very natural and fluid." Can't Get You Out Of My Head was recorded in Davis's home studio in Surrey, England.
The iconic 'la la la' intro to the song has made the song a smash hit with its techno-pop and dance-pop themes. The song has been said to have revived dance-pop in the 2000s.
The Meaning of Can't Get You Out Of My Head
The song's meaning is essentially about the song narrator's obsession with an unknown person, who could either be a lover, a one-night stand, or someone unaware of the narrator's existence.
The song's narrator knows that her infatuation and obsession are unhealthy, but she can't get this person out of her head. The song's darker and more sophisticated nature was a change from Minogue's previous hits, which had all centered around themes of a hopeful romantic future.
The Guardian critic Everett True said this about the hit song: "One of those rare moments in pop: sleek and chic and stylish and damnably danceable, but with a darker element hidden in plain sight."
The hooded white jumpsuit Kylie Minogue wore in the music video for "Can't Get You Out of My Head" was put on display at the Victoria and Albert Museum in London (Credit: Daniel Deme / WENN)
After her 2000 hit song Spinning Around, Can't Get You Out Of My Head cemented Kylie's move away from the girl-next-door image to a more sophisticated and provocative one.
The gold hot pants of her Spinning Around music video was the beginning of her image reinvention, and Can't Get You Out Of My Head cemented this new and improved image in the hearts and minds of her fans.
The Comeback
Fever was a successful comeback album for Kylie. Her previous album experimented with Indie music, which wasn't well-received by her fans.
She made a massive industry come back when she rolled out the scintillating and catchy dance tunes like Spinning Around and Can't Get You Out Of My Head.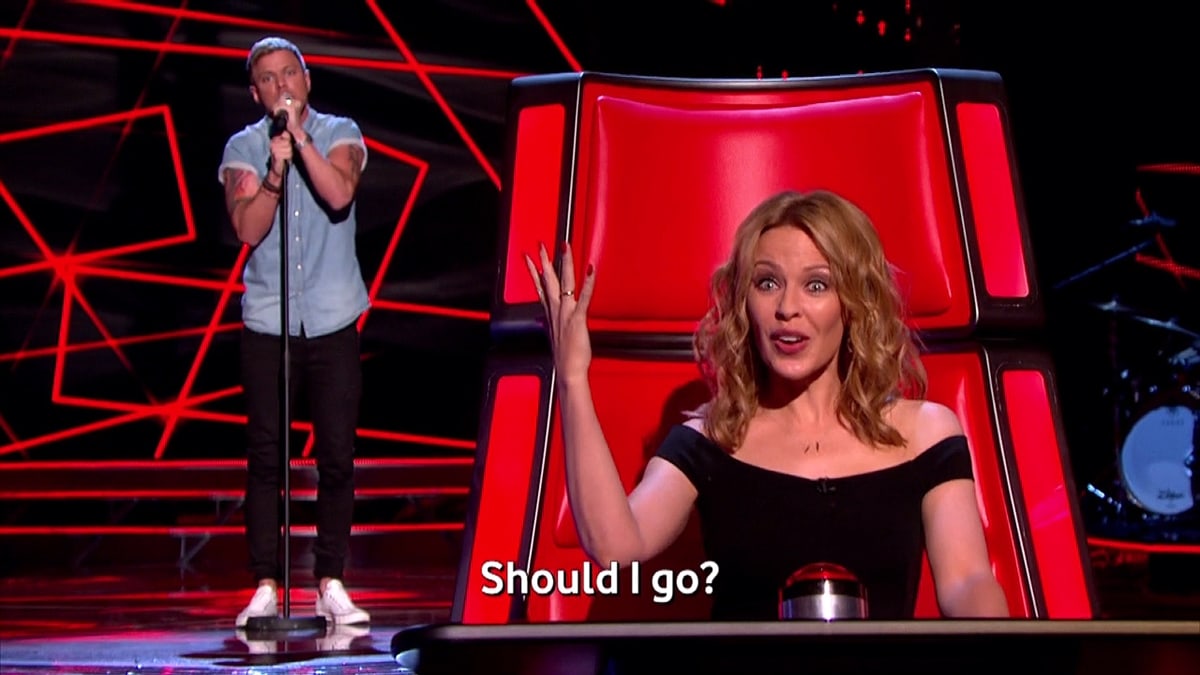 Lee Glasson auditioned with his own version of Kylie Minogue's "Can't Get You Out Of My Head" on The Voice UK (Credit: BBC One / WENN)
The Fever album became one of the most successful albums of her career. The original writers of the hit song stated: "even though Kylie wasn't the first artist to be offered the song, I don't believe anyone else would have done the incredible job she did with it."
Her artistic abilities took a great song with a catchy tune and made it a worldwide hit. Her songs from the 80s and 90s were more about bouncy and light tunes. But Can't Get You Out Of My Head launched the more sophisticated and sleek Kylie Minogue style we recognize today.
A Pop-Culture Movement
Not only was the groundbreaking song a hit, but it transcended music trends and became a part of the pop culture movement. The futuristic style music video featured one of the most iconic fashion moments in pop culture to date.
The white slashed-to-the-navel jumpsuit became an iconic moment in fashion history. The outfit launched the career of designer Fee Doran of the Mrs. Jones label, who created the look.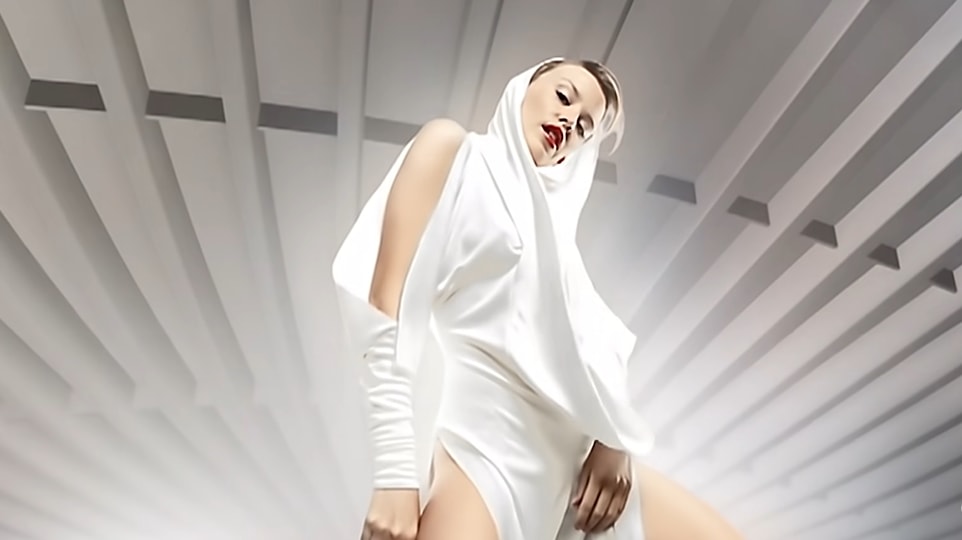 Kylie Minogue was 33 years old when "Can't Get You Out of My Head" was released on September 8, 2001 (Credit: YouTube)
The provocative white jumpsuit provided a warped sense of purity, which was an ode to the Australian songstress's move away from her upbeat bounce music of the 80s and 90s. Can't Get You Out Of My Head went way beyond just being a song and became a cultural artifact that remains relevant today.
Can't Get You Out Of My Head is one of Kylie Minogue's greatest pop hits of all time. She brought her true artistic talent and flair to the chic and danceable tune, creating a pop culture movement.
The song is a movement in itself, and it remains a shining example of the best that the dance-pop genre has to offer the music world.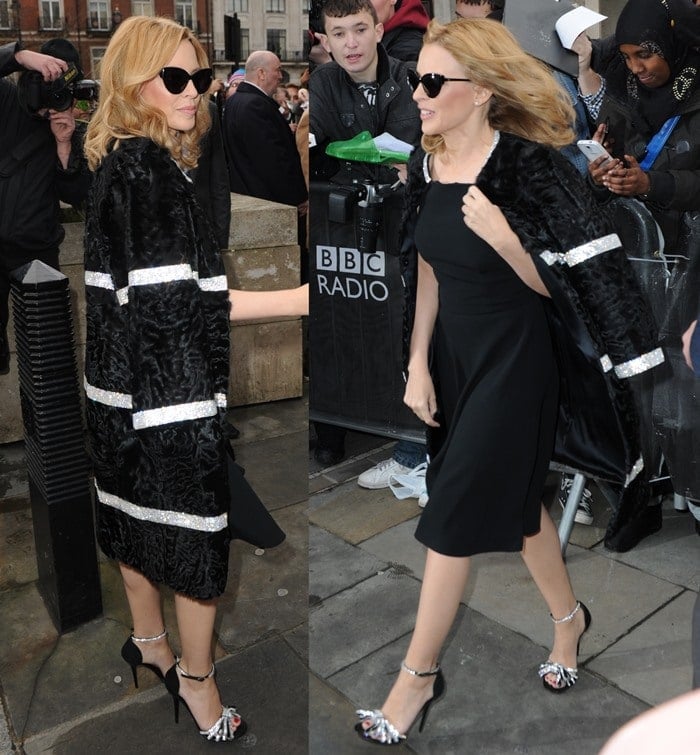 Kylie Minogue wears her hair down as she poses with fans outside BBC Radio One in London on January 6, 2014 (Credit: Lia Toby / WENN)
Had Kylie Minogue found a new favorite designer? In January 2014, we featured the Australian singer, recording artist, songwriter, and actress in a pair of stunning Dolce & Gabbana suede knee-high boots styled with a polka-dot dress from the same designer.
Just one day later, Kylie changed into another Dolce & Gabbana dress paired with a black lamb fur coat by the same brand.
The then 45-year-old had just been announced as the latest judge on The Voice UK. She joined judges will.i.am, Tom Jones, and Kaiser Chiefs lead singer, Ricky Wilson.
Kylie Minogue's feet in diamond-encrusted Giuseppe Zanotti sandals (Credit: Lia Toby / WENN)
Kylie apparently dressed to impress for the official launch of the BBC singing competition by styling her crystal-embellished black crepe D&G dress with sold-out open-toe, strappy black-and-white d'Orsay sandals by Giuseppe Zanotti.
She also sported lust-worthy cat-eye Thierry Lasry "Diamondy" sunglasses.
Kylie Minogue changes outfits as she steps inside the BBC Radio One studios (Credit: Lia Toby / WENN)
Once safely inside the venue, the Australian singer, songwriter, and actress changed into a dress from the Alexandre Vauthier Fall 2013 Collection.
The strapless dress features a white asymmetrical panel, a thigh-high slit, a black PVC panel, and a gold waistband.
Kylie Minogue poses for photos with will.i.am on the red carpet (Credit: Lia Toby / WENN)
She styled the monochrome dress with a pair of black sandals with gold ankle-straps.
Kylie Minogue, Ricky Wilson, will.i.am, and Sir Tom Jones pose for photos at the red carpet launch of "The Voice U.K." in London on Jan. 6, 2014 (Credit: Lia Toby / WENN)
Since Kylie's black suede Giuseppe Zanotti heels are from an older collection and not currently available in stores, here are some of our recent favorites from Giuseppe Zanotti that can be found at Amazon, Farfetch, and Shopbop.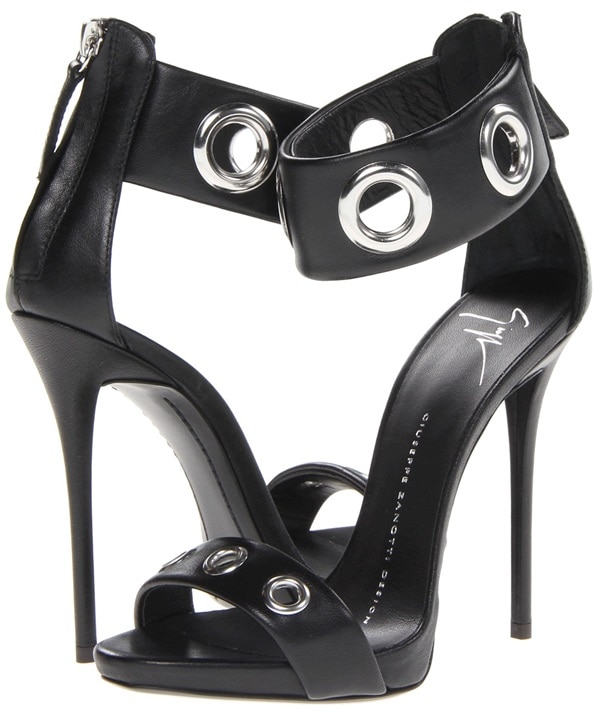 Black Giuseppe Zanotti High Heel Sandals, $995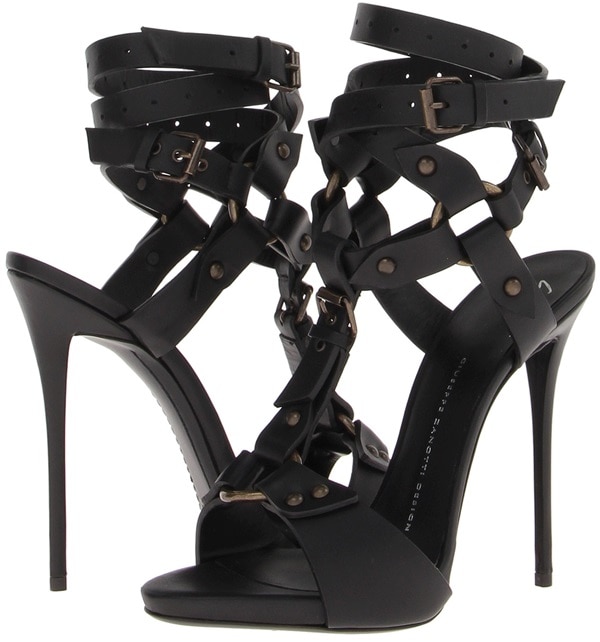 Black Giuseppe Zanotti Sandals With Studded Accents, $1,350
Printed Pony Giuseppe Zanotti Safety Pin Heels, $995
Do you like how Kylie styled her outfit?