In January 2016, Ghost actress Demi Moore turned heads at the 22nd Annual Screen Actors Guild Awards held at the Shrine Auditorium in Los Angeles.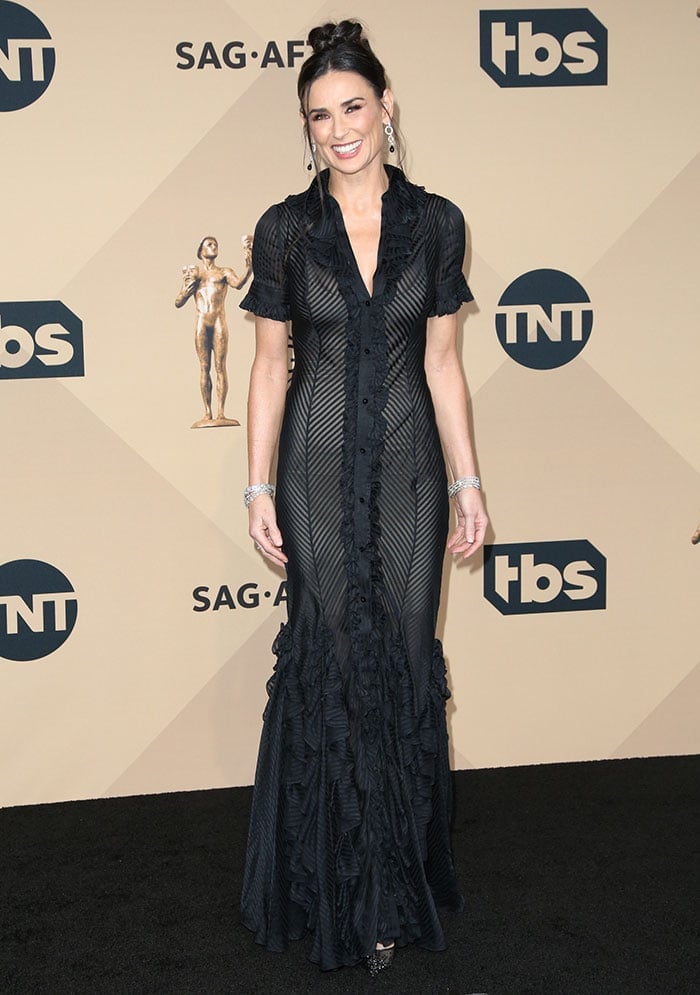 Demi Moore wears her hair up at the 22nd Annual Screen Actors Guild Awards held on January 30, 2016, at The Shrine Expo Hall in Los Angeles
Demi Moore's breakthrough role in Ghost
26 years earlier, Demi had her breakthrough role as Molly Jensen in the romantic fantasy thriller film Ghost. In addition to receiving five nominations at the 63rd Academy Awards, it was the highest-grossing film of 1990.
Patrick Swayze as Sam Wheat and Demi Moore as Molly Jensen in the 1990 American romantic fantasy thriller film Ghost
Praised for her performance and nominated for a Golden Globe, Demi was 26 years old when filming for Ghost began shooting in July 1989.
Born on November 11, 1962, in Roswell, New Mexico, she turned 27 on November 11, 1989.
Patrick Swayze was born on August 18, 1952, in Houston, Texas, and was 36 years old when filming started. He turned 37 on August 18, 1989. The movie was theatrically released on July 13, 1990, by Paramount Pictures.
To prepare for the pottery wheel scene, which is recognized as one of the most iconic moments of '90s cinema, she took a few pot-throwing lessons.
According to Wendy Leigh's biography "Patrick Swayze: One Last Dance" that you can buy on Amazon, Swayze rehearsed the pottery scene with his wife Lisa Niemi in order to get past his embarrassment.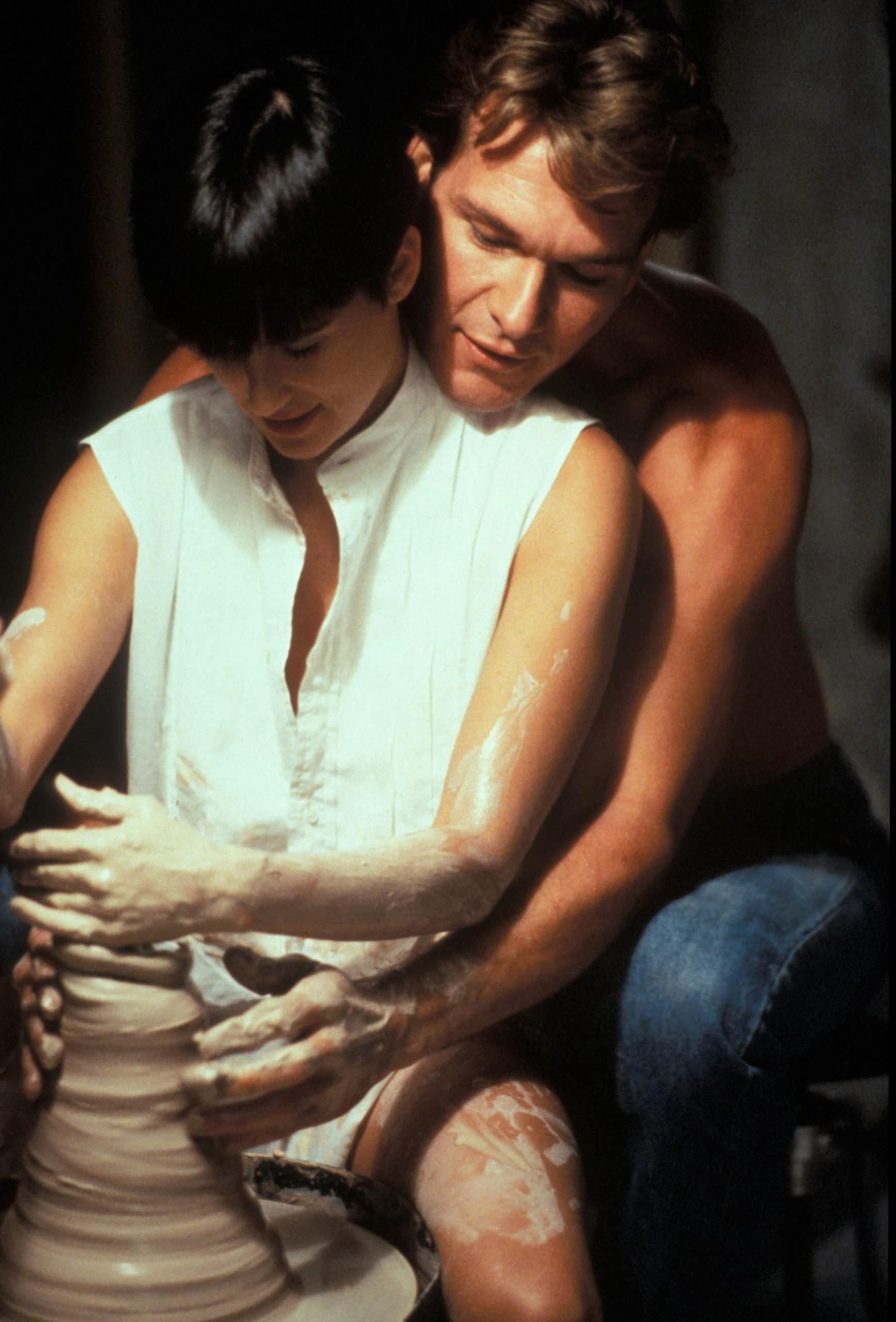 Demi Moore was 26 when filming the pottery scene in Ghost with Patrick Swayze
"I just didn't want my pot to wobble," Demi said in a Ghost featurette about the pottery scene. "It was like a sure-fire sign that I was no good, and I was faking it."
"When we did the rehearsal, I just remember that it was sexy enough that it embarrassed Patrick and Demi a little bit when they were doing it," director Zucker said on the Ghost DVD commentary."
Patrick Swayze plays Sam Wheat, a murdered banker whose ghost sets out to save his girlfriend (Demi Moore as Molly Jensen) from the person who killed him, in Ghost
Already known for her roles in Blame It on Rio (1984), St. Elmo's Fire (1985), and About Last Night… (1986), Ghost made Demi Moore one of the highest-paid actresses of all time.
She talked about the movie in April 2013 at a 2013 AFI Night at the Movies screening of Ghost.
It's shocking to think this movie was made 25 years ago and being a part of something that has had the beauty of truly standing up against the test of time. I was trying to think about what I could share with you that you don't already know, and I was thinking about being a young actress and getting this script that Joe Rubin had written and finding it so fascinating and different.

It's a love story, and it's a guy—a dead guy—trying to save his wife—and there is a comedy part, but really, really it's a love story, and I thought, Wow, this is really a recipe for disaster. [Laughs] It's either going to be something really special, really amazing, or really an absolute bust, and the beauty of being at the beginning of your career, and it's important to remember at any stage of your life is taking the risk is always where the reward is, and I think the beauty in this film is that none of us knew, and the alchemy that came together with Whoopi [Goldberg] and Patrick [Swayze], and our film editor, Walter Murch, and Adam Greenberg, our DP, it just had magic.

What's interesting is that I learned one really big lesson from this film, which is that I went to see it and everyone was moved.

I loved it and was so excited for it to come out, and everyone said the reviews were coming out!' and they were HORRIBLE! We were panned across the board, and I thought, Wow, this is really not good.
Ghost was the first film Jerry Zucker directed on his own
It's something that touches people's heart, it transcends and has comforted people's soul in great loss and it has instilled a sense of hope and magic that those we love are always still with us. And I'm truly grateful to have been part of this film, and I'm honored to be sharing with you tonight.

I thank AFI and Target for bringing together this magical night for you to see it on the big screen.

I'm sure there was a huge boon in pottery classes that they hadn't seen since macrame, Birkenstocks, and hairy legs were in fashion.
At the SAG Awards, the mom-of-three took to the stage to present the Outstanding Cast in a Motion Picture award to the cast of "Spotlight."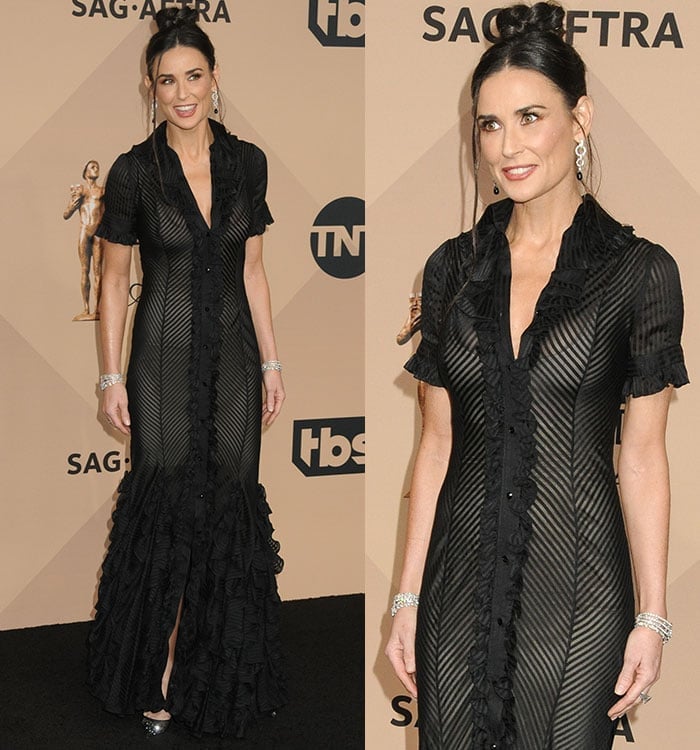 Demi Moore wows at the SAG Awards in a floor-length black Zac Posen dress
She wowed in a long black Gothic-romantic dress that fit her like a glove. The collared frock had short sleeves and a ruffled detailing at the trimming and hemline.
Demi Moore stuns in a Gothic black gown from Zac Posen
It also featured a low-cut neckline and sheer striped detailing that gave a glimpse of her underwear.
The dress was by Zac Posen, but it was not from the latest collection. Demi dug into her own closet and pulled out this beautiful creation that was more than a decade old.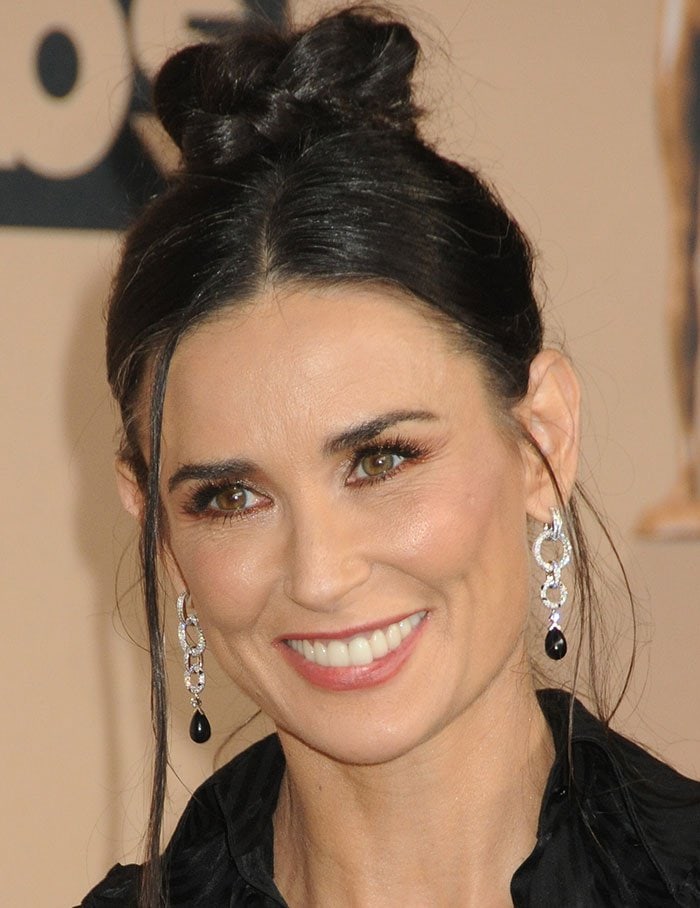 Demi Moore wears bronze-colored makeup on the red carpet
The American fashion designer was surprised to see the actress wearing a vintage piece from his spring 2003 collection — his second collection ever!
He took to Instagram to express his excitement, posting two photos and a video of Demi walking in his creation.
Demi Moore wears a vintage Zac Posen gown on the black carpet of the SAG Awards
The "Indecent Proposal" star accessorized the black number with a few pieces of sparkling jewelry, including a pair of silver-and-black drop earrings and bangles on both wrists.
She wore her raven hair in a chic updo and let a few tendrils frame her gorgeously made-up face.
Demi rounded out her look with a pair of Christian Louboutin "Body Strass" pumps from the brand's Fall 2013 collection.
Demi Moore's feet in crystal-embellished Christian Louboutin pumps
They are made of mesh with leather trims and have crystal embellishments and about 4.7-inch heels.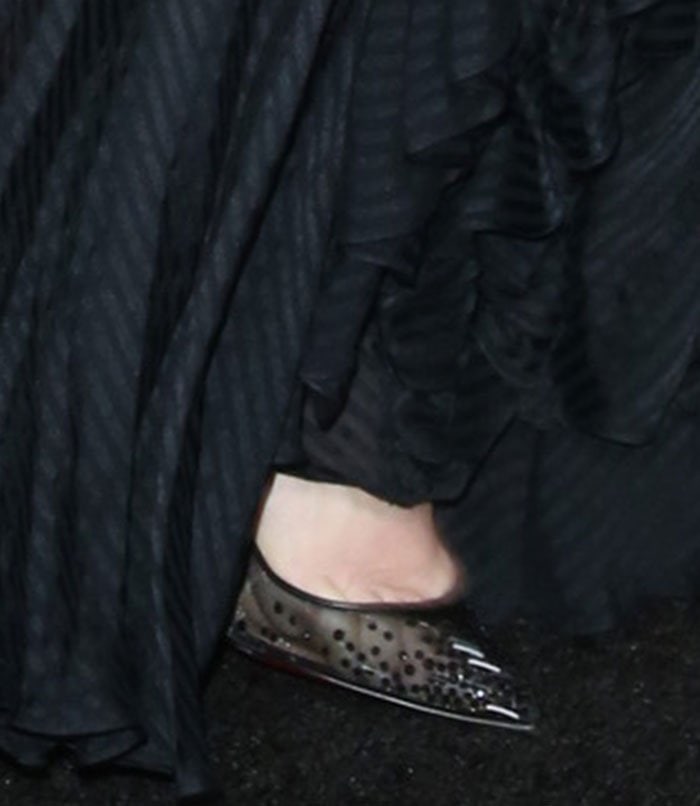 Demi Moore's feet in black "Body Strass" pumps
These Christian Louboutin pumps are no longer available, but a similar style called "Follies Lace" can be purchased at Mytheresa and Nordstrom.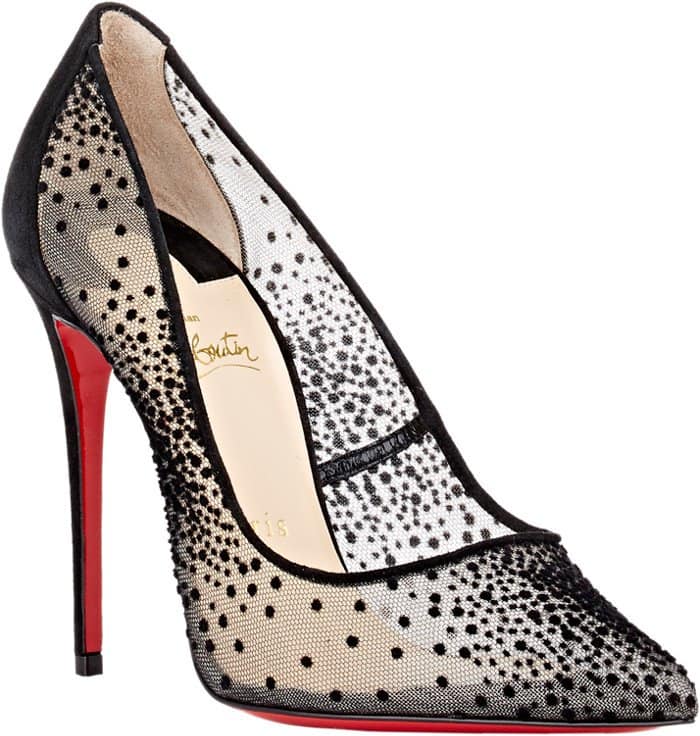 Christian Louboutin "Follies Lace" Pumps, $795
Credit: FayesVision / Brian To / WENN