Food is the way to the heart…and also your wallet!
And Giada De Laurentiis knows how to maneuver both. If you've ever watched Food Network — or any cooking show with Bobby Flay — you've probably heard of this culinary superstar.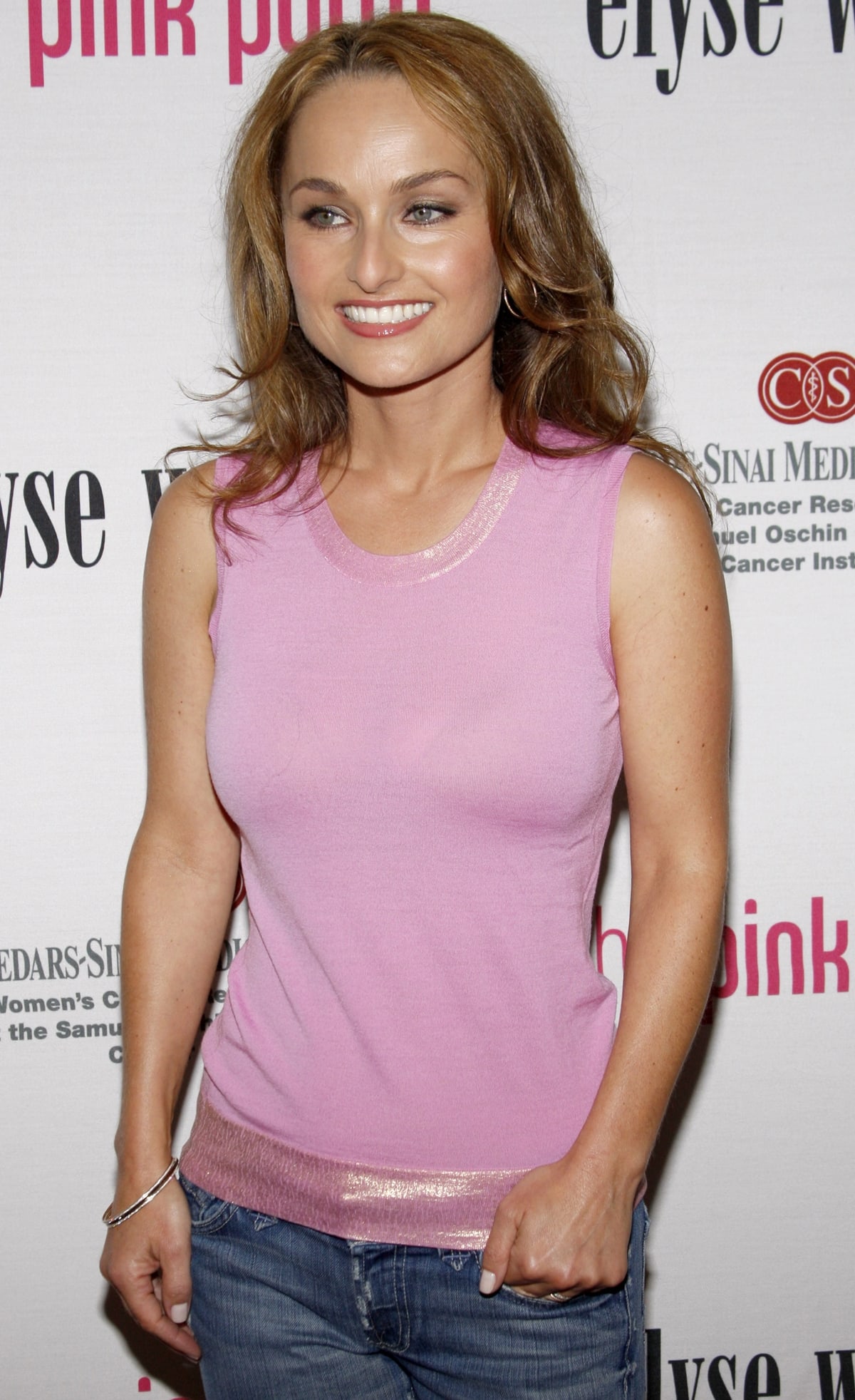 Cooking expert Giada De Laurentiis has become wealthy due to her work hosting several Food Network shows (Credit: Tinseltown / Shutterstock)
This powerhouse of a woman is one of the richest chefs in the world and an incredible culinary artist in her own right.
Giada has become a household name for many home chefs, but if you aren't familiar with your home kitchen — or with Giada — let's recap this chef's background, career, and how she accumulated a net worth of $30 million!
Giada De Laurentiis, Al Roker, and Maria Menounos attend the Warner Bros. and InStyle Party following the 2013 Golden Globes held at the Beverly Hilton Hotel on January 13, 2013, in Hollywood, California (Credit: DFree / Shutterstock)
The De Laurentiis Family
Giada is an Italian-American chef who was born in Rome, Italy. She is the oldest daughter of Italian immigrants, actress Veronica De Laurentiis and actor-producer Alex De Benedetti.
The name "De Laurentiis" was heavily known in Hollywood for its success in cinema, but it didn't start with Veronica.
Even though Giada's parents worked in Hollywood, Giada's maternal grandfather Dino De Laurentiis really helped set his descendants up for success.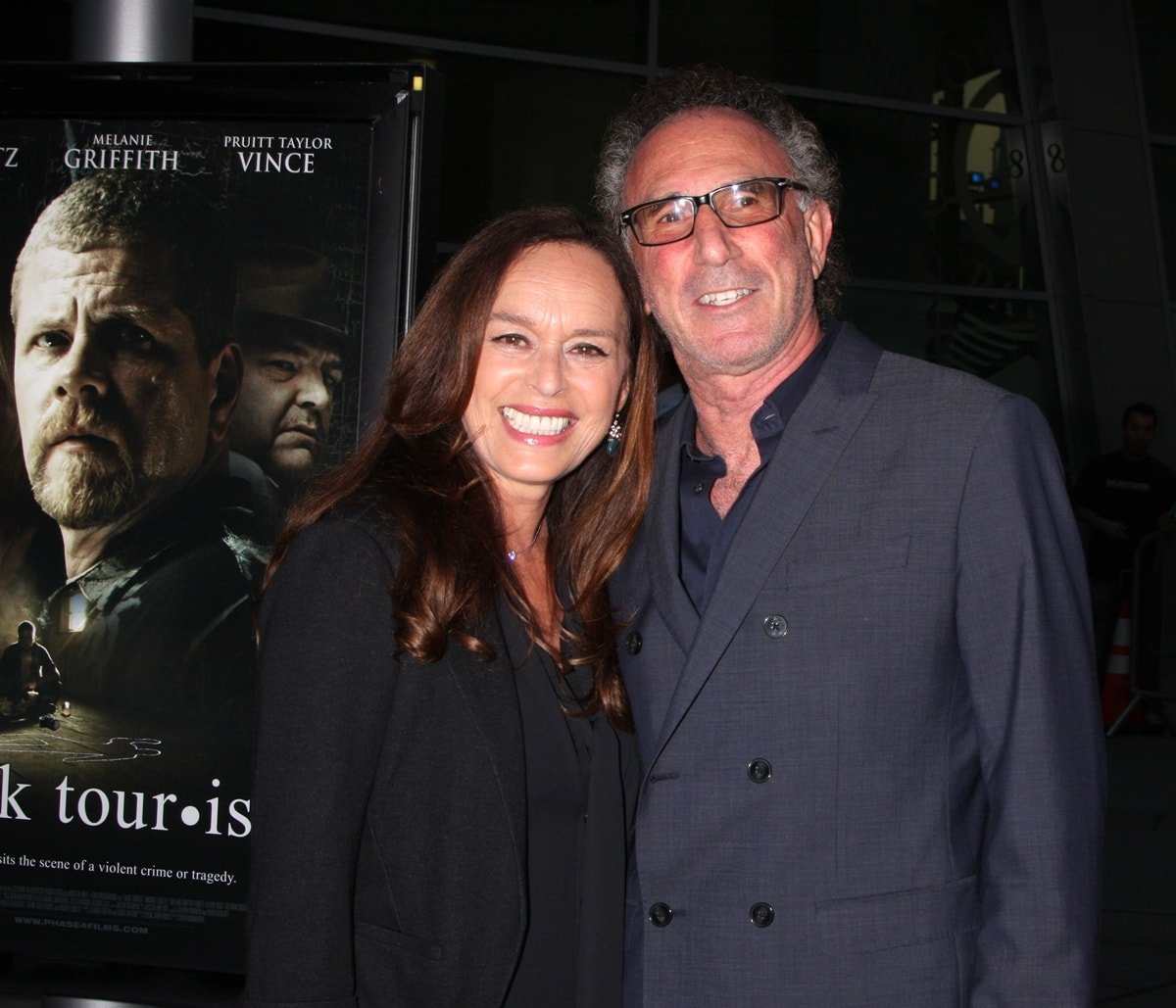 Giada's mother, Veronica De Laurentiis, and her second husband, Ivan Kavalsky, attend the Los Angeles premiere of "Dark Tourist" on August 14, 2013, at ArcLight Hollywood in California (Credit: s_bukley / Shutterstock)
As a film producer, Dino was instrumental in bringing Italian cinema to American viewers. He is most known for his films, "Blue Velvet" and "Army of Darkness," in addition to 500 other films that he either produced or co-produced.
Thirty-eight of those 500 films won Academy Awards, including the classic film "King Kong."
Given Dino's success, it's no wonder Giada's mother, Veronica, opted to chase her Hollywood dreams and follow in the family's footsteps.
While Dino was making his impact on Hollywood — and making his money — he founded two different film studios.
Presenter Sir Anthony Hopkins and Dino De Laurentiis pose for photos at the 73rd Annual Academy Awards ceremony held on March 25, 2001, at the Shrine Auditorium in Los Angeles (Credit: Featureflash Photo Agency / Shutterstock)
In addition to film, Dino also ventured into the culinary world. Outside of his work in Hollywood, Dino opened the restaurant DDL Foodshow.
Given both of Dino's passions, it's only natural that Giada would follow one of them.
And, obviously, she chose food.
Giada spent a lot of time at the DDL Foodshow, but dining on Sundays with the De Laurentiis family was seemingly instrumental in her growth.
The budding chef spent every Sunday cooking a traditional Italian meal for her whole family and picking up the tricks of the trade.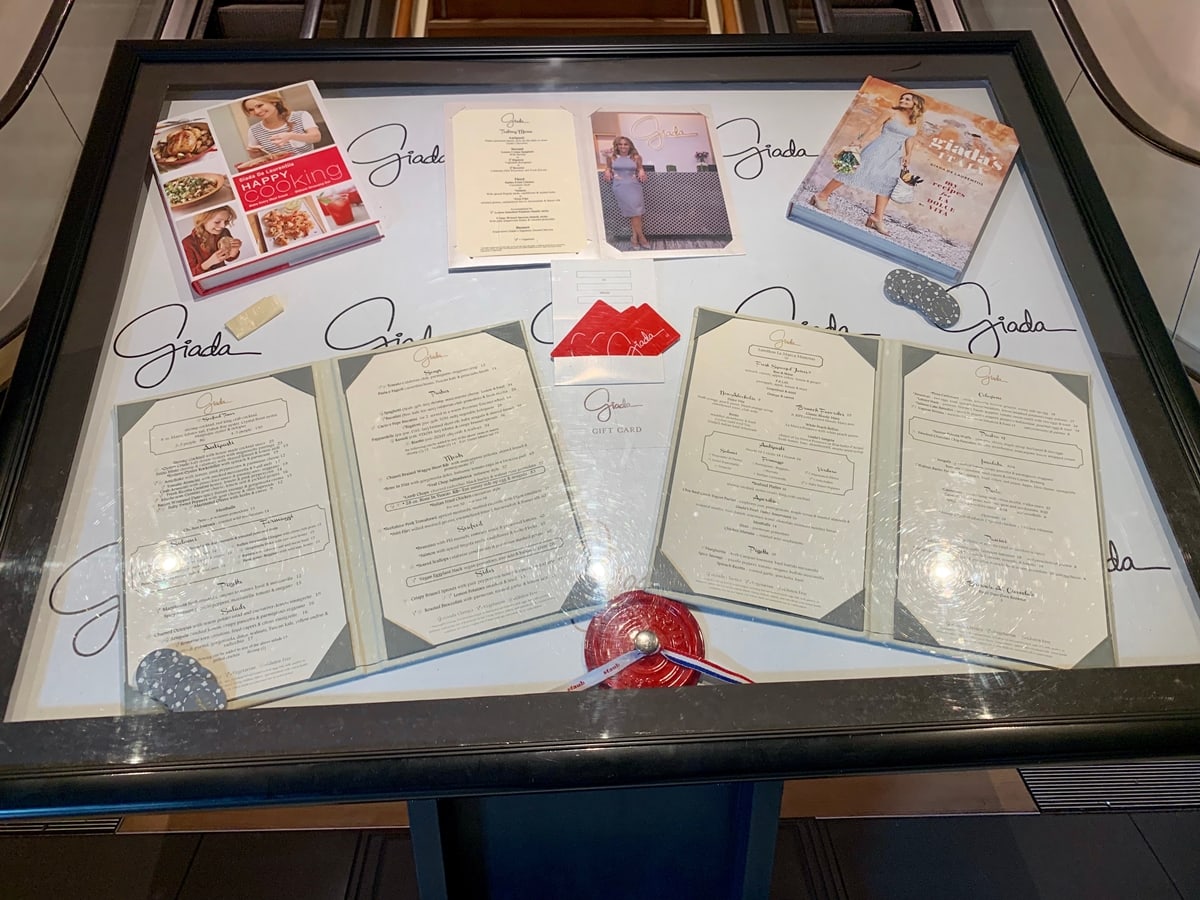 Food Network star Giada De Laurentiis opened up her first restaurant, "Giada," at The Cromwell Las Vegas Hotel & Casino on the famous Las Vegas strip (Credit: 1000Photography / Shutterstock)
"The way I learned to connect with my grandfather was on a food level," Giada said during an interview. "I couldn't get enough of the food, the smells, of hanging out in the kitchen and asking questions. Sundays my grandfather would have the whole family over and we would have a big spread. And when I say big spreads I mean it took hours to eat lunch."
"My family takes their culture very seriously, so even when we moved to the U.S., we still lived very Italian lives," Giada told Insider in 2019. "We spoke Italian at home, we only ate Italian food — and let me tell you, back in the late '70s and early '80s, people were not as proud of their unique heritage as they are now."
From Italy to the United States
While things looked great on paper for Giada's parents, it was later discovered that Giada's father abused Veronica and sexually abused Giada. After Veronica found out about the sexual abuse, she left and filed for divorce.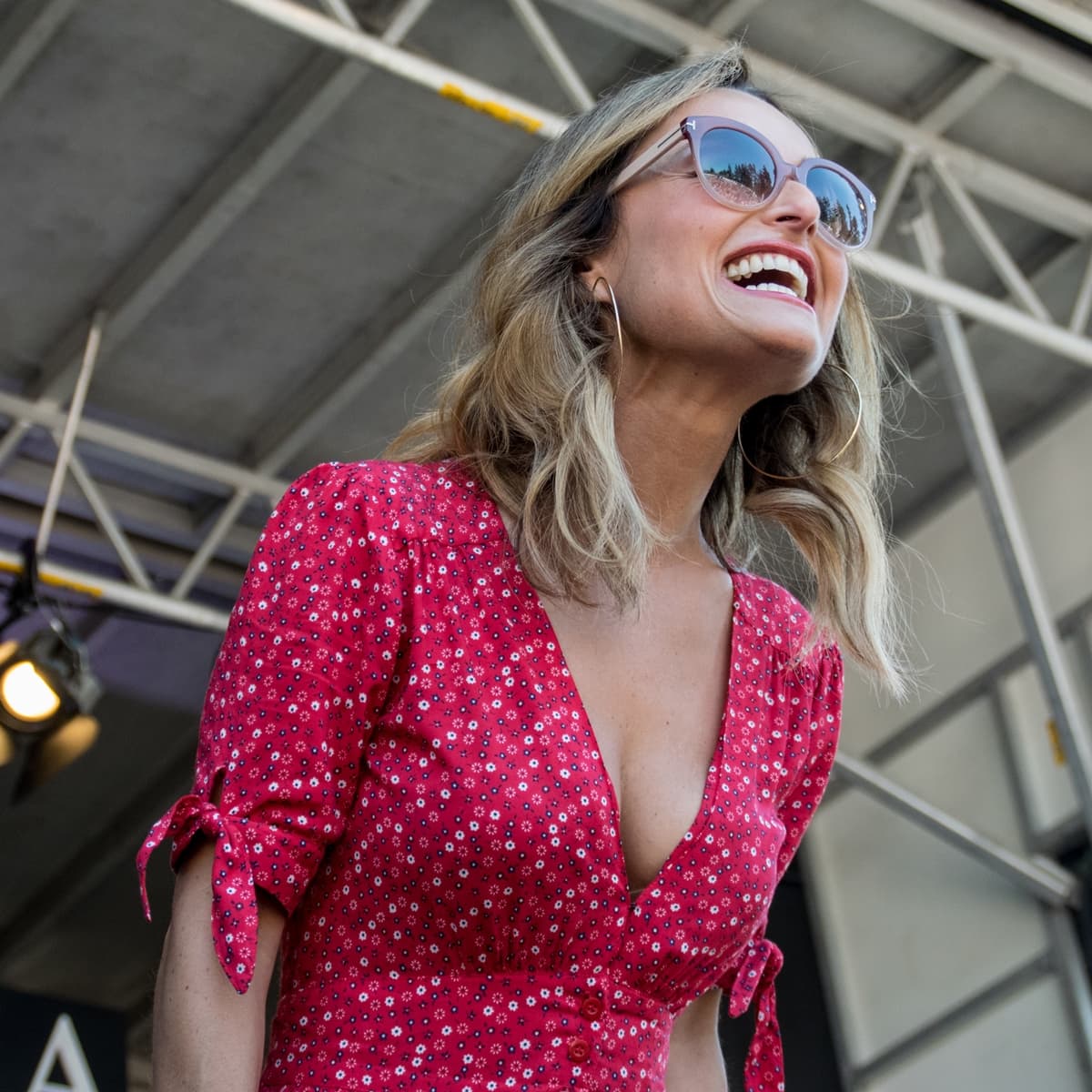 Giada De Laurentiis overcame childhood trauma and now has a net worth of $30 million (Credit: agwilson / Shutterstock)
Veronica became a very vocal advocate for domestic violence victims, and after the divorce was finalized, Giada's mother moved them from Italy to Southern California.
Giada graduated high school and then attended the University of California, Los Angeles. During her college career, she did not study anything culinary-wise. Instead, she graduated with an anthropology degree.
After graduating from UCLA, she attended the famous Le Cordon Blu in Paris. She intended to focus on pastry work alone, but walked away with culinary and pastry skills.
How did Giada get rich?
After culinary school, Giada returned to the U.S. and went to work in several Los Angeles restaurants, including Wolfgang Puck's "Spago." Giada was helping style food in Food & Wine Magazine when an editor approached her about writing an article on her family's Sunday lunches.
After the article, Food Network approached Giada with the opportunity to host her own cooking show.
In 2003, Giada began her Food Network cooking show, "Everyday Italian."
"(The Food Network representative) had seen my recipes and seen me but didn't know I'd be on camera, so he asked me to put together a demo," she explained. "Nine months later I did it, and 'Everyday Italian' was born — purely accidentally… I really thought I'd become a food stylist and then went in a completely different direction."
Her television career and other ventures have made Giada De Laurentiis one of the richest chefs in the world (Credit: INSTARimages)
Giada focused her show on redefining Italian food. While the chain restaurant Olive Garden has a heavy hold on the American concept of Italian food, Giada worked to popularize the Italian food she grew up with in her grandfather's kitchen.
Even though Giada's entire family has experience in the film industry, the confidence didn't immediately translate over to the young chef.
"I was so goddamn nervous because I had never been in front of the camera alone," she told Bon Appetit.
Giada De Laurentiis was born in Italy and is the granddaughter of Academy Award-nominated Dino De Laurentiis (Credit: s_bukley / Shutterstock)
"I was like, who am I talking to? Who is this?" she added.
In 2008, Giada took home the Emmy award for "outstanding lifestyle host" for her work on "Everyday Italian."
Giada later went on to release a cookbook and air two new primetime Food Network shows: "Giada's Weekend Getaway," and "Giada at Home."
What started as a single cookbook later expanded to a small library. Giada has now written 11 books and eight children's books (available on Amazon).
Giada De Laurentiis has received numerous awards and published many popular cookbooks (Credit: 1000Photography / Shutterstock)
She has starred or co-starred in twelve different shows on the Food Network and opened three restaurants in the midst of all of it.
In 2020, Giada received the award for outstanding culinary host and outstanding culinary series due to her work on "Giada Entertains."
And Giada has managed to do all of the above while still finding time to be an amazing mother to her daughter Jade.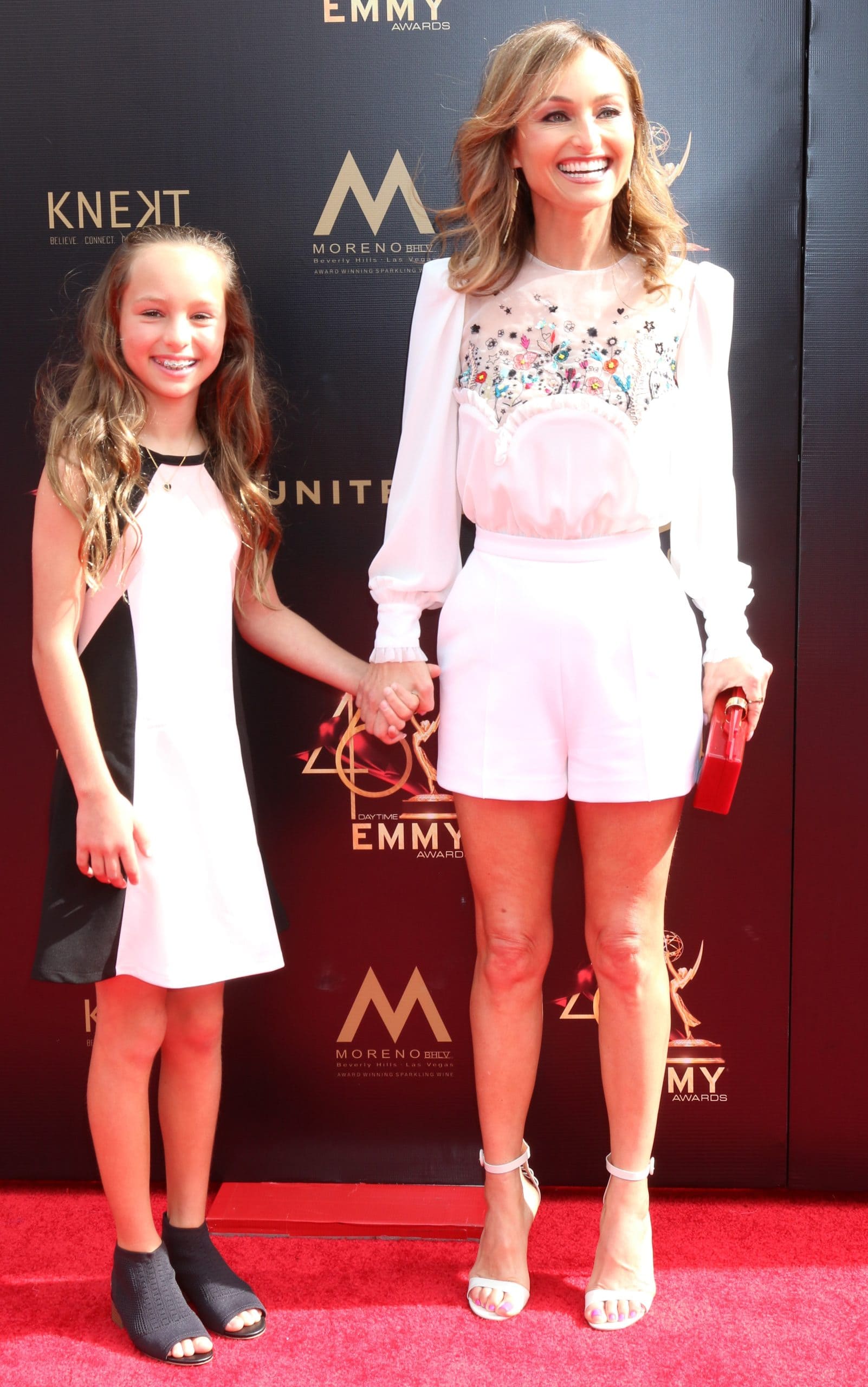 Jade Marie De Laurentiis Thompson and Giada De Laurentiis stand on the red carpet of the 2019 Daytime Emmy Awards held on May 5, 2019, at the Pasadena Convention Center in Pasadena, California (Credit: Kathy Hutchins / Shutterstock)
This incredible woman has pushed past family trauma, abuse, and insecurities in front of a camera and has taken the culinary world by storm.
Giada De Laurentiis and her daughter Jade Marie De Laurentiis Thompson arrive at the Los Angeles premiere of "The Jungle Book" held on April 4, 2016, at the El Capitan Theatre in Hollywood (Credit: Featureflash Photo Agency / Shutterstock)
Due to her hard work, dedication, and family values, she has become the world's top-paid culinary chef and a very deserving one at that.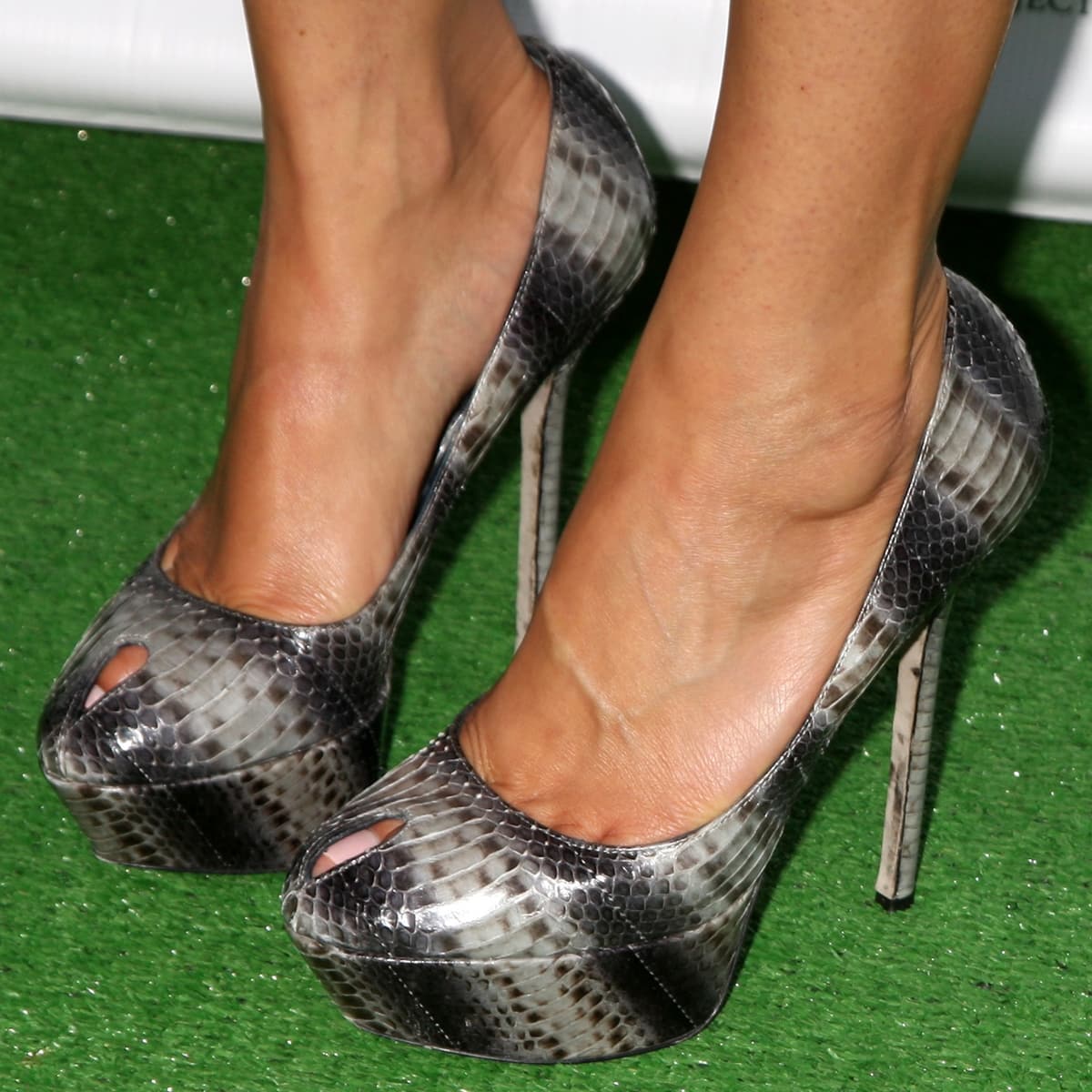 Giada De Laurentiis shows off her size 7.5 feet in towering high heels (Credit: s_bukley / Shutterstock)
Giada De Laurentiis Facts
| What is Giada De Laurentiis's net worth? | She is an Italian-American chef, writer, and TV personality with an estimated net worth of $30 million dollars. |
| --- | --- |
| Full Name: | Giada Pamela De Laurentiis |
| Born: | August 22, 1970, in Rome, Italy |
| Does Giada De Laurentiis speak Italian fluently? | Yes, she is the daughter of two Italian immigrants and grew up speaking Italian at home. |
| How tall is Giada De Laurentiis? | 5′ 2″ (157 cm) |
| Is Bobby Flay married to Giada De Laurentiis? | No, Giada De Laurentiis and Bobby Flay have never dated. |
| What happened to Giada De Laurentiis brother? | Her brother Dino De Laurentiis died in 2003 following a short battle with cancer. |
| What color are Giada's eyes? | She's known for her beautiful blue eyes. |
| When did Giada De Laurentiis go to culinary school? | She specialized in both cuisine and pastry at Le Cordon Bleu, a Culinary Arts and Hospitality Management institute located in Paris, France |