Jeans and a tee for a trip to the mall? Nope, not for Gigi Hadid. The model was recently spotted blazing her way through a crowd of fans and photographers with pop star boyfriend Joe Jonas, after walking the runway of Balmain.
And when we say after, we mean RIGHT after. Gigi went shopping in Paris while wearing a Balmain jacket worth thousands of dollars.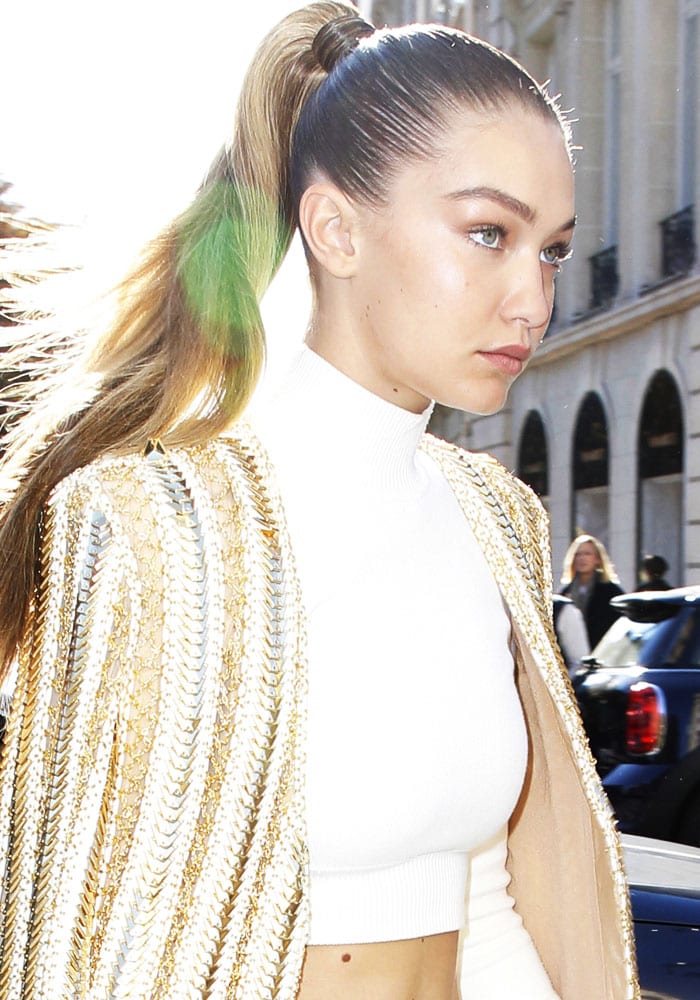 Gigi Hadid attends the Balmain show during Paris Fashion Week on October 1, 2015
To be fair, the model did at least try to dress down her outfit with a pair of Adidas sneakers, but we think it's safe to say that it didn't really work too well.
Gigi Hadid plays with her hair as she goes shopping in a Balmain and Adidas look
However, there's no denying that Gigi's post-catwalk look is smokin' white-hot.
The model wore a cropped top by Jonathan Simkhai with white pants under her fully-embellished Balmain blazer.
Gigi Hadid wears a pair of Adidas "Superstar" sneakers on her feet
She wore a pair of Adidas "Superstar" sneakers and accessorized her look with a small tote from Proenza Schouler.
Meanwhile, her boyfriend Joe Jonas, who was also seen leaving the show with Gigi, expressed his support for his girlfriend's recent fat-shaming post.
Joe expressed how proud he was that Gigi stood up for "unconventional" models.
Gigi Hadid and boyfriend Joe Jonas walk through Paris together
You can get Gigi's sneakers at Nordstrom and Farfetch.
White Adidas "Superstar" Sneakers

Credit: SIPA / WENN