Gina Rodriguez is having a baby! The Jane the Virgin star announced on her 38th birthday that she and her actor husband, 35-year-old Joe LoCicero, are expecting their first child together.
She posted the announcement on Instagram with a compilation of pictures and videos of the couple with the caption, "This birthday hits different."
The post was bombarded with love and congratulations from fellow celebrities and fans. Scott Eastwood commented, "Congrats," while Jessica Garcia wrote, "AHHHH CONGRATULATIONS YOU TWO!!!!"
View this post on Instagram
Rodriguez and LoCicero actually met on the set of Jane the Virgin back in 2016. He appeared in one episode as a Don Quijote impersonating stripper.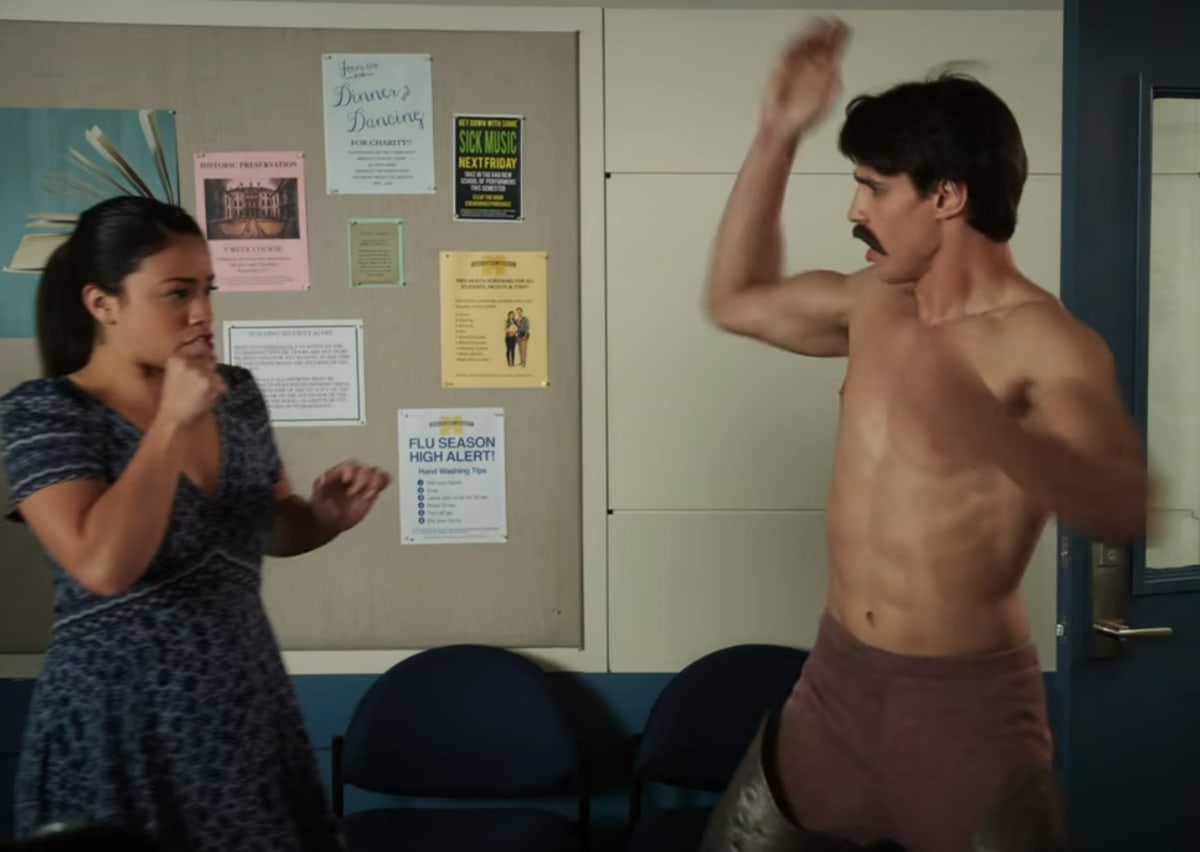 Gina Rodriguez met Joe LoCicero when he played a stripper in Chapter Thirty-Nine, the 17th episode of the second season of the American romantic comedy-drama and satirical telenovela Jane the Virgin (Credit: CBS Television Studios)
They didn't officially connect until six months later when they happened to run into one another again.
"He came on as a stripper that my mother hired for my bachelorette party and Jane is, like, super against it and super terrified and just, like, doesn't know what to do with all that. But Gina does," Rodriguez said on an appearance on The Tonight Show with Jimmy Fallon.
"I met him six months later at a boxing gym after we shot together," she added.
Gina Rodriguez in a light blue Zuhair Murad lace dress and Goshwara opal earrings with her husband Joe LoCicero at the 2019 Baby2Baby Gala Presented By Paul Mitchell at 3LABS on November 9, 2019, in Culver City, California (Credit: DFree / Shutterstock)
They dated for two years before getting engaged in 2018. "Dating Joe was a new experience for me because I put myself first," Rodriguez said in Cosmopolitan's February 2019 issue.
"For so long, I put every man in front of me. As a successful woman, it is so hard because of our cultural norms that, like, the man has to be the breadwinner! And the man has to be the more powerful one. It was so difficult for me to find a man who didn't want me to dim my light for his ego."
LoCicero is quite tall, with a height of 6 foot 1 inch. He towers over Rodriguez, who is 5 foot 3 inches. The couple officially tied the knot in May of 2019.
Joe LoCicero with his much shorter wife Gina Rodriguez in a Star by Julien Macdonald dress at the premiere of Columbia Pictures' 'Miss Bala' at Regal LA Live Stadium 14 on January 30, 2019, in Los Angeles, California (Credit: Featureflash Photo Agency / Shutterstock)
Many people think that Gina Rodriguez is related to Michelle Rodriguez, but those people would be wrong. The two stars might share a last name, but they don't share any familial relation.
Mayte Michelle Rodriguez (L) is not related to Gina Alexis Rodriguez-LoCicero (Credit: Kathy Hutchins / Shutterstock / Cubankite)
But even without the connection of Michelle Rodriguez, it's no doubt that Gina and Joe have plenty of support from friends and family for their bundle of joy.
"There's a lot of children that need homes," Rodriguez told Access Hollywood in September 2020.
"That's another thing we've been discussing, too, because I am a bit older, and that's okay. That's okay. That conversation also has been happening. I want a family. Family's everything."
Congratulations to the pair! We know you'll be amazing parents.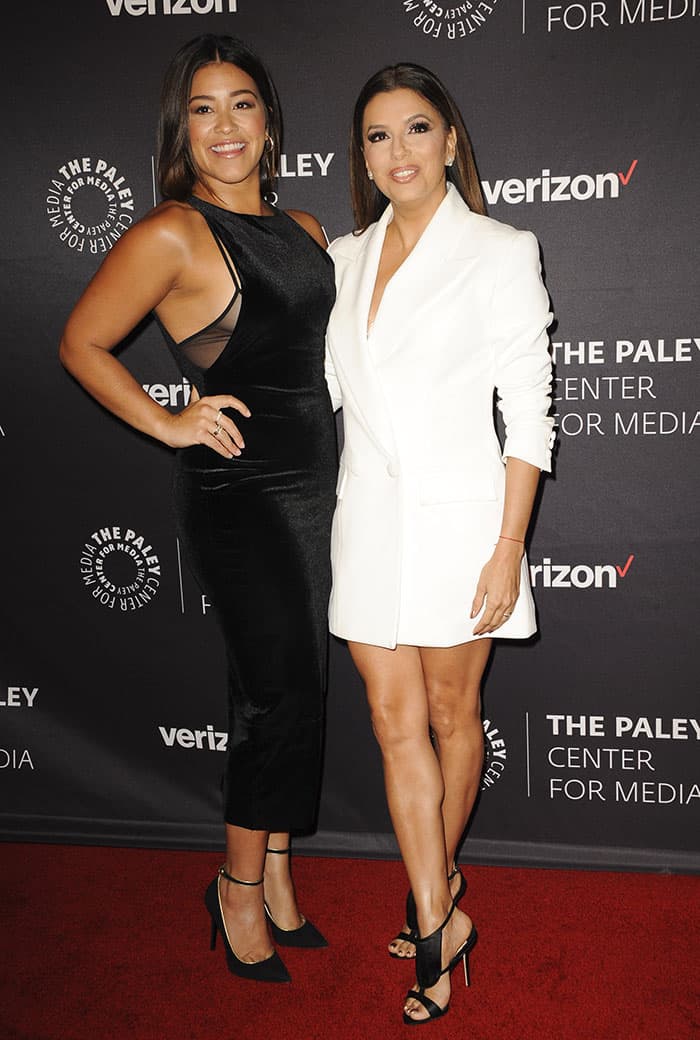 Gina Rodriguez and Eva Longoria at The Paley Center for Media's Hollywood Tribute to Hispanic Achievements in Television on October 24, 2016 (Credit: Apega / WENN)
In October 2016, Gina Rodriguez joined Eva Longoria at The Paley Center for Media's Hollywood Tribute to Hispanic Achievements in Television.
The then-32-year-old actress contrasted Eva's pristine white look in her all-black ensemble. She wore a Vivian Chan velvet dress, which hugged every inch of her curves.
The form-fitting sleeveless frock fell to her midcalf and offered a glimpse of her mesh brassiere underneath.
Gina Rodriguez in a black Vivian Chan velvet dress (Credit: Apega / WENN)
Gina glammed up her look with a selection of gold jewelry, including a pair of hoop earrings and multiple rings.
The "Jane the Virgin" star wore her short tresses straight and sported neutral makeup to highlight her features.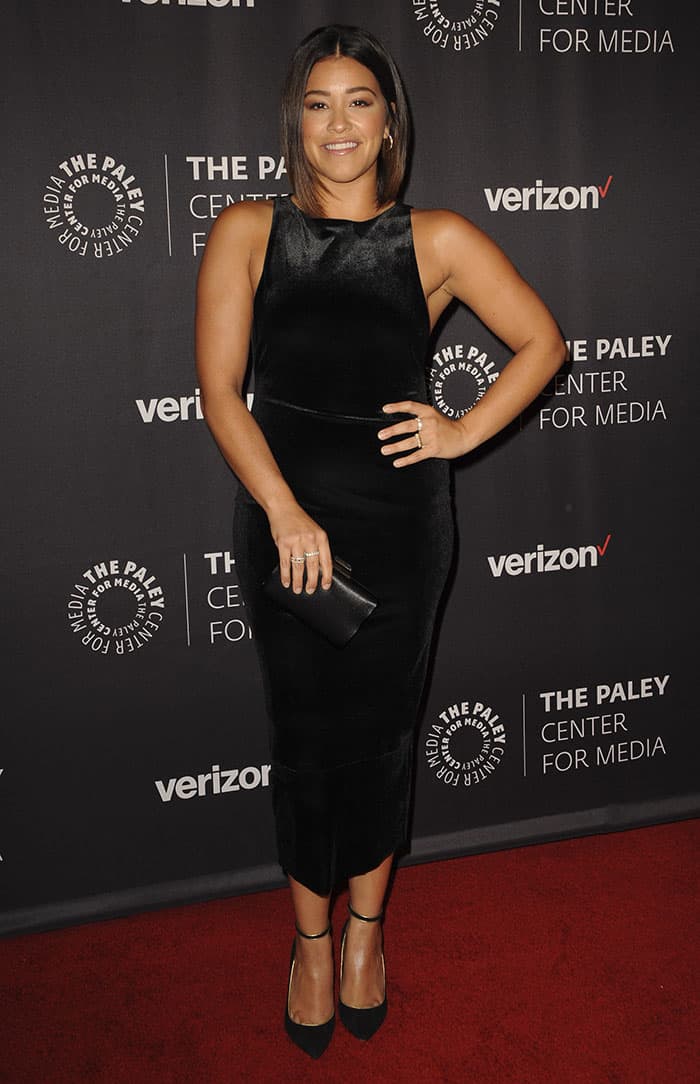 Gina Rodriguez shows how to wear black ankle-strap pumps with a velvet little black dress (Credit: Apega / WENN)
Gina finished up her look with a pair of Stella Luna pumps. These black suede pumps have button ankle straps, gold leather trims, pointed toes, and four-inch heels.
Gina Rodriguez shows off her feet in gold-trimmed black pumps (Credit: Apega / WENN)
Her sexy pumps from Stella Luna are unfortunately no longer available online.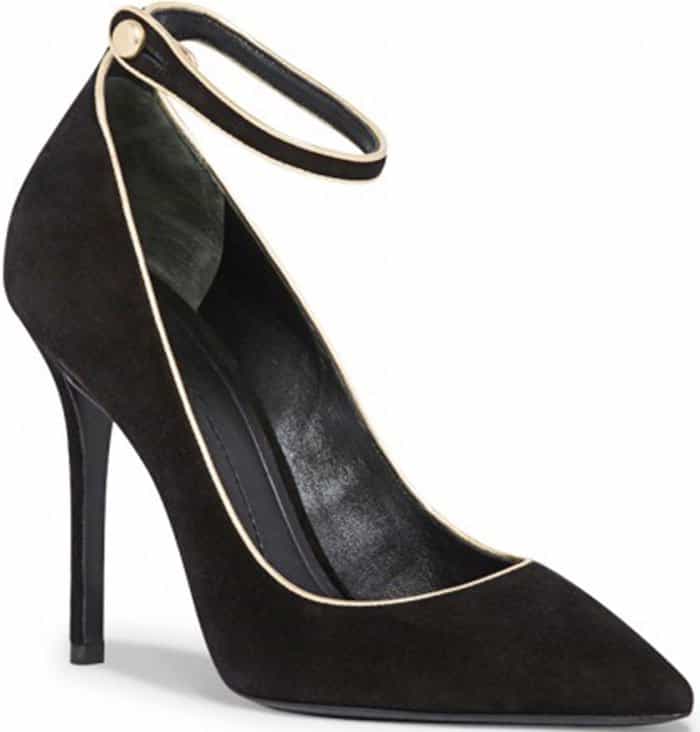 Stella Luna Button Ankle-Strap Pumps, €295