Gisele Bundchen is best known as a sexy Victoria's Secret lingerie model. Today, however, we want to talk about Gisele for her amazing shoe selection. The Brazilian bombshell was spotted at the Dolce & Gabbana Fifth Avenue flagship store opening in New York wearing a pair of, you guessed it, Dolce & Gabbana heels.
She sported a pair of strappy snakeskin sandals that feature gold trimming and buckle closures. The ankle-wrap straps add a little comfort to these stiletto heels, while the sassy design keeps them fresh and fun. You can wear these heels to a formal event just as easily as you can take them to a night of fun with friends.
Gisele paired her glam sandals with a white lace dress, a white blazer, and a pair of dangling shell and glass beaded earrings that complemented her emerald green clutch (which has the same gold accents as those in her heels).
Gisele Bundchen at the Dolce & Gabbana Fifth Avenue Flagship Store Opening in New York on May 4, 2013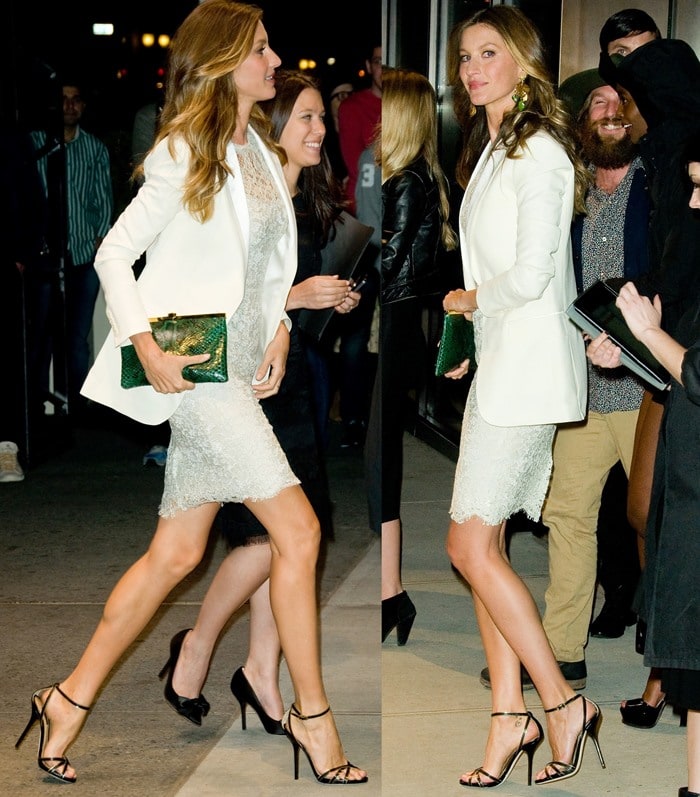 Gisele Bundchen in a white lace dress paired with a white blazer
Gisele Bundchen's feet in strappy snakeskin sandals featuring gold trimming and buckle closures
We found two neutral shades of these Dolce & Gabbana shoes at Farfetch. Both ring in at around $700, which is typical of D&G styles.
Dolce & Gabbana Strappy Sandals, $775 at Farfetch
Dolce & Gabbana Strappy Sandals, $706.27 at Farfetch
Credit: Ivan Nikolov / WENN