Jimmy Choo brings the heat this season with help from one of the world's top supermodels, Gisele Bundchen, for their Summer 2023 advertising campaign.
The key to this latest collection is freedom, and it embodies it in a bright color palette. The shoes feature rich satin and suede constructions with stunning embellishments, making them the perfect companions for your next summer getaway.
Shot in Miami by Carlijn Jacobs, the campaign is a feast for the senses with Gisele Bundchen, in all her stunning glory, at the center.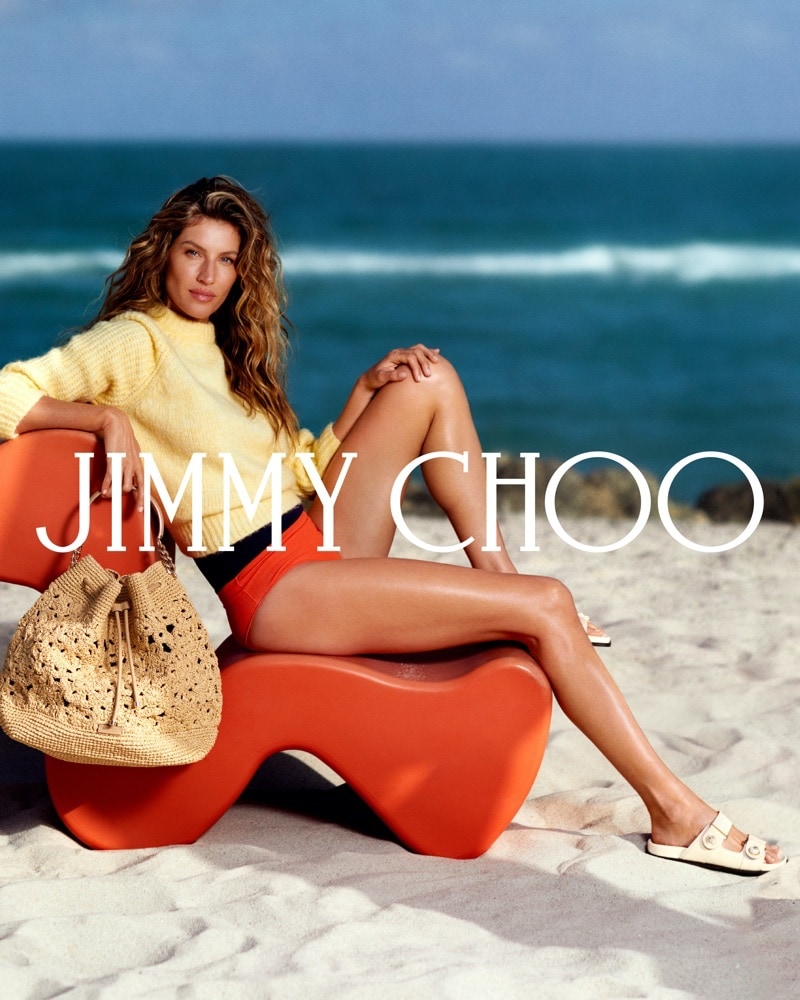 Gisele Bundchen showcasing Jimmy Choo's latest summer collection (Credit: Carlijn Jacobs for Jimmy Choo)
In a press statement, the luxury fashion house said, "Gisele embodies the glamorous, confident and daring spirit of Jimmy Choo. The epitome of a modern goddess, she commands full attention against a sun-drenched backdrop, her gaze and presence captivating and self-assured."
Styled by Imruh Asha, Giselle radiates beachside glamour in flats, sandals, and heels from Jimmy Choo's newest collection that you can shop on Farfetch and Mytheresa.
In one photo, Gisele sits on a lounge chair, displaying one long leg with her foot encased in the Saeda platform sandal in sunflower satin.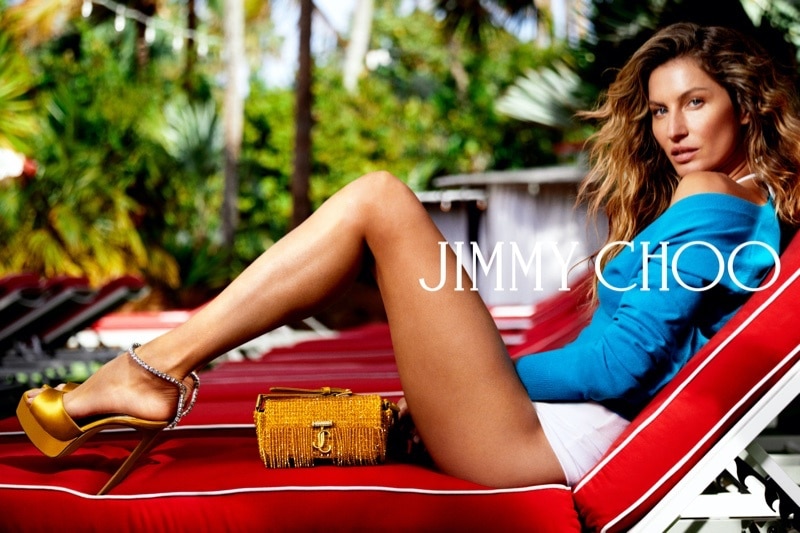 Gisele Bundchen wearing the Saeda platform sandal with crystal embellishment (Credit: Carlijn Jacobs for Jimmy Choo)
1. Saeda Platform Sandals: The Perfect Shoe for a Night Out
Crafted from gold satin, the Saeda sandals blur the lines between jewelry and footwear. They feature a single crystal suspended on a delicate crystal chain serving as the ankle strap for a striking and decadent embellishment.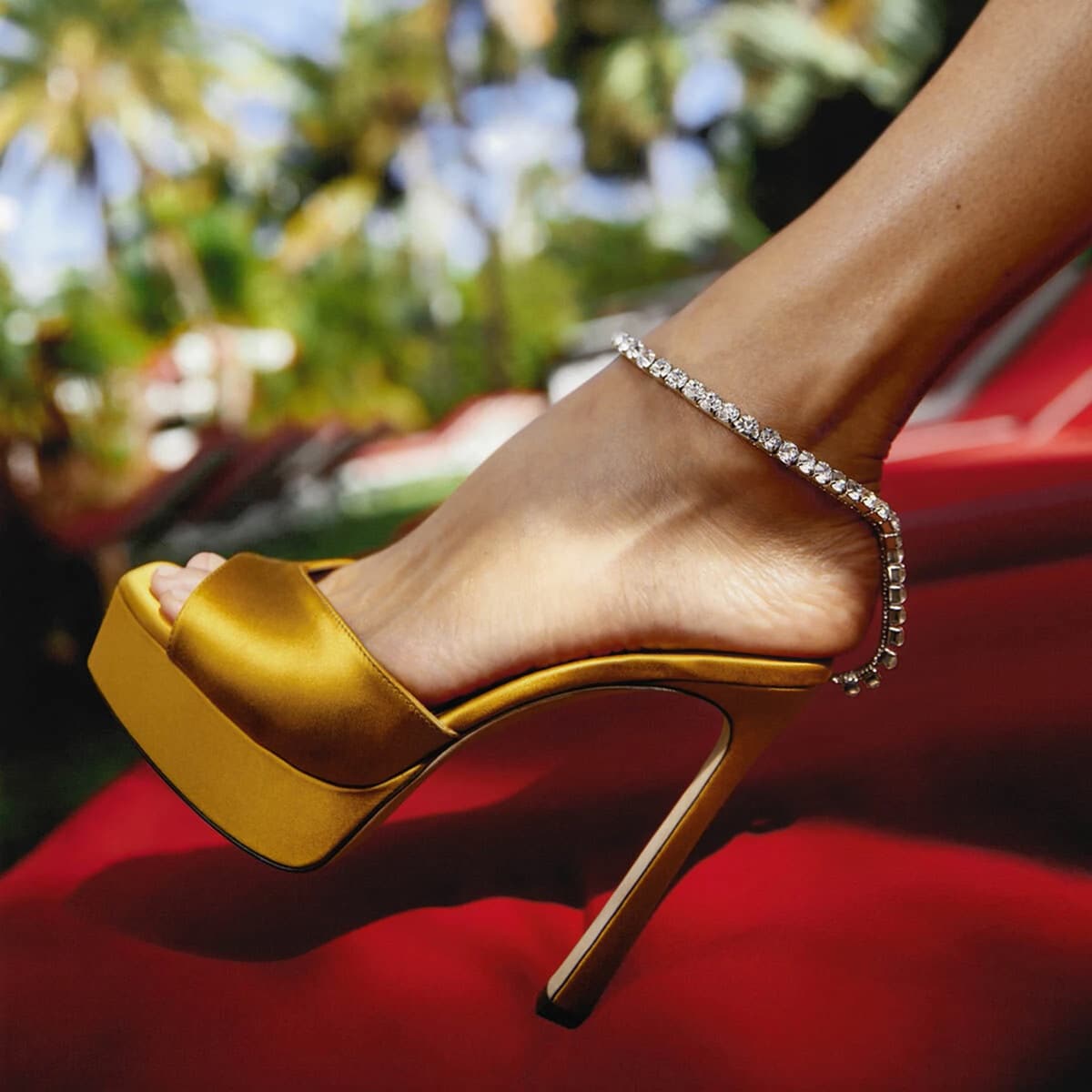 These gold platform sandals also have an open-toed design and sit on a curved 125mm heel for a stylish boost
In another photo, the 42-year-old Brazilian supermodel is wearing a yellow sweater while sitting on the sand by the beach, showcasing the Fayence sandals.
Gisele Bündchen showcases the Fayence leather flat sandals, a chic and understated pair crafted from smooth leather (Credit: Carlijn Jacobs for Jimmy Choo)
2. Fayence Sandals: The Perfect Shoe for a Casual Look
The Fayence sandals were crafted from smooth leather and feature adjustable straps embellished with pearls.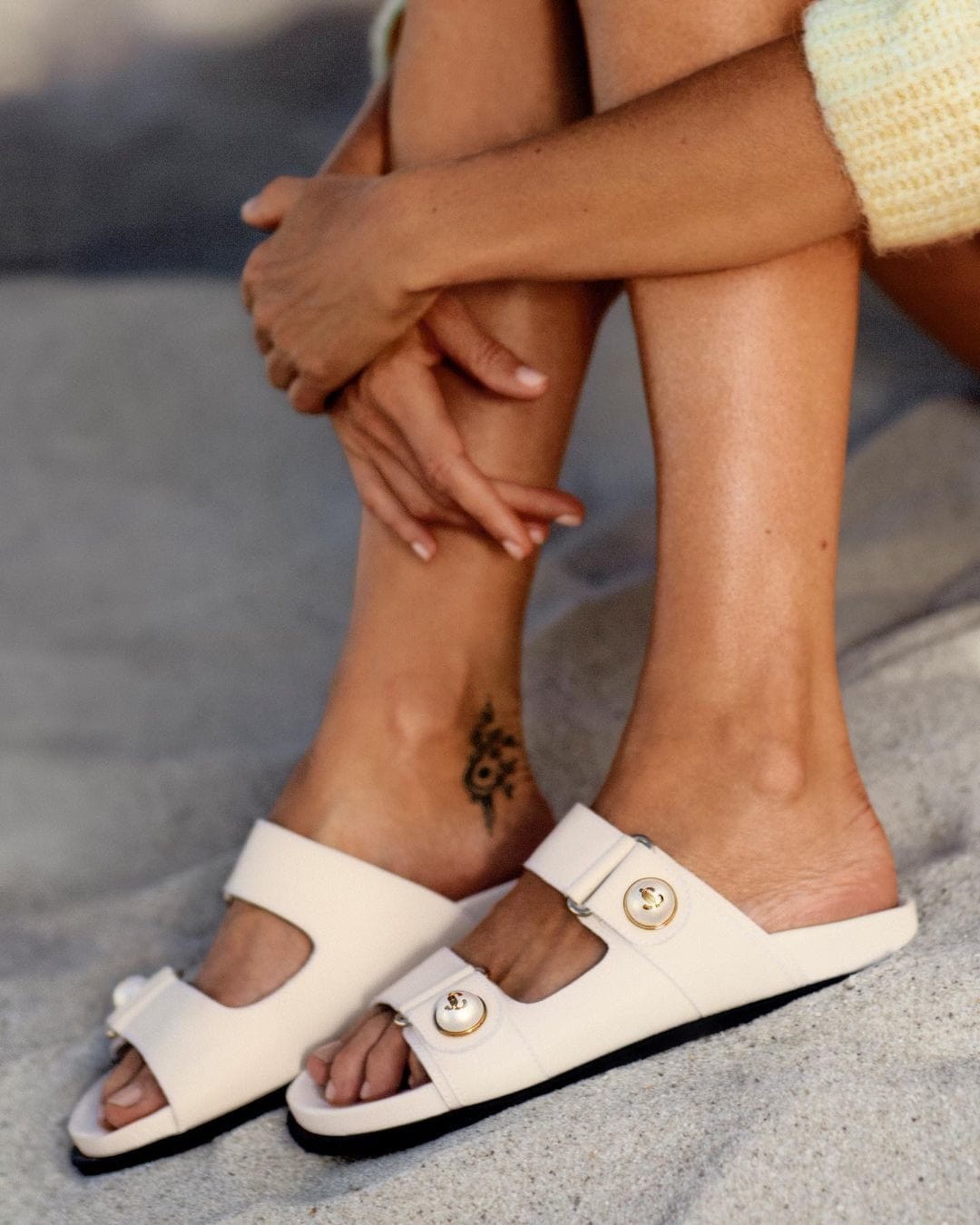 These sandals feature adjustable straps adorned with pearls and Jimmy Choo's signature emblem, adding a touch of sophistication to your weekend and off-duty wardrobe

Another photo shows Gisele Bundchen wearing a white button-up shirt over a bathing suit while her feet are clad in Cecelia sandals.
Gisele Bündchen effortlessly showcases the Cecelia cork wedge sandals, a contemporary and versatile choice for your weekend or vacation wardrobe (Credit: Carlijn Jacobs for Jimmy Choo)
3. Cecelia Wedge Sandals: The Perfect Shoe for a Day at the Beach
The perfect beach companion, the Cecelia wedge sandals were crafted from luxe nappa leather and feature classic cork wedge heels.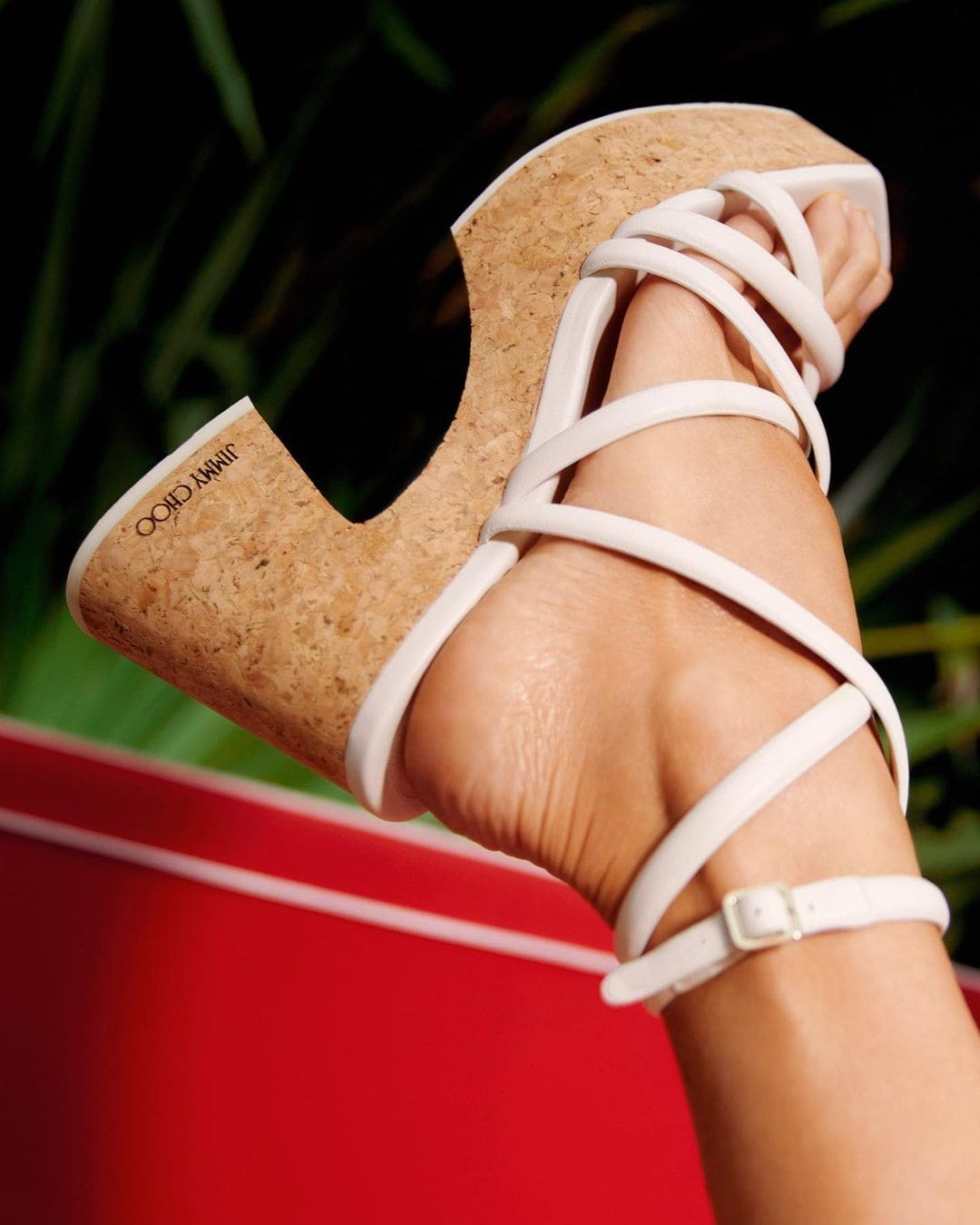 These sandals are expertly crafted from luxurious Nappa leather and feature a timeless cork wedge heel, adding a touch of classic charm

In one photo, Gisele poses while sitting on a rock, wearing a white fitted dress with a fringe hem and Indiya sandals.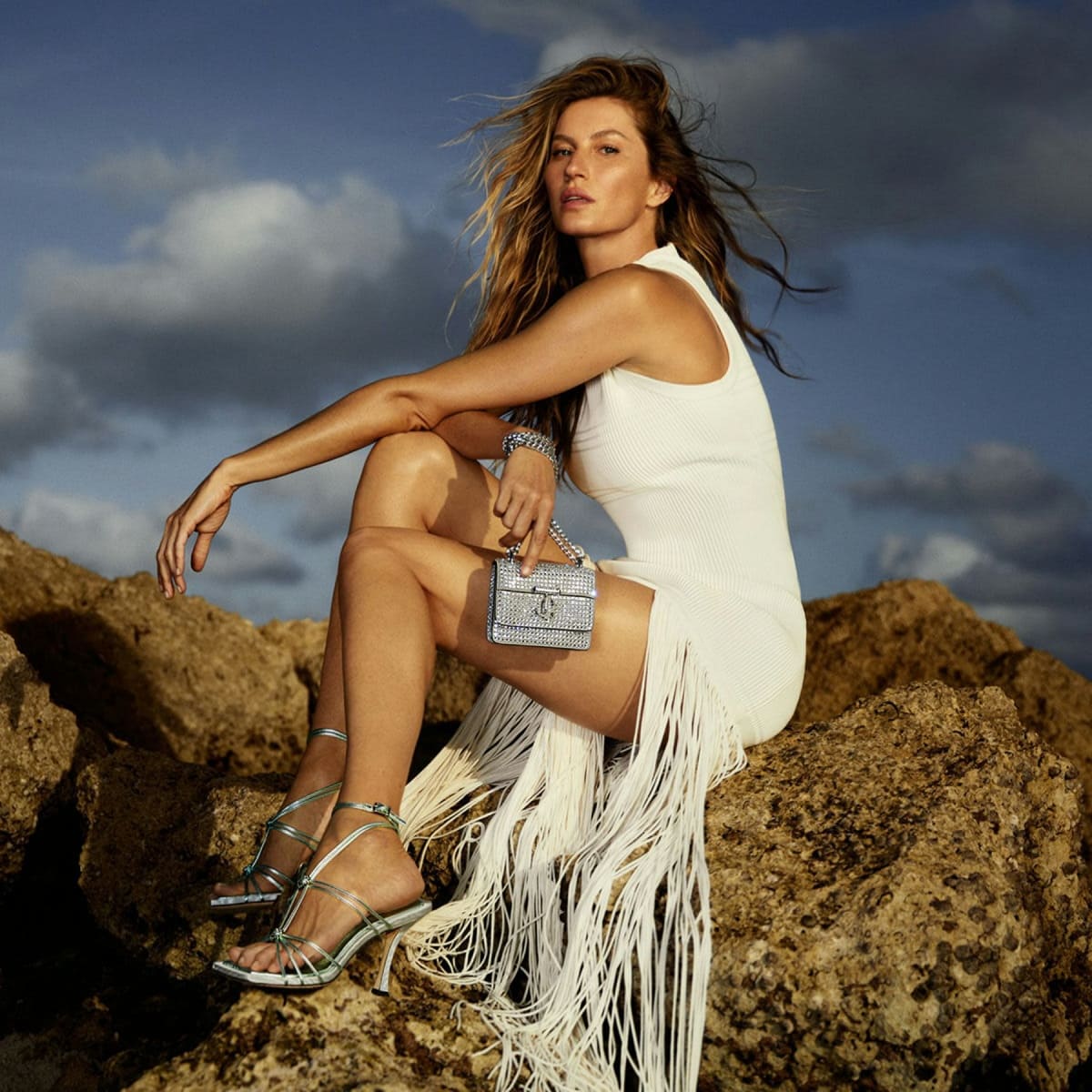 Gisele Bundchen stuns in the Indiya metallic nappa sandals, showcasing modern glamour at its finest (Credit: Carlijn Jacobs for Jimmy Choo)
4. Indiyah: Modern Glamour Sandals for Every Occasion
For a glamorous summer outing, wear the Indiya sandals crafted from metallic nappa leather. They feature slim knotted straps embellished with crystal hearts.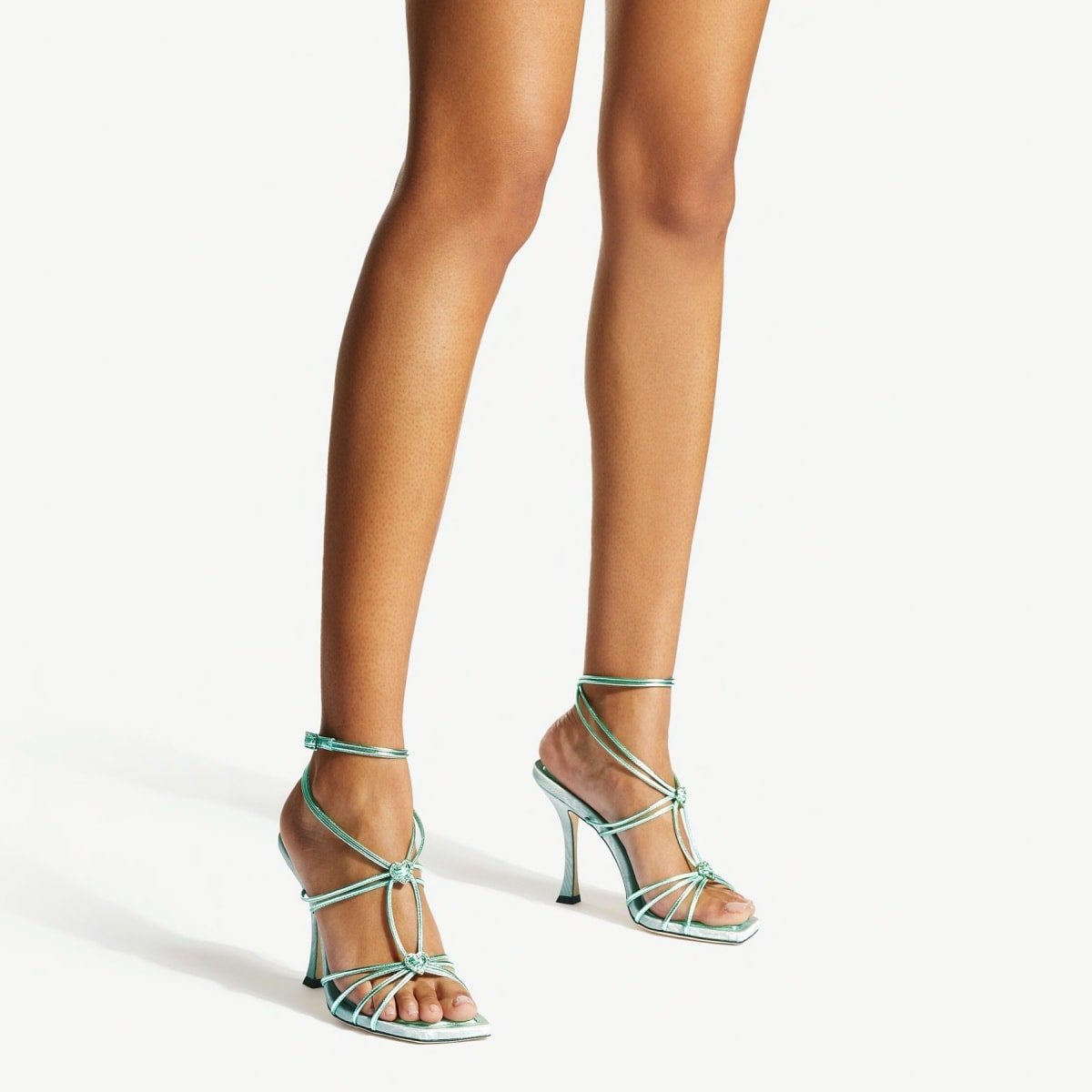 These sleek sandals also have buckled ankle straps and curved 100mm heels
Finally, Gisele Bundchen poses against a backdrop of green trees while wearing double denim and Agave flats.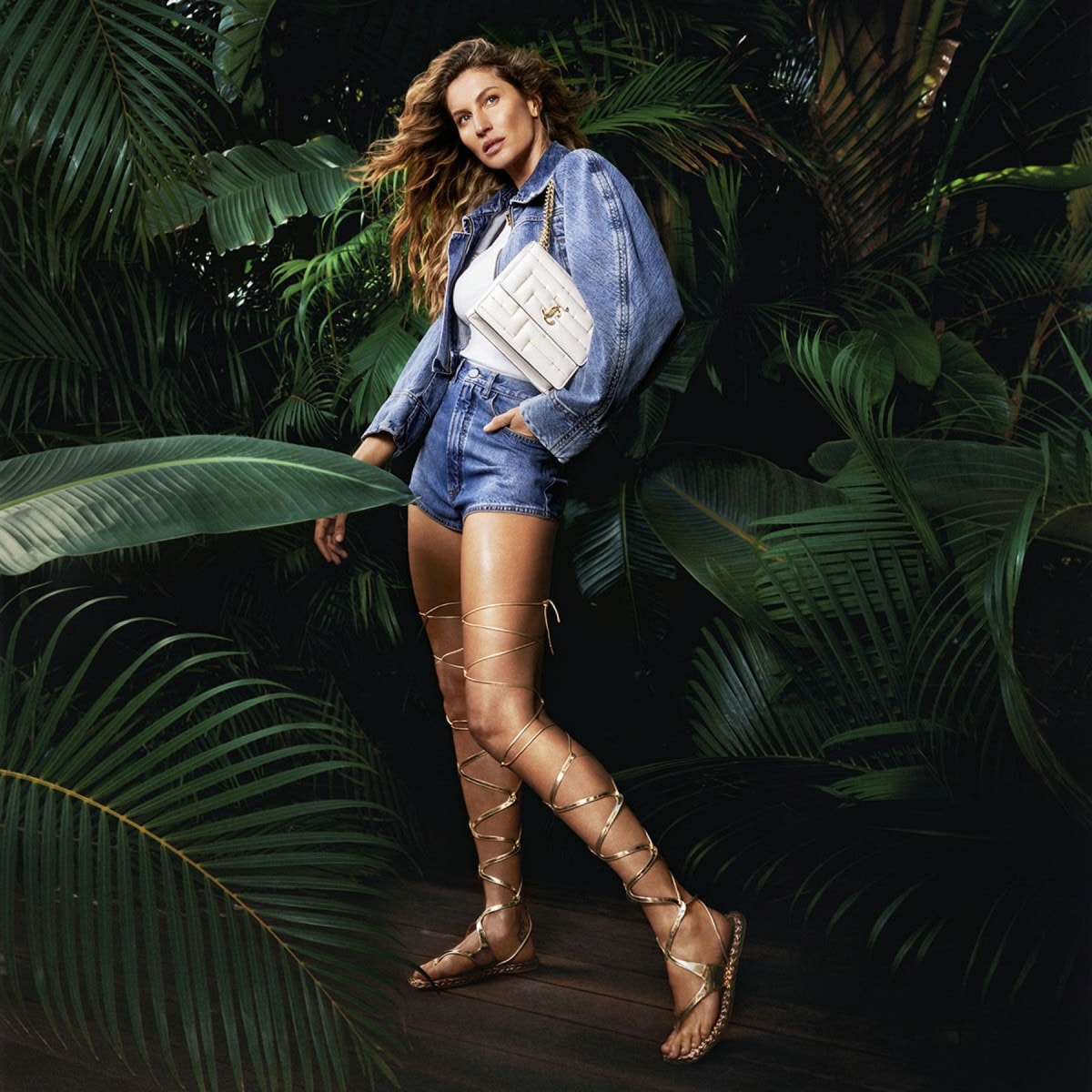 Gisele Bundchen captivates in the Agave gladiator sandals, making a bold statement in liquid metal leather (Credit: Carlijn Jacobs for Jimmy Choo)
5. Agave Sandals: A Statement-Making Piece for Your Weekend or Vacation Capsule
Crafted in gold liquid metal leather, these flat gladiator sandals are perfect for a statement-making vacation ensemble. The curved straps extend along the legs and are secured by a tie fastening.
Introducing the Agave gladiator sandals, a truly eye-catching addition to your weekend or vacation wardrobe
According to creative director Sandra Choi, "Love is always at the heart of what we do at Jimmy Choo – love for pieces, love for fashion, love for craft. Here, I took inspiration from images of young lovers, the interplay between individuals, developing emotions, expressions of feelings. It's something abstract but something spontaneous, instinctive, and instantly-identifiable."
She continued, "This Jimmy Choo collection is about creating pieces with a resonance, pieces that will make you fall in love."
Watch the teaser video below, and fall in love with Gisele Bundchen and Jimmy Choo's latest summer collection.
Introducing Gisele Bündchen as the star of Jimmy Choo's captivating Summer 2023 campaign, shot in vibrant Miami, where she effortlessly embodies the brand's glamorous, confident, and audacious spirit. Against a backdrop of sun-drenched beauty, Gisele commands attention with her… https://t.co/pGKd8t2k3o

— Your Next Shoes (@yournextshoes) May 29, 2023