The inaugural Broadway production of Rodgers and Hammerstein's 'Cinderella' officially opened on March 3 and charmed audiences from all over the world.
Curtain call for the premiere of 'Cinderella' at Broadway in New York City on March 3, 2013
The beloved fairy tale's stage version is based on the 1957 television special created by Richard Rodgers and Oscar Hammerstein II that starred the fantastic musical artist, Julie Andrews. Cinderella is played by Laura Osnes.
Laura Osnes as Cinderella in the Broadway production of the much beloved fairy tale
But I'm sure you're eager to learn about the shoes? The closeup at curtain call showed a delicate glitter pump featuring a surprisingly low heel and some touches of "glass." It's not entirely transparent as the audience sitting further away from the stage would not be able to see it.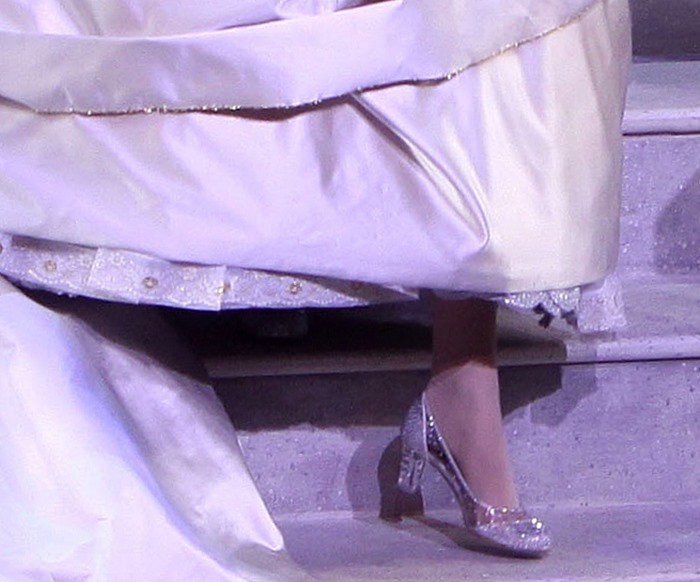 The sturdy but still pretty "glass" slipper withstanding the official opening night's performance
If you're looking to recreate or perhaps do your own staging of Cinderella, the Alice + Olivia's 'Larimore' glitter pumps are up for the job. The platform pump is covered in silver blue glitter and would stand out even underneath the layers of Cinderella's ball dress. It does have over 5 inches of stiletto heel, so the dancing may not be so pretty.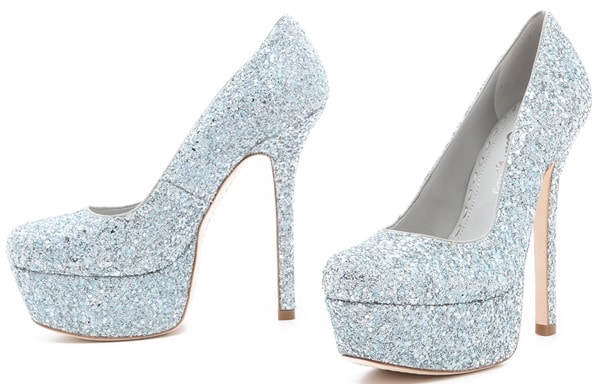 Alice + Olivia 'Larimore' Glitter Pumps, $295 at Shopbop
Sergio Rossi's 'All Over Strass' pumps feature a bigger bling — with different-sized Swarovski crystals covering the delicate pumps from heel to toe. This will definitely shine and blind even the people in the wings! However, like the 'Larimore', these pumps are not made for Broadway dancing with their pointy toes and slimmer stiletto heels.
Sergio Rossi 'All Over Strass' Pumps, $2,500 at Shopbop
One thing's for sure, with the price tag dangling from these beauties, you might think twice about losing these!
Credit: Joseph Marzullo/WENN