Lola Kirke starred in a supporting role as Greta in David Fincher's psychological thriller film Gone Girl. Based on Gillian Flynn's novel of the same title that you can buy on Amazon, the film stars Ben Affleck, Rosamund Pike, Neil Patrick Harris, and Tyler Perry.
"I always think [Gone Girl director] David Fincher is the only person who ever really saw me as I am. It seems like [I'm playing] very polarized people, where I'm either kind of square, or I'm a real jagged edge, completely. I think the real me is somewhere between those two things," she said in a March 2020 interview with Instyle.
A critical and commercial success, filming started on September 11, 2013, just days before Lola turned 23 on September 27, 2013. She was born on September 27, 1990, in London, United Kingdom, and was one day away from turning 24 when Open Girl premiered on the opening night of the 52nd New York Film Festival on September 26, 2014.
Lola Kirke had her break-through role in Gone Girl as Greta
Do you recall the gorgeous Manolo Blahnik satin evening sandal that Uma Thurman wore to the 2015 Couture Council Awards Luncheon?
Lola Kirke wore the same pair on the red carpet at the 2016 Golden Globe Awards held at the Beverly Hilton Hotel.
Lola Clementine Kirke is an English-born American actress and singer-songwriter
The singer-songwriter styled her pearly 'Chaos' ankle-wrap sandals with a Grecian draped Monique Lhuillier Fall 2015 gown.
Lola Clementine Kirke is the younger sister of singer Domino Suzy Kirke and actress Jemima Jo Kirke
How do you like her ochre-hue one-shoulder dress?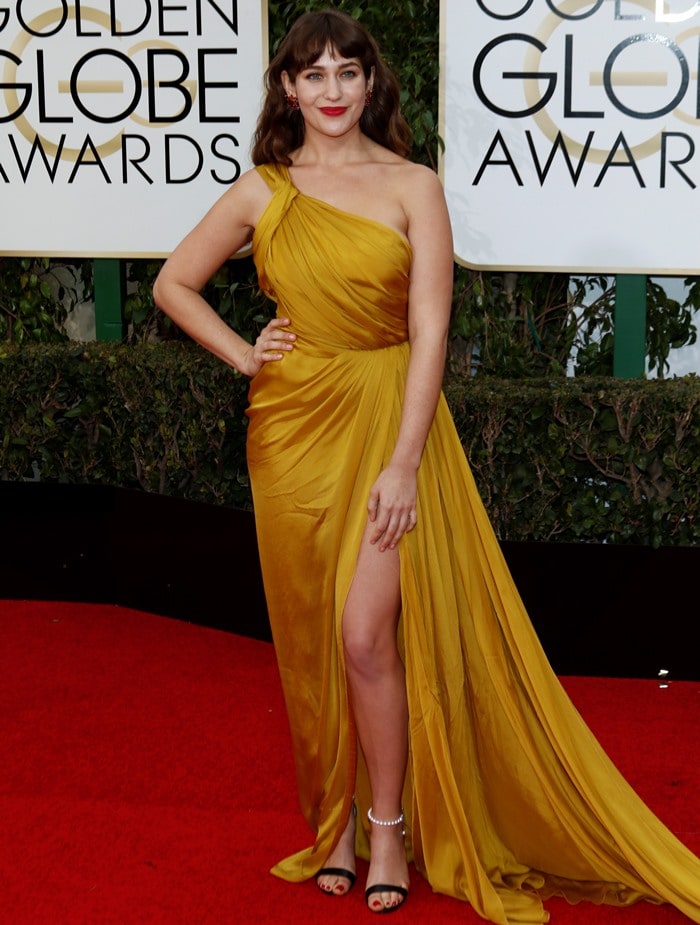 Lola Kirke in an ochre-hue one-shoulder dress at the 2016 Golden Globe Awards held at the Beverly Hilton Hotel in Beverly Hills on January 10, 2016
Lola's Manolo Blahnik sandals can be purchased at Nordstrom and Farfetch.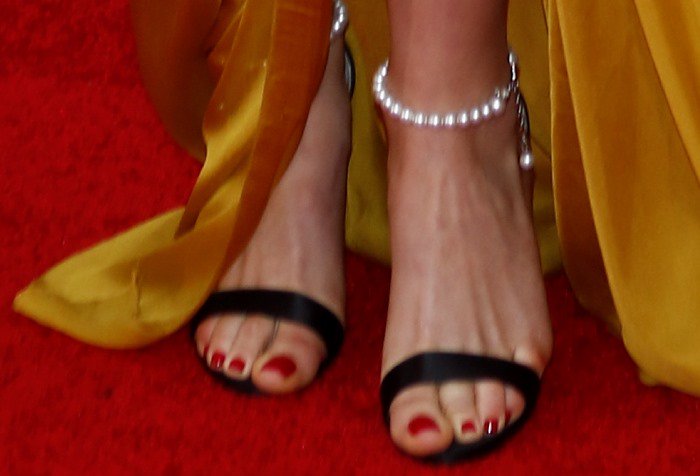 Lola Kirke shows off her sexy feet in black Manolo Blahnik sandals
They feature a pearly-beaded ankle strap with rhinestone detail and lobster clasp with an adjustable chain extender.
Manolo Blahnik "Chaos" Pearly Ankle-Wrap Sandals, $865
Credit: WENN