North West and Kris Jenner arrived at Heathrow airport in London on Monday and North was scowling directly at the paparazzi.
While granny Kris Jenner seemed happy to see the paps, North was not and pulled some adorably grumpy faces. Kim Kardashian's little daughter sported a chic mini "Yeezus Tour" bomber jacket and tiny burgundy Doc Martens boots that you can buy at Amazon.
Caitlyn Jenner's ex-wife wore an all-black ensemble consisting of a long velour coat and stylish sunglasses. The only interesting part of her ensemble were her casual grey trainers, which were quickly identified as the Kanye West x adidas Originals Yeezy 750 Boost sneakers. After being presented during Kanye West's otherwise underwhelming Yeezy New York Fashion Week show, they quickly sold out and can now only be found on eBay for several thousand dollars.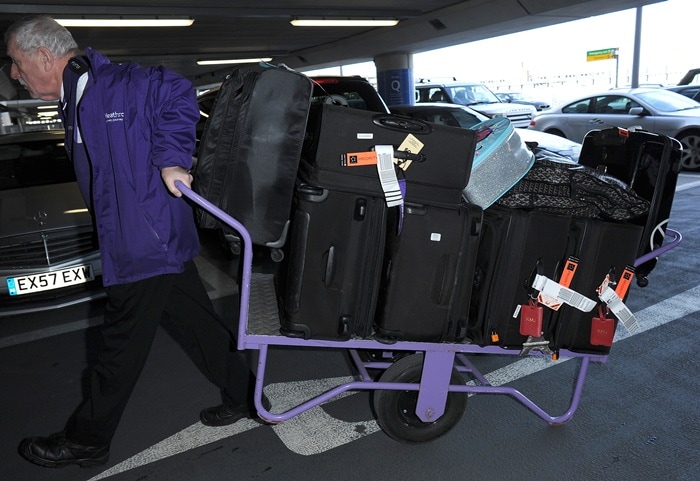 Kris Jenner, wearing a pair of Kanye West x Adidas Originals Yeezy 750 Boost, arrives at Heathrow Airport carrying baby North West, who was wearing a 'Yeezus Tour" bomber jacket in support her father Kanye on March 2, 2015
How do you like Kris Jenner's sneakers? If you're desperate to own a pair and don't want to spend a couple of thousand dollars on eBay, don't worry as our friends at Adidas are expecting to restock very soon.
Kanye West x Adidas Originals Yeezy 750 Boost, $350 at Adidas
Just two days later, Kris Jenner was spotted in Paris wearing the same sneakers with a completely different outfit. Which ensemble do you think looked best with her Kanye West sneakers?
Kris Jenner out and about in Paris on March 4, 2015
 Credit: WENN / Will Alexander