Wow, it seems like Gwyneth Paltrow is just about everywhere right now. And we were just about to say that we hardly ever get to write about her anymore. She's one of the celebs whose shoe closets we covet, so we really did notice the long gap between our features on her.
Well, now the opposite is true. With all the buzz from 'Iron Man 3', her new cookbook, the "World's Most Beautiful Woman" title, and that butt-baring dress surrounding her, we're the ones finding ourselves scrambling to keep up with Gwyneth Paltrow.
Why, just last Thursday, Gwyneth guested on The Tonight Show with Jay Leno and gave us yet another reason to blog about her. Gwyneth rocked her usual style for the appearance, but understand that Gwyneth Paltrow's "usual style" means a minimalist dress paired with a knockout, drool-worthy, statement-making pair of shoes.
Gwyneth Paltrow on NBC's The Tonight Show with Jay Leno at their studios in Burbank, California on April 25, 2013
Feast your eyes on these Jimmy Choo "Fauna" sandal booties on Gywneth's feet: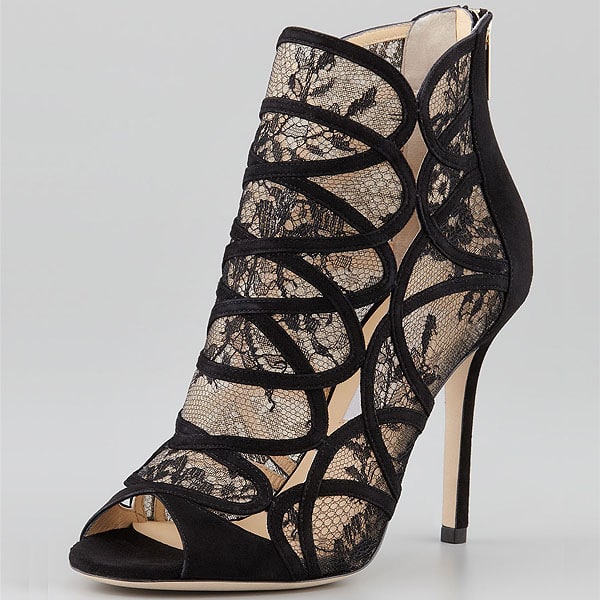 Jimmy Choo "Fauna" Lace and Suede Sandal Booties, $1,250
Jimmy Choo nails the sandal bootie style again. These sandals are available in black and nude at Neiman Marcus.
People are up in arms over whether Gwyneth's really the "most hated" or the "most beautiful," but we think we can all agree that she has one of the best shoe collections in Hollywood. Don't you think so?
Credit: WENN