Looks like Gwyneth Paltrow is becoming quite the superwoman. Aside from being an award-winning actress, a singer (Glee), and a mother of two, she is also an author of a cookbook!
Yup, Gwyneth Paltrow has penned a cookbook entitled "My Father's Daughter: Delicious, Easy Recipes Celebrating Family & Togetherness" that has received rave reviews on Amazon.
She appeared on "Good Morning America" last Wednesday to promote the book, as well as talk a bit about her return to "Glee".

Anyway, we're here to talk about her today because the outfit AND shoes she wore to the GMA show caught our attention. The colors in her talk show ensemble were so unusual that we couldn't help but stare at her ensemble.
The dress was in a soft, dusty, greyish, brownish, pinkish color and she paired it with an equally soft, dusty, light pink silk jacket. It was a combination that was surprisingly cool to look at.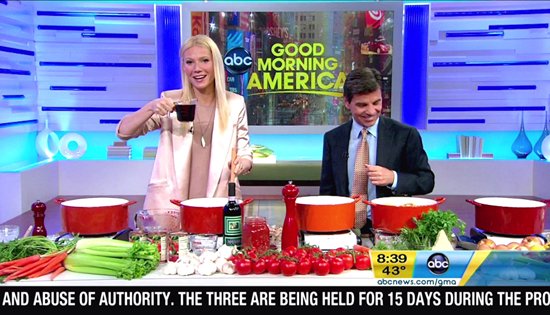 Gwyneth Paltrow appears on ABC's 'Good Morning America' where she promotes her new cookbook 'My Father's Daughter' and cooks an Italian dish on April 13, 2011

And then of course, as we looked further down, we couldn't help but notice her really sexy tan T-straps, which had gold plates on the heel cups. Unfortunately, we were not able to get a photo of the shoes!
According to our sources, she sported a pair of "Clonia" sandals from Sergio Rossi. We couldn't find the exact same pair online. However, we did find a python version at Farfetch:
Sergio Rossi Black Multicolor Python Clonia Sandals, $1540
Oh, and check that out. The gold does not just cover the heel cup, it covers the whole heel too!