Gwyneth Paltrow made a daring red carpet comeback at The Daily Front Row's 7th Annual Fashion Los Angeles Awards Sunday, just weeks after a jury cleared her of liability in a skiing accident in Utah in 2016.
The 50-year-old businesswoman showcased her flat abs in an elegant blush nude co-ord set from her brand, G. Label by Goop.
It was composed of flesh-toned wide-leg trousers and a matching bandeau designed with sheer decolletage, a high neck, and bishop sleeves.
Gwyneth Paltrow attends the Daily Front Row's Fashion Los Angeles Awards at the Beverly Hills Hotel in a nude co-ord from her G. Label by Goop clothing line on April 23, 2023 (Credit: Media Punch / INSTARimages)
G. Label by Goop, known for its practical designs for modern women, was honored with the event's Powerhouse Brand of the Year award.
Paltrow launched the fashion line in 2016 to provide consumers with "life-bettering essentials that stand the test of time and trend." It's clearly stated on their website that G. Label is not fast-fashion.
Gwyneth Paltrow wears a bandeau crop top with sheer bishop sleeves and accessorizes with Anita Ko diamond earrings (Credit: Media Punch / INSTARimages)
She later took to Instagram to thank the Daily Front Row again for the honor.
"G. Label by goop is probably the vertical nearest to my heart at goop. Thank you for the wonderful recognition of our growing brand," she wrote in the caption.
View this post on Instagram

Paltrow kept the look classy with several pieces of Anita Ko jewelry. In addition to her natural pearl drop earrings, she wore a $3,475 pair of arc diamond studs, a $2,975 pave diamond heart ear cuff, and a $5,950 pair of flat pave diamond huggies.
Gwyneth swept her blonde tresses in a slick bun and wore a full face of makeup, with mascara and bronzed eyeshadow to highlight her eyes.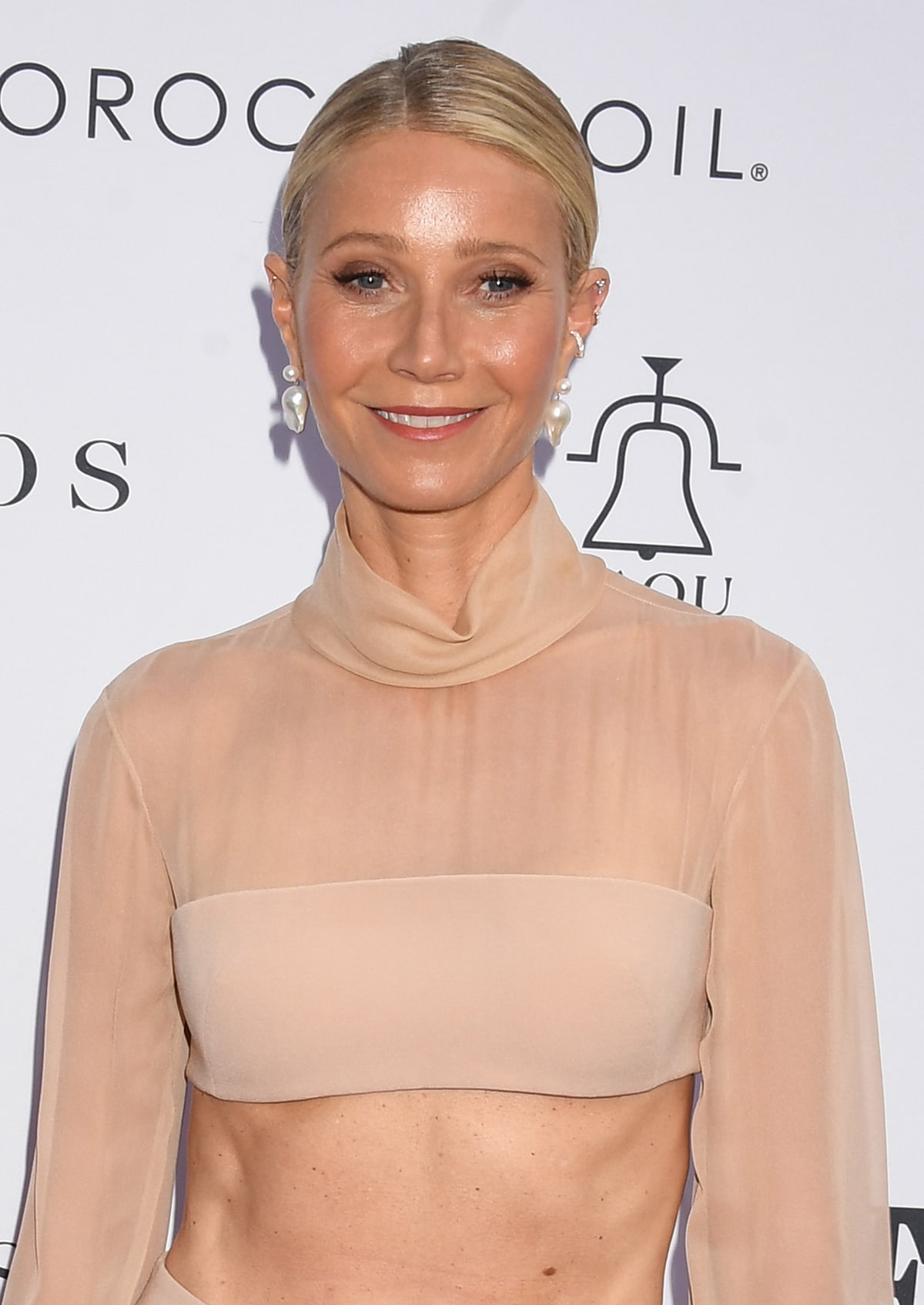 Gwyneth Paltrow sweeps her tresses in a slick bun and wears mascara, bronzed eyeshadow, and pink lipstick (Credit: Media Punch / INSTARimages)
Gwyneth Paltrow's Ski Accident Trial
On March 30, a Utah state jury ruled that Gwyneth Paltrow was not liable for a 2016 ski accident involving retired optometrist Terry Sanderson.
Sanderson accused Paltrow of crashing into him while skiing at Deer Valley Resort seven years ago, claiming that the accident left him with four broken ribs and severe brain injury.
Paltrow took the stand to testify, saying that she and her children were taking a ski lesson that day when Sanderson "struck" her in the back.
"He struck me in the back, yes, that's exactly what happened," she said.
She added that she thought it was "sexual assault" as she felt a "body pressing against me," adding that "he was groaning and grunting in a disturbing way."
Sanderson initially sued the actress in 2019 for $3.1 million in damages, but after a judge dismissed the suit, he refiled his complaint seeking more than $300,000.
Meanwhile, Paltrow countersued for $1 and legal fees, proving it wasn't about money. She claimed that Sanderson struck her with a "full body blow," causing the collision and that he was trying to exploit her fame and wealth.
"I felt that acquiescing to a false claim compromised my integrity," she said in a statement.