They've been friends even before their modeling career skyrocketed to new heights. During the pandemic, Kendall Jenner and Hailey Bieber have been making the most of their downtime by keeping up with each other.
On Friday, Hailey and Kendall were spotted on a smoothie run following their workout session at a West Hollywood gym.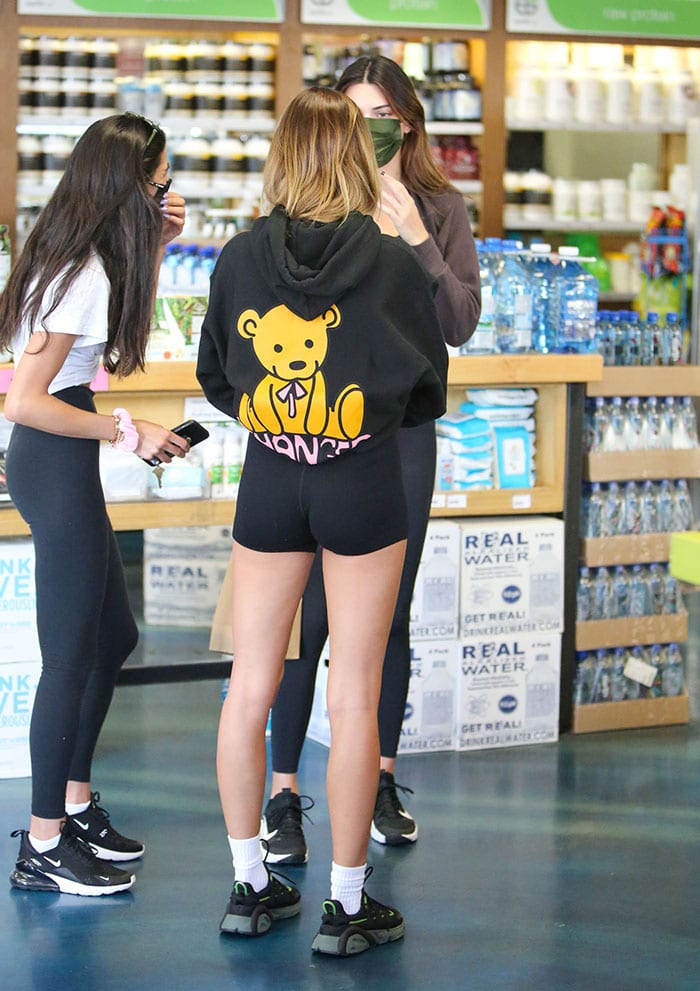 Hailey Bieber and Kendall Jenner grabs smoothie after their workout session in Los Angeles on November 6, 2020
Kendall, who celebrated her 25th birthday on Tuesday, once again flashed her toned abs and arms in a Nike Swoosh racerback sports bra and matching leggings.
Wearing her brunette hair down with a center parting, Kendall went bare-faced and stayed protected against COVID-19 with a dark green face mask.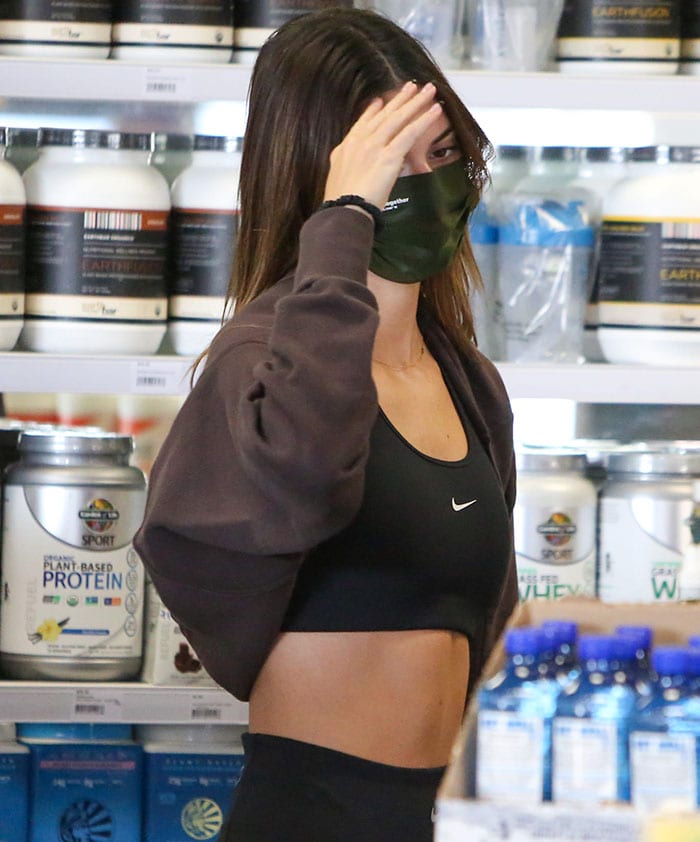 Kendall Jenner shows off her flat abs in Nike sports bra and leggings
She teamed her athleisure look with a cropped black cardigan and finished off her outfit with Nike Free Metcon 3 shoes.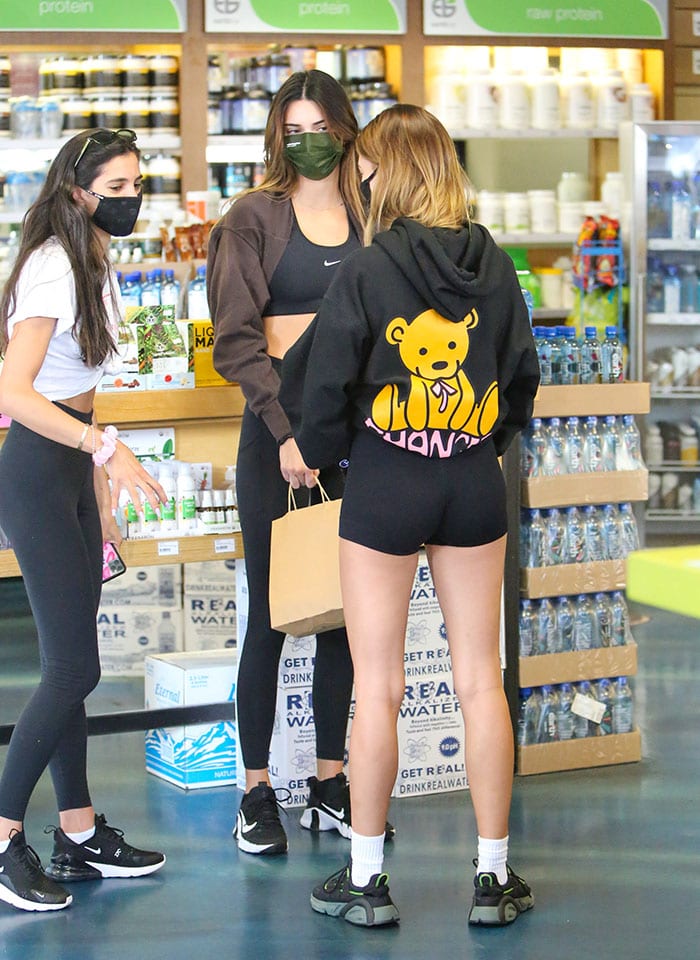 Hailey Bieber and Kendall Jenner showcase their toned, endless legs
Looking like her husband's walking advertisement, Hailey donned an oversized black hoodie with the Changes bear logo printed at the back. It's part of Justin Bieber's merch for his fifth studio album, Changes.
Going for the pantless look, the 23-year-old model paired her hoodie with black spandex shorts that showcased her long, toned legs.
She then wore a black face mask and completed her sporty-casual look with white socks and a pair of the Adidas Lxcon Dart Frog shoes, which she also wore last week.
Hailey Bieber wears husband Justin Bieber's Changes hoodie merch
Their outing came just a day after Hailey shut down pregnancy rumors. On Thursday evening, Justin Bieber's wife took to her Instagram story to tell her followers that she is not pregnant.
She said: "Since I know you guys were about to break your lil story Us Weekly, I'm not pregnant."
"So please stop writing false stories from your "sources" and focus on what's important aka the election," she added.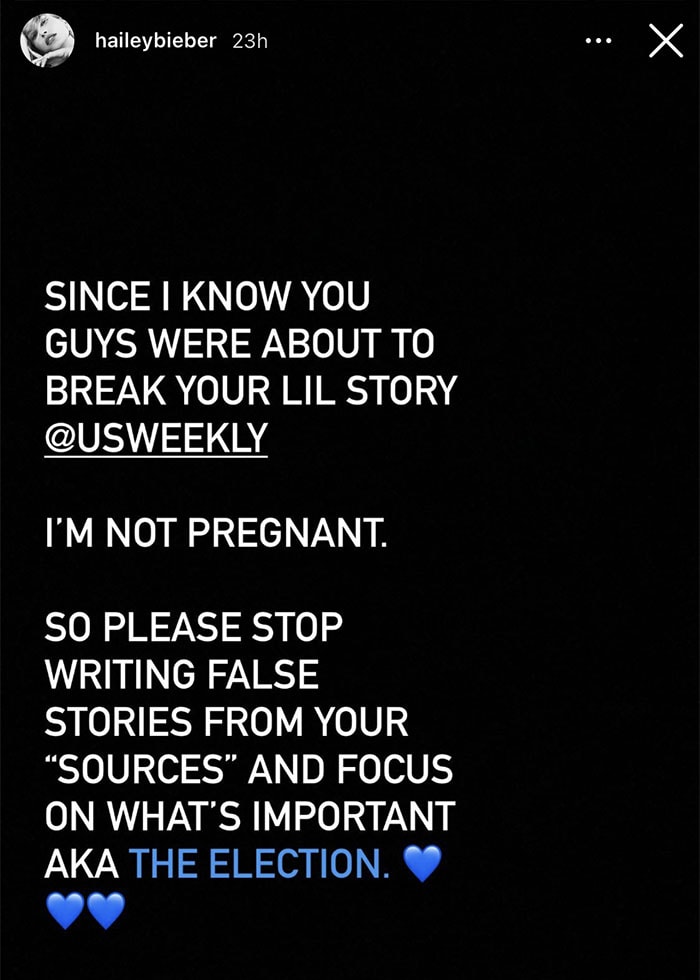 Hailey Bieber shuts down pregnancy rumors via an Instagram story on November 5, 2020
How Did Hailey Bieber and Kendall Jenner Became Friends?
While they've been friends since early 2010, Kendall revealed that her sister Kylie was best friends with Hailey first.
"[Hailey] was actually best friends with [my younger sister] Kylie, and I was good friends with her cousin Ireland. Hailey lived in New York, and whenever we were there, we would hang out with her… from then on, she was my homie."
She added: "At first, Kylie was mad; I had to bring them back together and be like, 'No, it's okay, guys.' But it's all good; that's our love story."
Credit: Instar / WENN