Few designers so effortlessly captured a moment in time as Hervé Léger did with the bandage dress. It's impossible to see the silhouette without instantly picturing Jennifer Love Hewitt or Kim Kardashian wearing it in the early season of her family's reality TV show.
While Hervé Léger was founded in 1985, the Parisian brand is synonymous with the figure-hugging trends of the early 2010s. If you've ever worn a bandage dress, you can thank Hervé Léger for making it mainstream.
Herve Leger is a Parisian brand that has become synonymous with figure-hugging bandage dresses
It's easy to be confused between Hervé Léger, the brand, and the original designer. Herve is known throughout the fashion industry by three different names, reflecting the brands he represented.
We're sharing everything you need to know about Hervé Léger and answering the most popular questions about Herve Peugnet's fashion label.
Who was Hervé Léger?
Hervé Léger was launched by Herve Peugnet, who later changed his name to Leger on the advice of Karl Lagerfeld, who suggested his surname would be too difficult for an American clientele.
His career began in hairstyling before a job at a Chloe fashion show sparked an interest in fashion. Herve began by designing hats and bags before a chance meeting with Karl Lagerfeld led him to become the designer's assistant.
He would go on to work for Fendi, Chanel, Lanvin, and Diane von Furstenberg.
View this post on Instagram

While Hervé Léger was starting to rise in popularity, Peugnet gained international fame after reinventing the Chanel silhouette as the brand's lead designer before Karl Lagerfeld joined.
The pair had previously worked at Fendi and Chanel, with Lagerfeld becoming a major muse for the Hervé Léger brand.
Who is Hervé Léger?
The French fashion house was founded in 1985 by designer Hervé Peugnet, also known as Hervé L. Leroux. Karl Lagerfeld advised Peugnet that his surname Peugnet would be too difficult for Americans to pronounce, and instead suggested the surname Léger.
How to pronounce Hervé Léger
If you're not sure how to say Hervé Léger, you're not alone. It is pronounced air-vay lay-jay.
Who owns Hervé Léger?
The brand was acquired in 1998 by the BCBG Max Azria Group from the Seagram's Group.

In 2017, Marquee Brands acquired Hervé Léger from BCBG Max Azria and then sold it to Authentic Brands Group, which also owns Juicy Couture and Tretorn.
Where to buy Hervé Léger
You can buy perfumes on Amazon. Dresses and gowns are available at Revolve and SSENSE.
Peugnet famously altered the Chanel silhouette by evolving it into a more contemporary look with a shorter jacket, tighter skirt, higher heels, and larger jewelry. He began working out of a small studio in Rue du Pelican in Paris, making dresses and hats before launching the iconic bandage dress in 1990.
The fashion critic Suzy Menkes described Leger's early collections as "a recipe for the Nineties" with designs that are "molded…to the female form, rather than draping and cutting it".
Hervé Peugent began his career as a hairstylist before working for various fashion houses and eventually launching his own brand (Credit: Lev Radin / Shutterstock)
Herve Peugent would later become known as Hervé Léger and eventually by a third name, Herve Leroux, after selling his brand to BCBG. The designer was forced to change his name after losing commercial rights to 'Hervé Léger.'
Karl Lagerfeld was once again involved in the name selection. He reportedly told Herve to "call yourself Leroux because your hair is red."
Herve Leroux continues to trade today, with Jocelyne Caudroy acting as its current Artistic Director following the death of Leroux in 2017.
What is Hervé Léger Known For?
Hervé Léger is synonymous with its signature bandage dresses that the brand describes as "celebrating the female form."
Peugnet launched the iconic "body-con" dress in 1985 alongside Azzedine Alaia. What made the dress different was that it used fabrics typically used for undergarments to mold and shape the dress to the wearer's natural silhouette.
Hervé Léger pioneered the creation of bandage dresses or the body-con (body-conscious) dresses
Hervé Léger is synonymous with its body-conscious aesthetic, following similar silhouettes to those used by other designers in the '80s, including Thierry Mugler and Azzedine Alaia. The Hervé Léger dresses are famously knitted instead of woven.
The New York Times described the iconic silhouette as "elastic straps of fabric sewn together to make girdle-tight dresses," creating the illusion of an hourglass figure.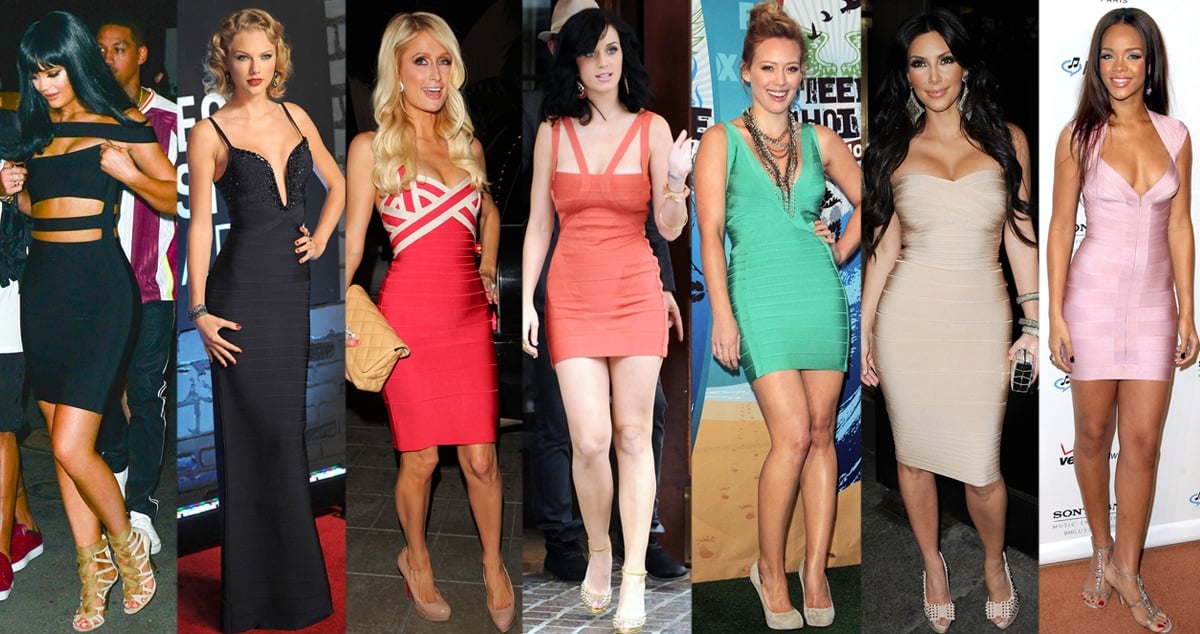 Celebrities, including Kylie Jenner, Taylor Swift, Paris Hilton, Katy Perry, Hilary Duff, Kim Kardashian, and Rihanna, have been spotted wearing iconic bandage dresses by Hervé Léger (Credit: INFphoto / ACE / Elder Ordonez / INFevents / Humberto Carreno / startraksphoto / Jen Lowery)
The Hervé Léger bandage dress became one of the first 'it' styles of the 2000s. It was impossible to escape the silhouette in the late 2000s as it appeared everywhere, from red-carpet events to reality TV. While Peugnet had moved on from the brand, his iconic bandage dress remained its signature.
Joanne Froggatt, Miranda Kerr, Cara Santana, Nicki Minaj, Carmen Electra, and Vivica A. Fox are just a few of the celebrities who made the bandage dress their go-to style.
Ownership of Hervé Léger
Hervé Léger was purchased by BCBG Max Azria in 1998 from the Seagram Group. The brand was the first French couturier to be purchased by an American designer.
Azria would go on to relaunch Hervé Léger in 2007 with a capsule summer collection of his own designs.
Tunisian-Jewish-born American fashion designer Max Azria, founder of clothing label BCBG Max Azria, acquired French couturier Hervé Léger in 1998 (Credit: INFevents)
After selling Hervé Léger to BCBG, Peugnet launched another fashion brand, Herve L. Leroux.
In 2017, Hervé Léger was sold to Authentic Brands Group after being purchased by Marquee Brands from BCBG Max Azria the same year. The parent company also owns Juicy Couture and Tretorn.

Hervé Léger is now owned by American brand management company ABG (Authentic Brands Group)
Juul Nielsen is currently Hervé Léger's Creative Director. He is revisiting the brand's original Parisian roots with an effortless, modern design focusing on a fresh color palette.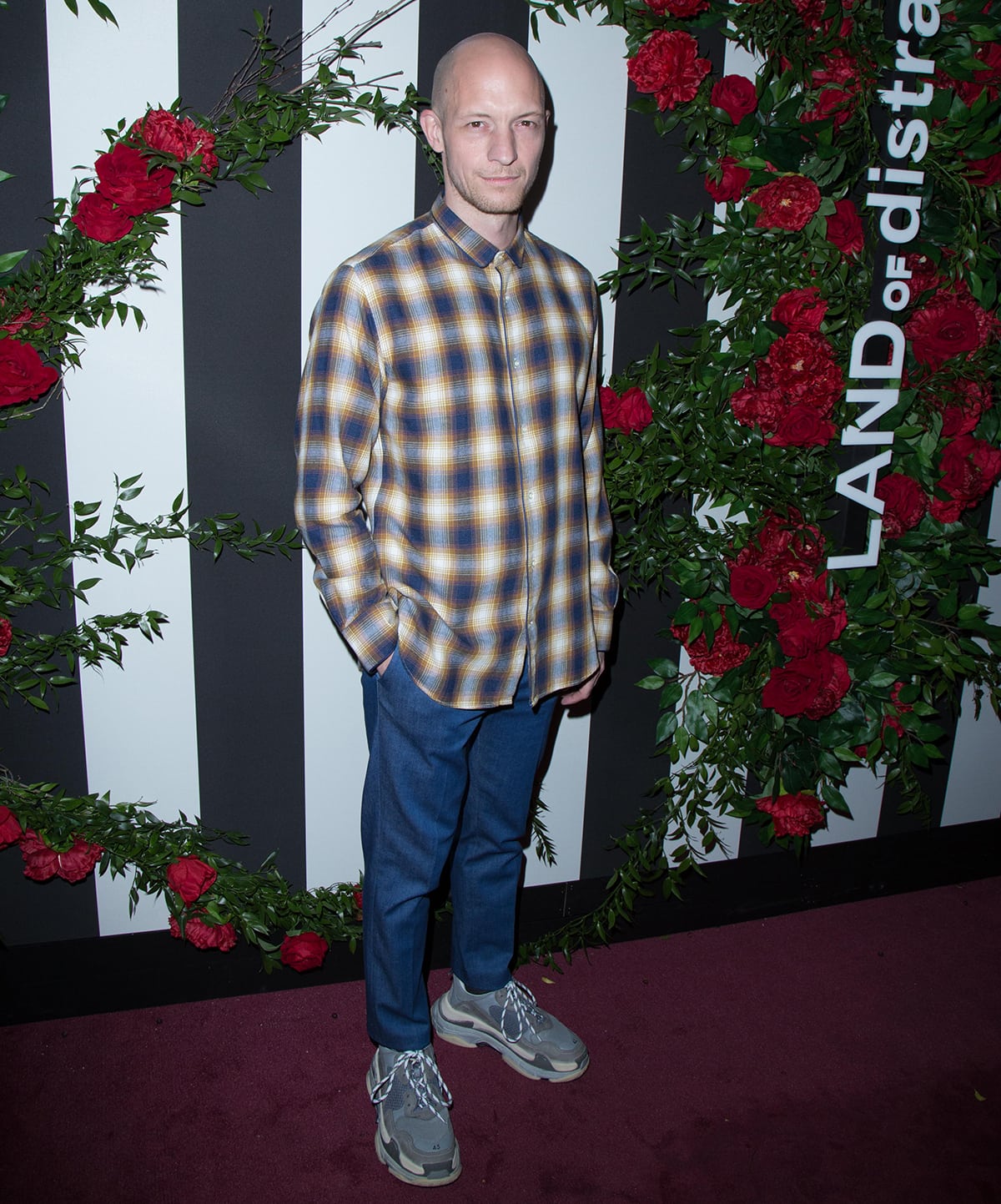 New York City-based designer Christian Juul Nielsen is currently the Creative Director of Hervé Léger (Credit: The Photo Access / Cover Images)
Where to Find Hervé Léger Stores
Hervé Léger has several stand-alone boutiques in Florida, Moscow, and Las Vegas. You'll mainly find Hervé Léger available at Bloomingdale's across the United States. The brand is also available through its official website.
You can also purchase Hervé Léger from popular luxury e-commerce stores, including Revolve, Farfetch, and SSENSE.
How to Pronounce Hervé Léger
Hervé Léger is pronounced as "air-vay lay-jay."
Where are Hervé Léger Products Made?
While Hervé Léger products come with a luxury price tag, most of the brand's clothing is made in China.
The fashion label has followed the trend of exporting manufacturing to Asia. Its iconic dresses are made with eco-friendly recycled yarn and continue to be expertly knitted, not woven.
Although Hervé Léger dresses come with a luxury price tag, the brand manufactures its clothing in China
How Expensive is Hervé Léger?
Hervé Léger sits at the mid-tier of luxury fashion. You can expect to pay around $700 for a simple classic dress from the brand. Popular styles start from $590 and range to $1,200 for evening wear.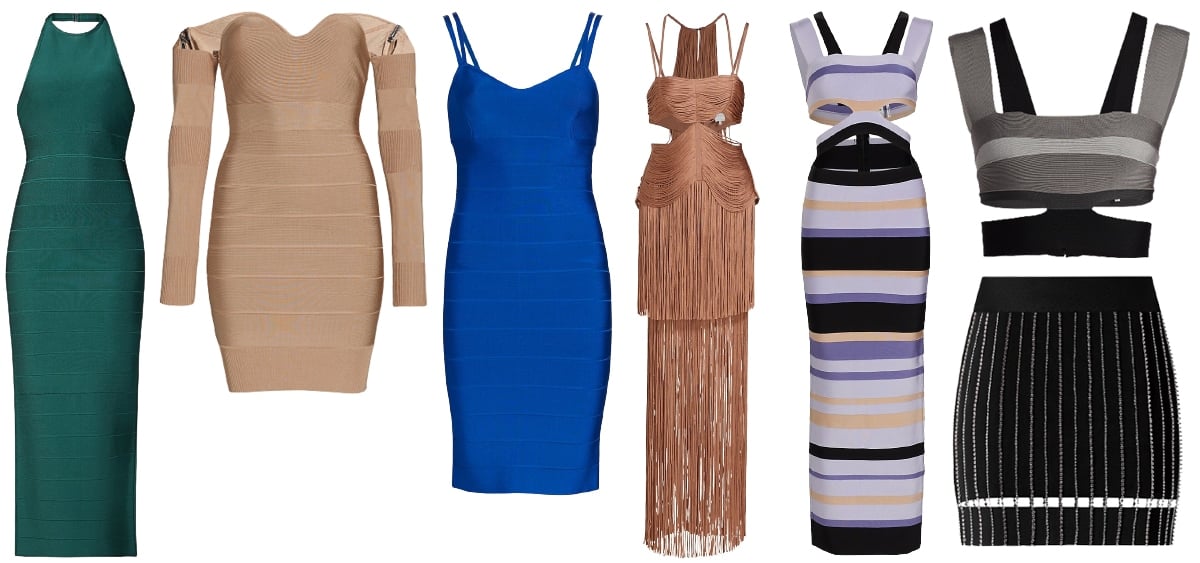 Hervé Léger dresses are priced between $700 for simple styles and $1,200 for evening wear
It's worth looking out for Hervé Léger in seasonal sales. The brand commonly discounts its non-permanent colors, including its most popular styles. A more affordable alternative is the brand's diffusion range, Herve by Hervé Léger. Its everyday athleisure ranges from $155 to $325.
The classic Hervé Léger bandage dress has been making a comeback over the last year. It's time to rediscover your love for the silhouette or splurge on a bandage dress that will give you the elusive hourglass silhouette.