Hiking, heels, and shapewear are not 3 words we normally string together. But let's be honest, when it comes to "The Truth Hurts" singer Lizzo, nothing is normal!
It gets even better, these aren't ordinary heels by a long shot, they are Pleaser's 7-inch transparent "Revolver" stripper heels, we don't think they will be slapping the "Just do it" slogan on them any time soon. You can find them on Amazon.
View this post on Instagram
You may wonder what you should pair those 7-inch heels with when popping out for a quick hike. Don't worry, Lizzo's got you covered – her new range of shapewear, of course.
Accessories? Obviously, a diamond-embellished choker and some diamond rings. And now you are ready to hit Runyon Canyon, one of LA's popular hiking trails.
Coming Soon – Albums and Shapewear
Believe it or not, this is exactly what Lizzo wore on her hike – well, we are not 100% convinced that any actual hiking occurred. Lizzo was promoting her soon-to-be-released fourth studio album, as well as her latest shapewear line, Yitty.
In an Instagram video, the Grammy winner was seen sitting on a dirt-covered hill, in all her glory as she read, "Why I Love Men: The Joys of Dating," a book by NY Times bestselling author J.J. Smith that you can buy on Amazon.
With the caption, "Pre-save 'About Damn Time' dropping 4/14." And if the short teaser she played on Instagram is anything to go by, this is going to be another hit.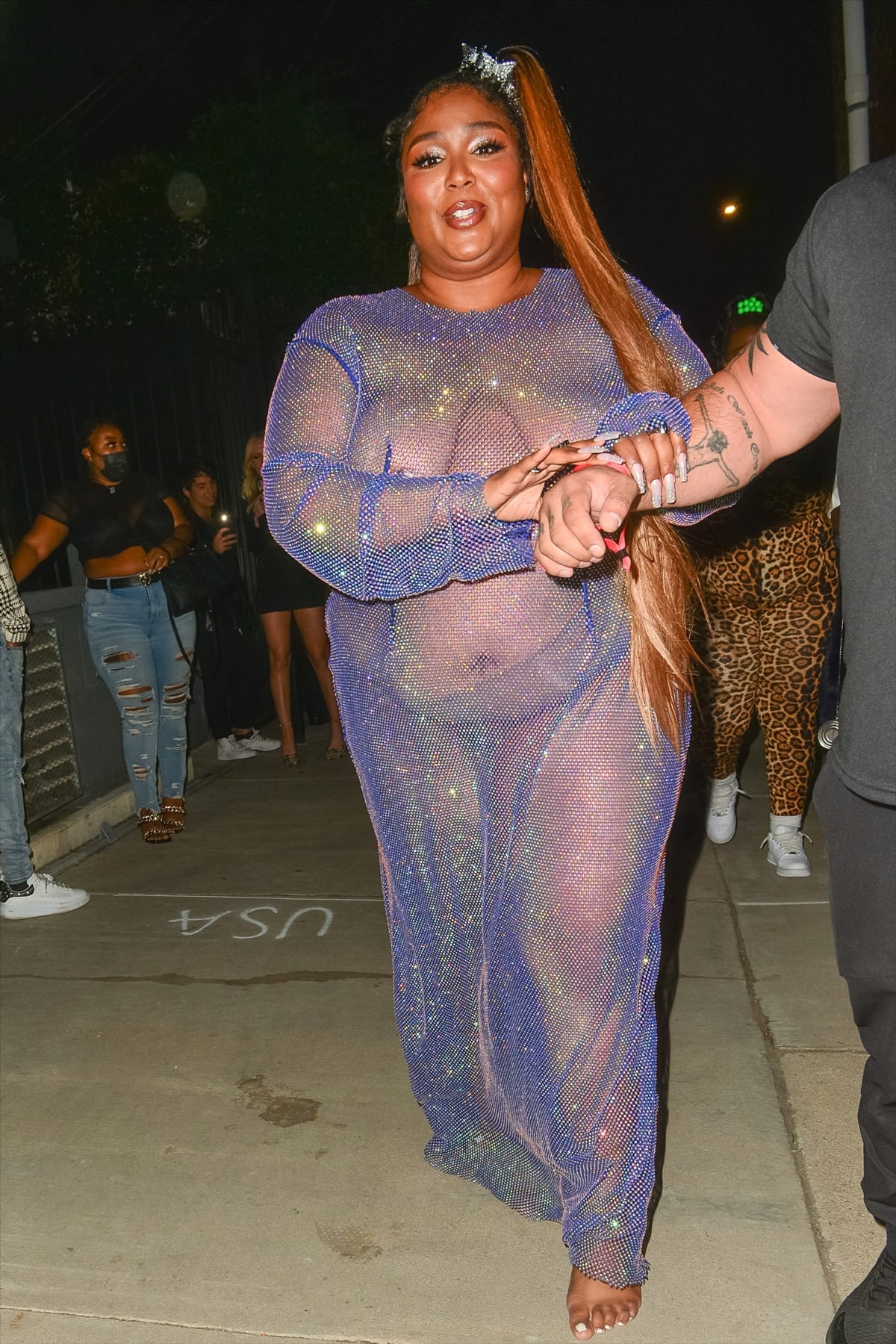 Lizzo wears a sheer blue dress leaving Cardi B's dance-hall-themed 29th birthday party at River Studios in Los Angeles on October 11, 2021 (Credit: BauerGriffin / INSTARimages)
In the recent promotion, Lizzo modeled a pale pink workout combo of bra and shorts from the Yitty line.
The brand has been described as "a no-shame, smile-inducing shapewear designed for all body types," and is available in body inclusive sizes 6X to SX. Lizzo made sure the largest size was listed first.
In a recent statement she said, "Instead of thinking about size in this linear way, we're thinking about it on a spectrum where everyone is included. Everyone's size is just their size. It's not high, it's not low. It's not big, it's not small. It's just your size."
The shapewear will be available on April 12.
Watch Out for the Big Grrrls
What do you do when you're looking for plus-sized dancers? Lizzo realized when looking for backup dancers that she wouldn't be able to take the usual route of hiring through an agency.
According to Lizzo, "Girls who look like me just don't get representation." And the idea for the series was born.
Watch out for the Big Grrls premiered last month on Amazon Prime and will have you glued to your screen as you follow Lizzo and her aspiring dancers through this eight-episode series.
Lizzo's new dance competition series Watch Out for the Big Grrrls is available for streaming on Amazon Prime Video (Credit: Amazon Prime Video)
The season kicks off with the arrival of 13 hopefuls but only 10 of the girls make it to Big Grrls house for a chance to audition. The series is full of big personalities, highs and lows and we love the honesty and sincerity of this unscripted series.
This is a dance competition, and every episode features some incredible feats performed by these dedicated women. Get prepared to see some unexpected jaw-dropping acrobatics by one of the contestants, Jayla Sullivan.
Most reality TV competitions see weekly cuts of the contestants but not our Lizzo's show, she does things her way.
In a recent Zoom interview, Lizzo said, "The number one thing is I didn't want to eliminate every week. I'm looking for dancers, not dancer."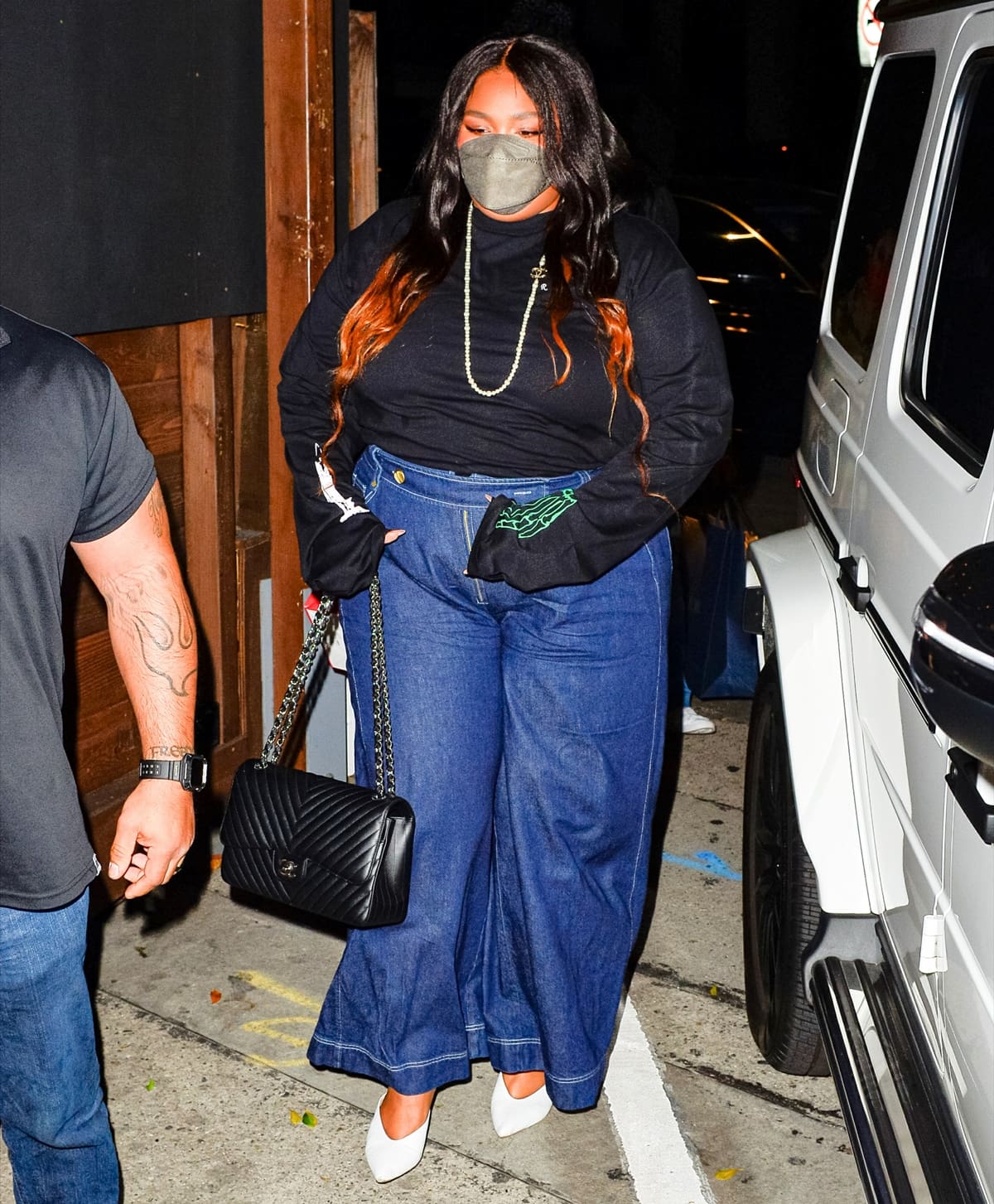 Lizzo carries a Chanel handbag for dinner at celeb hotspot Craig's restaurant on January 25, 2022, in West Hollywood, California (Credit: BauerGriffin / INSTARimages)
She went on to say that if she eliminated contestants every week, she wouldn't have any dancers by the end of it.
"I don't have to fit into the archetypes that have been created before like Tyra Banks or Puff Daddy," Lizzo said. "They all did it their own way, and that's what I'm doing."
That's why we all love Lizzo, she is one super-confident, badass, big grrrl who goes out there and lives life to the fullest … her way!