As artists, Kira Bundlie and Lisa Ström found their day jobs and unreliable freelance projects stifling, so they did what any suppressed artistic persons would do: find something to release their creativity on, which, luckily for us, ended up to be shoes.
Kira and Lisa, along with their all-women team of amazingly talented Seattle artists in Hourglass Footwear, hand-paint their own unique artwork straight onto shoes. The outcome is wearable art that we didn't even know we wanted. Bollywood-style sari pumps, quirky platforms partitioned as meat cuts, and hipster-y Sriracha stilettos? Find your way into our shoe closets now, please!
Hourglass Footwear "Rio Rancho" Hand-Painted Pumps, $210 (photo by Amanda Hayes)
As the Hourglass Footwear artists can paint pretty much any design you can dream of on pretty much any kind of shoe, you can imagine just how popular they are with brides. Need something to perfectly match your medieval-set 'Lord of the Rings' with touches of 'The Wizard of Oz' theme? No problem. You can even send in your own pair of shoes for a design that's 100% customized and original, guaranteed.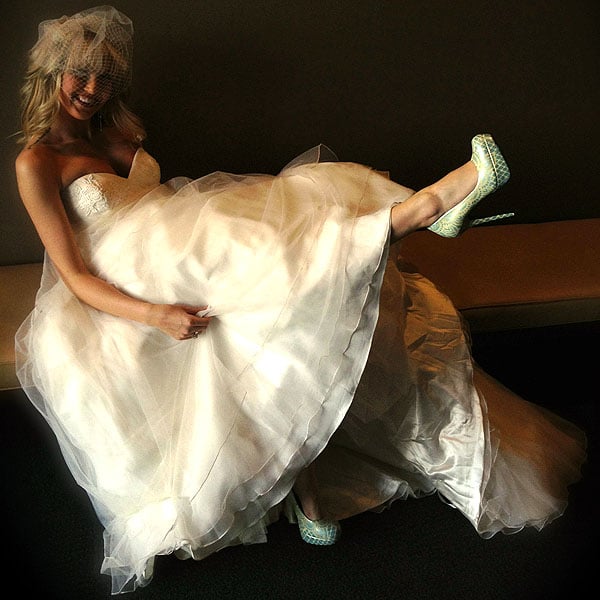 A bride in her Hourglass Footwear "Something Borrowed" Pumps, $210
The only limits here are paint and imagination, so we'd really like to see the Hourglass Footwear artists unleash their best — someone challenge these ladies to come up with an incredible and wearable work of art that's customized just for you! For a one-of-a-kind piece, their $100 to $300 asking price is more than reasonable.
Would you like to have your own hand-painted shoes? Visit Hourglass Footwear for more info on the shoes in the gallery below.