You have to agree that there's something quite intimidating about leopard-printed clothes. In fact, there's something intimidating about animal spots-printed clothes in general!
So when it comes to wearing one with a modicum of confidence, we ladies definitely need all the help we can get. Help is here though thanks to Victoria Beckham's latest look:
Victoria Beckham flashes her legs in a Balmain leopard printed ponyskin pencil skirt
The 40-year-old tastemaker makes a quick stop at her clothing store in London dressed to the nines. Victoria successfully made her Balmain leopard printed ponyskin pencil skirt look so elegant and covetable.
Victoria Beckham styled her animal print pencil skirt with a plain black sweater
David Beckham's better half toned down the animalistic streak of the outfit by wearing it with a plain black sweater and a pair of black pumps. Now here's a trick that won't ever fail you.
Victoria Beckham visits her eponymous retail store on Dover Street for the first time since its official opening in London on September 27, 2014
Black always works with leopard-printed skirts. This color creates a balance and downplays the print a little bit. If you are worried leopard-printed skirts will make you look borderline tacky, go for black accents.
And since tube skirts are all the rage these days, we suggest you pull off a Victoria Beckham and try these pieces from Farfetch and Shopbop:
1. Dolce & Gabbana Leopard Print Pencil Skirt, $1275.00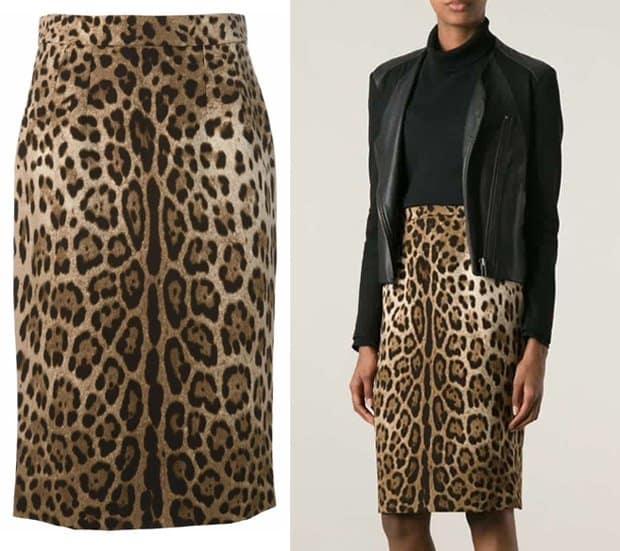 Wear it with:
Faliero Sarti Raw Edge Sweater, $476.50 / Roland Mouret Raffine Pumps, $750.00 / Stella McCartney Falabella Cross Body Bag, $663.98 / Linda Farrow 259 Sunglasses, $730.00
2. Dior Vintage Animal Print Pencil Skirt, $1054.55
Wear it with:
3.1 Phillip Lim Ribbed Knit Sweater, $511.94 / Sergio Rossi Pointed Pumps, $562.00 / Jerome Dreyfuss Eliot Crossbody Bag, $1,165.00 / Stella McCartney Oversized Sunglasses, $270.00
3. Rika Leopard Print Pencil Skirt, $291.67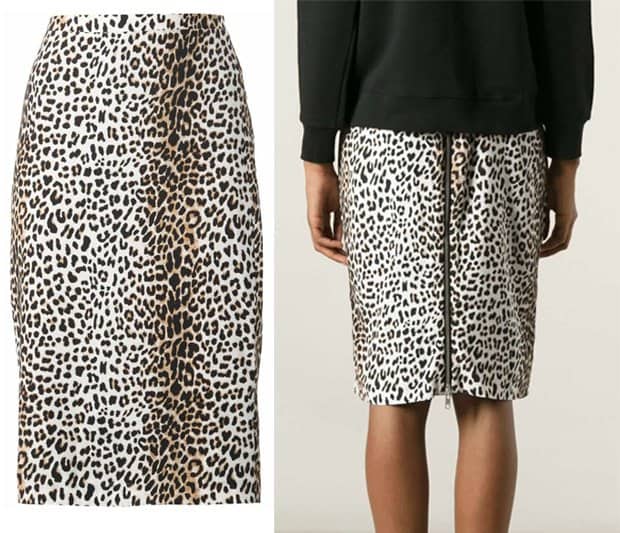 Wear it with:
Slide Slope Crew Neck Sweater, $544.57 / DSQUARED2 Bow Detail Pumps, $527.55 / Valentino Garavani Glam Lock Satchel, $2,440.00 / Oliver Peoples Lou Sunglasses, $430.00
4. Moschino Cheap & Chic Leopard Print Pencil Skirt, $266.37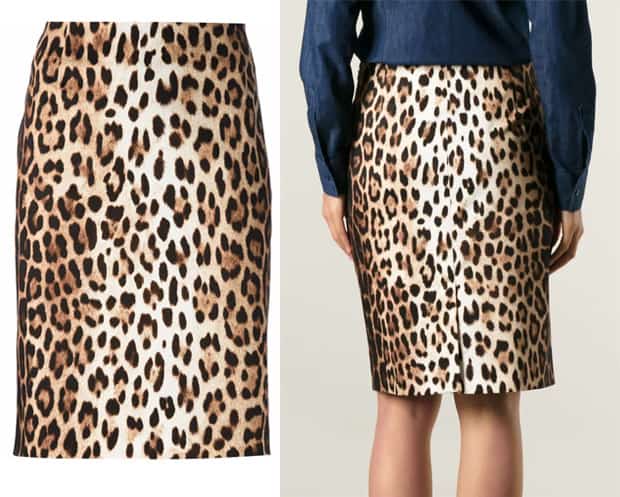 Wear it with: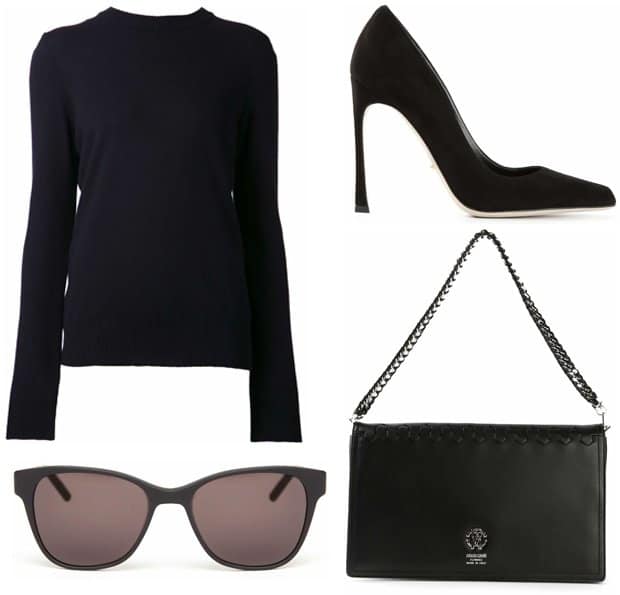 Maison Martin Margiela Tweed Panel Sweater, $570.92 / Sergio Rossi Godiva Pumps, $555.92 / Roberto Cavalli Tasmania Regina Clutch, $959.75 / Prism Matte Black Sunglasses, $377.04
Victoria Beckham makes wearing leopard print look easy, doesn't she?
Credit: WENN