Iggy Azalea has never shied away from admitting to her "work." In fact, the rapper has happily confirmed speculations that she has had plastic surgery on her nose and breasts.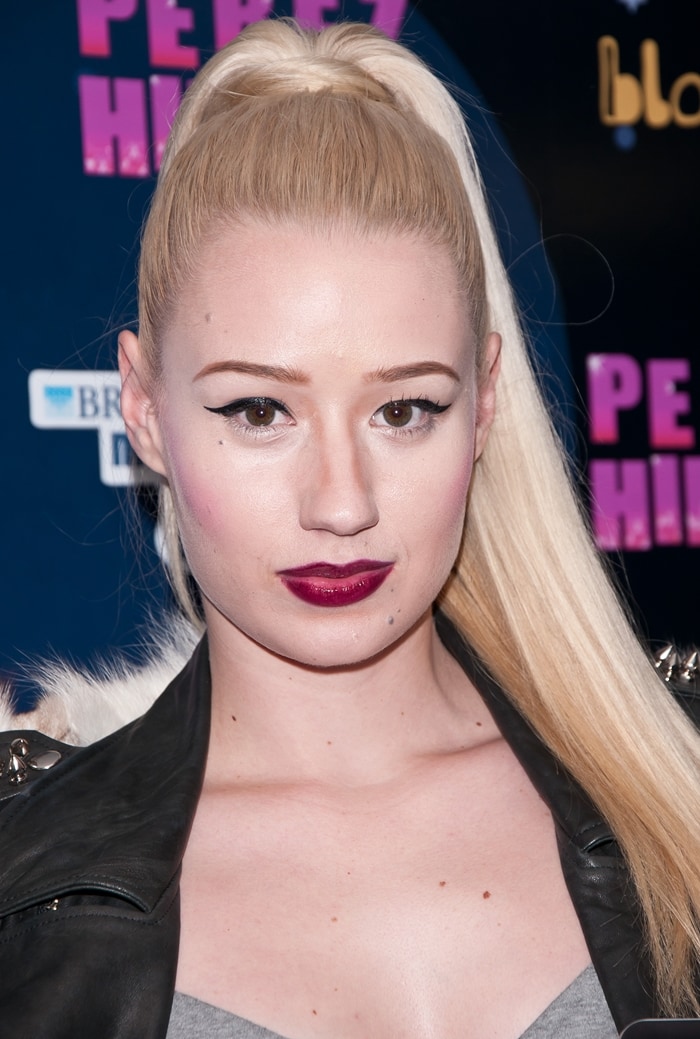 Iggy Azalea pictured in October 2011 before she had plastic surgery
"I did change something: Four months ago, I got bigger boobs!" she shared with Vogue in March 2015.
"I'd thought about it my entire life." "I love them so much I had to talk about them," Iggy told E! News while showing off her new boobs at the 2015 iHeartRadio Music Awards.
"Everybody did say, 'I don't think you need to say it because no one will ever know because they're so small,'" Iggy added with a laugh. "I said, 'I know but I'm just going to say it [because] I'm a blabbermouth!'"
Even though Iggy's been very honest about all her enhancements, fans are requesting the truth about the rapper's famously curvaceous backside. In September 2015, the then 25-year-old was spotted leaving her cosmetic surgery clinic.
Iggy Azalea visits a cosmetic clinic in Los Angeles on September 28, 2015
Iggy wore a lipstick print blouse from Saint Laurent, which she coupled with black jeans and a belt from Prada. The rapper paired her apparel with a tote from Céline and boots from Balenciaga.
Iggy Azalea finishes her ensemble with a pair of Balenciaga boots on her feet
The rapper insists that her bottom is all-natural — which even prompted her friend Demi Lovato to testify on her behalf.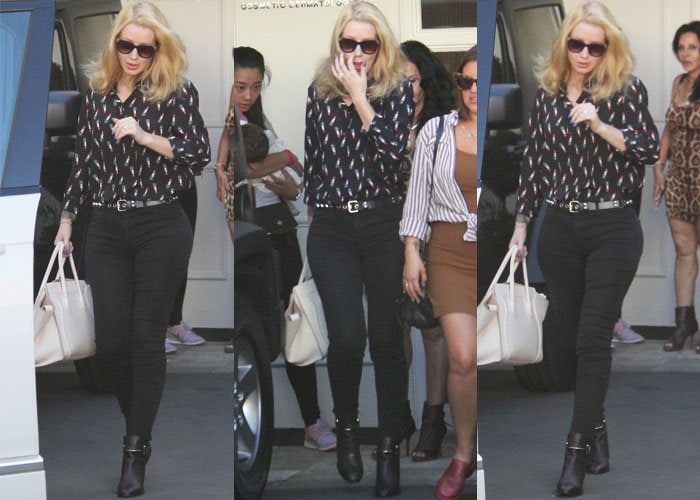 Iggy Azalea wears black pants and a lipstick-print blouse as she visits a Los Angeles cosmetic surgery clinic
On BBC Radio 1's "The School Run," Demi Lovato was asked to answer questions truthfully, with one of the questions being about Iggy's ass. "Her butt's real," Demi responded. "It's all good. She's awesome."
In November 2016, Iggy thanked her plastic surgeon Dr. Ashkan Ghavami on Instagram for helping women achieve the body of their dreams.
"It might seem obvious I'd hold the man I owe my fabulous nose and breasts to in high regard," she captioned a photo of her doctor.
"But vanity aside; Ash you're hilarious as hell, talented, eclectic, a progressive thinker & someone who supports women in their choice to do what they want with their OWN bodies (tons of men don't share that sentiment)."
The Australian rapper, who claims to have some Aboriginal (Indigenous Australian) ancestry, concluded, "So cheers to you! I'm proud to call you my friend."
Iggy Azalea's natural breasts and nose at Moon Nightclub at The Palms Casino Resort in Las Vegas on December 30, 2012
"I didn't [need plastic surgery]," the "Fancy" rapper said when visiting The Ellen DeGeneres Show in April 2016.
"There was nothing wrong with me. I think it's a personal choice and anybody, man or woman, they should be able to make an informed decision, and if you want to change something, then that's up to you."
"I didn't have boobs. Before, I just had nipples, and now I have breasts," she explained.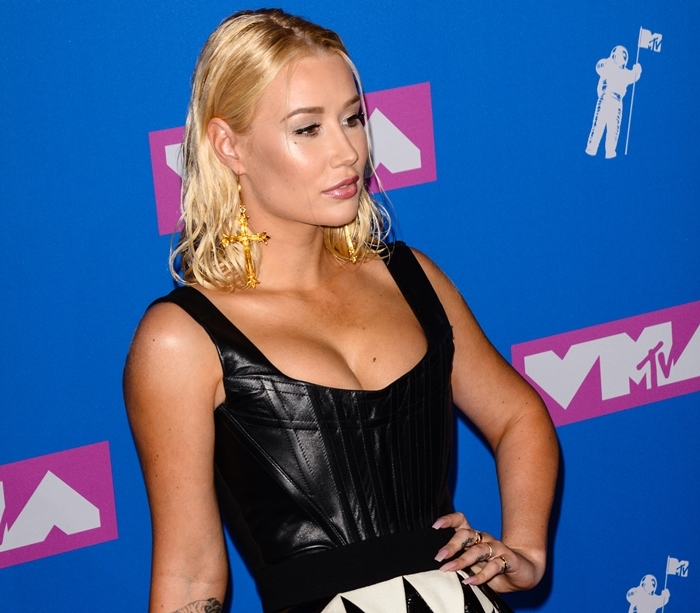 Iggy Azalea's boobs and nose at the 2018 MTV Video Music Awards following rhinoplasty & breast augmentation
As for her new nose, Azalea admitted it's "pretty similar" to her previous nose: "Yeah, I don't know if it was worth the backlash," Azalea said in response to the negative comments she received on social media. "I should have changed it more so it was worth it!"
In November 2016, plastic surgeon Ashkan Ghavami told People what was wrong with Iggy's nose and breasts.
"Her breasts were super small and super-wide apart, so I wanted to bring them towards the middle and give her a lot more cleavage, but not go too big where it looks obvious," he told the magazine.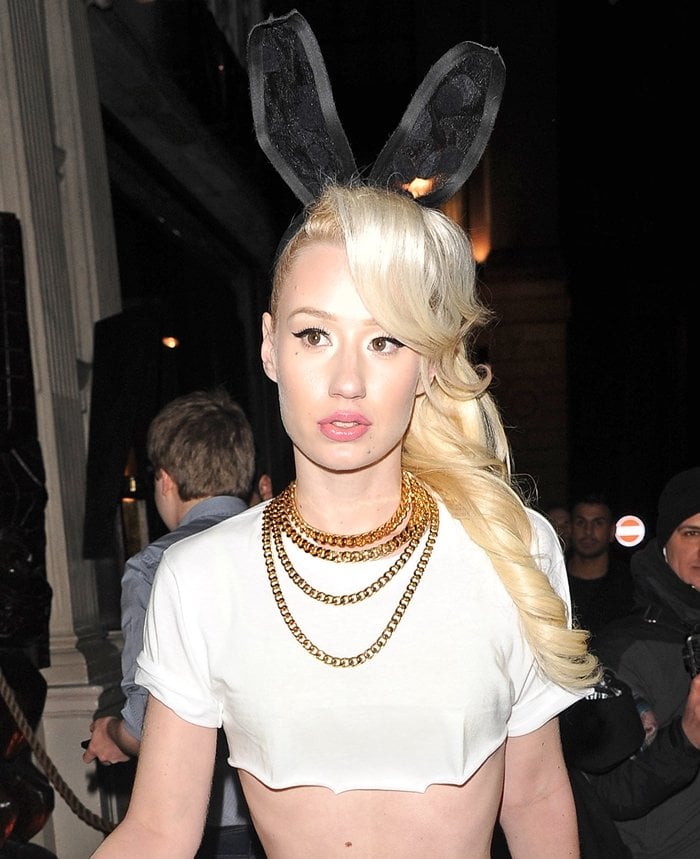 Ashkan Ghavami says Iggy Azalea's breasts were super small and super-wide apart before plastic surgery
"When you have small breasts and you have thin skin above it, when you go too big they look like balls, so I wanted to create as natural shape as possible, but give her enough size to proportion her tall, big-hipped frame. I wanted to proportion her out without making her look top-heavy or getting in the way of dancing."
"Her nose had a really weird shape to it," he commented on her nose. "The tip was very twisted and very wide and boxy, so I had to do a lot of tip shaping to narrow and refine her tip without it looking done. She had a tiny hump that I reduced, and also she was very deviated and had blockage for breathing, so we really killed four birds with one stone."
Get Iggy's Balenciaga boots by heading over to Farfetch or Nordstrom.
Balenciaga Pierced Round-Toe Ankle Boot, $1,255
Credit: WENN / C.Smith / Judy Eddy / Patricia Schlein / Craig Harris