Known for her fearless and fashion-forward style, Irina Shayk took the Cannes Film Festival by storm again.
Embracing her daring nature, the 37-year-old Russian supermodel left onlookers in awe with her bold and revealing ensembles.
From a sultry leather outfit showcasing her sculpted figure to an ethereal couture gown exuding elegance, the mom-of-one fearlessly pushed the boundaries of fashion, inspiring others to embrace their unique style.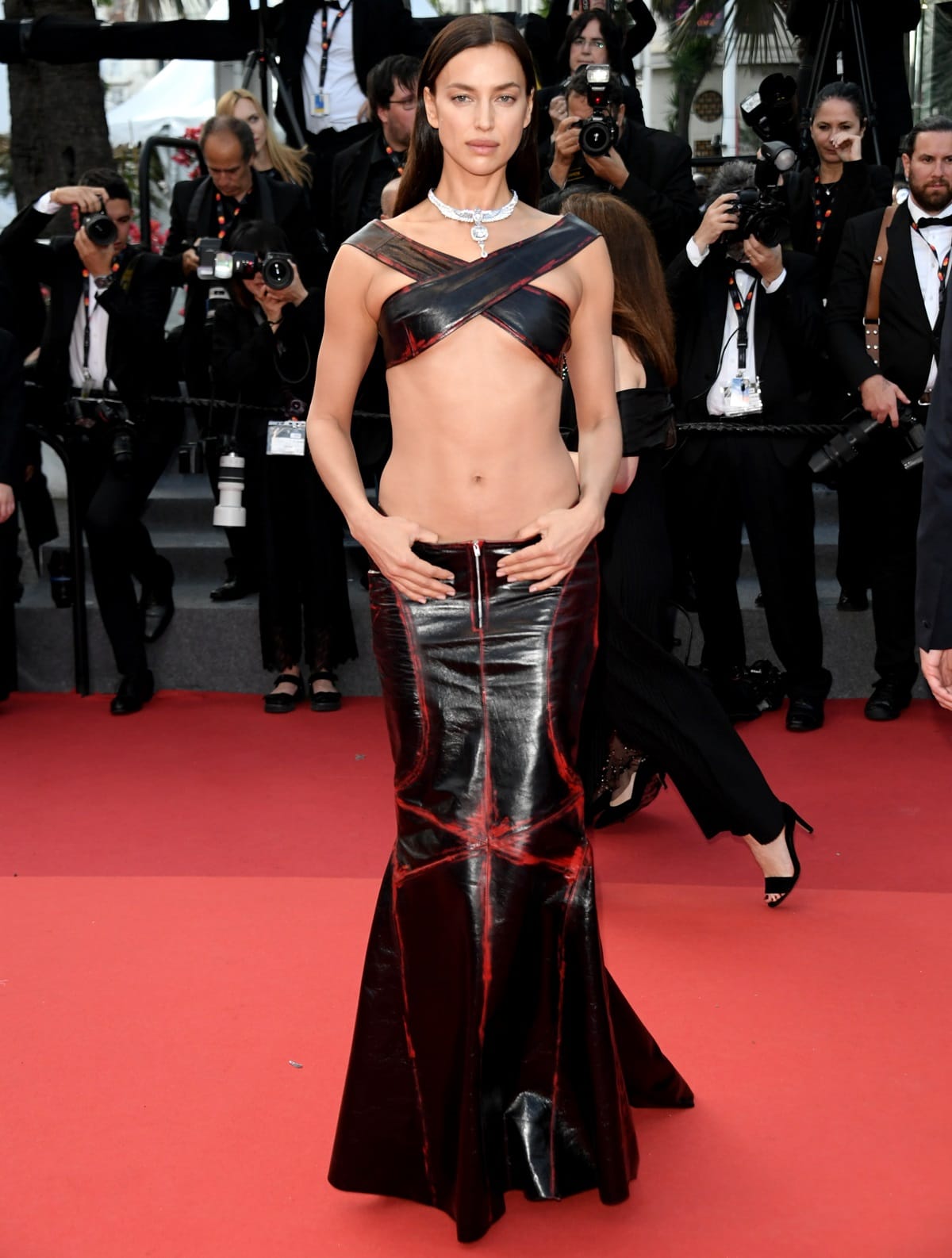 Irina Shayk caused a bit of a stir on the red carpet in a black leather, red-lined look from Mowalola, courtesy of stylist Natasha Colvin, on the "Firebrand (Le Jeu De La Reine)" red carpet during the 76th annual Cannes film festival at Palais des Festivals on May 21, 2023, in Cannes, France (Credit: IPA / INSTARimages)
Irina Shayk made a bold statement at the Firebrand red carpet premiere on Sunday, opting for an ensemble that embodied barely-there elegance.
Breaking from convention, Kanye West's rumored ex confidently stepped out in a captivating two-piece creation from Mowalola's Fall 2023 collection.
Following the "less is more" philosophy, Irina proudly showcased her toned washboard abs, leaving little to the imagination in a revealing criss-cross leather top.
Completing the ensemble, Bradley Cooper's baby mama donned a sweeping low-rise mermaid skirt that accentuated her sculpted silhouette with its delicate zipper detail.
The meticulous attention to detail in the black leather co-ord was simply magnificent. Each red-distressed seam on the fabric's surface perfectly captured the edgy vibe of the event.
Irina Shayk paired the two-piece look with silver Messika statement jewelry and slicked-back hair (Credit: IPA / INSTARimages)
While Irina chose minimal jewelry to let the provocative appearance speak for itself, she couldn't resist adding a touch of glamour with a stunning large diamond choker necklace, elevating her daring ensemble to new heights.
Her soft glam look featured a luminous complexion that radiated natural beauty. Her bright pink pout added a playful pop of color, perfectly complementing her overall look.
Pulling her straight, dark brown hair back from her ears with a sleek middle part, she exuded a sense of refined elegance that perfectly complemented her striking ensemble.
Before her daring bare-it-all look, Irina Shayl captivated the red carpet on Saturday with a more feminine ensemble for the opening of Martin Scorsese's Killers of the Flower Moon starring Leonardo DiCaprio.
Stepping into the spotlight, she epitomized timeless elegance in a plunging navy semi-sheer haute couture gown from Giorgio Armani Privé's Fall 2022 Couture collection.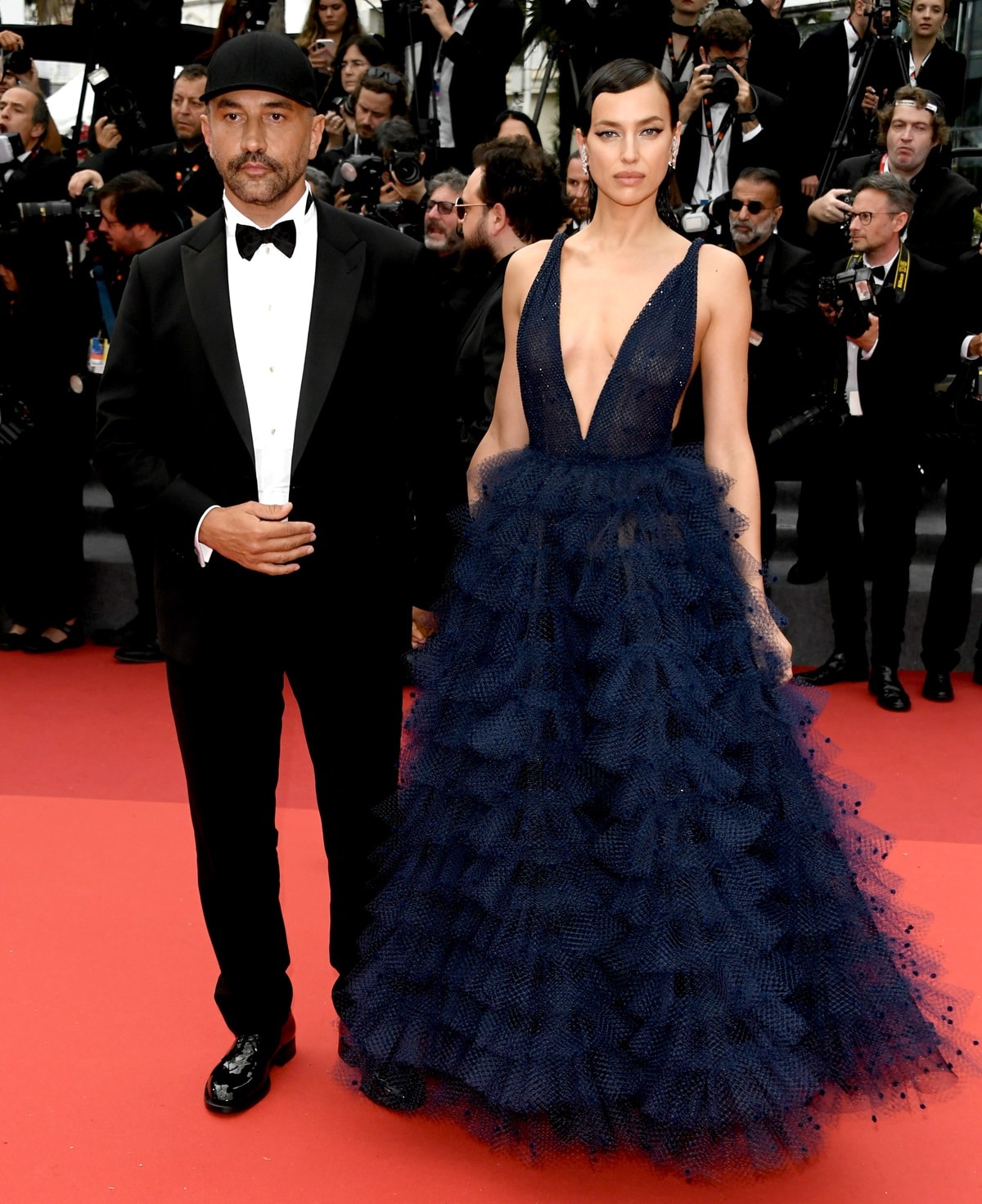 Russian model Irina Shayk and fashion designer Riccardo Tisci attend the "Killers Of The Flower Moon" red carpet during the 76th annual Cannes film festival at Palais des Festivals on May 20, 2023, in Cannes, France (Credit: IPA / INSTARimages)
The gown featured a voluptuous neckline highlighting her toned midriff while artfully concealing her cleavage with a delicate net accent.
A navy ruffled skirt in crinoline, mesh, and dotted tulle adorned with crystals cascaded gracefully, leaving a mesmerizing impression.
Irina opted for a stylish hair and makeup combination to complement her couture ensemble. Her chic bun adorned with wet-look waves exuded sophistication, while a dramatic cat-eye eyeliner added a touch of allure to her gaze.
To complete her red carpet look, she donned flashy diamond earrings, illuminating her features with a hint of sparkle. Sleek black heels added height and further emphasized her statuesque frame.
Irina Shayk captivated everyone with exquisite diamond jewelry styled with a stunning Giorgio Armani Privé gown made of navy-blue tulle adorned with intricate crystal embellishments (Credit: Abaca Press / INSTARimages)
Irina Shayk's daring choices at the Cannes Film Festival were a testament to her fearless approach to fashion. She fearlessly shattered the confines of fashion norms with each stunning entrance, imprinting an indelible mark on the red carpet.