They have been amicably co-parenting their only child Lea De Seine since they split in 2019. Recently, it has been revealed that Irina Shayk and ex Bradley Cooper have enrolled their daughter in Russian classes in the Financial District.
Last week, the ex-couple took their kid to school in SoHo, just two days before her fourth birthday. Lea was born on March 21, 2017, in Los Angeles, California.
Irina Shayk and ex Bradley Cooper take their child, Lea de Seine, to school in New York City on March 19, 2021
Wearing a pink tutu, Lea had an advanced birthday celebration with her friends at school. Irina was seen carrying some baskets of baked goodies wrapped in pink plastic before bidding farewell to their daughter.
Irina Shayk brings baked goodies for her daughter's birthday celebration
For the outing, the 35-year-old Russian model sported a casual-chic look, with a classic tan Burberry trench coat worn over an $890-Burberry Check Technical Merino wool jacquard sweater.
She teamed the look with a pair of $560-straight-fit jeans with contrasting black leather cuffs, also from Burberry.
Irina Shayk wears a Burberry trench coat with Burberry Check Technical Merino wool jacquard sweater and Burberry jeans
Amping up her stylish outfit, the mom-of-one carried a matching Burberry checked leather wallet with a detachable strap and accessorized with a Ruslan Baginskiy monogram-embellished black beanie.
She also wore a pair of Linda Farrow Leona sunglasses and stayed safe with a black face mask.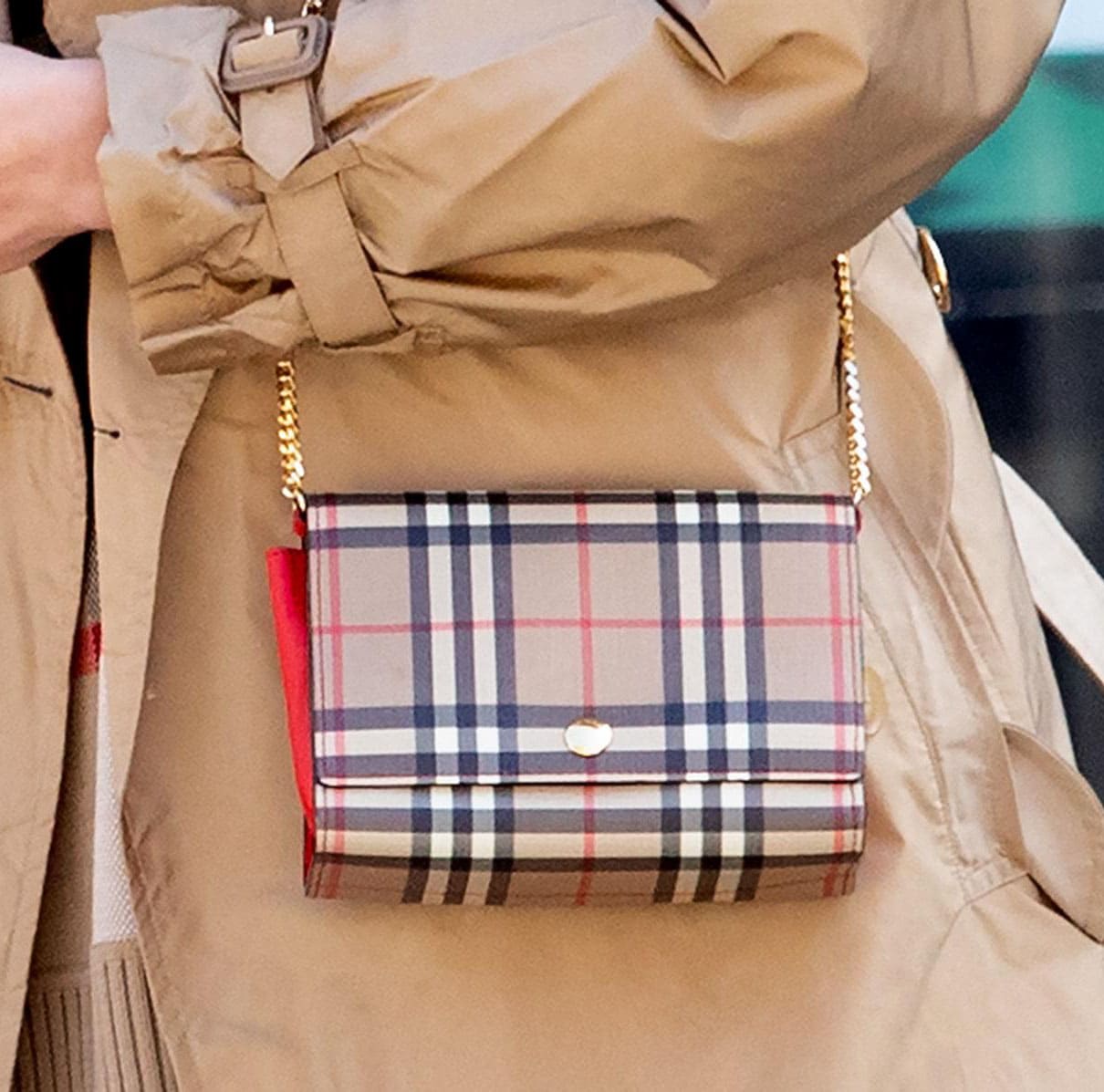 Irina Shayk carries a Burberry check leather wallet over her shoulder
Styling her hair down, Irina completed her look with a pair of Magda Butrym combat boots.
These black leather boots feature a front lace-up fastening, inside zips, about 1.2-inch platforms, and 1.6-inch heels with ridged rubber soles.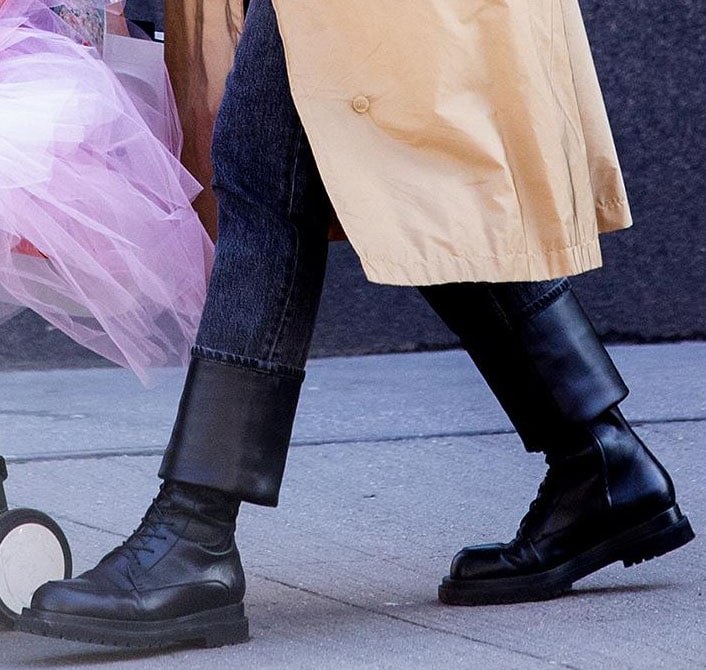 Irina Shayk completes her look with Magda Butrym combat boots
"I never understood the term co-parenting. When I'm with my daughter, I'm 100 percent a mother, and when she's with her dad, he's 100 percent her dad," she says. "Co-parenting is parenting," Irina Shayk told Elle about working together with Bradley Cooper to raise their daughter. She emphasized that Cooper is "the most amazing dad."
"My past relationship, it's something that belongs to me, and it's private," she said about their relationship. "It's just a piece of my inner self that I don't want to give away."
"I don't read what is out there. Honestly, I'm too busy raising a child," Shayk added. "If they want to write articles [about me], they're doing their job. I'm concentrating on my life and my friends. The rest is just noise."
Magda Butrym Black Tall Combat Boots, $1,270 at Ssense
The Magda Butrym combat boots feature a lace-up fastening with ridged rubber platforms and heels
Magda Butrym Leather Boots, $1,160 at Net-A-Porter
These chunky boots are also available in mid-calf length
Meanwhile, her 46-year-old ex, Bradley, wore a black pea coat over a hoodie teamed with a pair of navy blue joggers. He stayed safe with a black N95 face mask and completed his look with leather high-top shoes.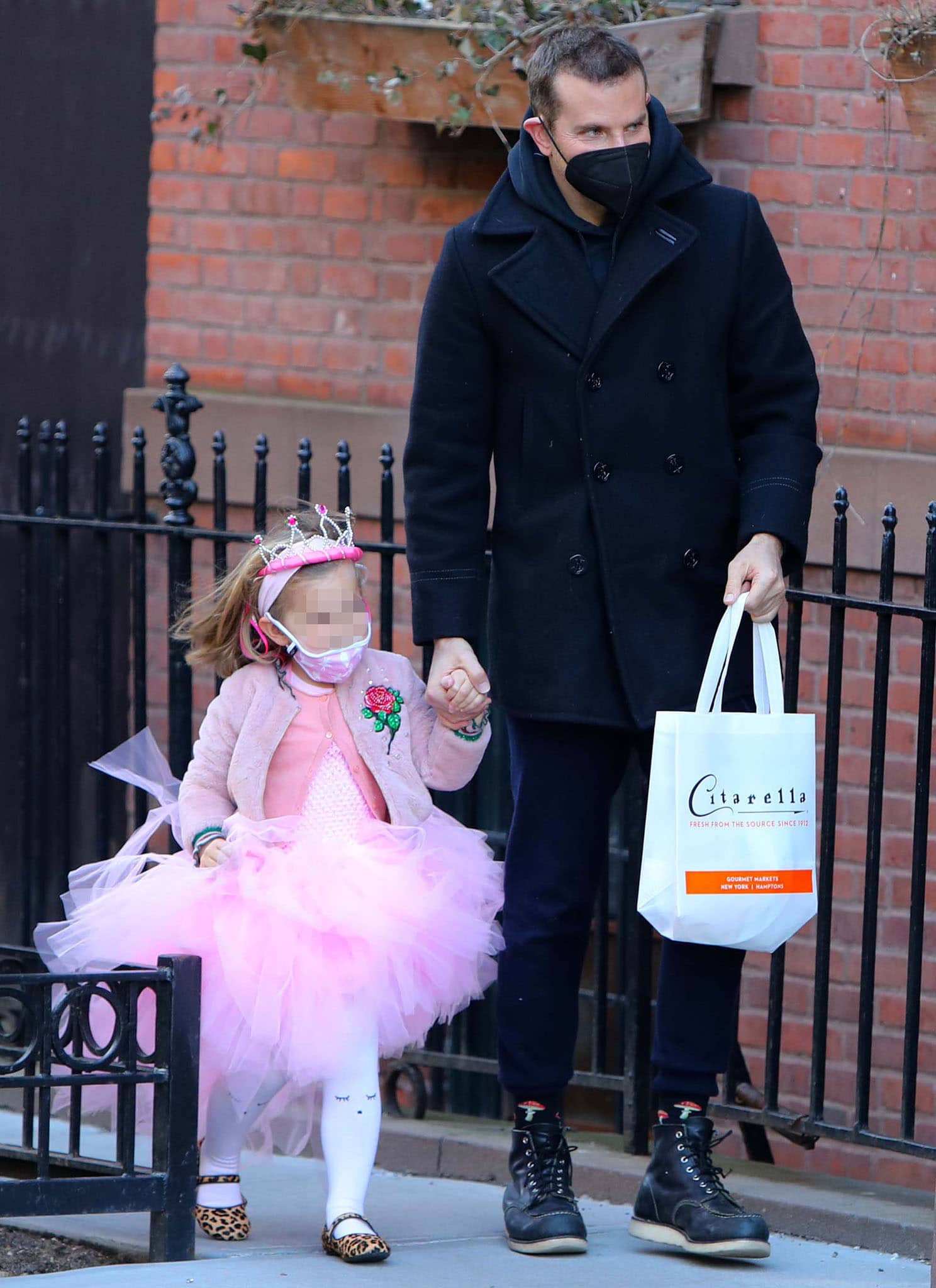 Bradley Cooper wears a black pea coat as he holds hands with his daughter
Credit: Instar / WENN