'Tis the season — and Jaime King is ready to play Santa Claus!
The "Hart of Dixie" actress recently surprised the employees at Los Angeles International Airport as she gifted them with holiday packages courtesy of Westin Hotels and Delta Airlines.
Jaime King wears her hair half-up and half-down at Los Angeles International Airport on November 24, 2015
The actress posted a photo with a long caption on her Instagram account, expressing her heartfelt gratitude for the opportunity to help grant tired employees a much-deserved break.
"Today I got to be Santa Claus!!!!! Here is how it went down. Given everything going on in our world, I really wanted to give everyone a much-needed break- physically, emotionally, and spiritually," Jaime wrote on her Instagram account.
"And though I couldn't make it rain money (apparently that happened last night) @westin and @delta were so freaking amazing that they gave me the resources necessary to give away what I like to call #holidayaftertheholiday to the wonderful people that protect us at the airport – the TSA agents as well as the baggage claim workers, wonderful families and kids working their tails off in school. There is magic in the air and I am so thankful for those who are so generous and to allow me to give back and surprise so many beautiful Souls. Ask and ye shall receive."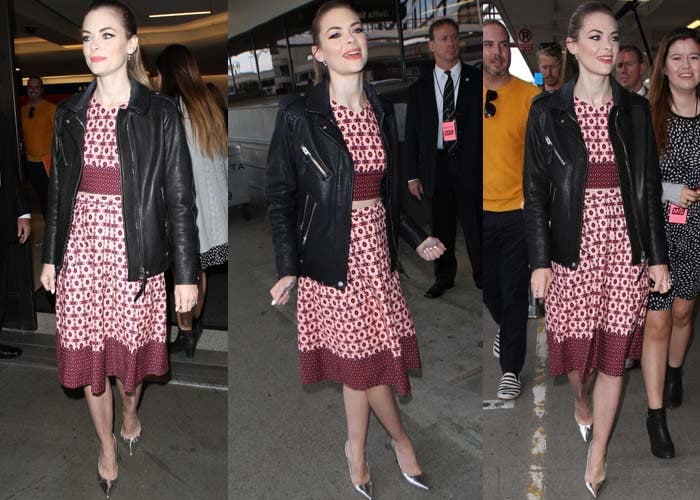 Jaime King wears a Topshop ensemble under a Calvin Klein leather jacket at LAX
Jaime wore a crop-top-and-skirt piece from Topshop, which she wore underneath a leather jacket from Calvin Klein.
Jaime King wears a leather jacket and white nail polish at LAX
The actress finished her look with metallic "Anouk" pumps from Jimmy Choo.
Jaime King's feet in Jimmy Choo pumps
Jaime was in such good spirits that she was chatting up a storm with the paparazzi, even making them laugh at one point. Check out the footage of her before going on a giving spree below:
Jaime King adorably hands out holiday packages as a surprise for the Los Angeles Airport employees
Get Jaime's Santa pumps in gold by heading over to Mytheresa or Nordstrom.
Jimmy Choo Anouk Etched Leather Pumps, $675
Credit: WENN