Guess what? We spotted Jennifer Aniston playing naughty for a photocall to promote the UK release of Horrible Bosses at The Dorchester last Wednesday (July 20).
The actress shed off her usually "nice-looking" persona and donned a black leather dress coupled with sexy stiletto heels. Suffice to say, she looked extremely hot; sizzling to be exact. Now let's hope Angelina Jolie will do the same so we can put them side by side and see who's the hotter chick.
But of course, a fashion showdown on leather dresses is not really the reason why Jen's here today. It's because of those sexy stilettos. Such sparse-looking sandals, don't you think? But honestly, seeing it only convinces us that "less is ALWAYS more".
It's amazing how two thin straps and a heel can create all that sexiness. If you can't appreciate its appeal, here's a closer look:
Gucci Studded Platform Sandals, $795
Now do we have you convinced?
The pair is from Gucci and as you can see, there's more to it than meets the eye. What makes this particular style extra special are the assorted two-tone metal studs decorating each heel cup. The sandals also feature 5 inch sky-high heels and 0.75 inch thick covered island platforms. Do the math and that'll give you about 4.25 inches to walk on; a tad high but if you're used to it, it's all good.
To the UK premiere of Horrible Bosses, Jennifer donned an embellished halter cocktail dress from the Valentino Fall 2011 Couture Collection.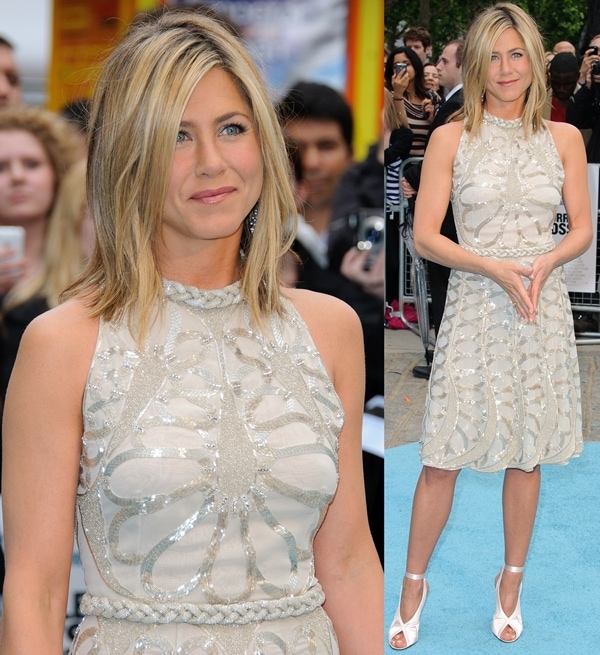 Jennifer Aniston at the 'Horrible Bosses' UK premiere held at BFI Southbank in London, July 20, 2011
She styled her dress with an amazing pair of ankle strap heels by Tom Ford:
Jennifer Aniston's sexy feet in ankle strap heels by Tom Ford
Credit: WENN