Jennifer Lopez wore a super sexy pair of Gucci heels on the most recent episode of American Idol. She paired her python detailed heels with a long and lean pink Michael Kors gown:
I love J-Lo's black and pink combo. She looked incredibly sexy, yet did not show too much skin. Her shoes complemented the dress perfectly and added to the lengthening effect of the dress.
Do you agree that she looked incredibly tall and slender (compared to her typically curvacious physique) in this dress and heel combo?
While you can barely see them in the photos, Rose McGowan wore the same heels at the end of last year paired with a Hervé L. Leroux gown and emerald-green Vhernier earrings: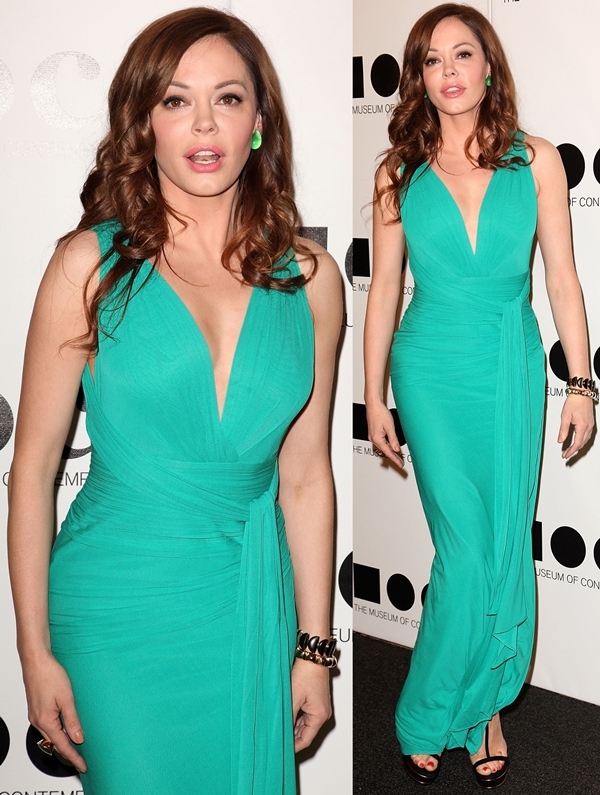 Rose McGowan at the 2011 MOCA Gala: 'An Artist's Life Manifesto' directed by Marina Abramovic at MOCA Grand Avenue in Los Angeles on November 12, 2011
Jennifer and Rose sported the following heels:
Gucci Black Leight T-strap Sandal, $895
I adore the gold snake embellishment and the T strap design is a classic. The platform of these heels would certainly make the sky-high heel a bit more stable and comfy. I'd love to see them paired with different dresses. How do you think Rhianna would look in them if styled with black leather pants or shorts and a sheer black top?
Credit: Ian Wilson/WENN