Jennifer Lopez is in Fort Lauderdale, Florida, right now, but you'd never guess it based on pictures of her at the music video shoot for the official 2014 FIFA World Cup song, "We Are One (Ola Ola)." The pics make it seem more like she was in the center of a Brazilian carnival with all the flags, feathers, and nearly naked dancing people. Jennifer herself was dressed in a belly-baring crop top and super short shorts, but she looked downright demure compared to all the almost bare bodies around her.
Jennifer Lopez at the shoot for the "We Are One (Ola Ola)" music video at Fort Lauderdale, Florida, in snaps she shared on Instagram on February 12, 2014
What Jennifer Lopez used to make sure all the attention was still on her was the power of color. We bet you couldn't take your eyes off her patterned shorts either, could you? Her jewelry was gold and chunky, her lipstick was a juicy pink-orange, and even her nails were painted in swirls of yellow and green, in the same hues as the Brazilian flag.
Jennifer Lopez showing off her nail art by Tom Bachik on Instagram
Watch a short clip (most likely stolen) of Jennifer Lopez filming the "We Are One (Ola Ola)" music video:
Of course, Jennifer Lopez didn't forget to use shoes in eye-catching colors. In keeping with the music video's festive theme, she wore these Giuseppe Zanotti "Coline" sandals on her feet: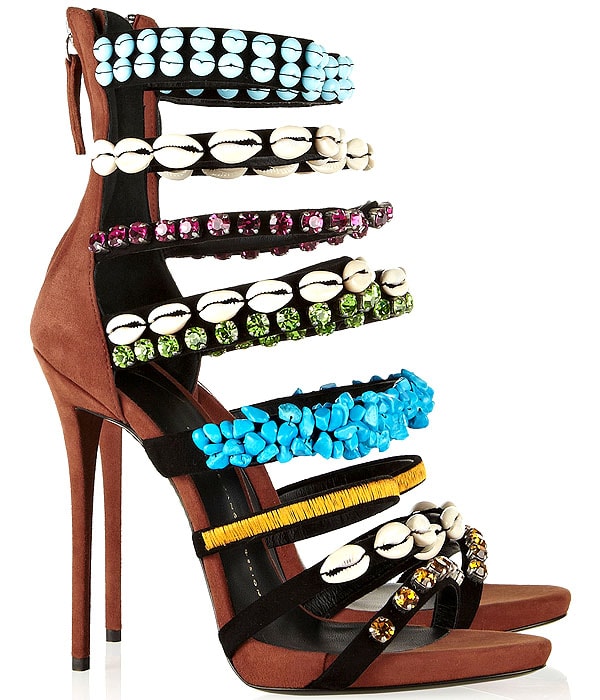 Giuseppe Zanotti "Coline" Embellished Suede Strappy Sandals, $1,995
We're kind of amazed by how the colors of the rocks, shells, beads, and gemstones on these sandals perfectly matched the colors on Jennifer Lopez's patterned shorts. Her stylist has an extremely keen eye for details.
We first spotted these Giuseppe Zanotti Resort 2014 sandals on Julissa Bermudez, who wore them to greet the new year.
Credit: Jennifer Lopez's Instagram