Rolling Stones frontman Mick Jagger, 78, and longtime former wife, actress, and model Jerry Hall, 66, were together for over 20 years.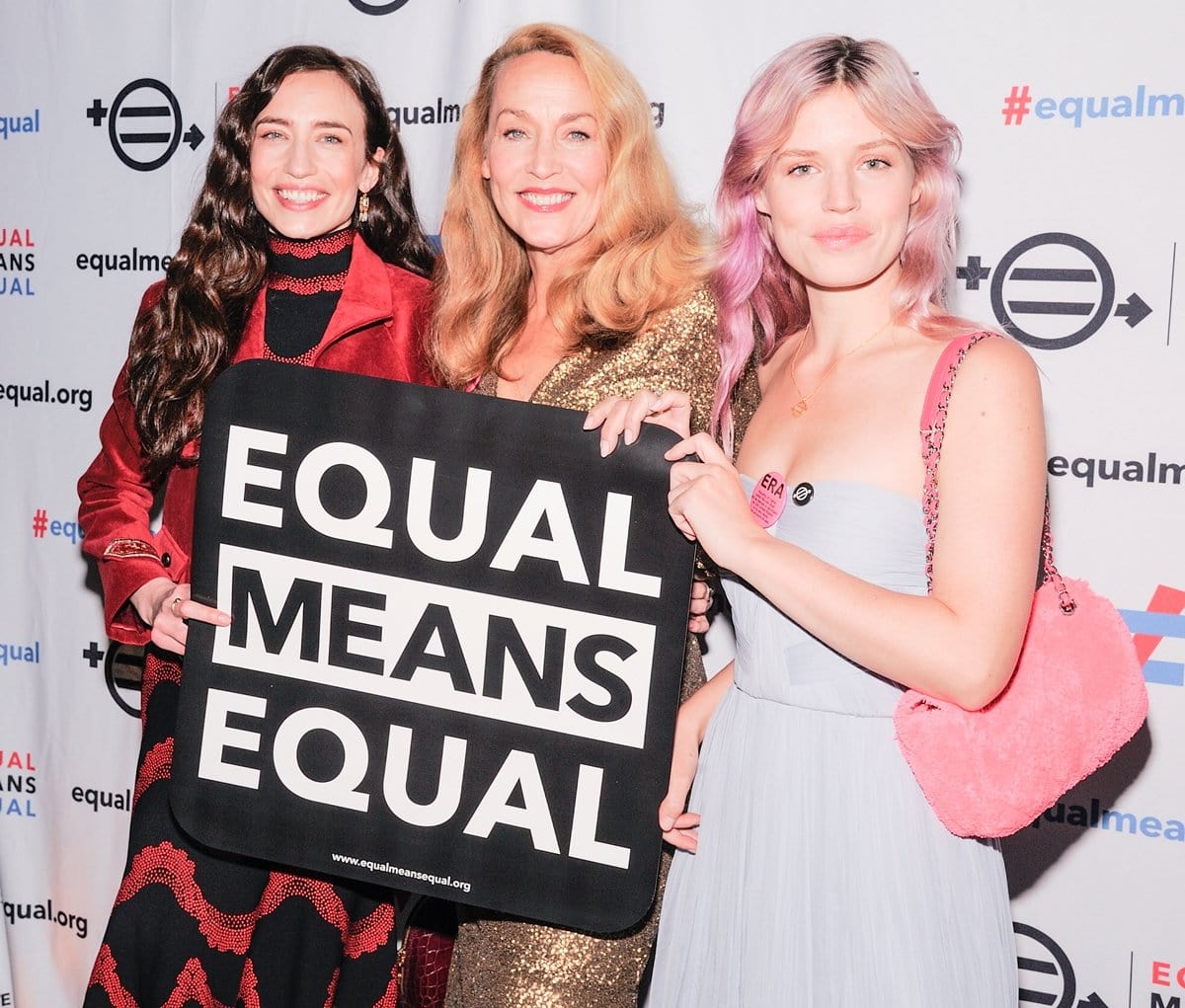 Jerry Hall with her lookalike daughters Elizabeth Jagger and Georgia May Jagger attend the Equal Means Equal event at Paradise Club at the Times Square Edition on May 21, 2019, in New York City (Credit: Lev Radin / Shutterstock)
From the start, their relationship was far from perfect.
The Early Days
The duo met in 1976 when neither party was available.
Jagger was married to Blanca Pérez-Mora Macías, a Nicaraguan political science student, when he first met Hall.
Jewelry designer Jade Sheena Jezebel Jagger, the daughter of Rolling Stones lead singer Mick Jagger and 1970s fashion model Bianca Jagger (born Blanca Pérez-Mora Macías), was born on October 21, 1971.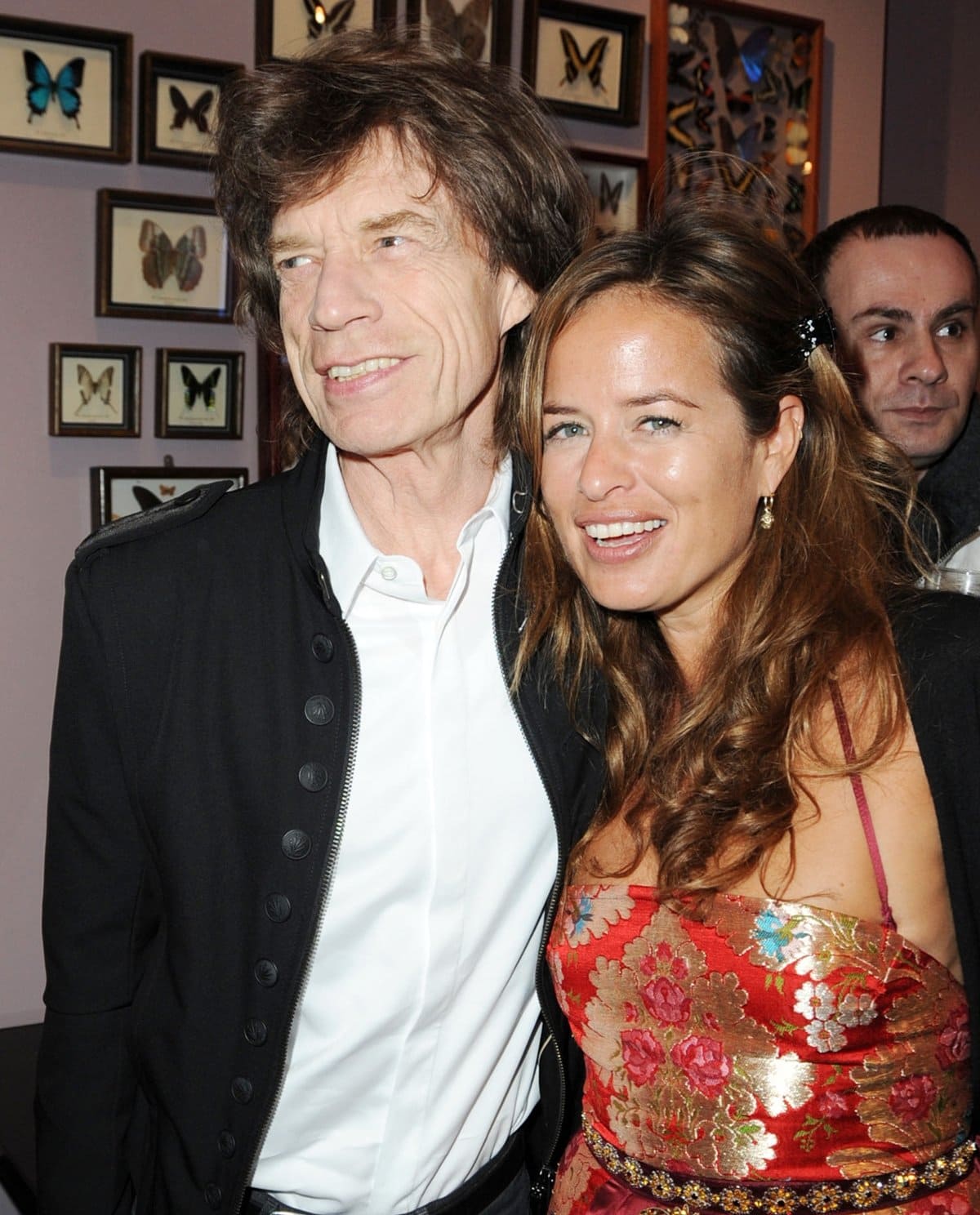 British-French jewelry designer Jade Sheena Jezebel Jagger with her father Mick Jagger at the Jade Jagger shop opening party on November 25, 2009, in London (Credit: Richard Young / Startraksphoto)
Hall was involved with her then-fiancé Bryan Ferry.
Jagger invited Hall and Ferry, a fellow musician, over for dinner in London one night. It was the dinner that started it all.
"Bryan was flattered by Mick's attention, but he could also see that Mick was smitten with me. It couldn't have been nice for him," Hall wrote in her 2010 coffee table book-cum-autobiography Jerry Hall: My Life in Pictures that you can buy on Amazon.
Jagger and Hall's relationship overlapped with the end of Jagger's marriage to Bianca in 1978.
Jerry Hall writes about her four-year affair with Bryan Ferry and her marriage to Mick Jagger in Jerry Hall: My Life in Pictures (Credit: Richard Young / Startraksphoto)
Despite being together for more than 10 years, the pair did not marry until 1990. The unofficial private marriage ceremony happened in Bali.
Their unofficial marriage was declared invalid by the High Court of England and Wales in London in 1999.
World-Class Drama
Jagger and Hall's relationship embodied "Sex, Drugs, and Rock n' Roll".
For better or worse, the pair were the stars of the era. From ultimatums to infidelity, the duo experienced it all.
Jagger reportedly told the Detroit Free Press that Hall was "impossible to live with" after she stopped smoking, and he ultimately gave her an ultimatum: "Either start smoking, or I'm leaving."
What a supportive partner.
Jerry Hall as Alicia Hunt and Jack Nicholson as Jack Napier/the Joker in the 1989 superhero film Batman (Credit: Warner Bros.)
But Hall had an ultimatum for her partner as well: "I told him I couldn't see him if he took drugs, saying 'Go away and don't come back until you're straight.' He succeeded – he had amazing willpower," she said to The Guardian.
Hall went on to leave Jagger in 1982 for a wealthy horse breeder named Robert Sangster.
Nigel Dempster, a British gossip columnist, told People Hall was "fed up because Mick refuses to marry," citing, "There are times in the last five years when she has made relatively little money on her own because she has been traipsing behind a rock star, and she is worried about the future."
View this post on Instagram
Not a year later the pair were back together, and this time they were expecting their first child together.
A decade later Hall left Jagger once more, this time due to the singer's infidelity.
Jagger, ever the gentleman, left Hall the day after she gave birth to their third child together, Georgia May, to visit singer and model Carla Bruni in Thailand.
Mick Jagger's ex-girlfriend Carla Bruni ended up marrying French President Nicolas Sarkozy (Credit: DDP / INSTARimages)
"I felt sick when I realized Mick was still seeing Carla," Hall told reporters that summer. "I can confirm that we're separated, and I suppose we will get a divorce. I'm in too much pain for this to go on any longer."
Bruni denied her involvement with the singer, telling People, "He's a fossil. His wife can keep him."
The Italian-French singer went on to become the First Lady of France.
View this post on Instagram
The next and last scandal occurred in 1999 when tabloids correctly reported that model Luciana Morad was carrying Jagger's child.
Hall promptly filed for divorce, but their Hindu ceremony in Bali was never actually legally binding so she was granted an annulment instead.
"I didn't like the idea of annulling after 23 years and four children," Hall later told The Guardian, "It seemed a bit rude."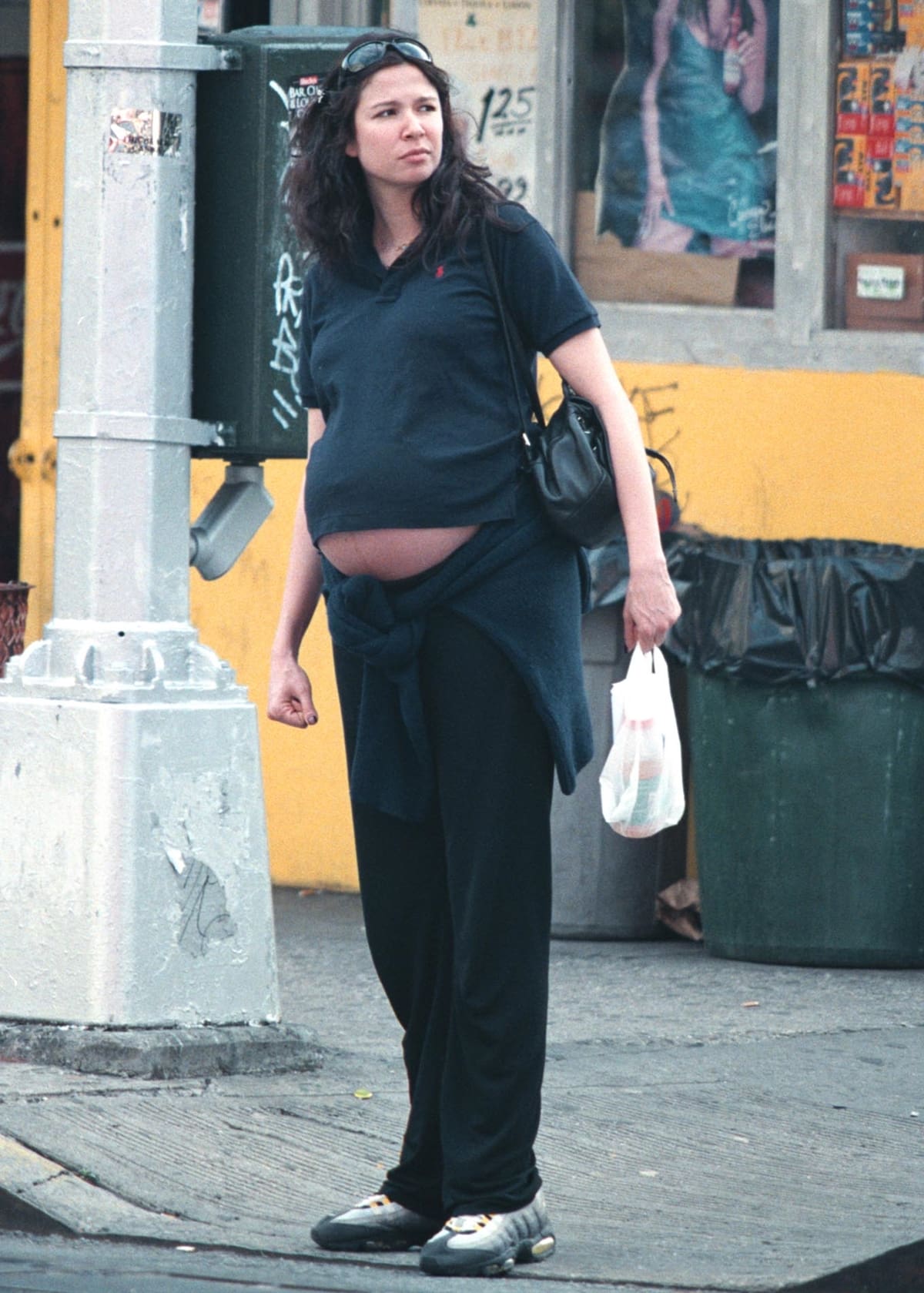 Luciana Gimenez Morad became pregnant with Mick Jagger and gave birth to Lucas Maurice Morad Jagger on May 18, 1999 (Credit: Startraks Photo)
Hall has positive things to say about her ex despite their many lows. "He's the most fabulous ex-husband," she said to SF Gate.
But on the other hand, "He's a sick, addictive womanizer who made me very unhappy."
In her book, Hall wrote that she thought Jagger had traded his addiction to drugs with sex: "I had weaned him off drugs, but they had been replaced by sex."
The pair have four children together: Elizabeth, James, Georgia May, and Gabriel Jagger.
Where Are They Now?
Hall wed the billionaire media mogul Rupert Murdoch in 2016. The 65-year-old model recently filed for divorce, ending their six-year-long relationship.
The 91-year-old News Corp media tycoon was previously married to Wendi Deng from 1999 to 2014, Anna Maria Torv from 1967 to 1999, and Patricia Booker from 1956 to 1965.
Rupert Murdoch and Jerry Hall filed for divorce in June 2022 after six years of marriage (Credit: Milla Cochran / Startraksphoto)
Jagger has reportedly been dating 35-year-old ballet dancer Melanie Hamrick. The pair has been together for several years and they share a 5-year-old son Deveraux.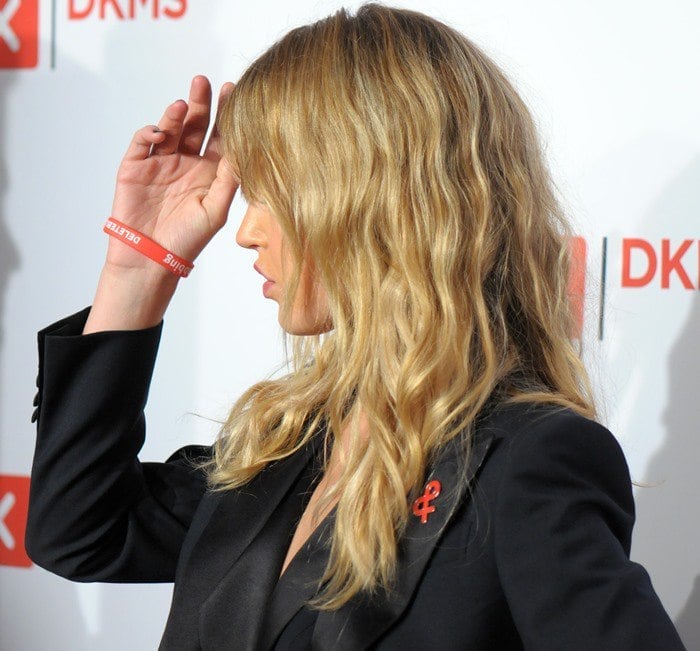 Georgia May Jagger hides behind her blonde hair at the 10th annual Delete Blood Cancer DKMS Gala held on May 5, 2016, at Cipriani Wall Street in New York City (Credit: WENN / Ivan Nikolov)
In May 2016, Georgia May Jagger oozed sex appeal at the 10th annual Delete Blood Cancer DKMS Gala held at Cipriani Wall Street in New York City.
The then-24-year-old English fashion model donned an androgynous black pantsuit that plunged down the middle to reveal her cleavage.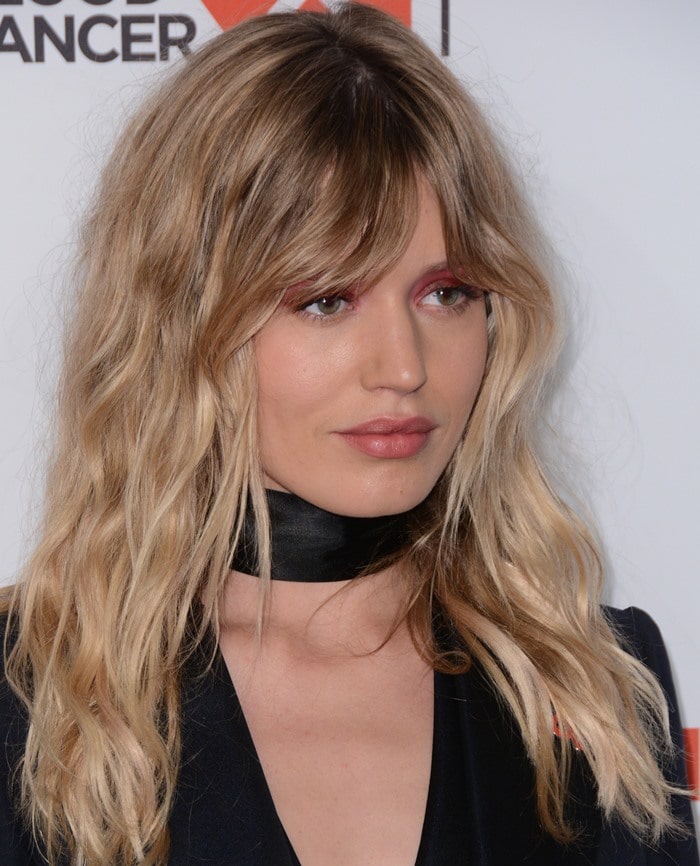 Georgia May Jagger sports pink eyeshadow at the Delete Blood Cancer DKMS Gala (Credit: WENN / Ivan Nikolov)
Georgia — Who is perhaps better known as Mick Jagger and Jerry Hall's daughter — showed off her figure in a chic three-piece suit.
The black form-fitting waistcoat, long-line blazer, and slim-line pairs managed to blend professional and sexy.
Georgia May Jagger wears a plunging black three-piece suit on the red carpet (Credit: WENN / Ivan Nikolov)
Georgia completed her evening ensemble with casually tousled hair, a large black satin choker, and a pair of red satin pumps that featured an unflattering cat design.
Georgia May Jagger's feet in red satin cat-design pumps (Credit: WENN / Ivan Nikolov)

How do you like her cat-faced red heels?