Actor and comedian Jerry Seinfeld is perhaps one of the wealthiest entertainers in history due to his self-titled show, Seinfeld.
While episodes of the show are more committed to being more about nothing than something, Jerry has starred in his own real-life drama, especially where his dating history is concerned.
Jerry Seinfeld as a fictionalized version of himself, George Costanza (Jason Alexander), Jerry's former girlfriend Elaine Benes (Julia Louis-Dreyfus), and neighbor across the hall Cosmo Kramer (Michael Richards) in the American sitcom television series Seinfeld (Credit: NBC / WENN)
Between causing a stir with his romantic track record and conspicuous consumption, Seinfeld can be a somewhat polarizing figure once the cameras stop rolling.
What made Jerry Seinfeld famous?
Jerry Seinfeld grew up on Long Island in New York. He performed at open mic nights at comedy clubs in New York, eventually landing a spot on Rodney Dangerfield's HBO comedy special.
Jerry was then fed into the circuit of late-night shows like those of Johnny Carson and David Letterman.
It was 1988 when he teamed up with writer and director, Larry David, to create Seinfeld. The show ran for nine seasons.
Jerry Seinfeld at a book signing for his"Halloween" children's book at Barnes & Noble in New York City on October 20, 2002 (Credit: WENN / Vallenilla)
It featured Jerry's titular character and his neurotic misadventures in navigating life and relationships in New York City. Reruns are still aired to this day, and royalties still provide a massive income for Jerry.
We find Jerry, post-Seinfeld, working on passion projects like Comedians in Cars Getting Coffee.
The largely unscripted shows consist of Jerry cruising in his signature sports cars alongside famous guests, including a notable episode starring President Barack Obama.
How many cars does Jerry Seinfeld have?
What's a star to do when faced with a stockpile of fat, Seinfeld cash? Jerry's answer is clear: do whatever you want. It seems he doubled down on his love of cars, especially automobiles by his favorite brand, Porsche.
Jerry Seinfeld is reported to have more than 150 cars, totaling over $50 million in value (or more!). So where does a native New Yorker store all his toys when living in a modest, NYC penthouse? Seinfeld actually built his own parking garage to house the exotic beauties a few blocks from his home.
The owner of around 150 cars valued between $50 million to $150 million, Jerry Seinfeld is the host of the American talk-show web series Comedians in Cars Getting Coffee (Credit: WENN)
Whether in New York or Los Angeles, Jerry's been known to park his luxurious sports cars, well, wherever he wants. When you have a net worth near $1 billion, daily parking tickets are a mere inconvenience for your team of personal assistants.
Jerry Seinfeld's early relationships
Jerry's lack of concern for parking regulations is indicative of a deeper character trait. His recklessness has even extended to his personal life, where he extends his devil-may-care attitude when pursuing beautiful women.
Early in his stardom, Seinfeld dated more privately, but once he became more embroiled in show business, he found himself linked up with actresses and models like model Susan McNabb and actress Julie Ellen "Tawny" Kitaen.
Jerry Seinfeld falls in Central Park for a 17-year old
One day in New York City's Central Park, Jerry crossed paths with Shoshanna Lonstein in 1993. After striking up a conversation, the two agreed to meet again.
Unbeknownst to Jerry, Lonstein was roughly twenty years his junior, two weeks shy of her eighteenth birthday. When they met, she was a senior at the independent all-female Nightingale-Bamford School located in Manhattan on the Upper East Side.
"She's a very sweet girl, and she's very pretty," Seinfeld told Playboy about Lonstein. "I didn't know how old she was- I knew she wasn't 40."
Pictured at the 2016 Tribeca Film Festival, Shoshanna Lonstein was a 17-year-old high school student when she met then-38-year-old Jerry Seinfeld in a public park (Credit: Ivan Nikolov / WENN)
While the two maintain that the first few weeks of their relationship were merely a friendship, fellow comedians descended upon the couple after learning of not only their drastic age difference but the potentially illegal implications of their relationship.
Publications took shots at the couple by describing Shoshanna as a "legal voter" in thinly veiled jabs at her age. Comedians mocked Jerry's "what's the deal" schtick by adding punchlines about homework and homeroom teachers.
Even shock-jock Howard Stern pulled some punches below the belt about Seinfeld attracting young girls in Central Park with candy.
Pictured a launch party for the Daily Mini at ONO at the Gansevoort Hotel in New York City on June 6, 2006, Shoshanna Lonstein married Joshua Gruss in 2003 and divorced him in 2014 after having three children (Credit: Tina Paul / WENN)
Jerry Seinfeld and Shoshanna Lonstein dated for four years until separating amicably in 1997. They cited pressure from intense media scrutiny as one of the reasons for the separation.
Shoshanna capitalized on her talent and fame associated with the relationship, founding her own fashion label, Shoshanna, which she launched in 1998. Her dresses have been worn by Christina Hendricks, Kerry Washington, and Kristin Cavallari.
Jerry Seinfeld pursues a married woman: Jessica Sklar
Seinfeld finally met his match one day in August 1998 at a Rebook gym in Manhattan's Upper West Side. Jerry chatted up Jessica Nederlander during a workout. The gym was acquired and renamed by Equinox in 2014.
As tabloids and fans would soon find out, Jessica was already married to theatrical producer, Eric Nederlander. The Nederlander family owns a number of Broadway theatres and is part of New York's elite.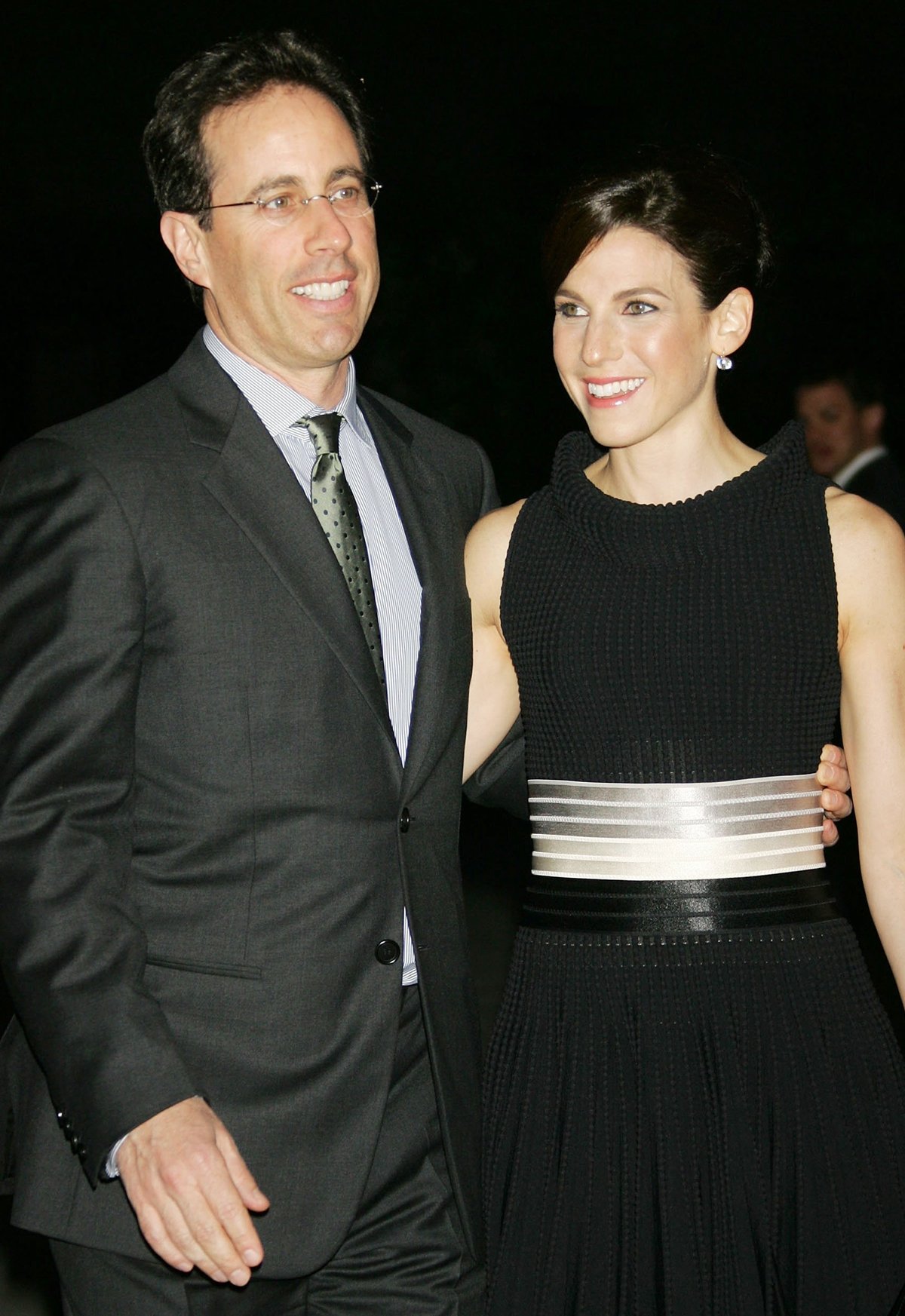 Jerry Seinfeld first met Jessica Seinfeld ( born Nina Danielle Sklar) in August 1998 at a Reebok gym on the Upper West Side of Manhattan (Credit: Anthony Dixon / WENN)
Although Mr. and Mrs. Nederlander had recently returned from their three-week, Italian honeymoon, Jessica claims that her marriage to her unsuspecting husband was already "irreparably broken."
Eric Nederlander was shocked at hearing this news and responded sharply in an interview, saying, "Jerry and Jessica have no respect for decent values. They deserve each other."
Jessica filed for divorce from Nederlander in late 1998.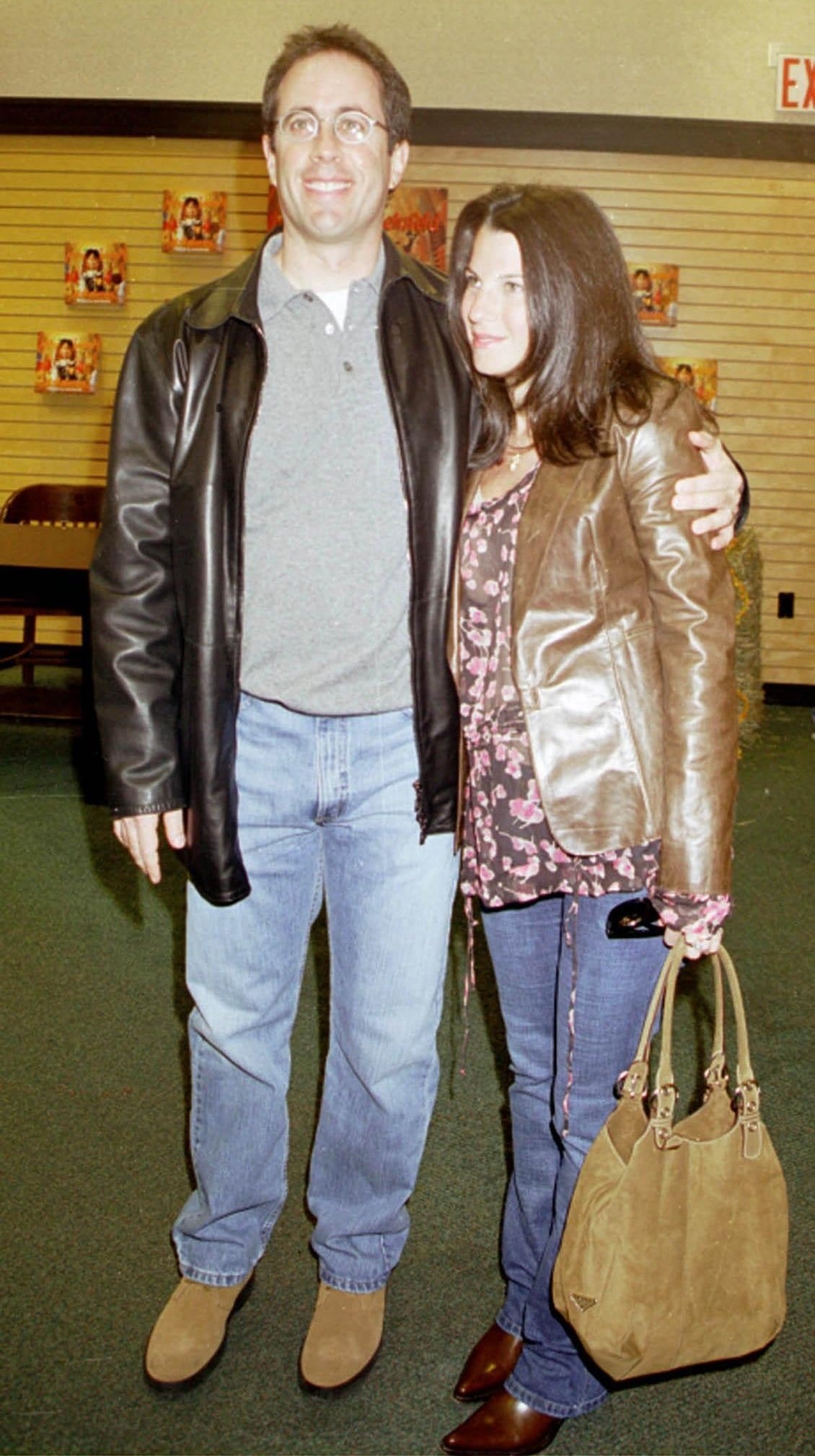 Nina Danielle Sklar, who changed her name to Jessica Sklar in 1995, was called a golddigger after she started dating Jerry Seinfeld (Credit: WENN / Vallenilla)
The press quickly resumed their assault on Jerry and soon-to-be wife, swiping at her intentions by calling her a "gold-digger" and describing her as "insignificantly featured" in reference to her lack of stereotypical Jewish features.
The Newark Star-Ledger added insult to injury by inferring that Jessica was cleverly climbing a ladder of wealth within the Jewish community by moving from Nederlander to Seinfeld.
Despite all the harsh press, Jerry and Jessica were married in late 1999. To this day, the two are happily married, citing the secret to their happy marriage is their ability to laugh together every day.
Jerry Seinfeld's family life with Jessica Seinfeld
Before the fateful day at Manhattan's Reebok gym in 1998, Jessica Seinfeld was born Nina Danielle Sklar. She legally changed her name to Jessica Sklar in 1995, although there's no official statement on what caused her to seek the change.
After her marriage to Jerry Seinfeld, Jessica reportedly wanted to become a mother immediately. Friends allude to the fact that she wanted to "cement the deal" with Seinfeld as soon as possible by having children.
Jerry and Jessica Seinfeld in 2013 with their three children Sascha (born November 7, 2000), Julian Kal (born March 1, 2003), and Shepherd Kellen (born August 22, 2005) (Credit: Andres Otero / WENN)
The Seinfelds now have three incredibly sharp children: Sascha, Julien, and Shepherd. Jessica and Jerry agree on a parenting style that gives the kids a lot of privacy. Jerry says his autonomy as a child contributed greatly to his success as an adult.
The Seinfelds also avoid what they call the "Poisonous P's" of parenting: giving too much praise, allowing too much pleasure, or eliminating opportunities for problem-solving.
While the kids are mostly left to their own devices, all members of the family practice Judaism. Jerry's daughter, Sascha, even took to Instagram in the days surrounding her Bat Mitzvah to share the festivities, which brought together many of the Seinfelds' famous friends under the same room for the occasion.
Sascha Seinfeld, the daughter of Jerry and Jessica Seinfeld, graduated from Chapin, an all-girls high school for wealthy children located on New York's Upper East Side (Credit: Joseph Marzullo / WENN)
Sascha is currently attending Duke University. Her younger brother, Julien, is also set to leave the nest soon as well. Jessica takes every opportunity to document their beautiful family on her Instagram account, much to everyone's chagrin.
Cooking up controversy: did Jessica Seinfeld plagiarize her cookbook?
Jessica grew up caring for her siblings and starting dinner while her mother drove home from work. They rarely went out to eat, so cooking at home was the norm. Over time she became an accomplished home cook, leading to her interest in authoring a series of cookbooks.
Her first cookbook was designed to help parents hide nutritious foods in dishes palatable to children, like macaroni and cheese. The book was titled "Deceptively Delicious: Simple Secrets to Get Your Kids Eating Good Food" and is available on Amazon.
The cover features a mom holding a plate of steaming brownies with a pile of carrots just behind her on the counter.
Jessica Seinfeld promotes "Today's Moms – Essentials for Surviving Baby's First Year" at Rouge Tomate on April 7, 2009, in New York City (Credit: HRC / WENN)
Meanwhile, on the other side of the internet, author Missy Lapine had released her nutrition-concealing cookbook titled "Sneaky Chef: Simple Strategies for Hiding Healthy Foods in Kids' Favorite Meals" just six months earlier in 2006. Coincidentally, the cover also features carrots, although they're hidden behind the back of a winking chef.
The case of Lapine versus Seinfeld appeared before a federal judge to determine whether Seinfeld had infringed upon the copyright and trademark of Lapine's book.
While Jessica Seinfeld was cleared of the accusations, Lapine still pursued the Seinfeld family for defamation due to statements Jerry had made on the Late Show with David Letterman.
Holding a copy of her book Food Swings: 125+ Recipes to Enjoy Your Life of Virtue & Vice: A Cookbook, Jessica Seinfeld was accused by cookbook author Missy Chase Lapine of stealing her idea for a book (Credit: Rob Rich / WENN)
During his interview, he had referred to Lapine as a "wacko" and a "nut job" for accusing his wife of plagiarism. Later, a judge cleared the Seinfeld household of those accusations as well.
Jessica Seinfeld went on to author several more cookbooks covering several aspects of the foodie world, including vegan-curious eaters and intuitive eating, as well as books for cooking novices and those with busy schedules.
Jerry and Jessica Seinfeld making headlines with philanthropy
These days, both Jessica and Jerry are known for their philanthropy. Jessica Seinfeld founded Baby Buggy in 2001 after baby Sascha was born. She founded the organization to bring unused baby products like strollers to mothers that may not have the ability to pay for such items.
Today, Baby Buggy, now more inclusively named as the Good Plus (Good+) Foundation, partners with other nonprofit organizations that benefit victims of domestic violence, refugee organizations, NICU departments, and other charitable groups.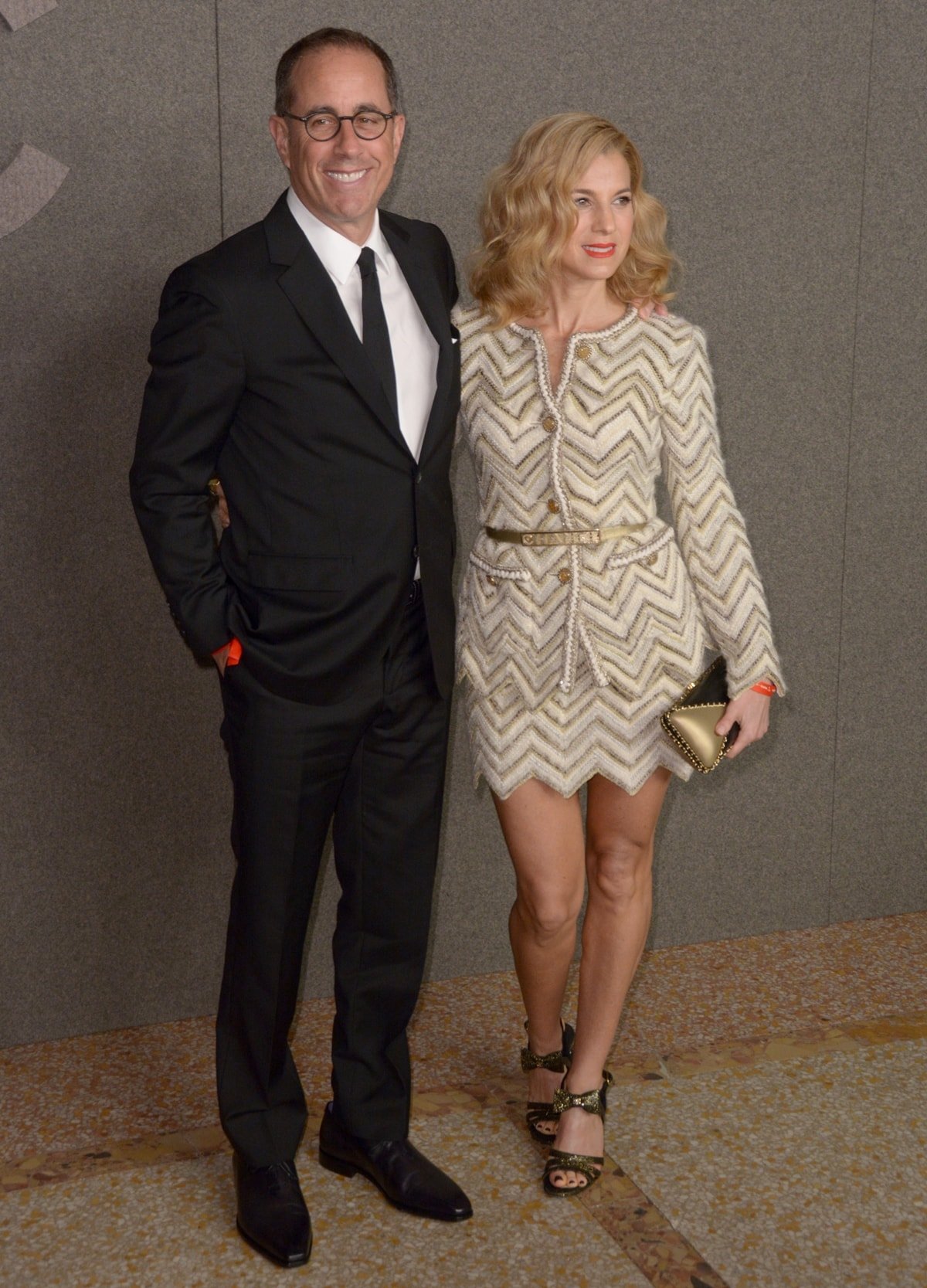 Philanthropist Jessica Seinfeld, the founder and president of the Good+ Foundation, with her husband Jerry Seinfeld at the Chanel Metiers D'Art 2018/19 Show at The Metropolitan Museum of Art on December 4, 2018, in New York City (Credit: Ivan Nikolov / WENN)
It seems even though Jerry Seinfeld may be scorned for always getting what he wants, his much-disputed relationship with wife Jessica Seinfeld has resulted in one of the most beautiful and beneficial organizations New York has seen.