As one of Forbes' richest self-made women, we imagine Jessica Alba lives a pretty busy life. Despite juggling her acting career and running a billion-dollar company, The Honest Company, Jessica knows that her priorities still lie with her family.
Jessica was spotted spending time with her parents and children at Cirque du Soleil's "Luzia" show at the Dodgers Stadium.
The actress' husband, Cash Warren, unfortunately could not join his gorgeous girls for some good ol' family time.
Jessica Alba takes her children to see Cirque Du Soleil 'Luzia' show in Los Angeles on December 13, 2017.
Jessica looks chic in a Hatch "Ricky" slip dress and a Wilfred "Pilier" jacket.
The actress adds a few inches to her height with a pair of Gucci "Agon" pumps.
The actress continues to school us in chic maternity wear by layering a Hatch "Ricky" slip dress in Rouge underneath a Wildred "Pilier" jacket. The Wilfred jacket is made out of pure silk that drapes beautifully.
Jessica added some 70's flair to her look with a fur vest and chunky Gucci "Agon" pumps that you can buy at Farfetch and Nordstrom.
A black leather bag with gold chain finished Jessica's look.
Jessica accessorized with a black leather bag with a knot on top.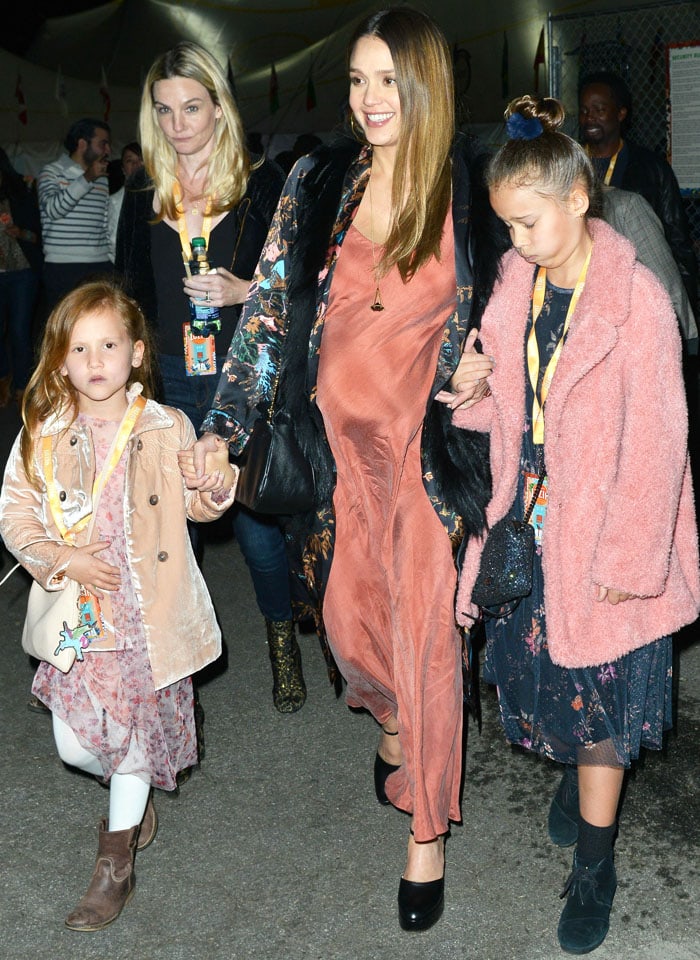 The actress enjoys a night out with her parents and children.
Cirque du Soleil brought its circus tents to Dodgers Stadium, allowing young and old people alike to experience their magic. Jessica uploaded a photo of her children and parents together with the caption, A fun weeknight out @cirquedusoleil with the kiddos and my parents."
Unlike Heidi Klum, Jessica decided to stay under the radar, passing up an opportunity for a photo call.
The pregnant actress snuck out of the show as quickly as she snuck in.
Jessica poses with her children and parents at the "Luzia" show.
Gucci "Agon" ankle strap platform pumps, $890 at Farfetch and Nordstrom
Credit: Jessica Alba's Instagram / WENN