They say you shouldn't wear flats to work. Well, that actually depends on your company's dress code. If it's very "corporate" (read: business attire only), then perhaps not. But if your office allows smart-casual dressing, then wearing flats on days when you feel the need to take a break from high heels definitely sounds like a good idea.
And, yes, you can look professional to a certain degree in flat footwear. The key is to make sure you wear the right pieces. And by this, we simply mean flat shoes that are closed at the toes and heels and preferably pointed.
You can even look like the lady boss by taking a cue from, say, Jessica Alba. It's no secret that apart from being an actress, Jessica is also an author and a businesswoman. She started The Honest Company, which sells home products that are environment-friendly and safe for children.
As a company founder, Jess attends meetings regularly. In fact, she was spotted heading to one at the Internal Environment Institute yesterday. The actress wore an outfit consisting of a detailed lilac blouse and dark high-waist denims by 3×1 belted at the waist. She punctuated the combo with a long coat in the same pastel shade, some pearl earrings, and a pair of pointy d'Orsay flats. Uber cool sunnies added just enough drama to a look that was casual yet polished and professional at the same time.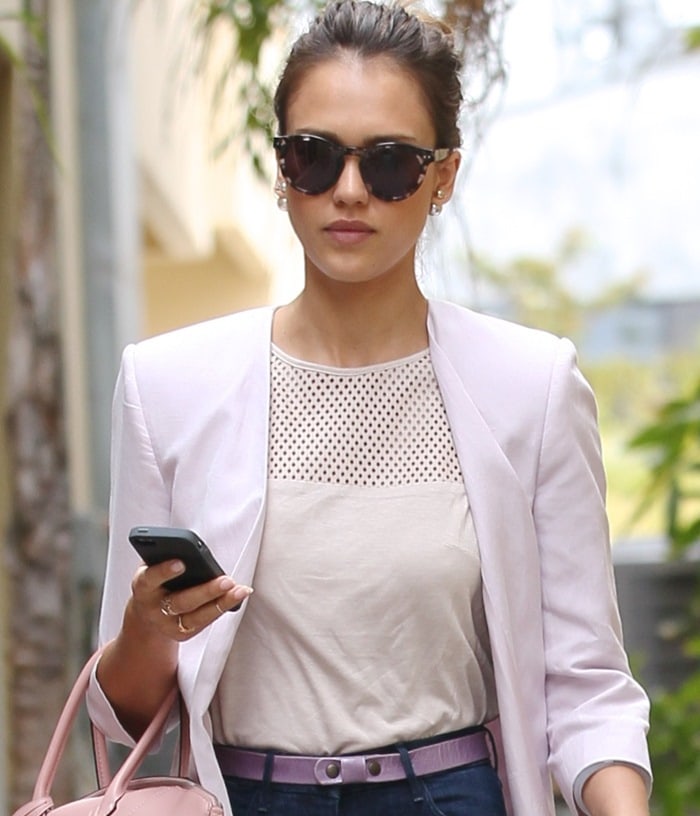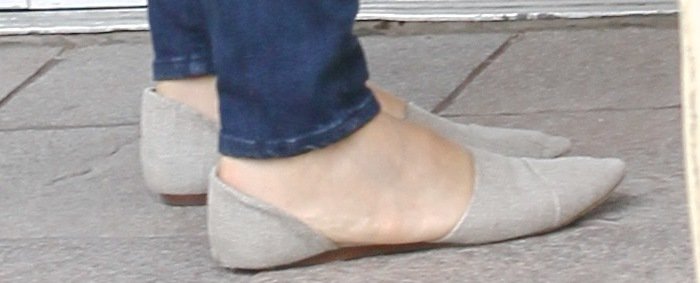 Jessica Alba heading to a meeting at the Internal Environment Institute in Los Angeles on May 22, 2014
Doesn't she look great here? Would you like to copy her style?
Simply choose items that are polished enough. Your jeans have to fit well and must be in that deep blue color. The long coat must be tailored and structured, and your flats have to be sleek and pointed. Also, you must take note of the small details, such as keeping the hair neat in a bun and accessorizing with pearl earrings and a belt to refine the look and make it elegant.
For those who are unaware, Jessica's pointy d'Orsay flats are from Jenni Kayne. They follow a two-piece silhouette, with the sides open to expose the feet. These shoes come in many renditions and color variations. On Jess is the gray suede version.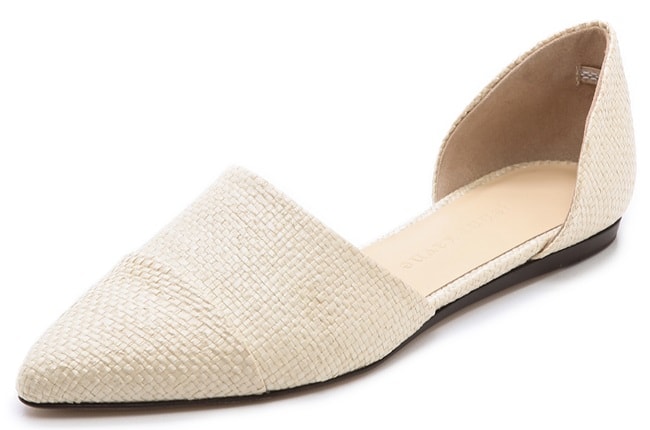 Jenni Kayne Woven Raffia Penny Loafer D'Orsay Flats in Woven Raffia, $495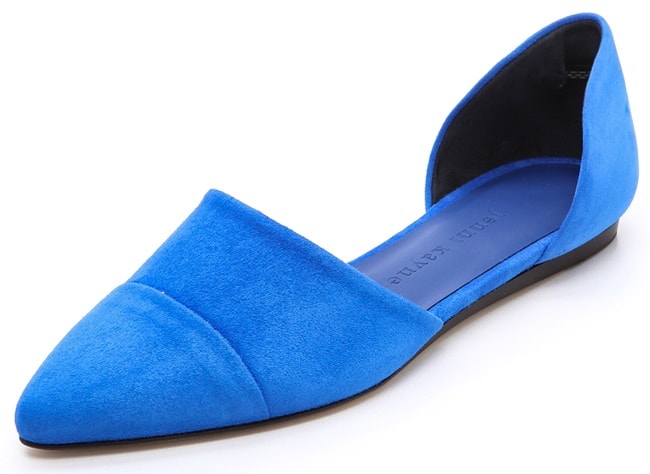 Jenni Kayne Penny Loafer D'Orsay Flats in Blue Suede, $495
Jenni Kayne Penny Loafer D'Orsay Flats in Woven Natural/Black, $595
Would you like a pair?
These Jenni Kayne flats are not very typical. Aside from the distinct silhouette, they also feature higher vamps compared to most pointed flats. The Penny Loafers from Jenni Kayne are not cheap either. Grabbing a pair will set you back between $495 and $595.
Not to worry, though, because a lot of brands are offering similar styles at a fraction of the cost. Check out the following dead ringer from Chinese Laundry at Amazon. Not bad for a substitute, right?
Chinese Laundry "Easy Does It" Flats, $59.95 – $59.99
Would you wear jeans to a business meeting? Let us know by leaving a comment below!
Credit: Owen Beiny/WENN