We've always been a fan of Jessica Biel, even before she got married to her hubby, Justin Timberlake. The two as a couple always look stylish and fabulous whenever they attend music-related events, movie premieres, or red carpet affairs. But on their own, they still manage to look exceptionally put-together even on days when they just have to do simple errands or eat lunch out with friends.
Check out Jessica Biel looking extra chic while out and about in Hollywood yesterday morning.
Jessica Biel spotted out for lunch at All About the Bread in Hollywood, California, on July 1, 2013
The former '7th Heaven' beauty took a tomboyish outfit to Hollywood, sporting a white tank top, denim jeans, sneakers, and a leather jacket. She added a touch of chicness by carrying an Alexander Wang "Lia" shoulder bag, which you can check out below.
A closeup of Jessica's shoulder bag
The 'Lia' bag features a leather flap front with magnetic closure for extra security. It also has a rear exterior pocket that's perfect for stashing away your mobile phones or wallets. It also features brass hardware on the bottom to keep your bag sturdy and away from dirt. Plus, it has an adjustable shoulder strap for varying lengths. Lia is kind of an everyday go-to bag for trendy girls, yes?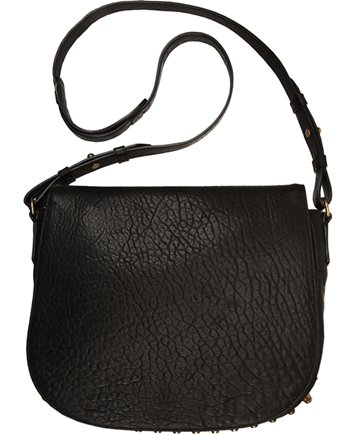 Alexander Wang Lia Shoulder Bag, $795
How do you like Jessica's choice of handbag, ladies?
Credit: Cousart/JFXimages/WENN