Baby Silas isn't even a year old, but are Jessica Biel and husband Justin Timberlake already expecting baby number two? And no, we are not talking about Jessica's new baby — her newly-opened kid-friendly restaurant, Au Fudge.
Jessica Biel wears a floral scarf and sunglasses from Victoria Beckham
The 33-year-old was bombarded with the baby question as she tried to sneak out of Au Fudge's back door in Los Angeles. Opened in February 2016, the pricey restaurant in West Hollywood is aimed primarily at well-heeled families and their children.
Jessica Biel styled a burgundy dress with a denim jacket
Jessica wore a burgundy dress underneath a denim jacket and a floral scarf.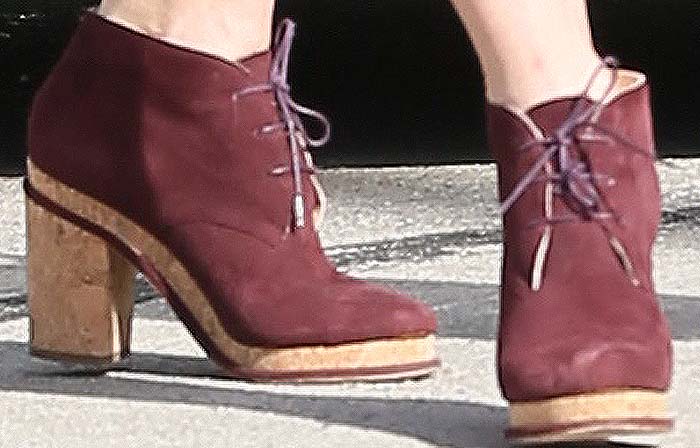 Jessica Biel's suede-and-cork lace-up boots from Chanel
The actress accessorized her work look with sunglasses from Victoria Beckham, a tote from Aevha London and the suede-and-cork lace-up boots from Chanel.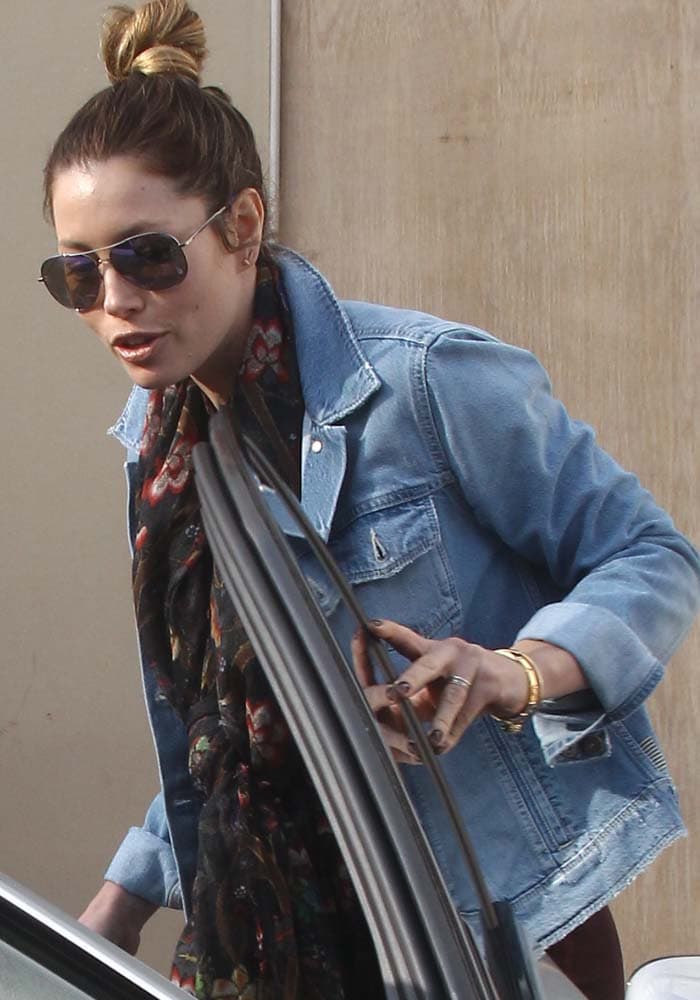 Jessica Biel visits her restaurant "Au Fudge" in Los Angeles on January 15, 2016
At first, it seemed as if Jessica was smiling at the paparazzi's questions, but as it turns out, she was thanking the person who got her car for her. Her smile disappeared as soon as she climbed into the car, ignoring the questions about her rumored pregnancy.
Jessica Biel is asked if baby number two is on the way as she makes a stop at her newly-opened restaurant "Au Fudge"
The Chanel suede-and-cork boots are not available online but we did find some gorgeous burgundy footwear for you to feast your eyes on. You can order them at Nordstrom and Zappos.
Chanel Suede and Cork Lace-Up Boots
Steve Madden Jayson Boots Burgundy Suede, $129.99
Ted Baker London Lorca 2 Booties, $93.77 – $230.00
Credit: Owen Beiny / WENN