In the making of The Debt, a 2010 remake of the 2007 Israeli thriller film Ha-Hov, Jessica Chastain dedicated four months to rigorous Krav Maga training, showcasing her commitment to the role. The movie is not based on a true story.
She portrayed a young Mossad agent assigned to capture a former Nazi doctor in East Berlin during the 1960s, a character who had conducted horrific medical experiments in concentration camps. Sharing the role with Helen Mirren, both actresses adeptly depicted different phases of the character's life.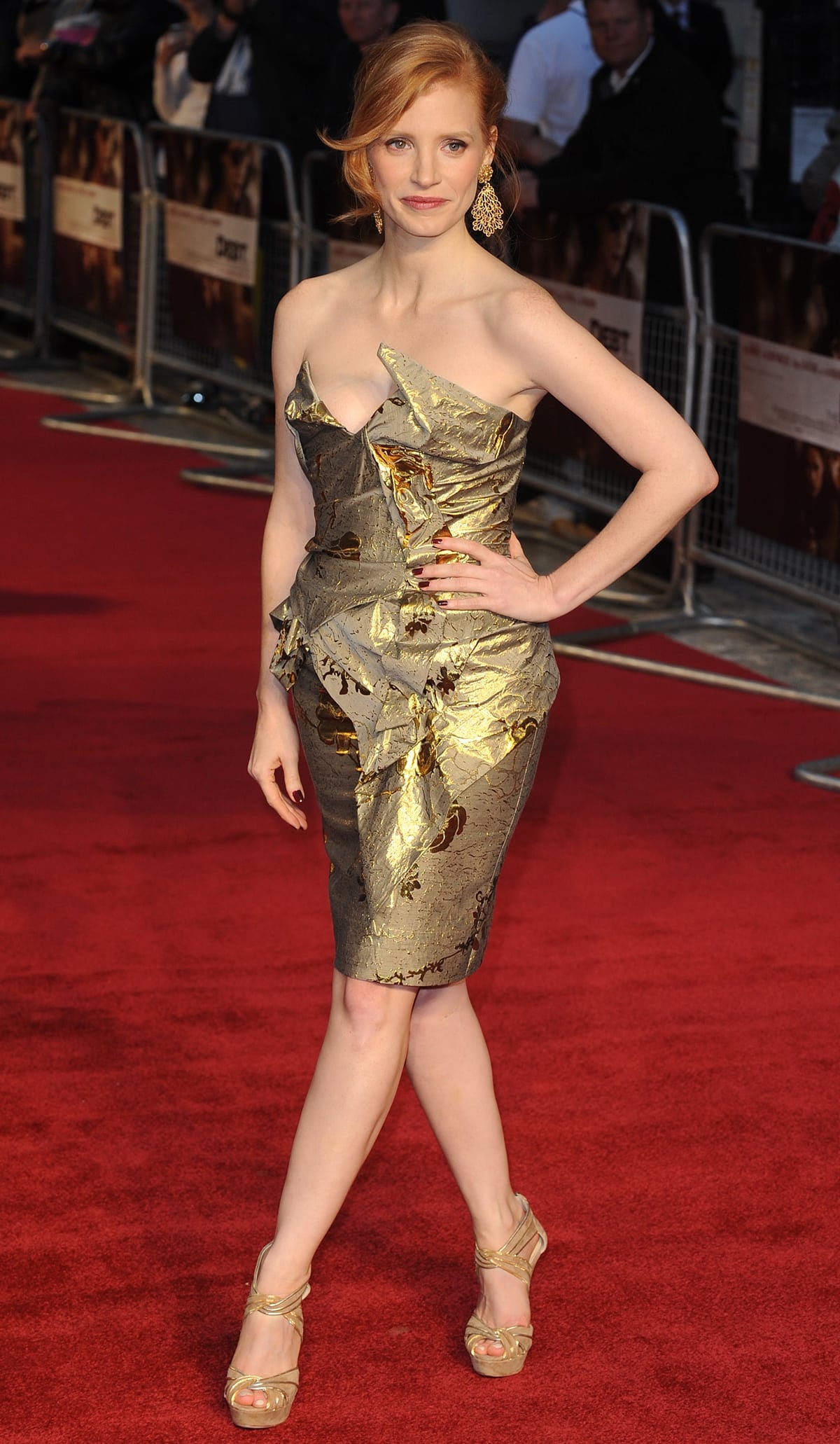 Jessica Chastain elegantly adorned herself in a shimmering metallic gold Vivienne Westwood bustier dress, complemented by matching gold Jimmy Choo "Koko" platform heels at the UK premiere of 'The Debt' at The Curzon Mayfair on September 21, 2011, in London, United Kingdom (Credit: Zak Hussein / INFevents)
They collaborated before filming to tune the character's voice and mannerisms for consistency finely. To prepare for the role, Chastain immersed herself in learning German and Krav Maga, while also studying books about the notorious Nazi doctor Josef Mengele and Mossad history.
The film received critical acclaim, with Empire's William Thomas describing it as a "smart, tense, well-acted thriller," and praising Chastain for exuding both strength and vulnerability in her portrayal.
At the release of "The Debt" in France on June 15, 2011, the ages of the cast members were as follows: Helen Mirren – 65, Sam Worthington – 34, Jessica Chastain – 34, Ciarán Hinds – 58, Tom Wilkinson – 63, Marton Csokas – 44, and Jesper Christensen – 63.
The character of Dr. Vogel (Jesper Christensen) drew inspiration from the haunting figure of Dr. Josef Mengele, known for his cruel experiments during the Holocaust, some of which were depicted in the film.
In 2010, Jessica Chastain starred in John Madden's dramatic thriller "The Debt," playing a young Mossad agent sent to East Berlin in the 1960s to capture a former Nazi doctor who conducted medical experiments in concentration camps (Credit: Universal Pictures International)
Dame Helen Mirren, portraying Rachel, impressed audiences with her Russian dialogue, despite not having spoken the language in her childhood. Julia Roberts, moved by Jessica Chastain's performance, expressed a strong desire to collaborate with her.
Interestingly, this marked the second time Ciarán Hinds portrayed a Mossad agent, the first being in "Munich." The screenplay for the movie gained recognition in the 2008 Blacklist, a selection of the most well-liked unproduced scripts.
At the UK premiere of her movie "The Debt" in London on September 21, 2011, Helen Mirren dazzled in a stunning satin crimson outfit paired with Rene Caovilla bordeaux satin heels, a black Swarovski crystal clutch, and Chopard jewelry (Credit: Zak Hussein / INFevents)
Tom Wilkinson and Ciarán Hinds, having worked with Dame Helen Mirren before, joined the talented cast. Surprisingly, even though the main cast played Jewish Israelis, none were of Jewish descent.
The Agents' arrival scene featured a Hungarian Air Force plane with fake Israeli markings in the background. Jessica Chastain's character was armed with a Beretta 70S pistol, adding to the film's authenticity.
In preparation for her role as a retired Israeli Mossad agent in the film "The Debt," Helen Mirren delved deeply into her character's background by immersing herself in studies of the Hebrew language, Jewish history, and Holocaust writing, including the life of Simon Wiesenthal, during her time in Israel in 2009 while filming some of the movie's scenes (Credit: Universal Pictures International)
A clever nod to sewing is made when a character teases Jessica Chastain's role about her apparent sewing ability, with "Singer" being the name of a well-known sewing machine.
Additionally, both Ciarán Hinds and Tom Wilkinson have been part of films related to DC comics and Batman. An anachronism was spotted in the opening credits, showing a car from a later year despite the film's setting in 1966. Lastly, the movie served as Erika Szórádi's impressive debut.
Jessica Chastain Stuns in Louis Vuitton Heels at Paris Fashion Show
Jessica Chastain has won the hearts of pop culture and fashion lovers worldwide. In March 2013, the beautiful actress was spotted outside the Louis Vuitton fashion show in Paris wearing a chic and classy pair of the designer's pumps.
Jessica Chastain wears her red hair down as she attends the Louis Vuitton fashion show, Fall/Winter 2013/2014, part of the Paris Womenswear Fashion Week, held on March 6, 2013, at Le Louvre in Paris (Credit: Denis Guignebourg / News Pictures / WENN)
Jessica shielded herself from the Paris cold in a black coat that featured gold buttons and a gray plaid lining.
She carried a bright blue bucket bag and wore heavy eye makeup.
Despite the early March chill, Jessica kept her legs bare, giving us a great view of her Louis Vuitton "Oh Really" heels.
Jessica Chastain wears a black dress coat and keeps her legs bare while out at Paris Fashion Week (Credit: Denis Guignebourg / News Pictures / WENN)
Her Louis Vuitton heels feature black suede uppers, gold leather heels, and flirty peep toes. The platform base also adds a little extra stability to the stiletto heels of this super chic style.
Jessica Chastain's feet in black platform Louis Vuitton heels (Credit: Denis Guignebourg / News Pictures / WENN)
While we couldn't find Jessica's suede version of these pumps online, we found a solid black patent pair with the same gold heel cup detail.
Louis Vuitton "Oh Really" Pumps, $775