In April 2018, Katy Perry showed off her left wrist tattoo and captioned it with the text, "my brokenness + God's Divinity = my wholeness." It's her first tattoo, and she had it inked when she was 18.
View this post on Instagram
Starting her career as a gospel singer, she comes from a religious family and her parents are both evangelical ministers.
"I'm not Buddhist, I'm not Hindu, I'm not Christian, but I still feel like I have a deep connection with God. I pray all the time—for self-control, for humility," she told Marie Claire in 2013.
Katy Perry showing her Jesus tattoo on her left wrist while launching her new fragrance 'Meow! at Nordstrom in The Grove in Los Angeles, California, on December 14, 2011
"My house was church on Sunday morning, church on Sunday night, church on Wednesday evening; you don't celebrate Halloween; Jesus gives you your Christmas presents; we watch Bill O'Reilly on TV," she told Vogue in 2017.
"That was my whole childhood and youth and early teens. I still have conditioned layers dropping off of me by the day."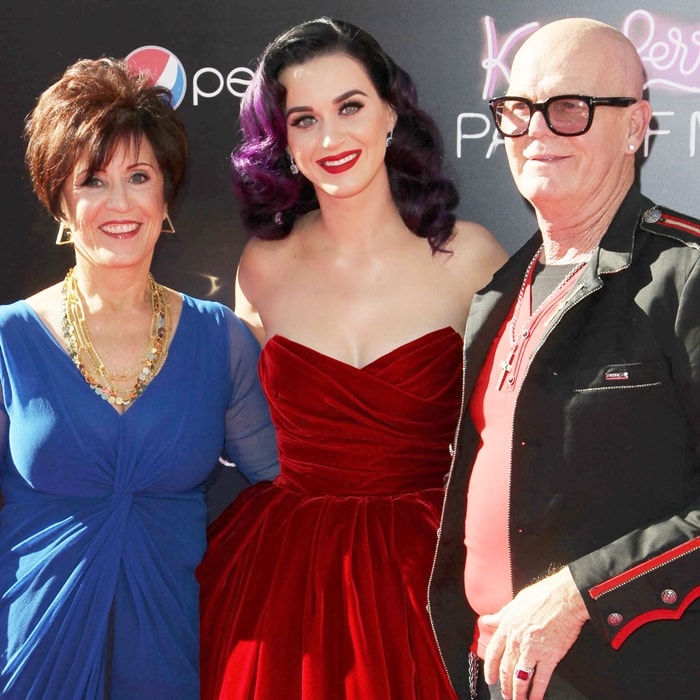 Katy Perry with her parents, Pentecostal pastors Mary Christine (née Perry) and Maurice Keith Hudson
Katy told Kaie Couric in 2009 that the wrist tattoo is a constant reminder of her religious upbringing. "I knew I wanted this on me because no matter how much changes around me or how much I change, there's not really an eraser for this." When she plays the guitar, "It stares right back at me. It's like 'remember, you came from this, and you can always go back to it.'"
Katy Perry is reminded of her Christian upbringing whenever she plays the guitar
Remember when Katy Perry begged designer Jeremy Scott to dress her before she even released an album?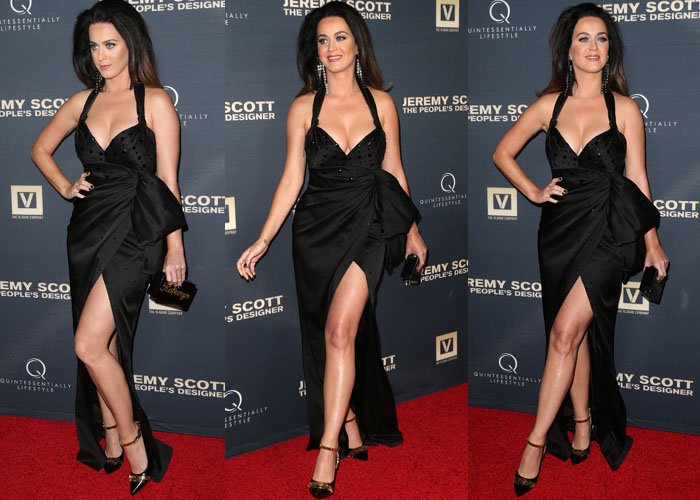 Katy Perry attends a handprint ceremony prior to a screening of "Jeremy Scott: The People's Designer" at TCL Chinese Theatre IMAX Forecourt in Los Angeles on September 8, 2015
It seems like such a long time ago. In September 2015, the BFFs were given the honor of leaving their handprints in cement near a Hollywood landmark.
In a joint ceremony, Katy and Jeremy immortalized their handprints outside the TCL Chinese Theater just prior to a screening of Jeremy's documentary, "Jeremy Scott: The People's Designer."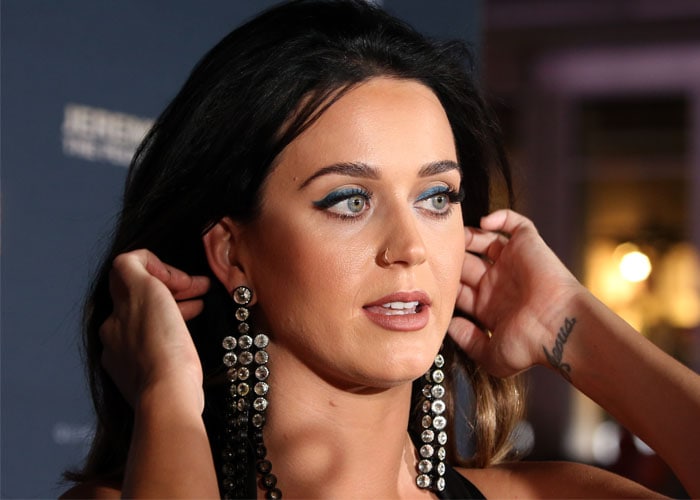 Katy Perry pushes her dark hair behind her ears and shows off her long earrings and Jesus wrist tattoo
Before you ask — yes, Jeremy dressed Katy for the occasion.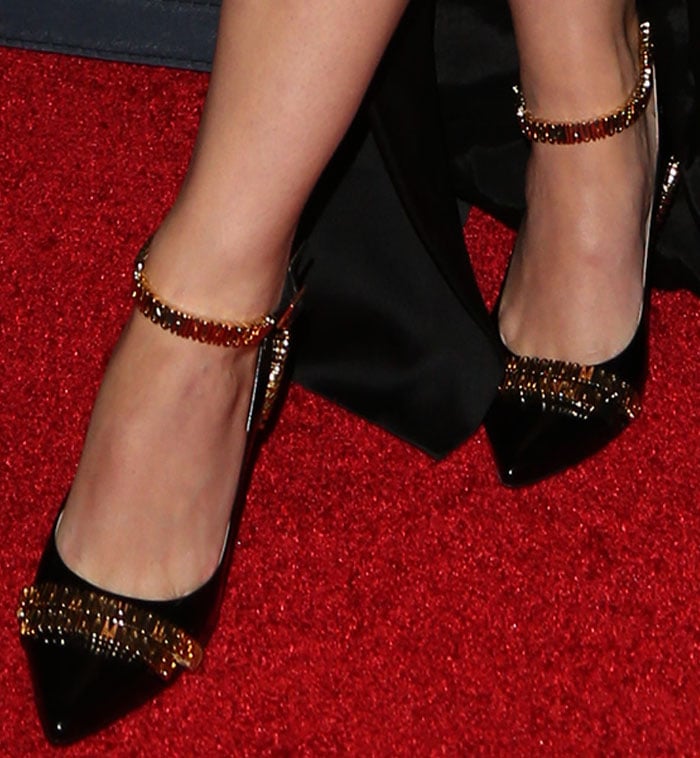 Katy Perry wears a pair of black embellished Moschino heels on the red carpet
The two wore matching outfits. Jeremy opted for an embellished black suit, and Katy wore a cleavage-and-thigh-baring dress made from the same material.
Katy Perry matches her manicure to her black Eddie Parker clutch
Katy's dress probably wasn't the best pick for an event that required her to kneel on the ground and bend over into the cement, but she looked gorgeous nonetheless.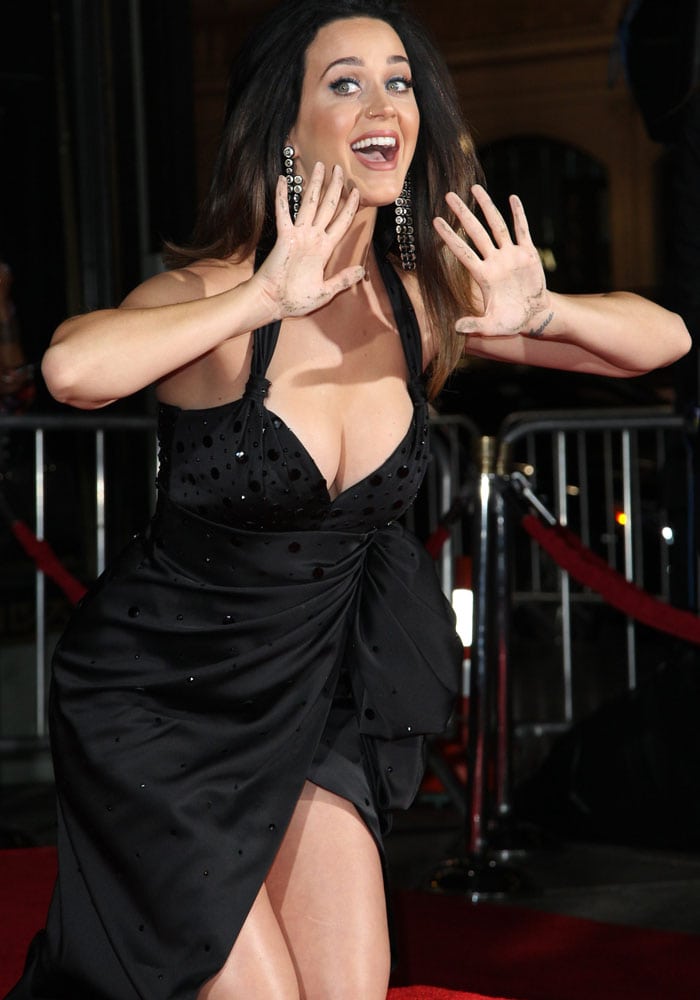 Katy Perry shows off her cement-covered hands as she participates in a ceremony outside TCL Chinese Theater
It goes without saying that her dress — and shoes — are from Moschino. Her clutch is from Eddie Parker.
Moschino has been known for its in-your-face attitude, and even more so after Jeremy took over. His personal aesthetic is summed up in Katy's shoe choice — functional, classy, yet unique.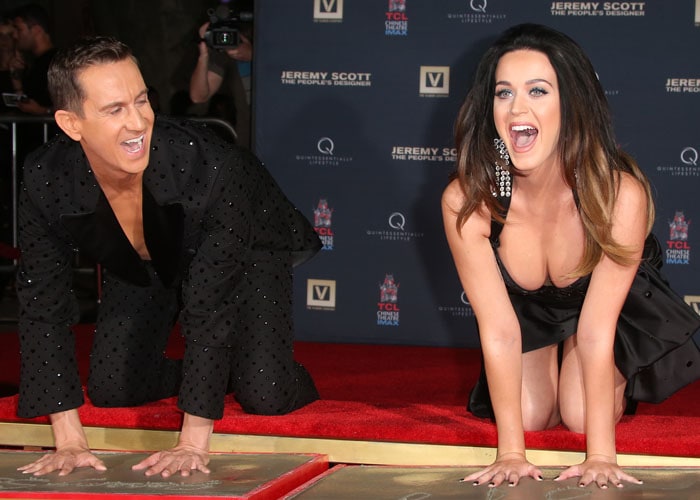 Jeremy Scott and Katy Perry pose while participating in a cement handprint ceremony on the red carpet
To grab Katy's logo metal-plated shoe, click your way over to Farfetch.
Moschino Closed-Toe Slip-Ons, $1,207
Credit: ACC News / FayesVision / Brian To / FayesVision / WENN / Josiah True